The first 15%
My first month on the trail.
Ok I admit it, I should've been blogging more. And when I say "more" I really mean I haven't blogged once since I started over a month ago. Don't worry everyone! I'll start blogging now.
I've had good reason, though. The first month on the trail has been about the pure experience. About the failing and falling and laughing and singing and sleeping and sweating and sneezing and coughing and drinking and eating and peeing. I've been burnt, bruised, tight, loose, in huge amounts of pain, and in even huger amounts of euphoria.
So sitting here in at Uncle Johnny's Hostel in Erwin, TN,  341 miles from the start of my journey, I will attempt a brief recap and perhaps impart some of my knowledge to those just starting off.
The Approach Trail
Remember that scene in Ghostbusters when they're climbing up the stairs with their heavy packs and wanting to hurl? That's basically the approach trail in a nutshell. The view and experience of walking up a waterfall was great and all,  but holy hell did those stairs suck.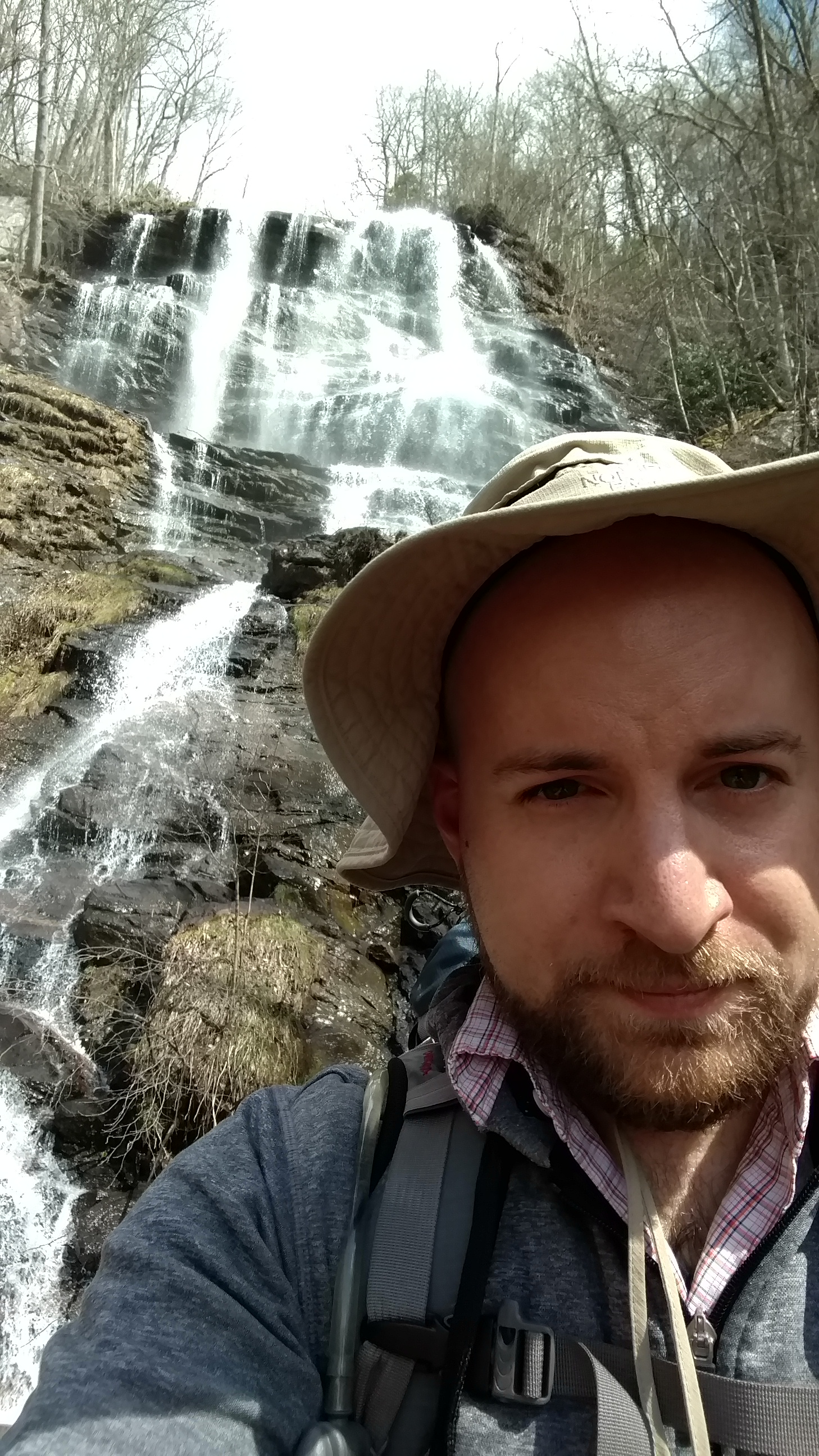 That face says it all.
I had made it to Springer Shelter where I met some new friends. Friendship, it seems, is fast and plentiful out here. While there are a few bad eggs, most people I meet are my new best friend up until they either pass me and move on or fall back. You'll almost anyways see them again in  a town.
A very full hostel. Go bubble go!
Beware of hiker town shenanigans.
It's been one of my biggest pitfalls. It's way too easy to get caught in the wave of fun and funness the hiker town has to offer. A siren calls from the rocky shores of a tavern, and a bunch of beers and burgers and comfy beds later your bank account is shipwrecked. Want some of that advice I promised? Don't hang out in EVERY SINGLE TOWN!
My buddy KC wearing the Tavern owner's heart glasses. Beware the shenanigans!
The people on this trail are the reason it's so easy to get sucked in. I've never met so many like minded people. Struggling and laughing together as we share this immense and incredible journey. The people are not just mere acquaintances. They're not just friends. They're family from the first introduction and I love them all.
Let's get back to the trail.
You will go up and up and up into the clouds and come back down into the gaps over and over and over. It's hard. Very hard. But it gets easier. I'm currently sitting at level two after my 200 mile leg upgrade. I can move faster and longer. At one point I considered 10 miles a long day. Now it's my short day.
It will be brown and gray for days. Nothing but rocks and trees and dirt. Then you'll come around the corner and see a view that will take your breath away and it all becomes worth it. I've never felt pain when I was looking out into the vast wilderness from the top of a mountain.
The Smokies were probably the best views yet, and also the most daunting. They're friggin cold in the morning but absolutely beautiful during the day. My favorite morning so far was in The Smokies.
Because you're forced to stay in the shelters while in the park, sleeping can be a challenge. I had lost my earplugs and failed to fall asleep before the four part snorus (with a lovely ass trumpet section) started their all night performance. So you can imagine how much sleep I got.
Pro Tip: Bring earplugs.
I woke up the next morning determined to do my first 20 mile day for the simple reason of not having to not sleep through a repeat performance of the previous night. I think the mountains agreed with that line of thinking. At first I thought it was snow that was falling on my first mile, but it turned out to be the frost melting off the trees and blowing in the wind. I looked to my left and saw this:
The wind was whipping but it didn't really feel like that cold. About fifty feet later the trail shifted to the other side of the ridge where the sun was shining and it was warm with no sign of frost anywhere. Then the trail shifted again and I found myself caught up in a metamorphosis taking place before my eyes. As the sun moved across the ground there was a very distinct line of frost and dry where the frost was slowly giving way to the mid morning warmth. I had to sit there a minute to take it all in.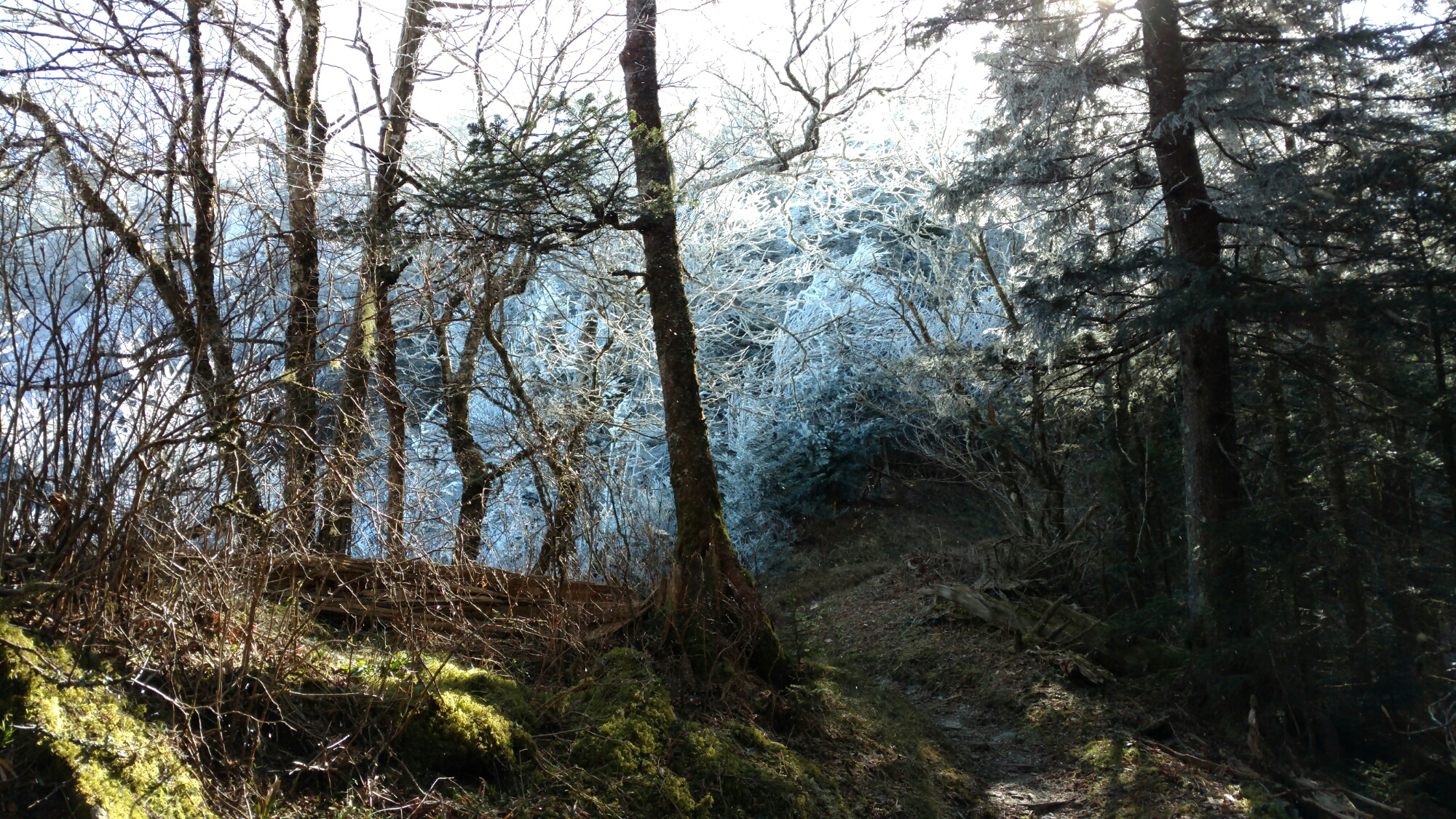 There's half my reason for waking up in the morning right there. The worries and fears I have and all the pain just washes into this moment of pure clarity on levels I've never experienced before and it happens almost daily.
But it's not all fun in the sun. It's pretty god damned grueling and tough slugging a lot of the way. What goes up must come down and that goes double on the trail. Because when you think you're at the top, you're only halfway. But that's all part of the experience.
There are more trail names than people.
I have been called Ambush, Lightfoot, Jonny Appleblister, Councilor, Less Stroud, Lessy, Lezzy, Jon of Many Names, Jon Mayonnaise, Jon of the Many Named, Book Cover, Compendium, Rolodex, and a few more I can't remember. It was getting out of control. But things tend to shake out when it comes to trail names. One will stick eventually.
It was a day in Hot Springs when almost everyone who had named me was in town on the same day. After a great summit of the minds (two seconds) someone said "You should just be Less Mayo." and after laughing my ass off I agreed and that's been my name ever since. It's original and ironic (because I love mayo) and those are the two qualities I think make a great trail name.
Good recap?
So maybe I didn't get into the nitty gritty details and recapped next to nothing while somehow managing to give minimal advice, but I think I managed to distill my experience down sufficiently enough.
So I'll sign off with one last thought. If you want to do something like this hike DO IT NOW! Life isn't going to change until you get off that couch and into this big beautiful world.
-Less Mayo aka Jon Necco
Affiliate Disclosure
This website contains affiliate links, which means The Trek may receive a percentage of any product or service you purchase using the links in the articles or advertisements. The buyer pays the same price as they would otherwise, and your purchase helps to support The Trek's ongoing goal to serve you quality backpacking advice and information. Thanks for your support!
To learn more, please visit the About This Site page.
Comments
4
go, Jon, go! guess I missed you when you were in our area- happy trails ahead!

Nice description of the frost, coming on going, on the ridge. Makes me want to get up there.

"Less Mayo." Now, that's an interesting trail name.

An update was required, so thank you. $5 says you get a leach before memorial day. I'm super jelly of this trip you are taking.

Good luck, dude!

-Donald J. Trump
Make America Great Again!

Great post, John!!! Motown representing!