Katahdin: An Epic Summit at the Halfway Point
The biggest, baddest, summit… midway?
Flip-flop hikes, while becoming more popular, are still the least accepted direction(s) of a thru-hike. This isn't an actual fact, just what I personally experienced when I told some people what type of hike I was doing.
Despite the Appalachian Trail Conservancy strongly promoting this type of hike to help the crowded trail conditions in the spring, most everyone goes in a single, continuous direction. The most popular is to head north from Georgia. The reason? Katahdin, of course. That battered wooden sign has a mystique, a power no one can deny. Who wouldn't want to end their thru-hike on that fantastic summit? And why on earth would you want to summit it halfway? I had a few people frown at me when I told them I was flip-flopping. A couple of them said they would only do a thru-hike if they could finish on Katahdin. I'm here to tell you I had that epic summit everyone dreams about. It just happened to be my halfway point.
Summit Day
After having our butts kicked in New Hampshire and Southern Maine, we were ready to finish the northern half of our flip-flop hike. With our borrowed daypacks, the climb up the Hunt Spur and the Gateway was actually fun for a change. It was beautiful, sunny day, but clouds kept blowing in over the summit. As we got closer I spotted the sign. It was silhouetted, shrouded in clouds, occasionally revealing itself to us as the clouds blew away. Beckoning us. When we got to the top, I couldn't stop staring at that iconic sign. I was finally here; I had made it! The paint was faded, the wood aged from the elements. How could a sign be so powerful? It's just paint, wood, and nails. But I sobbed like a baby and had all the feels. Satisfaction, euphoria, relief that the north was finished.
I also felt renewed, and was excited for my southern half. Even though we were  exhausted and ready to be done up north, seeing the Katahdin sign was just the reminder I needed. I had finished the hardest part; I could handle anything now.  I still had 1,024.2 miles to go but my exhaustion was replaced by my positive determination to finish. It was the perfect, epic summit every aspiring thru-hiker dreams of. Who cares if it was only my halfway summit.
Springer as the Final Summit
I had one guy make a snarky comment about me doing a flip-flop hike and said, "But you're finishing at Springer," complete with a pinched face like I just told him I crapped my pants or something. I smiled and told him it didn't matter where I finished, it would still be special to me. And it was. Was it Katahdin? No. But it was only about a days drive from my house, so my husband was able to hike that final mile with me. And boy, what a great day. It wasn't raining, the hike up was easy, and I enjoyed talking to my husband, who I hadn't seen in months. I sobbed at the top of Springer, too, but in my husband's arms while he told me how proud he was of me and what a beast I was. Katahdin doesn't have anything on that.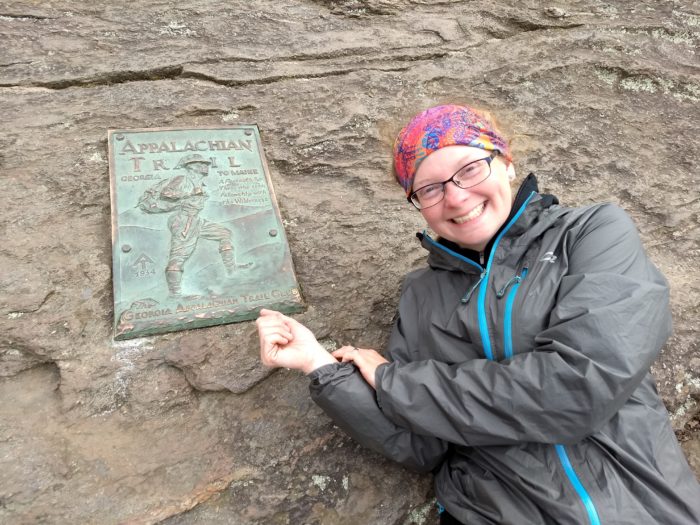 Final Thoughts
I remain satisfied with my decision to do a flip-flop hike. I wanted to do a different hike, to experience being a NOBO and a SOBO. To get ahead of the large crowds and maximize the weather. Katahdin was awesome, but my goal was to be an AT thru-hiker. Where I finished wasn't as important as finishing was. On Dec. 4, 2018, I accomplished my goal of becoming an AT thru-hiker.
I have been obsessed with hiking the AT for a few years, of summiting the mighty Katahdin. Even back then it mesmerized me, called me. I have no regrets of climbing it halfway through, because it gave me the self-confidence to know I had made the right decision. I could do anything, accomplish anything. I felt that same feeling on Springer, and still feel it to this day. The Katahdin effect. You get it regardless of the type of hike you do. Whether you start there, finish there, or climb it halfway, it remains a special, life-changing mountain. So if you're contemplating a thru-hike, consider an alternative hike. Make it your own, start and finish where you want. If Katahdin can be the only end destination, then that's fine, too. But I promise you won't be disappointed if you choose to do something different. Katahdin is an epic final summit, but it isn't the only option.
Let me know if you have any questions about my experience as a flip-flop thru-hiker. I fully encourage flip-flop and SOBO hikes to help disperse the large number of hikers who attempt a thru-hike every year. I'd also like to do a follow-up gear post and a favorite hostel/hotel post. Then I'll relinquish my 2018 blogger status and let the class of 2019 take over.
Froggy
Affiliate Disclosure
This website contains affiliate links, which means The Trek may receive a percentage of any product or service you purchase using the links in the articles or advertisements. The buyer pays the same price as they would otherwise, and your purchase helps to support The Trek's ongoing goal to serve you quality backpacking advice and information. Thanks for your support!
To learn more, please visit the About This Site page.