The One Where I Wind Up Mostly Dead [AT mile 344.2-470.4]
Day 33: 12.4 miles from Erwin, TN to a campsite near USFS 230
Day 34: 13.9 miles to Clyde Smith Shelter
Day 35: 10 miles to Carvers Gap
Day 36: 14.8 miles to the Station at 19E
Day 37: 18.4 miles to Moreland Gap Shelter
Day 38: 16.3 miles to a stealth site along Lake Watauga
Day 39: 22.2 miles to Double Springs Shelter
Day 40: 3.5 miles to Low Gap
Day 41: zero at the Comfort Inn in Abingdon, VA
Day 42: zero at the Comfort Inn
Day 43: 14.7 miles from Low Gap to Damascus, VA
Total miles on the Appalachian Trail: 470.4
Walking in a winter wonderland…in April
I am a true southern girl. I rarely ever see snow. I think I mentioned that in my last post. So any amount of that white stuff is magical to me.
When I hiked up and over Unaka Mountain, there were small dollops of snow atop the brown pine needle ground and against the base of the pine and spruce trees. It looked like how I imagine Narnia, or some other enchanted forest, in the beginning of spring as the winter snow begins to fade away.
Cold + Rain + Wind
Not a fun combination. On the day I climbed Roan Mountain to Carvers Gap, it was pouring down rain and so cold that anytime I wasn't hiking uphill I couldn't feel my arms from the elbows down. Needless to say, I didn't take any breaks that day. Thankfully, some friends of my grandparents' offered to let me and my friend Cimba stay at their home that evening so I knew I had a warm shower waiting for me.
Roan Mountain was absolutely beautiful despite only fog for a view. More of the Christmas-y trees and pines that I love so much grow along its summit. At Carver's Gap, I couldn't see more than about 30 feet in front of me and the wind was ripping over it so fast that I stumbled into multiple parked cars while looking for my friends who were waiting there to whisk me off to warmth. When I found them, Cimba wasn't with them, even though I knew he had passed me on the trail. We looked all over the parking area and checked the bathroom, but it was locked so we assumed it wasn't unlocked yet for the season.
Then we waited by the trailhead for an hour, at which point I grew fairly certain Cimba must have passed Carver's Gap somehow because there was no way he was behind me. We drove through the parking area one more time in case he came down a side trail by accident, and saw some guys climbing into a jeep. I stuck my head out the window and asked if they had passed a guy with red hair and bright blue shorts on the trail, and they said he was in the bathroom. I climbed out of the car and went to the bathroom, which was still locked. But this time I banged on the door, and after a moment, Cimba's head pops out!
Apparently, he had locked himself in the bathroom to hide from the elements and had been there for about an hour or so (including when we had checked the bathroom the first time). Thankfully, he had decided to evacuate the bathroom long enough to let the jeep boys change into dry clothes, so they could then tell me about the homeless bathroom boy. We literally almost left him to fend for himself on that very cold, windy, rainy night. Which would've been all his fault for keeping the bathroom door locked.
Yet Another Hostel: The Station at 19E
I really enjoyed staying at this hostel. While not cozy, it's plenty comfortable and has a great hiker atmosphere. There's apparently karaoke and live music some nights, but sadly neither was happening the night I was there. It's very affordable, with a few private rooms and a ton of bunks, and a pub with some food downstairs which was awesome cause no one wants to eat trail food any more than they have to. They also have a pretty decent resupply, but I don't remember how the prices on that compared to a normal store.
In the morning, every thru-hiker got free, all-you-can-eat breakfast because somebody paid for all thru-hikers this season to enjoy (or at least, for a lot of thru-hikers, I heard all season but I don't know if that's true). It was delicious—pancakes, biscuits and gravy, eggs, and diced potatoes (not a big fan of potatoes, so I'm not sure what they're called when cooked this way so diced is what we're going with).
The only negative to staying at the Station was that I heard rumors of a norovirus outbreak on trail. Sadly, more on that later.
Waterfalls!
After leaving the Station, I walked past 3 waterfalls, some of which were better than others. As I have pretty decent pictures of them, I'll shut up and just give you some pics to look at.
Stealth Camping, Lake Style
Stealth camping is when you camp somewhere that isn't an officially designated site, though a lot of times you can tell that someone has slept there before you. I really wanted to camp along Lake Watauga, because I miss being by a lake and apparently I also really miss listening to frogs (didn't realize that till they started calling and it made me happy). Cimba and I found a great little spot tucked away beside the lake to call home for the night and opted to cowboy camp because the weather was so nice (sleeping under the stars, not in a shelter or a tent. Sidenote: I've decided that when you camp in a hammock without a rainfly, you are pirate camping because pirates sleep in hammocks).
It was so lovely. The frogs sang me to sleep, and I woke to a beautiful sunrise. After only waking up a few times to bugs crawling on me.
An Unfortunately Fortunate Day
On day 39 I hiked my first 20+ mile day! And then at 3:30 am on day 40 I rushed out of my tent to vomit. Throwing up is never pleasant, and I won't give many details, except to say that I'd had mac and cheese for supper that night and, after a few hours in stomach acid, it does a remarkable impression of a melted yellow crayon.
I threw up four more times that night/early morning, with the last time around 7 am, my fever constantly rising. After this last time, I thought I was okay enough to pack my things up and hike the 3ish miles to the road and find a ride to the nearest place with a private room and bathroom. I was so wrong. I couldn't stand up long enough to pull a single tent stake out of the ground.
Thankfully, I had the tiniest bit of signal. I texted my friend Woody, who had told me he had norovirus the day before, that I now had it too. He texted back, then called me, with the offer to get a ride to the trail, hike to my campsite, and carry my stuff out so I just had to get myself out. At first, I was very against it. Though he said he felt amazing, he just finished being sick himself, and I didn't want him to push himself and relapse or something. Especially because of me. And he had already hiked these miles, he didn't need to do them two more times just to get me out. And I hate burdening people with my problems, I prefer to solve everything myself. I don't like being a damsel in distress.
But I couldn't hike to the road carrying my pack. And I couldn't leave my pack and only carry the bare necessities because if I didn't make it to the road I would be stranded in the woods without my gear. I could've stayed in my tent until I was stronger, but I was very low on food and nothing I had would be easy on an upset stomach, so I most likely would only grow weaker due to lack of calories. Hydration was also a concern, as water is typically harsh on an upset stomach. So I accepted Woody's insanely kind offer, and slept, shivering in my 15-degree sleeping bag even though it was way above the t-limit until he arrived.
Those 3.5 miles were the hardest miles I have ever done. Harder than any of the mountains we've climbed, though the terrain was basically the most flat I had encountered yet. Woody tried to distract me with conversation, for which I was grateful but I just couldn't. It took all of my willpower to take each step without vomiting, there was no room in my brain left for stringing together sensical sentences. I don't remember much of the walk out, at least, not what my eyes saw. I remember the constant clenching, somersaulting, inverting of my stomach. The alternating hot flashes and cold chills as fever raged through my body. And then the sound of a car or a motorcycle or something. And the feeling of hope. I'd made it to the road.
The shuttle driver who brought Woody to the woods pulled up a few minutes later, and I confess I don't remember much about the drive to Abingdon (the nearest place with a hotel) either. The car thankfully helped settle my stomach a little, in a way similar to how spinning in the opposite direction counteracts some of the dizziness from the previous spinning. I also remember some motorcycles speeding around us from out of nowhere, and occasionally giving Woody a thumbs up that I was okay when he turned around to check.
The driver dropped us at the Comfort Inn, where I got a room and took a shower before crawling into bed. Woody supplied some applesauce another hiker had given him when he was sick, and it really hit the spot. Later, we carried out my sick-day tradition and watched the Princess Bride to conclude a day that ended so much better than it began.
I am grateful beyond words for the shuttle driver, who could've refused to transport a sick girl in her car cause that's risky in more ways than one. For Woody, who could've (and arguably should've) left the sick girl in the woods. For parents that helped with decision-making and communication while I was too weak to think straight. For the fact that it was just a stomach bug that set me back and not a broken anything. And for the tree stump that was there for me when I needed it most, to rest my head after my stomach was finished being constricted like a Sawyer Squeeze.
No Longer Mostly Dead
I took two zeros at the Comfort Inn to allow my body to heal and attempt to replenish the calories and water I had lost in the woods. Before the second began I was already going insane, staring out the window of my hotel room at the perfect hiking day just passing me by. But when you can barely climb the stairs without feeling the need to find the nearest toilet, you probably aren't ready to hike again yet. Which frustrated me beyond all else.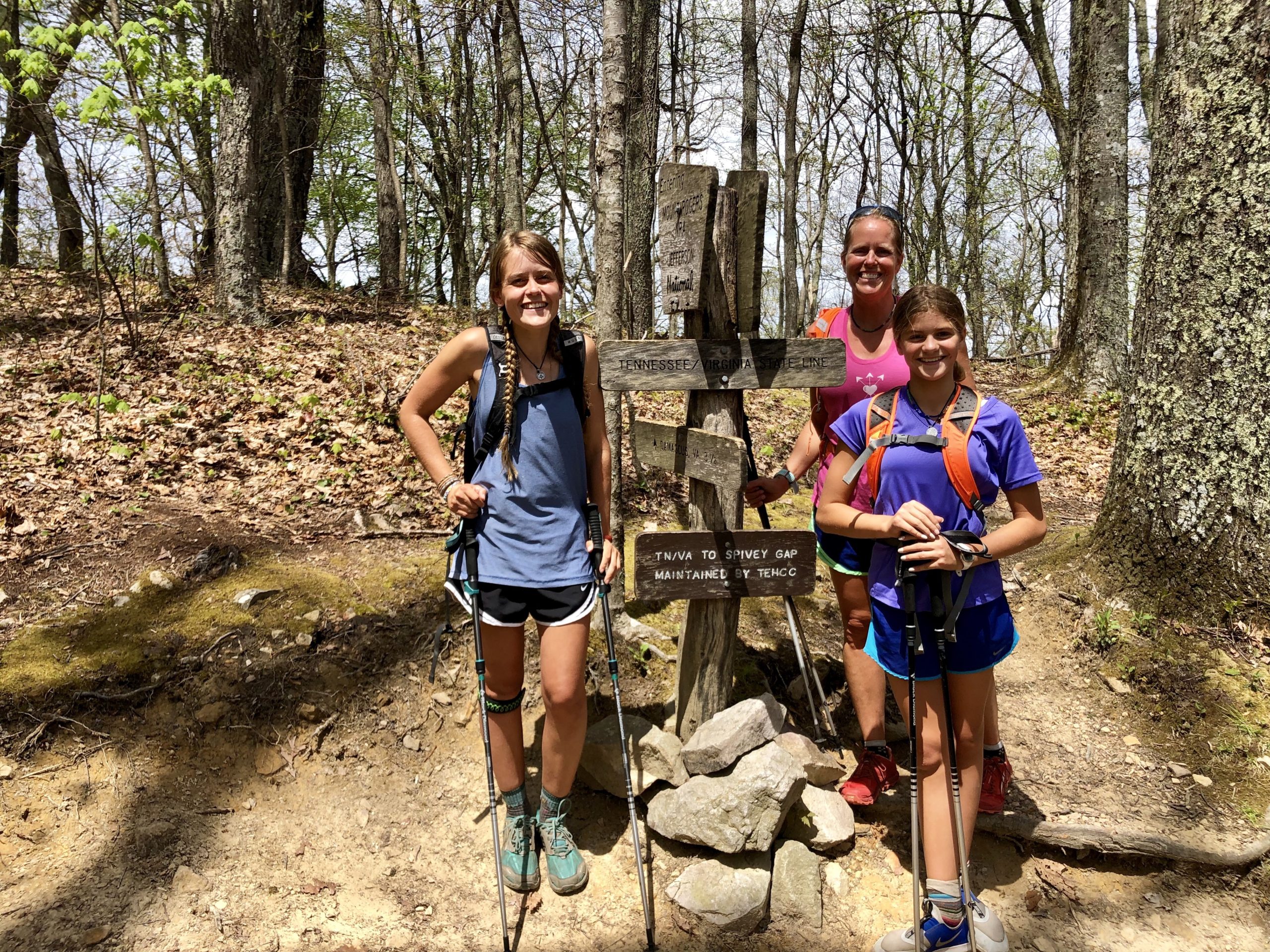 Then my wonderful mother had a brilliant idea (which my wonderful father then fully supported). She decided to drive up to Abingdon, stay the night with me, and then slackpack (and hike with) me from Low Gap, where I had gotten off, into Damascus. My sister joined, and we spent a lovely warm spring day traipsing across the ridges down into town. I felt pretty terrible in the morning, my stomach lurching with each switch from downhill to up and vice versa, but by the end of the day, I felt almost back to normal! The trail really is the best medicine.
Tomorrow I'll hit the trail again, this time with my full pack, just in time for the rain to begin. I'm too excited to be back hiking to care, let the rain come!
Affiliate Disclosure
This website contains affiliate links, which means The Trek may receive a percentage of any product or service you purchase using the links in the articles or advertisements. The buyer pays the same price as they would otherwise, and your purchase helps to support The Trek's ongoing goal to serve you quality backpacking advice and information. Thanks for your support!
To learn more, please visit the About This Site page.