The One with Mahoosuc [AT Mile 1894.8-2078. 6]
Day 150: 16.4 miles to Baldpate Lean-to
Day 151: 18.1 miles to South Arm road campsite
Day 152: 12.4 miles to stealth site by Bemis Stream
Day 153: 14.2 miles to stealth site by Sandy River
Day 154: 13.3 miles to stealth site by Orbeton Stream
Day 155: 20.5 miles to Cranberry Stream campsite
Day 156: 13.5 miles to Little Bigelow Lean-to
Day 157: 20.5 miles to stealth site by some random river
Day 158: 20 miles to Moxie Bald Mountain Lean-to
Day 159: 17.9 miles to Monson, Maine
Total miles on the Appalachian Trail: 2078.6
Successfully Lost
Day 149 was a big day for me. I hit 1900 miles. Crossed my final state border, entering Maine. And got lost for the first time.
Mt. Success is the last mountain in New Hampshire, and stands guard over the NH-ME border. It was a steep climb I guess, but nothing ridiculous. The top is where the ridiculousness begins.
The summit of Mt. Success is nearish to treeline and is covered mostly by scrubby alpine vegetation that hides deep muddy bogs. Through all this, trails criss-cross like spider webs, with no blazes or cairns to mark the correct one to take. I followed what felt like all of them, but was probably only the same few over and over cause I was definitely going in a circle. I kept ending up on this large rock with a circle of dense but short vegetation all around me. Meanwhile, the sun was rapidly setting, threatening me with imminent darkness.
After about 15 or 20 minutes, I spotted a cairn way far off to my left, which was the only marking I ever saw at the summit. Using one path that was definitely a trail and another that might've only ever been used by chipmunks, both of which tromped straight through a knee-deep mud hole, I managed to reach the cairn. From there, the trail became a little more obvious and had more frequent cairns (though you couldn't have gotten any less frequent because there were NONE).
While I wouldn't classify this as super lost, I think it's funny that I walked 1900 miles and 13 states and then got lost for the first time. And of course it had to be somewhere booby-trapped with knee-deep mud.
No longer hiking to Maine.
Ever since setting out from Amicalola Falls way back in Georgia, I've always answered the question "Where are you hiking to?" with "Maine, eventually." (With varying degrees of confidence of course).
And then I reached Maine, and had to revise my response. If I was just hiking to Maine, I finished on day 149. But that wasn't actually the goal. Maine has 281.8 miles of the Appalachian Trail in it. So I had to get used to answering that question with "Katahdin." Which made the end feel way too close.
Maine greeted me with what was easily the best sunset I've seen on trail. I had to finish hiking to the shelter in the dark, including a slightly difficult downward rock scramble, but watching the sunset was worth it.
Mahoosuc Notch
Aka the hardest or funnest mile on the AT. Personally, I thought it was the funnest, but it's definitely in my wheelhouse.
Mahoosuc Notch is 1.1 miles of almost straight rock scrambling. You get a few brief breaks, but for the most part it's up or under big boulders for a mile. I love rock climbing when I'm not on trail, and on trail I'd much rather rock scramble than hike up big steep rock steps, so Mahoosuc was basically a mile-long playground for me.
It took us one hour and 22 minutes to hike the whole 1.1 miles. For perspective, I typically do about 2.5 mph. I would love to know what the average time is, but I do know I've heard many times between 1 hr 20 min and 1 hr 40 min. The fastest I've ever heard was 45 min, but I heard that from someone who knew someone who said they did it that fast, so who knows how accurate it is. Honestly, I'd believe it. We took our sweet time hiking through, taking tons of pictures and sometimes taking harder routes on purpose (well, sometimes I did it on purpose, other times I thought I was choosing the easiest way and was dead wrong).
Two pieces of advice I would give for hiking Mahoosuc Notch:
Don't rush it. It's super fun if you're not in a hurry.
Don't lump it into a big mile day. We did 16.4 miles that day, which was definitely too many with the Notch and Mahoosuc Arm (the hill afterwards that is essentially a steep but not exposed rock face with a stream running down it). I didn't finish until long after dark, and was completely exhausted. So do yourself a favor and do it on a shorter day. Or be superman/woman and ignore me, your call.
Andover Magic
Andover, Maine is a cute tiny town with a surprisingly good resupply at Mills Market. And an absolutely amazing breakfast. Highly recommend.
We got a ride into Andover from a lady who volunteers with The Cabin, a nearby hostel. She told us that we'll most likely have to do a two-part hitch to get back to the trail, and showed us where our best places to stand would be. I was still hiking with the boys, Pace and Fiddlehead, and they're magicians when it comes to hitch-hiking. One time, Fiddlehead just walked to the edge of the road and a car pulled over before he had time to stick his thumb out. Magic.
Anyway, even though the boys are ridiculously good at hitching, we were a little concerned about how long it would take us to get back to the trail. But then, while we were resupplying, a woman came up and offered us a ride to the trail! We didn't have to ask or anything. Had never spoken to this woman before. But here she was, offering to drive us all nine miles back to the trail. Magic.
Ms. J and son, if you're out there reading this, thanks again. You made our day so much easier and it was a pleasure talking to y'all.
Horse Facts: Water Strider Edition
When I discovered what I'm about to write, I was really intrigued/excited because I'd never known it before. But when I told Fiddlehead, he was not at all impressed because he knew it already. So if you know this already too, then props to you. But it still fascinates me.
While taking a lunch break by the Carrabassett River, I saw a skip of water striders (there's no term for a group of water striders according to Google, so I've decided a group should be called a skip. If a group of crows is a murder, than a group of water striders can be a skip) flitting around in a shallow eddy by my feet. And that's when I noticed it.
Water striders' use water's surface tension to walk across the top of the water, I knew that. Hopefully everybody did. What I didn't know, is that when their legs affect the water's surface, they also affect light's ability to refract through the water, creating ovular shadows around their "feet."
I Googled this later when I had service, and found an article on The Washington Post's website titled "Water striders, leg lenses" by Patterson Clark that explains exactly what's happening. There's also a graphic that shows it very clearly within the article.
As though they were pressing down on a trampoline, each of the six legs distorts the water's surface tension, bowing the water down to create a concave lens that sends light waves into a bright ring and creates a dark lens shadow inside the ring.—Patterson Clark, The Washington Post, May 2010.
Ok, I'm done being a nature nerd. Back to your previously scheduled backpacking content.
2000!!!!!!!
On Day 155, I joined the 2000 miler club! Which felt utterly insane. I crossed the 2000-mile mark by myself, but shortly after, I passed a stealth site with a tent set up and had to do a double-take when I looked at the camper. It was Vista!
I last saw Vista the day I left Hot Springs, NC. We hiked through the Smokies together, and celebrated hitting the 200-mile mark at Clingman's Dome. And now, here we were, celebrating having hiked 10 times that distance! Which really made me see how far we've come, both on trail and as people. I've grown a lot as a person since Vista and I last talked, and it was so amazing to see her again, talk about our journeys, and relish in the amazingness of what we've done.
It's amazing how this trail brings people together, and I'm always thankful when it does.
Blown Away on the Bigelows
The Bigelow Mountains are absolutely incredible in every way—incredibly steep, incredible views, and incredible wind.
South Horn treated me well, rewarding my burning calves with stellar views—including that of West Peak and Avery Peak. You'd think by now that I wouldn't be intimidated by climbs anymore, considering all the mountains I've hiked to get here. But looking at West and Avery Peaks from South Horn I sure was. And it didn't help that I could see a cloud descending on the summits so I knew I wouldn't even get a view for my effort.
The climb up West Peak was as rough as expected. And it was very much inside a cloud, putting visibility at about 20 feet. What wasn't expected was the WIND. The wind on West Peak was completely IN. SANE. It absolutely RIPPED over the top and tried its best to blow me over. On the summit, I had to climb the spine of a large rock formation, which ordinarily I would've done even if it wasn't on trail. But with the wind pushing so hard against me, it was more trouble than fun. I bent double into four-wheel drive and climbed the rocky ramp on my hands and knees to avoid blowing over. Clifford makes an excellent sail which is really unfortunate since I am not a boat.
When I reached the campsite in between West and Avery Peaks, I hid behind a small boulder so I could eat lunch somewhat out of the wind. I was worried Avery was going to be the next battle in my war with the wind, and I needed time to recoup before the charge.
Thankfully, Avery was not nearly as bad. Though it was equally inside of a cloud, so no views. But I'm always happy to postpone battles with the wind to another day, so I was relieved.
On the way down the Bigelows, I got very desperate for water and ended up filtering from a tiny trickle running across the trail. There wasn't actually any visible flow, but when I pressed a piece of birch bark into one of the shallow pool/puddles it flowed into my CNOC bag, though it did take about 15 minutes to fill a liter. Surprisingly, it tasted better than some of the small streams I've filtered from, and I maintained that opinion even when my thirst was quenched and I was no longer desperate. Fiddlehead said it tasted like dirt. I'll let you decide who to believe.
Crossing the Kennebec
At 400 feet wide, the Kennebec is the longest un-bridged river crossing on the AT. Due to the presence of hydroelectric facilities upstream, the current is very unpredictable and can change faster than it's possible to ford. Enter Ferryman Greg.
Greg paddles hikers across the Kennebec in a canoe. Sadly, I didn't get to paddle because he had me sit in the middle, but it was kind of nice just enjoying the ride and not doing any of the work. While we waited for our turn in the canoe, Greg's adorable dog Maggie kept us company and gave Pace's leg a good grooming with her tongue.
After crossing the Kennebec, we briefly stopped at the Sterling Inn in Caratunk, Maine to get just enough food to last us until Monson, which we would hit the next night. Now, I have met exactly three people from South Carolina (my home state) since I started the trail. Which is not a lot at all. But at the Sterling Inn, I met a lady who WENT TO MY HIGH SCHOOL. And I had classes and graduated said high school with her nephew.
Guys. I live in Nowhere, South Carolina. People who live in towns an hour away from my hometown have never heard of it. I'd only met three people total from my state on trail, two of whom had never heard of my hometown. But in Maine, in a town whose sign claims they have a population of 63, I met a lady whose nephew I know. Ridiculous.
The Joys of Night Hiking
I didn't do any night hiking on the AT until I reached Maine, and the only reason I started doing it was because I'm slow, and the sun has a stupid habit of going down around 7-7:30 in September, but I still want to get in big miles. Night hiking over Moxie Bald after leaving Caratunk taught me to love it.
Sure, I miss some mountain views, and it's kind of annoying having a limited circle of sight, but the STARS. Oh. My. Gosh. When I walked out onto Moxie Bald, the sky looked like God had sneezed. Stars absolutely EVERYWHERE, and the harder you look, the more you see. I even saw a few shooting stars, which always makes my heart skip.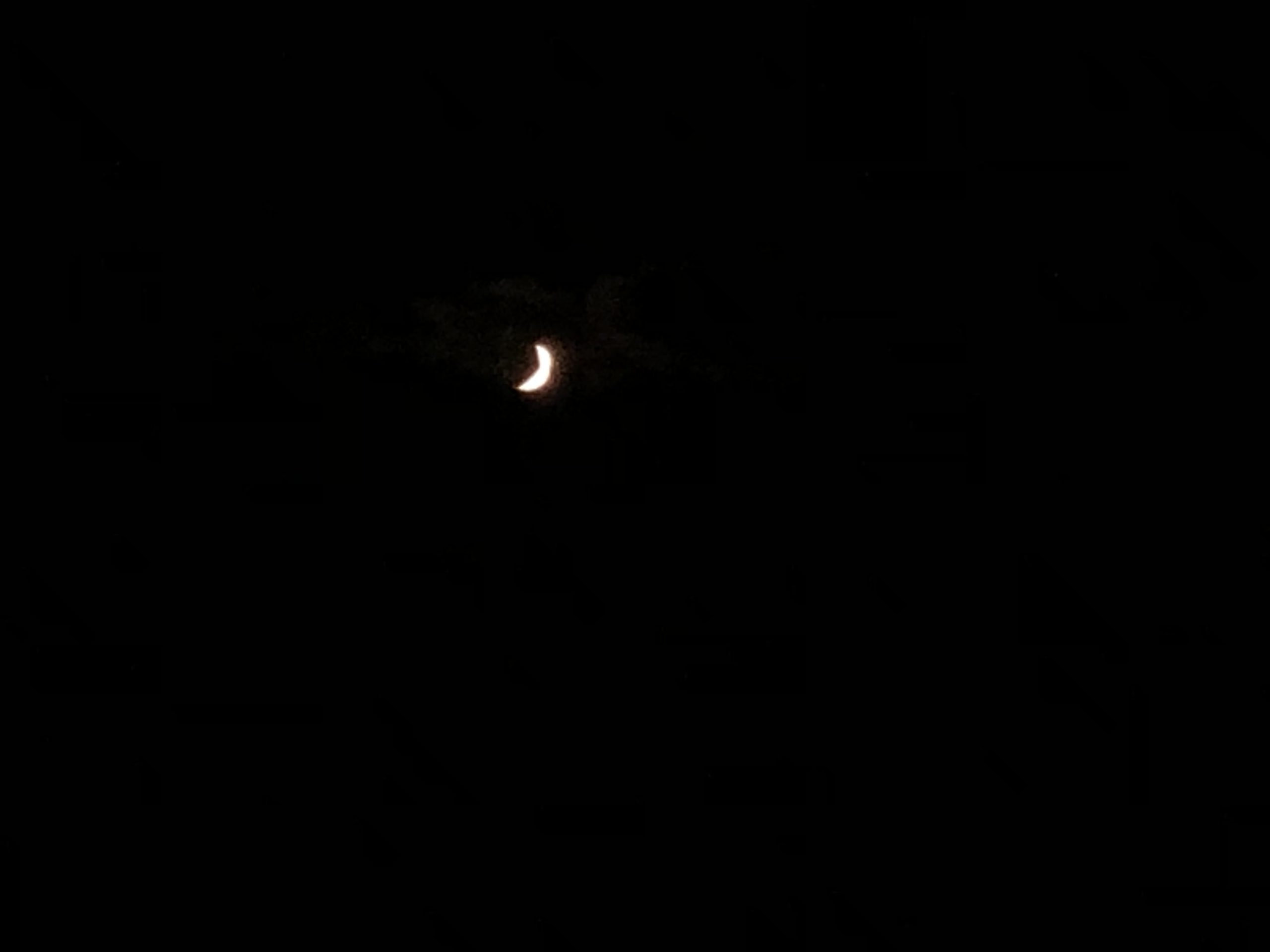 And the moon. I hadn't seen the moon in a long time between going to bed early and being sheltered under trees almost always when it rises. But hiking over Moxie, I got a great view of an absolutely beautiful orange crescent giving off strong Halloween vibes with the clouds partially obscuring it at times. Or, for a less inspiring description, it looked like one side of a cashew.
If it weren't for the wind freezing me off that mountain, I could've stayed up there all night.
Reunion in Monson
Monson, Maine is the last town on the AT, the beginning of the 100 Mile Wilderness, and the home of Shaw's Hiker Hostel. Which I (and literally every thru-hiker ever) HIGHLY recommend. My friends and I stopped there for the night before entering the 100 MW, and I'm so glad we did. I saw so many friends!
Triple T, Rambo, Cimba, Twinkle Toes, Gumby, and Saint were all at Shaw's, making for a very happy reunion. I'd seen Triple T, Gumby and Saint in Lincoln, NH when we zeroed to hide from the hurricane that never came. But I hadn't seen Rambo and Twinkle Toes since Harpers Ferry, WV, and Cimba since Daleville, VA. They'd all gotten way ahead of me when I was off for my surgery, but due to us zooming and them slowing down, I got to see them again. There's nothing I love more than seeing friends again.
Shaw's was awesome, I easily could've stayed for a very long time. But the 100 Mile Wilderness, and more importantly, Katahdin, called us onward.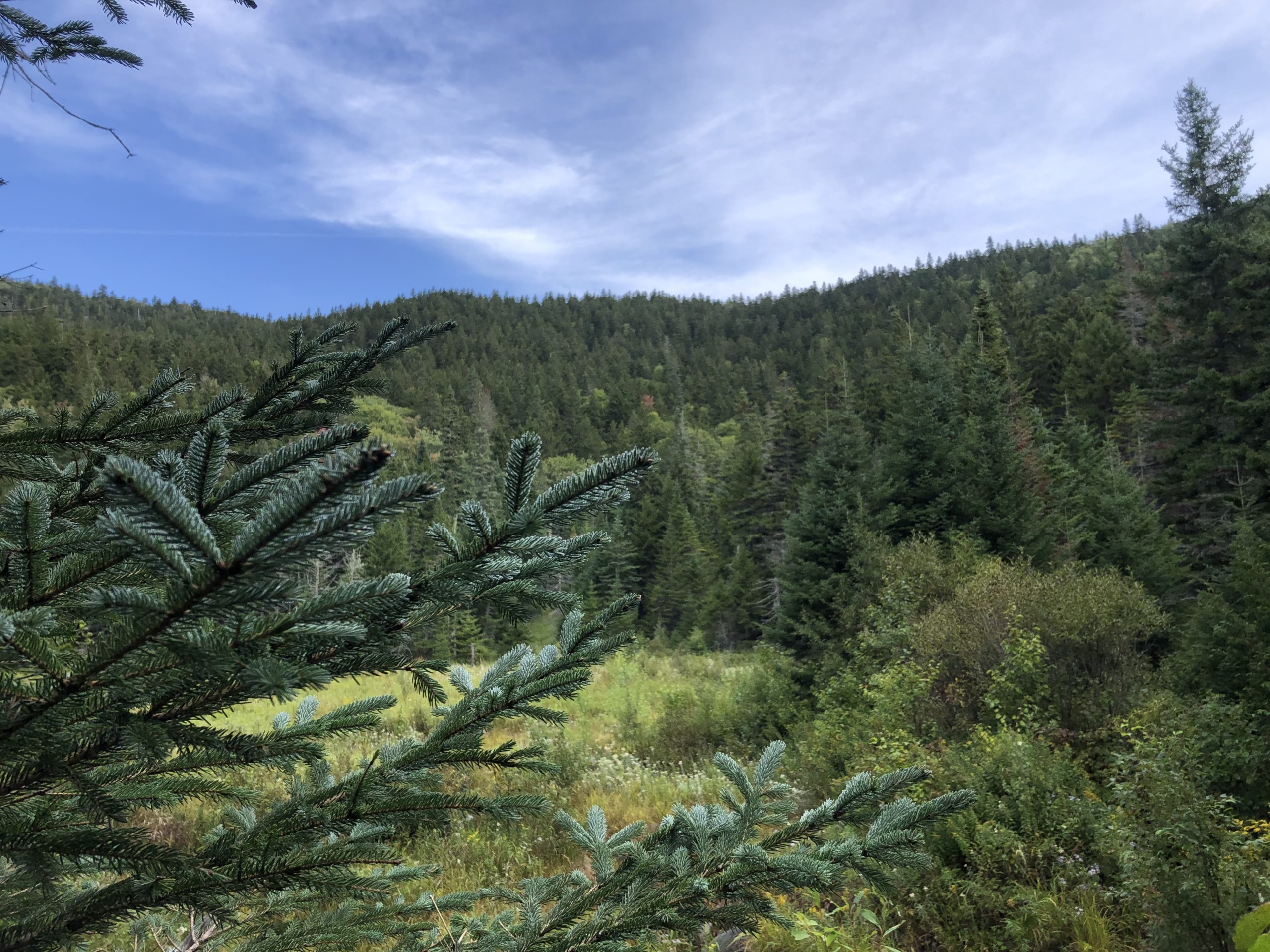 Affiliate Disclosure
This website contains affiliate links, which means The Trek may receive a percentage of any product or service you purchase using the links in the articles or advertisements. The buyer pays the same price as they would otherwise, and your purchase helps to support The Trek's ongoing goal to serve you quality backpacking advice and information. Thanks for your support!
To learn more, please visit the About This Site page.