The One with the Mosquito Thunderdome [AT mile 1374.7-1613.9]
Day 113: 12 miles from NY 17A to NY 17 (yes i was confused too, 17 is apparently NY's favorite number)
Day 114: 13.3 miles to West Mountain Shelter
Day 115: 5.7 miles to Bear Mountain State Park
Day 116: 17.2 miles to beaver pond campsite
Day 117: 18 miles to Morgan Stewart Shelter
Day 118: 16.6 miles to Wiley Shelter
Day 119: 12.7 miles to Kent, Connecticut
Day 120: 17 miles to Pine Swamp Brook Shelter
Day 121: 18.7 miles to Riga Shelter
Day 122: 18 miles to Great Barrington, Massachusetts
Day 123: 11.7 miles to Mt. Wilcox South Shelters
Day 124: 16 miles to Upper Goose Pond Cabin
Day 125: 20.6 miles to Dalton, MA
Day 126: 17 miles to Mt. Greylock
Day 127: 20.4 miles to Congdon Shelter
Day 128: 4.3 miles to Bennington, Vermont
Total miles on the Appalachian Trail: 1613.9
Worthy extra mile
West Mountain Shelter in New York is a half mile off trail. Ordinarily, that would mean that I (and most other thru-hikers) would bypass it, or stealth camp along the spur trail so as to avoid adding extra mile. But I'd heard good things about this shelter, so I walked the whole half mile there and back the next day. And it was so worth it.
I had the shelter all to myself so I slept in it rather than set up my tent, but that wasn't the highlight of this site. The shelter is situated on a mountain top with a beautiful view of the Hudson River valley and surrounding mountains. And when the sun went down (too hazy to see with the sun up), I could see the silhouette of the Manhattan skyline in the lights of the skyscrapers. Definitely worth the extra mile.
The next day I ended up neroing to Bear Mountain State Park, where I escaped into nearby Fort Montgomery to flee from a cluster of severe thunderstorms flinging hail and tornados in their winds.
Gateway to New England
So fun fact, until I started hiking the AT I thought that Maryland was were New England began…but apparently Maryland is still considered a southern state (its definitely not though) and Connecticut is where New England begins. Who knew.
Anyway. Connecticut is absolutely beautiful! Only one person has ever told me that CT is a beautiful state, and he was very right. I was not prepared for the beauty I would encounter here. Or the actual mountains. Since the beginning of Virginia, the trail has mainly meandered over ridge lines, so you climb for maybe a half mile and then it's flat for a while. Connecticut actually has mountains more like those in Tennessee, and my legs were not ready for it. But thankfully by the end of the state they remembered what to do.
The mighty Housatonic
The Housatonic River flows through Massachusetts and Connecticut, and the trail follows it for miles in many sections. While very pretty, apparently it's contaminated, so we couldn't drink from it. Which was sad, because Connecticut didn't have the most water sources. I did enjoy walking along it though, and me and some new friends (Pickles, Fiddlehead, and Pace) had a nice lunch break beside one of its waterfalls.
Mudskeetochusetts
More commonly known as Massachusetts, but I would like to propose a name change. Mt. Race greeted me shortly after entering Mass., and it's easily one of my favorite mountains so far. The trail follows some rocky ledges along the side of the mountain, giving you beautiful views for most of the climb. After Mt. Race I climbed up Everett, which was much less beautiful. And then I descended into what one Guthooks commenter called the Mosquito Thunderdome. I couldn't agree more.
Right before the road I needed to take to Great Barrington for resupply, the trail goes through a marsh/bog/thing. I have never encountered worse mosquitos in my LIFE. They were HUMONGOUS and traveled in literal CLOUDS and chased me as I ran for my life. I stopped only once in 2 miles to throw on my long sleeve shirt for the little protection it would give me, and I instantly had a hundred or more skeeters all over my body, sucking hungrily at my blood. It reminded me of the tracker jackers from the Hunger Games novels—escape was impossible. This was like biblical-Egyptian-plague level of predatory insects.
The mosquitos were the worst on the sections of trail around Great Barrington, but continued to be awful throughout all of Mass. And so far Vermont isn't much better (yes, spoiler, I made it to Vermont!). My friends Pace and Fiddlehead actually bought button-up dress shirts from Walmart to combat the little terrors.
There was also a lot of mud in Mass., but at least it's not flooded like it was a few weeks ago…
Extra mile take 2
Upper Goose Pond Cabin is also a half mile off trail, but is once again so incredibly worth it. It is a cute two-story cabin (that only allows 4 people to sleep inside right now due to covid, but there's tons of tent sites) with a caretaker who made us free blueberry pancakes in the morning!!!! They were DELICIOUS (thanks Pete!) but that wasn't even my favorite part of this place.
It has canoes!!!! So of course my friends and I paddled out to an island where we climbed trees and swam in the wonderfully cool water. It was so magical. I have greatly missed swimming, being on the water, and using my arm muscles (my poor climber arms are disappearing very quickly), so this was wonderful. Definitely one of my favorite days on trail so far.
Led astray
Sadly, all the wineberries seem to be gone, but the blue and blackberries are still in full swing, and they are delicious! They are also very distracting.
At the top of Warner Hill in Mass. I picked a TON of berries, munching on some and storing others in my bug net for later. And then I couldn't find the trail. I followed three different trails before running into a dayhiker and asking if he knew where the AT was.
Moral of the story: Watch out for the blazes when you're picking berries.
Mt. Greylock
Mt. Greylock is not only the highest point in Mass., but also my second favorite part of the state (very close behind Mt. Race). It's a looooong climb up to the summit, but it is BEAUTIFUL. Pines and spruce trees surround the trail, with patches of the greenest moss everywhere. Reminds me of the northern half of the Smokies, Unaka Mountain, and the Roan Highlands which are other favorites of mine.
And the silence. I have never been anywhere so absolutely silent. On a few stretches of trail up Greylock, the silence was so deep I stopped and held my breath so as not to break it. No sounds of traffic, no passing planes, not even wind rustling the trees or birds singing. I've never been anywhere so completely devoid of sound.
We sat at the top of Greylock for a long time and watched the fog soar in, surrounding us in gray wisps, making all the world outside of our mountain top disappear. One second we could see a patch of buildings below, and right before our eyes it was as though God flipped His pencil and erased it, returning the previously featured landscape to a blank canvas. So cool.
Welcome to Vermud
On day 127 I hit the 1600 mile mark and entered Vermont! Which is WILD! I only have 3 states left to hike, and I'm not at all sure how I feel about it. But I do know that I am PUMPED to be in Vermont despite all the mud, cause it's a whole new state to explore.
We've been pushing pretty hard lately, which I really enjoy because I like hiking hard. But today we neroed into Bennington, Vermont, and it feels quite good. A mixture of long and short days is honestly the way to go. This last stretch of trail has been full of big mile days and great adventure with new friends, and there's only more to come!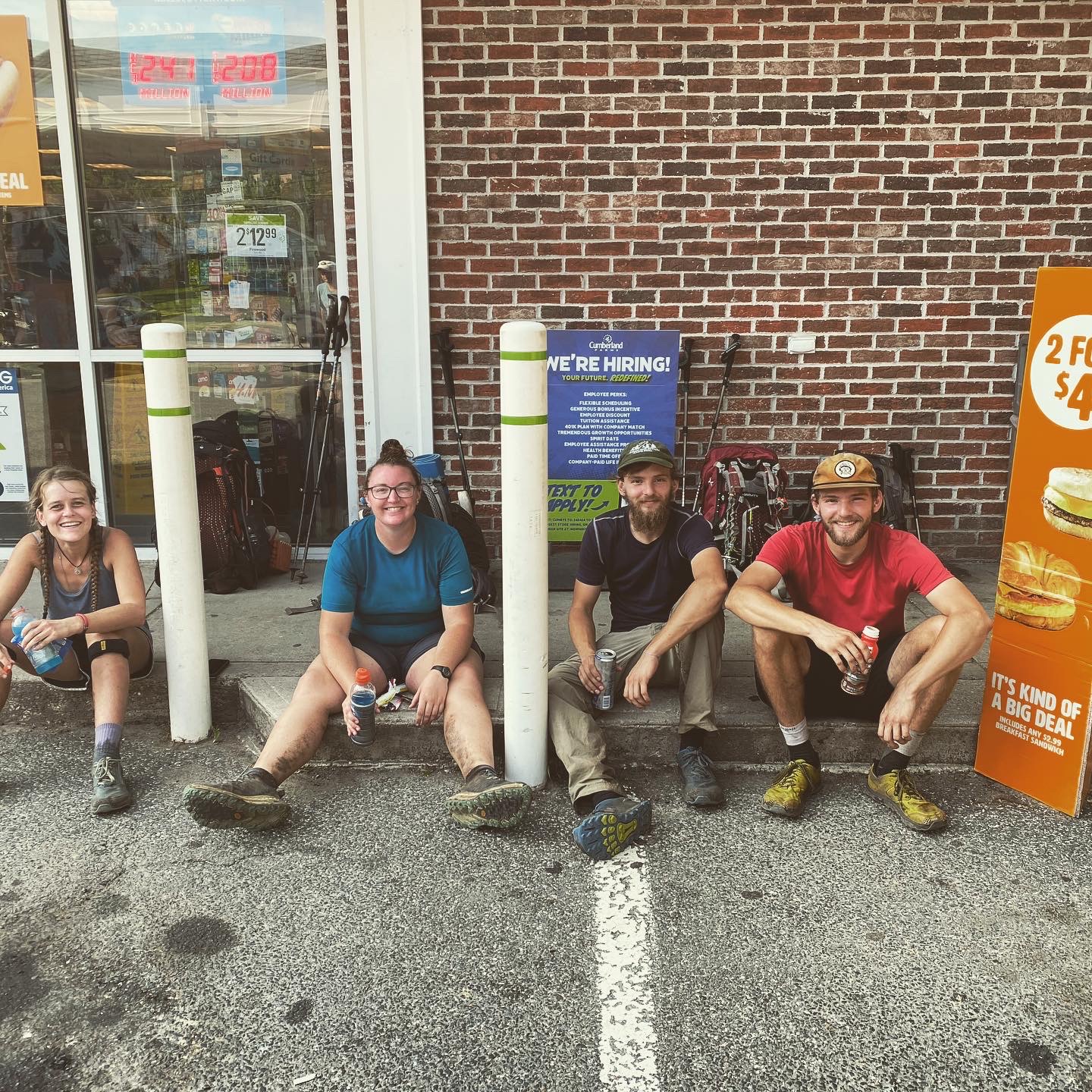 Affiliate Disclosure
This website contains affiliate links, which means The Trek may receive a percentage of any product or service you purchase using the links in the articles or advertisements. The buyer pays the same price as they would otherwise, and your purchase helps to support The Trek's ongoing goal to serve you quality backpacking advice and information. Thanks for your support!
To learn more, please visit the About This Site page.