Day -1 & 0: The Only Thing Flip-Flopping are My Emotions
Don't let the smile in the thumbnail fool you. That man is half nerves, half disbelief.
How did something I planned a year and a half ago sneak up on me?!
800 Miles in Two Days is Easy (When Driving)
After spending Saturday double-checking that everything was in my bag and hugging my partner goodbye for at least two hours, Sunday's checklist consists of one item: get to Georgia.
My dad is a master at road trip driving and my mom is an equally experienced co-pilot. Any offers to take a turn driving fall on deaf ears. This leaves Jake and me in the back seats, catching up on life and solidifying our plan of attack.
Jake is my older cousin and has many more miles of backpacking underfoot than my one ~22 mile weekend trip. When he asked if he could tag along for my first week on trail, I quickly agreed. I was not going to turn down a familiar face for my first foray into the wilds. Not to mention, having someone to talk shop with helps pass the time in the car and distract me from my nerves.
After two gas breaks, five states and 12 hours in a car, we pull into the driveway of our rental. We settle in and, drained from a cramped day in a car, are quickly off to bed.
---
Reconnaissance Day
We all awoke with a game plan for Monday.
Me
Swing by Amicalola Falls State Park to officially register my hike and get my hang tag.
Fill my day with any and all distractions to avoid the pre-trail anxiety from taking over.
Jake
Drop off his airport clothes in Hiawassee to be picked up when he gets off trail.
Mom
Drive Jake and me to our tasks.
Take pictures of her baby boy before he wanders off into the woods.
Dad
Enjoy a well-earned day of rest at the cabin after 12 straight hours of driving.
One Hang Tag, Please
Mom, Jake and I pile in the car. After a breakfast at Waffle House (can't get that in Wisconsin), we are off to Amicalola Falls State Park.
We arrive midmorning and are welcomed into Shelter #2 by a very friendly man named Fred. He weighs my bag (30 pounds with food and my hiking clothes), has me sign the logbook and hands me my hang tag (lucky number 346).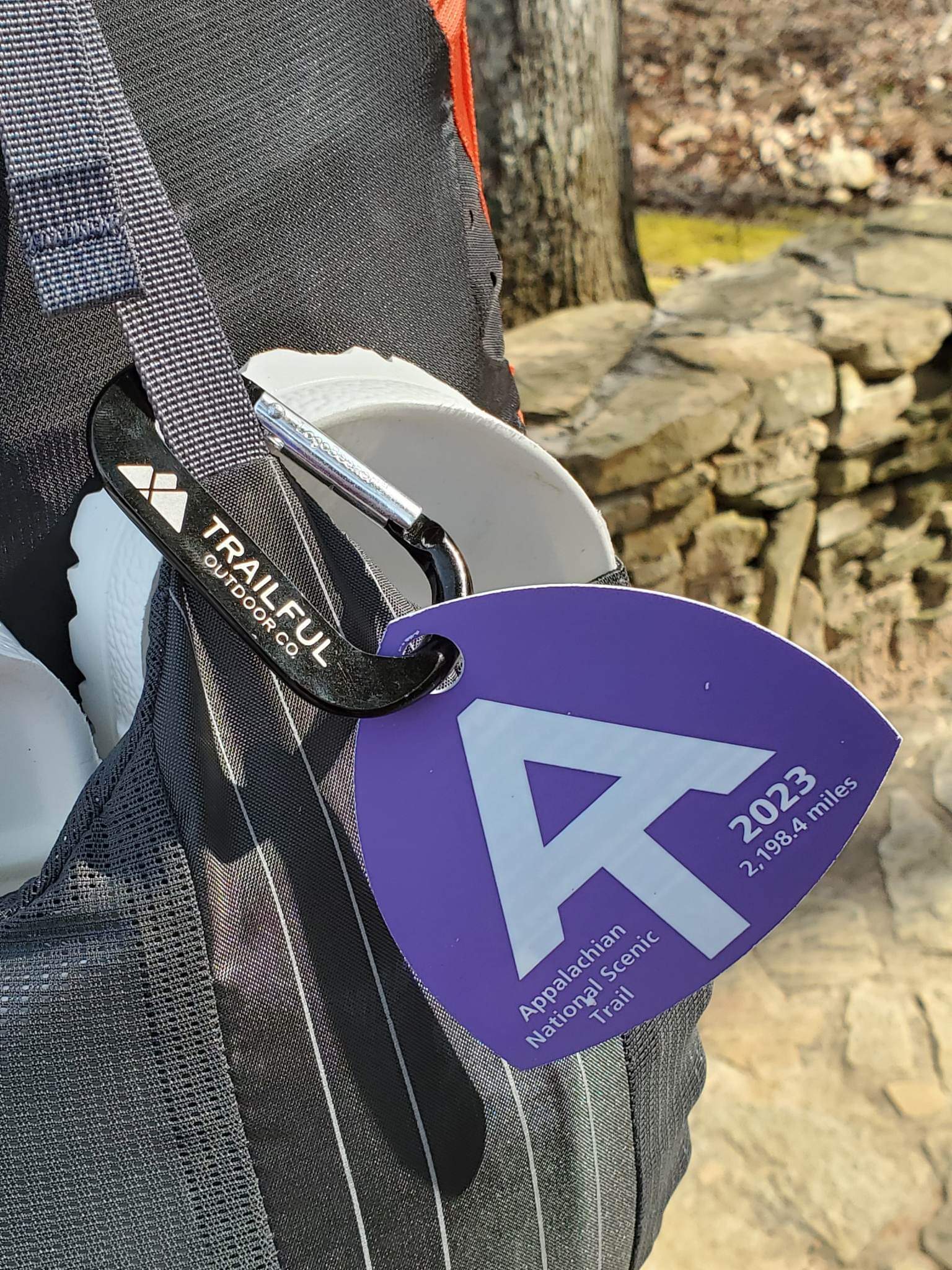 I sit through a short, but informative, presentation about the best way to approach the Georgia portion of the AT.
In short:
Don't push yourself
Stay overnight at shelters when possible
Hydrate, hydrate, hydrate
Pay attention to the weather
Remember that there are effectively no means of resupply between Dick's Gap and Winding Stair Gap, so plan accordingly
Have fun and good luck earning your trail legs
After some follow up questions and a photo op at the famed archway, we begin to make our way towards Hiawassee.
Look, Mom! Hikers!
On our way, we stop at Unicoi Gap. This is where Jake and I will shuttle into Hiawassee a week from now. We'll spend the night there and then head our separate ways. Back to Wisconsin with him and back to the trail with me.
Mom really wants to get a photo of a white blaze before going home, so we pull into the gravel parking lot off the shoulder. There are a handful of thru-hikers in the lot, enjoying a reprieve from their most recent descent.
I chat up two of them, eager for any information or stories they have to share. One of them is hiking with his son, who has been sent to Hiawassee to get water. It seems that all the water sources between Chattahoochee Gap and Unicoi gap are dry. I am thankful for the information and make a note to text my buddy who will be approaching that area in a few days. After talking gear for a bit and snagging a photo of a Genuine Appalachian Trail White Blaze, we are back in the car.
A Paragraph About Groceries
Hiawassee is a quick drive from the gap and we begin to tackle our town tasks, including a trip to the grocery store. Our cart fills with the makings of a stir fry dinner and some extra snacks for stress eating tonight. After loading up, we start our finally leg of the day back to the cabin.
Pre-Trail Mental Check
As I sit back in the car I realize I am still not mentally processing that I am here. That I am going to start my thru-hike tomorrow.
Me. Tomorrow. The AT. Doing it. Actually.
My stomach gurgles. The last two days I have been rotating through the stages of "I'm too tense to eat", "ny appetite knows no bounds" and "let's feel nauseated for a bit". In the ride  back to the cabin it finally clicks for me. By ignoring my fears, my body has been physicalizing my anxiety.
I am nervous. I am tense.
Ready to address my mental uncomfort, I think back to my most recent stint going to therapy and what mental tools might be helpful. After a moment, I take a breath in and just feel my feelings. The thoughts crash through.
Am I fooling myself?
Maybe the idea of hiking is better than actually doing it.
Maybe I'm not cut out for this.
Did I pick the right gear?
I should have done more shakedown hikes.
February is the wrong month to start. Should have done March. Should have done April. Should have just stayed home.
I'm not prepared.
I'm not ready.
I exhale. Another breath in and I'm back. I process my thoughts and begin my rebuttal.
I love you.
It's okay to be nervous.
It's okay to be excited.
Be kind to yourself.
Trust your preparations.
You are ready.
This seems to do the trick. At least for now. I know I'm prone to bouts of self-doubt and I am thankful for the time I have put in therapy towards not letting these feelings take over.
Winding Down
Back at the cabin, I assess my gear one last time. Everything is where it should be except for the cork massage ball I forgot back in Wisconsin. Less to carry, I suppose.
I sit out on the porch writing my last pre-trail blog post until the smell of stir fry brings me in for the night. Tomorrow brings the trail.
Thanks for giving this a read! I'm trying out different writing styles with my trail updates. Might do more like this. Might not. We'll see how the muses strike me over the next ~6 months.
Be well and happy trails!
– Good Soup
Affiliate Disclosure
This website contains affiliate links, which means The Trek may receive a percentage of any product or service you purchase using the links in the articles or advertisements. The buyer pays the same price as they would otherwise, and your purchase helps to support The Trek's ongoing goal to serve you quality backpacking advice and information. Thanks for your support!
To learn more, please visit the About This Site page.