The Roan Highlands: My Favorite Section To Date
Heading Out Of Erwin
There was a rainstorm the night I spent at USA Raft in Erwin, but the hikers on the trail all reported that it had not been as severe as forecasted. Apparently the worst weather was further north.
I was delighted to find trail magic at Indian Grave Gap: baked goods, fruit, and cold beverages, as well as conversation with the trail angel and hikers including Dig, a hiker I had met the day I slack packed out of Hot Springs  to get past the bear  closure area.  Rubix Cube, Nintendo, and Switch were just leaving as I arrived. I caught up to them and Dig at Beauty Rest, truly a gorgeous bald. On my way there, I saw a few rhododendron in bloom.
This day's hike and the views on Beauty Rest made up for my foggy hike over Big Bald.
Next there was a long climb up Unaka Mountain, a dark, coniferous forest whose floor was covered in mosses which soaked  up and retained  moisture.  On the ascent, I saw a turkey in the woods. The trail was muddy and quite wet, perhaps from the recent rains. Despite the fact that it was a sunny day, my trail runners and socks got soaked. The trail apparently dries out as other hikers did not have my experience.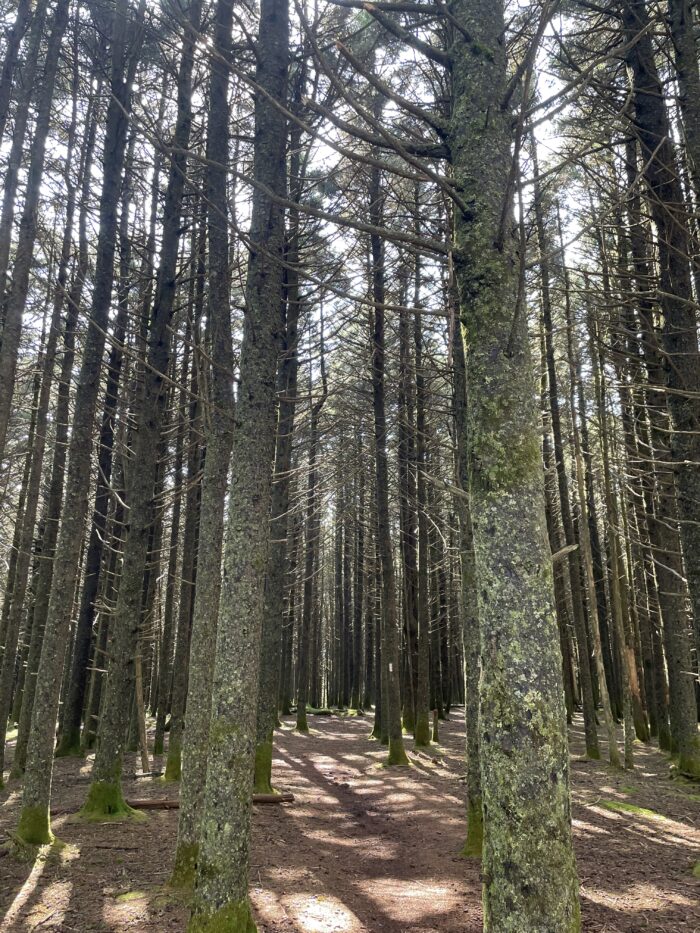 To my disappointment, however,  Unaka Mountain is a viewless summit.
The Hike To Ash Gap
Descending from Unaka Mountain, I found Dig camped at a dispersed site about a mile short of Cherry Gap Shelter, my intended destination. I decided to camp there with him as my legs were already very  tired.
The next day, I planned to hike 16.8  to Ash Gap, which begins the ascent to Roan Mountain. The plan suited Dig, However, we didn't see each other after the morning.
After Hughes Gap, named after  the Hughes family who had owned the land since 1878,  every time I saw a suitable  campsite, I wished I had told Dig to stop sooner. I assumed he was ahead of me, and despite my fatigue,  I continued on.  I mused that when I arrived at Ash Gap, I'd ask Dig " whose idea was this?"
But  Dig wasn't at Ash Gap when I arrived. I was glad that two hikers, Jesse and Mark, were there. Shortly after I arrived, we saw two deer and there were deer tracks near the spot I chose to set up my tent. Soon afterwards,  Dig arrived, explaining he had stopped for a hot lunch to fortify himself for the climb.
Hiking Roan Mountain And The Roan Highlands
The winds howled above us  that night, but thankfully it was not too cold. Hiking up out of Ash Gap, one first arrives at the site of the former Cloudland Hotel.  I assume this chimney was part of the buildings.

Next one reaches the junction for the Roan Knob Shelter, the highest shelter in the AT. Then there was a descent to Carver's Gap, where many day hikers got on the trail to hike to the Roan Highlands: Round Bald, Jane  Bald, and Hump Mountain. The views were spectacular! There were miles  of balds and mountains as far as the eye could see.
I had stopped for lunch at the Stan Murray Shelter, named after a man who helped conserve much of the Roan  Highlands, where I met Cheeks and Sweet Potato, as well as several others out for a few days. Again, although I thought Dig was as ahead of me, he showed up after me!
Descent to Roan Mountain, NC.
From the summit of Hump Mountain, the hike was downhill for several miles to Doll Flats, a campsite nestled in the woods beside an open meadow.  From there, it was a relatively short descent to Route 19E. We were fortunate to get picked up by Randy of Lost and Found Shuttle, who was dropping off another hiker at the trailhead. He drove us to town, where Dig picked up a resupply box at the post office. There were spoke to a local man, who told us that iron ore was mined in the area until the 1980's.  I resupplied at Redi-Mart.
We both ate a delicious and filling breakfast at Smoky Mountain Bakery and settled in for a relaxing stay at Mountain Harbor B & B and Hostel. Yes, since there was a hostel near the trail, it was time to stay indoors again as rain was forecast for the afternoon and evening.
After a shower and laundry, I enjoyed talking to other hikers.  A food truck serves dinner and beer in outdoor patios. Breakfast tomorrow will be in the B & B and is reportedly the best hostel breakfast in the trail.  Can't wait!
Affiliate Disclosure
This website contains affiliate links, which means The Trek may receive a percentage of any product or service you purchase using the links in the articles or advertisements. The buyer pays the same price as they would otherwise, and your purchase helps to support The Trek's ongoing goal to serve you quality backpacking advice and information. Thanks for your support!
To learn more, please visit the About This Site page.