The Slow Descent and Ascent Into Erwin, I-19, and Madness
Day 31
Today felt great! Hiking by myself without having to feel like I need to catch up with others or meet them based on plans is so freeing. I did 14.7 miles, that's not bad for my first day back on trail after my bout with noro. Perhaps I really needed that double zero.
I want to shout out to all the folk who reached out to me while I was cooped up in town and lent a helping hand, be that sending kind words or sending me food for future resupply. Your kindness won't be forgotten.
At the beginning, it felt rough. It was my first day back on trail and I was still fairly dehydrated. On top of it being a bright warm sunny day, I was guzzling water trying to make up for water I was missing and water I was losing. I think I have had close to 5 liters today, which might be the most water I have drank in a single day. Also, I only peed twice, which is slightly concerning. So I sit here writing this, sipping more water. The last thing I need is to be more dehydrated. Especially when the water is 3-minute walk on a busy highway.
But I had an actual blast today. I was going to try for 16 miles today, but ended up doing 14.7 because I got tired. I am still a little fatigued from the dehydration. I'm glad that I was able to go back to trail food without issue (so far); nothing seems to be giving me any trouble.
Today was honestly just a good day. I walked the miles I wanted to walk without feeling behind. I actually hiked my own hike and it was glorious. I didn't feel rushed or self-conscious about my need for extra breaks. Also my knee didn't hurt! So maybe there is something to hiking your own hike.
I am hoping to do more miles in an effort to get to Trail Days on time. Also, I need to figure out how to make arrangements for Trail Days. I really have no idea of what to do about logistics. I just know, I can make it to Damascus in 13 days if I was 14-16 miles a day. So that's the goal, walk at least that and figure it out on the way! (Any advice on planning for hostels and camping for trail days is welcomed!)
I am excited to cross over mile 300 tomorrow, it is another big milestone for me. As someone who went through 6 months of physical therapy for tendonitis of my feet, to be crossing over the 300-mile marker is a big deal. There has always been that thought in the back of my mind that I wouldn't even be able to cross the 50-mile mark. There was a time I couldn't even go grocery shopping I was in so much pain, so being able to walk 300 miles pain-free is an incredible feat. So shout out to Premier Therapy Associates for helping me to walk pain-free again and be able to accomplish this endeavor.
I'm so excited to see my mom in a couple days. It will be the first time since I left for trail that I will see her.
Day 33 – 34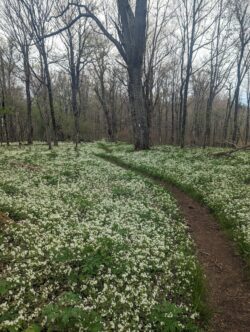 I forgot to write because I have been pushing bigger miles and I fall asleep at 8:45 pm. Be proud of me… Everything aches, but I am so proud. I was really worried about pushing bigger miles and having the energy to hike these bigger miles. I have come to realize miles are just numbers. It's just how my body feels. What is 16 miles on my body now was 13 miles two weeks ago. It's just numbers now. Also, as my therapist tells me, spite is a great motivator…
Since the noro and being a month on trail, I have lost about 20 lbs. I had gained about 40 lbs from grad school and from grieving… Also cake is my favorite food group. A couple people noted how much weight I have lost and have been concerned. I am eating at least 3500 calories a day and still putting food in my face at any and all opportunities. I feel indifferent about the weight loss. It is nice to be back at my pre-grad-school weight when I felt healthier, but I don't think thru-hiking and the thru-hiking diet is a sustainable or healthy way to weight loss. I just want to assure people I am not starving myself out in the woods.
I got to see my Mama the first time since leaving for trail back in March (I officially started trail on April 5th but went on a silly road trip through North Carolina with my cousin 6 days before going on trail). It was so good to see her, and I have really been missing home. I took her slack packing and she kicked ass. We did 11 miles from Spivy Gap to Erwin, TN. I am very proud that she got outside and got to touch a little bit of trail.
My mom was supposed to thru-hike the PCT in 2022 with me, but due to the death of my father, we both turned back our permits. Due to the situation at home with my autistic brother, she is unable to thru-hike, so I am glad that she got to hike a little bit of the AT with me. I hope with more support with programs for my brother, my mom can get back to hiking more and perhaps can do a small section hike in the future.
Random silly fun fact, I have hiked 333.1 miles in 33 days. I am kind of upset that it wasn't 333.3 miles, but I'll take what I can get. I am happy to be out here. I am having a blast being solo and I am seeing a definite change of mental state and mood overall. I am really enjoying the experience of being out here. I love waking up outside every morning. I love being with the people out here, all of them are so different and unique. I love the support from the community, my peers, and the town.
Day 35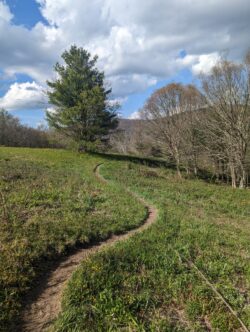 Finally back in trail with the full pack. Sadly no slack packing for me (even though I should have really looked into it). The pack felt heavy and I felt slow, but I ended up doing 13.5 miles despite the very late 11:30 a.m. start. So, I must be doing something right with this hiking thing? Even though today was all uphill… But hey at least my knee doesn't hurt! I'll take my small victories.
Today was hot, in the mid-70s. The sun was out and the sky was sunny and clear, and I was a sweaty little hiker. Sweaty isn't quite the right word. Dripping. Drenched. Those are much better words for my condition. I am blessed with the genes that lead to a lovely glisten when I sweat. I look like a rat that crawled out of a toilet. This means hydration and electrolytes were a big priority today. Especially since I drank the equivalent to a little over a liter of iced coffee before I hit trail (I told you… It was a late start for a reason).
Despite the sweating and coffee-induced dehydration, I think I managed today very well. I was on top of drinking water any chance possible, but I did feel like I underate due to drinking so much water. I tried to make up for it at dinner and night snacks, but I still need to prioritize refueling. As it gets hotter and I drink more water, I can't let that get in the way of not eating.
,
Even though it was all uphill (almost 5000′ of elevation gain today) and hot, there were some spectacular views of Beauty Spot. I didn't spend much time up on the summit as I was low on water and just wanted to push ahead. The moments I spent up there were spectacular.
Though I think my favorite moment of the day was coming off Beauty Spot and finding this massive tree in a field. I do not know what kind of tree, but it is on the north side of Beauty Spot and has a blaze on it. This tree called to me, just something about it made me want to just touch it. I needed to hug the tree. Maybe it is the dehydration or it being hot, but I was going to hug that tree.
So, I did. I place my hands on either side of the blaze and place my forehead right onto the white paint mark and just let it go. Let go my fears of not finishing this endeavor, who and what I will be on the other side of this, my fear of dying, but also my fear of living, my fear of failure, and the fear of unlearning my masks and truly learning about myself. Just surrendered myself to it all. I was tired, sweaty, and had been in my head all day about my worries and fears, but in that moment I needed to surrender them to continue on. I couldn't hang onto what wasn't serving me.
Maybe that was me facing one of my demons at the crossroad. Not fighting them. Not making a deal with them to satisfy my wants. No, meeting them at that crossroad to learn from them and move on.
Day 36
It was a rough and long 12.8 miles. Its has been long steady ups for the past two days. Maybe I pushed it too much yesterday with getting above Beauty Spot, but today was grueling.
I don't know who has been doing this, but one-dollar bills with dried animal poo have been appearing on trail. I have yet to find another. I question if this is trail magic or thru hiker shenanigans. I left the dollar to the next poor soul who needs it.
I know I have been increasing my mileage this past week, but my two nights in town did not give me the rest I needed for this next section. I know during my town stays I didn't get to rest and refuel like I needed, since I was trying to keep up and hang out with family. While I enjoyed the company, what I really needed was to sit in bed, sleep, and eat food.
I found a great break spot today that I was tempted to camp at. It was an old orchard with apple trees that had been left to go wild. A lush green glade with big blossoming apple trees, wildflowers, and a small spring, an image out of a Tolkien book. I laid in the grass there for about an hour trying to recover from my day. It was such a nice spot. I could have spent the rest of the day there doing nothing and maybe I should have.
Every hundred miles presents a new challenge. Not just the physical challenge of walking another 100 miles, but also the mental challenge of walking another hundred miles and the new challenges your body presents. Since I am beginning to walk bigger, longer days, 400 miles is approaching much quicker and my body now has new needs that I need to be better prepared for. Number of breaks needed, increased hours of sleep, more calories, more water, medications, and stretching. This doesn't even include managing your mental health. Boredom, depression, and anxiety still strike out here. There have been a few times that I have had to ask myself if I "even like doing this." Of course at the end of the day, the answer is yes, but sometimes in the moment, this feels like a Sisyphean endeavor, and it will never fucking end.
Trying to manage yourself as best as you can, so you can continue this hike without injury is hard. I hope that the little things I am doing now pay off in the end. Watching hikers have to end their hikes due to injury is so heartbreaking.
Day 37
Some research suggests that being outside increases ones ability to problem solve. Since being out here five weeks, I am convinced it has made me stupider. Well, atleast more stubborn.
Today I chose to walk at least 13.0 miles. I was going to do it, no matter what. My stubbornness led me to walk 4 miles in a thunderstorm through Grassy Bald and Jane Bald. That was fucking stupid. I knowingly passed up a lovely warm DRY shelter to go push miles. I ended up soaked, on trail by myself, in kind of dangerous conditions and freezing cold.
I was Lucky and nothing bad happened, I walked through the storm, my necessary items for camp were dry and I was able to sleep warm and comfortable. I only had knee pain the last hour and I was safe. But pushing through an early spring storm like that could have been worse, I didn't check the radar, didn't look at any of the temperature profiles. I just shrugged my shoulders and said, "It's the AT, it will pass."
It didn't pass until 2 am that morning with me wondering how I am going to dry my hiking clothes for the morning.
If I am going to take be stubborn and take bigger risks like that, I need to be better about looking into the conditions and risks, that doesn't mean braving a storm with just trail magic beer and spite (Thanks Silver for amazing trail magic).
Day 38
The motivation to start this morning was nonexistent. My clothes were wet, the world was wet, and my tent was warm. It has been harder to get up and get ready in the mornings. I have been so tired, especially with walking up Roan Mountain and over the Balds yesterday. It has been non-stop uphill since Erwin. It has been taking a huge toll on my body and I am so excited to stay in a hostel tonight. I do not care which hostel, but all I want is a bed, a shower, and a beer.
SHIT DOLLAR HAS STRUCK AGAIN!
While hauling my ass up yet another hill, I spotted it. Another dollar, this time with rehydrated animal poop from the rain. This time I took it and shoved the contaminated dollar in my shoelaces (It can't give me noro if I shove it in my shoe and wash my hands!). Shit Dollar, I will find you. I must know why.
My brain is exhausted and I have to walk whatever miles to get me to where I need to be. I am glad those miles were beautiful getting up Hump Bald, but boy they were long.
Hump Bald is not a particularly difficult hike. It's just you can see where you are going and it is up… Straight up… You can see all the little tiny hikers crawling up the trail ahead of you. And all your brain thinks is, "Fuck… I didn't need to see that."
So you walk and try not to look up, because if you do, you realize you have walked no closer to the summit, and it feels like your lungs are bleeding. You look around you, and the views are absolutely stunning, but that doesn't change the fact that you still have to use your two legs to get your ass up the hill… And there is a whole lot of hill left.
Once you are up Hump Bald, you realize you have to go down. I have decided down is worse on my body than up. There are two camps of thought, many believe going downhill is better, while others think up is the way to go (I am spiritually and physically an old lady with a shitty knee, both suck and up is better). Today's down wasn't what killed me, it was the ankle-breaking rocks and gravel that was on the roads that bruised my feet and made slow going of the trail.
I sit here and try to think of some profound thoughts that nature has provided me. I've got nothing, nature does bring you any sense of clarity about life or the cosmos. Why so many of us out here seem to have these "breakthroughs" and "wisdom" is because we are not distracted by the day-to-day of civilization and technology. All I know is my body is one big sore and my brain is pudding.
Affiliate Disclosure
This website contains affiliate links, which means The Trek may receive a percentage of any product or service you purchase using the links in the articles or advertisements. The buyer pays the same price as they would otherwise, and your purchase helps to support The Trek's ongoing goal to serve you quality backpacking advice and information. Thanks for your support!
To learn more, please visit the About This Site page.
Comments
4
Nice post. More beer will help you cope.

Cheers!

Hi Guinevere – damn, your recent post brought back memories of my attempted thru hike back in '78 (yes, I'm an old codger now). I burned myself out trying to make heavy mileage the first month and paid the price (mentally and physically), which led to an early exit close to Cloverdale. I give you all the credit in the world – I found that section north of Erwin to be one of the toughest on the trip. Virginia is a real test so listen to your body and rest when you can. It's easy to get caught up in making miles, which is a mental burden you don't need. Keep an eye out for trail angels up ahead – they're there for you (I live south of Hawk Mtn in PA so give a holler if you need equipment or a big cheesy pizza). Godspeed!!!

I hope you are careful not to overdo it! I love reading your posts! The ways you describe your ups and downs (puns included) make it come alive for me. Because I'm doing the AT next Spring at 69, I appreciate your view point. I am nervous about finding my comfort level as a solo hiker. Thank you for sharing!!! 🥰

You have not become stupider. You have become wiser. We learn on the AT to put things into perspective and past (and even current) decisions where/are being made by a less wiser you.

Your demon assessment is spot on for me. I learnt to accept mine. We agreed to live in peace. It's my world/body/mind. They will always be a part of me but they will fade in significance as I grow.