The Tale of Chocoholic and the Three Bears
Once upon a time…
there was a young lady (or so she imagined) named Chocoholic, for she loved dark chocolate to a great extreme.
She was married to a fine man (who she also loved) named Short-timer, who was very kind and $upportive of all her endeavors.
One fine summer's day, Chocoholic had a desire to walk in the woods.  As everyone knows, the Province of Ohio is completely devoid of trees.
So the couple traveled for many a mile…
to the domaine of Ye Olde Appalachian Byway.
Shouldering their packs, the couple headed into the forest.  Unbeknownst to them, the magical white blazes marked hither and yon magically turned one day of casual hiking into a five day trek.
Or perchance it only felt so to Short-timer.
"Come, let us return to the Queen City on the Ohio," said he to his companion. "These woods are deep and dark and full of danger."
Chocoholic pondered this suggestion.  Should she return home to do good deeds for charitable organizations and take care of hearth and home?  Or head off on a purely self-indulgent journey of three months to the State of the Peach?
The answer was clear.
Kissing her beloved farewell…
she turned and set her sights south on the magical path.
After a a few hours of gaily tripping down the route, she entered into the Kingdom of Shenandoah.  Not long afterwards, a snug little cottage of stone came into view. Approaching, she called out, but no response was to be heard.
Having traveled for many days now, she was suddenly quite eager to sit and rest her feet.  But where?  Looking about, she saw a large rock nearby.
"Oh no," she said, "that looks much too pointy to sit upon."
Near the cottage was a dear little hut in which there was a white seat.  But, as she drew closer, she quickly exclaimed, "Oh no, that is much too stinky!"
Finally, she spied an inviting little table with benches before the cottage.  Sitting gratefully, she realized that this was just right.
Soon her stomach reminded her that she hadn't eaten for some hours.  Looking about for some nourishment, she came upon a package of ramen.
"Oh yuck," she cried out. "Way too much gluten!"
A sudden movement on the nearby trail caught her eye.  It was a darling little bunny.  Dinner, perhaps?
"Heaven forbid," cried the lass.  "That looks just like a meal on our favorite outdoor reality show. But I could never harm Peter Cottontail!"
Then, searching the cottage a bit more thoroughly, she came across a pot of dehydrated spaghetti and buckwheat noodles. Having followed the website of backpackingchef.com for some time, she immediately knew what to do:  add water, bring to a boil for one minute, let stew ten minutes.  She greatly enjoyed her fine repast.
The miles had taken their toll.  Rest was needed.  But where?
Looking inside the cottage, there was nothing to be seen but a shelter journal, a mishapen broom and a wooden floor.
"Certainly not!" declared Chocoholic.  "That floor looks much too hard!"
Looking about the cottage gardens, she suddenly spied an inviting little white tarp set up under the trees.  But in inspecting it more closely, she said, "No way!  The bugs would eat me alive!"
But she then came across a cozy little insect-proof net tent.  The clever girl attached this under the tarp and added an air mattress, also at hand, which completed the picture.
"Yes," she said with great satisfaction. "This will do quite nicely."
And with that, Chocoholic crawled into the tent and promptly fell asleep. The innocent damsel slumbered, secure in the knowledge that the 2mm thickness of the insect netting would protect her from whatever danger might  lurk in the forest.
Not long after that…
a family of three bears made their way back from a morning stroll to their humble abode (although they lived pretty high on the hog, compared to all their friends in caves).
First came Mama, because she more or less called all the shots in that family.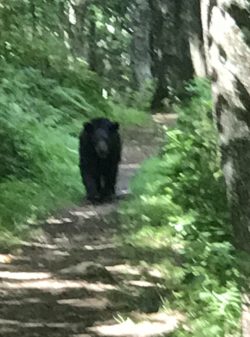 She was followed by Baby, who was both precious and precocious.
Papa Bear followed a bit later, having lost his way but refusing to ask for directions.
Arriving home, they immediately saw that something was amiss.  Well, dear reader, you know how the story goes…
Eventually, the family came to the little white tarp.  Peering inside, Baby Bear (being precocious) cried out,  "Someone's been messing with our stuff, and here she is!"
And with that, the Three Bears quickly turned and ran away as fast as they could and scampered up trees far from of the frightening human being.
After a relaxing slumber…
Chocoholic awoke.  Crawling out of her secure little dwelling, she immediately spied three piles of something disgusting in the trail: a large pile…
a medium pile…
and a small pile.
"That's odd," said she.  "It almost appears as if someone was scared…."
With a good meal in her belly and her body well rested, she donned her Little Red Raining Hood, hoisted her bag of goodies and turned towards the trail.  She had in mind to head for the nearby meadow to pick wildflowers.
Little did she know a new adventure awaited her there…
—NOT QUITE THE END—
P.S.
Dear reader, just to inform you, my second week on the trail has gone very well.  The 64 year old body (which evidentially houses a 12 year old's brain and sense of humor) has cooperated very nicely with all the demands made upon it.
I hiked for 7 days till I came to my next town where I could have a good "zero day."  My longest day of hiking had to be 20 miles due to the placement of shelters and lack of water sources.  I survived but crawled into my sleeping quilt sweaty and with unbrushed teeth.  Horrors!
My food is working out really well.  I feel well nourished and dip into my bags o'choco quite frequently and with gusto. Many thanks to my dear husband, my Postmaster General.
I've met many interesting hikers, but then have to move on.  It does keep the days interesting.  Now that I have left the Shenandoah, there will fewer day hikers to chat with.
The views in the Shenandoah were magnificent.  I hope further sections in the south will be as rewarding.
My tally for direct bear sightings is now up to 12.  If I hear loud crackling of twigs and branches in the woods, I know to stop and searched for a big black body.  And they can certainly scoot up a tree quickly!
The weather has been great, with mostly moderate temperatures and light breezes to cool me off when I sweat like crazy going up steep grades.  There was only one day of rain, at times a downpour.  But with my good Red Raining Hoood and rain kilt, I was well protected and actually enjoyed walking in it.
And with that, I bid you out adieu, Dear Readers.
Affiliate Disclosure
This website contains affiliate links, which means The Trek may receive a percentage of any product or service you purchase using the links in the articles or advertisements. The buyer pays the same price as they would otherwise, and your purchase helps to support The Trek's ongoing goal to serve you quality backpacking advice and information. Thanks for your support!
To learn more, please visit the About This Site page.