The Thing About Gear
Why can't I just be 'normal?'
The Patagonia commercials never show someone like me conquering a mountain, yet still, I hike. I am a plus-sized athlete. While plus-sized athletes may be a minority right now, the majority of American women wear a size 14 or larger. Its high time gear was made for plus-sized athletes!
This time of year is prime time for traveling into the forest to hike. For many overweight adventurers, taking on a hike can be emotionally and physically challenging. Being a plus-sized athlete is tough, especially in a world where plus-sized athletes are underrepresented. However, many voluptuous adventurers, like myself, have logged more travel, trail time, miles, hikes, camping, running, and walking than our leaner, fitter friends. The hard truth is that athletes with fuller figures are hard-pressed to find clothing and gear suited for their bodies. There's a gap between the needs that plus-size consumers are openly asking the outdoor and wellness industry to address and what the industry is currently offering.
Some outdoor companies have started offering "extended" sizing, but most don't go past XXL (looking at you, Patagonia). Others only offer lifestyle clothing as opposed to performance or technical gear. That disparity isn't just with outdoor clothing. This goes beyond apparel to tents, sleeping bags, backpacks, and other gear necessary for plus-sized athletes to enjoy the outdoors safely and comfortably. Companies just aren't producing equipment and other essential items for bodies beyond a size 14. This is sad. Just because an athlete has a bit more mass doesn't mean they don't want the same performance gear as their smaller counterparts. Plus-sized athletes have money to spend too!
I know this article isn't going to hit home for the majority of my colleagues on the Appalachian Trail this summer. But no matter your size, just try to do any outdoor activity beyond a basic trail walk without performance gear that keeps you safe and protected against the elements. You will quickly become sympathetic to this cause. Plus-sized athletes' biggest barrier to getting out and doing these things is finding real performance gear that fits our bodies and keeps up with our adventures.
Overweight adventurers everywhere settle for basic activewear. For me, it's usually Torrid's activewear line, which is at least moisture-wicking and durable enough for most activities. Activewear isn't equivalent to performance apparel.
I will say that I am becoming a major fan of Columbia's extended sizes. They are easily one of the best brands making technical, plus-size performance clothing. With Columbia, I like that I can shop in the Women's Plus Size section. Most brands force me to venture over to the men's section to find sizes that may work.
Today I scour the internet, mostly looking at men's gear because it tends to run larger, and support more weight.  I remain stuck. Considering the lack of engineering in the men's gear to conform to my body's contours and curves it still falls short.
After hours of online searching and deciding on some feasible options, I headed to REI. Once there I ran my hands over all the colorful mesh and nylon. Excitement growing for my upcoming Appalachian Trail trip with my new lightweight backpack. An hour later, I left deflated and embarrassed. All the excitement and hope, gone. I quickly learned that what I wanted just didn't fit me. I tried on lots of backpacks. Not a single one fits comfortably around my women's size 22 waist. Many brands were also tight on my shoulders. I now recognized that finding something ultralight, that would fit, was totally out of the question. Out of ideas, I am now looking into the possibility of waistbelt extenders for a still too snug backpack.
What is the point if nothing will fit me? Will I never get to realize my dream of thru-hiking because my body is too big for all the gear? Plus-size folks shouldn't have to ask these questions. This is the reality of the current outdoor gear market. No, I am not giving up! Hiking should not be reserved only for top athletes. It is a universal sport. Hiking is for anyone who wants to connect with themselves or nature. One step at a time can be done by anyone, no matter the body size or ability.
Searching for gear that works for a plus-size person is difficult, draining, and more discouraging than it ever ought to be. Still, my legs have carried me to so many amazing places. And my wide shoulders have carried so many heavy loads. However long it may take me, I know that I can hike these miles because of my size… not despite it. Until the outdoor industry catches up to this mindset, I hope that plus-sized athletes don't give up on the fight for equality.
I would love to read more articles by plus-sized athletes. I desire to see more plus-size people out in the world, doing what their heart desires. Staying active can be hard enough. Backpackers everywhere struggle with the burden of pricy equipment. Lack of size availability ups the stakes tremendously. Plus-sized athletes are forced to buy clothes that don't fit properly or perform well, and it's often at an even higher price point. Any one of these factors can stop an adventure before it ever gets started. As the industry expands what being plus-sized means, hopefully, apparel will start catering to all body sizes. Plus-sized people should feel like they're part of the conversation.
Plus-sized people don't want to be overweight or out of shape. We want to shed pounds and be more active, so help us! Provide us with clothing for the trails and gear that accommodates us. If more companies would have extended sizes, we just might see a dramatic decrease in obesity and an increase in healthy, active humans.
If at first you don't succeed, then skydiving definitely isn't for you.
I will still be hitting the trail, bushwacking, and summiting mountains. Trees, dirt, and sky don't care about the size of our calves or the girth of our hips, and I hope that plus-size folks remember that. I also hope that hearing from other plus-sized athletes helps you seek out adventures. You never know where they may take you.
Yes, plus-sized apparel is evolving, and honestly, it's about damn time. It should go without saying, but I'll say it anyway: The outdoor and wellness industry has a long way to go with the inclusion of plus-sized bodies.
I know I will not be at the weight that I want as I take to the trail. My feet will carry an extra 150 pounds over hundreds of miles of mountain trails. I will buy whatever equipment that I can make work… and there won't be a lot of options. I will put together my gear. The equipment will weigh more than planned, it's unavoidable as choices are limited. My equipment won't be as comfortable. I am at greater risk for hot spots, muscle strains, and failure on account of my lack of performance gear. I am behind in the race before I even take a step onto the trailhead.
Despite everything, I can't wait to begin my hike. A hike that will be exponentially more difficult from the first step, because my body weight is 2-3 times the weight of the 'typical' backpacker. Marked by ill-fitting apparel and a lack of lightweight gear available for my body size. After a long day of hiking with gear that is just not quite right, I will lay down and squeeze into my cramped sleeping bag.  My body cannot fit into a weight-saving mummy bag. I will lay down on a sleeping pad, rated up to 250 pounds, which I exceed. The pad will 'bottom out' leaving little cushion or warmth between me and the ground. The sleeping pad is too narrow for my broad shoulders and wide waist. I painfully feel the gaps in support. Even my hiking socks are too snug on my wide calves.
When you see me on the trail, just know, I really, really want to be there. I am there despite having already faced insurmountable barriers.
One day big companies will figure out that the outdoors is for everybody, and I mean every body type and size, and they will stop holding us back! All it takes is one big brand to get ahead of the trend. One leader in the industry to give plus-sized athletes the performance gear that celebrates their bodies. One brand to break down the barrier so that plus-size people can get out and enjoy the outdoors just the same as their 'normal' size friends do. Brands that won't just throw a couple of low-quality 3XL's on the rack and say they are inclusive!
As my AT adventure begins, I have learned the hard way that the outdoor industry still isn't made for people like me. I want to bring light to this and evoke change.
I will be section hiking the Appalachian Trail this summer (2022) with a goal of completing the triple crown of hiking within the next 3-5 years. My final hike will be a thru-hike.
This blog follows the journey of a 300-pound female hitting the trails. Hopefully, companies will catch up and see that creating more and better plus-sized performance gear is an exciting opportunity that says everybody (literally every type of body) deserves to have access to wellness practices for their mind, body, and soul.
One day I too will be able to walk into an outdoor store in hopes of finding some clothing or a piece of equipment for my needs. I will not have to leave humiliated and crushed because they didn't accommodate my size.
I will update this blog as I find the gear that works for my body. Purchased items on my gear list consist of a Katadyn 1 Liter water purifier and it fits perfectly!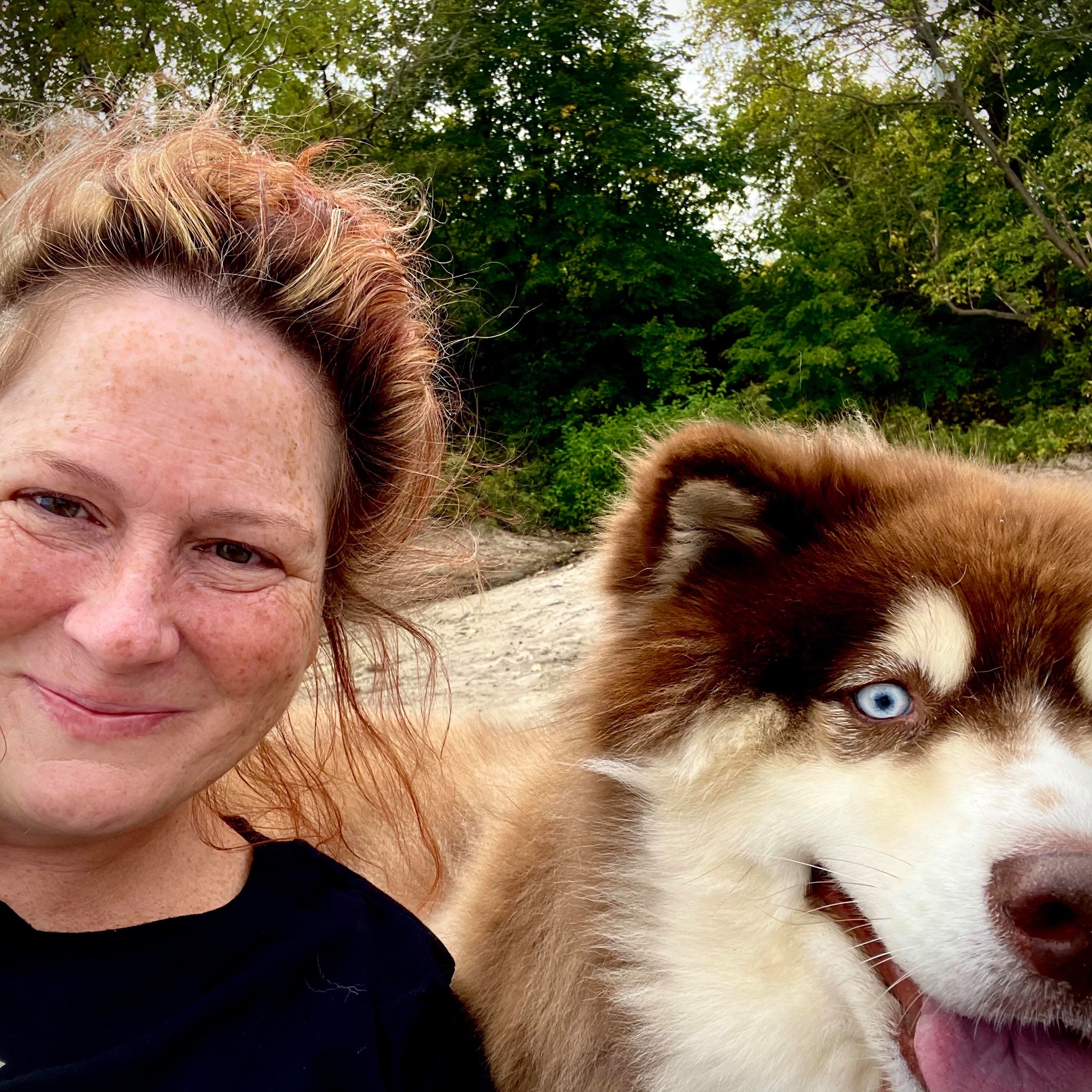 Affiliate Disclosure
This website contains affiliate links, which means The Trek may receive a percentage of any product or service you purchase using the links in the articles or advertisements. The buyer pays the same price as they would otherwise, and your purchase helps to support The Trek's ongoing goal to serve you quality backpacking advice and information. Thanks for your support!
To learn more, please visit the About This Site page.
Comments
9
Good for you & I feel your pain. Athleta has great quality 3X & 4X. Expensive but you really only need a couple of things. As a plus size just wondering if you'll wear boots for more support (1 lb. on feet = 5 lbs on back)
Or trailrunners?
I was wanting to start May of 2022 but my husband is so insistent on not going alone.
Soon I'll be there o. The AT supporting plus size women & get my reward of an AT tattoo on completion no matter my age. 61 now.

Well, you could always join me! I keep a steady pace but take my time. I will be wearing trail runners. I have tried hiking boots but even lightweight ones seem to weigh me down. I remember my bestie coming off the trail in Yosemite and directly throwing her hiking boots in the trash LOL. I appreciate the recommendations I will check Athletica out! Reach out to me if you are interested in hiking together!

I googled "backpacking gear for plus sized women" and 389,000,000 results came up, including an article from this very website: "A Guide to Plus-Size Gear and Clothing for Backpacking" ( https://thetrek.co/guide-plus-size-gear-clothing/ ). You should have no trouble getting outfitted for your clothing or your gear. Here is another link that may be of help to you – https://www.explore-mag.com/Gear-for-Plus-Size-Adventurers-Hiking-and-Backpacking-Must-Haves . Also, many vendors attend hiker festivals like Appalachian Trail Days, and PCT Trail Days, where you can speak to the manufacturers, put on their packs, get into their tents, and so on. And many cottage companies will customize their gear for you, if you ask. Good Luck…

Well John there is a slight difference between what these large companies consider plus size (an XXL or size 14) and what I need in a woman's actual size 22. Finding a size 22 in performance gear, especially with lots of choices for best in fit, or ultra light weight gear that fits a plus-size woman's hips, stomach and chest properly are two totally different beasts. Many companies claim to have extended sizes yet they have a few token items out on the rack in a XXL. Those are not usually XXL performance and their XXL might be a size 14-16.
John, I have done the googling too. It's a huge time suck to disappointment. I have visited the stores, and I have tried on the gear. Unless you have been a very plus-sized woman in the world of outdoor wear and gear, I am sure my words could easily fall short on the reader. Asa an average size hiker, you have tons of options, mine might come down to one or two, not because I choose them because of fit or comfort but because I only have TWO choices, like them or not.
I read the article and if I remember Ashley ended up wearing activewear versus performance apparel. The same brand that I mentioned in my blog.
However, I was not aware of the many cottage companies that customize gear so I will defiantly look into that, thanks for the recommendation.

Thank you, Steve! I love following others with similar interests or situations! I suppose I need to get more active on social media!

Great article. Last year, Granite Gear came out with multi-day packs for plus sized hikers.

I will check them out! Thank you! Light weight Backpacks with a good fit are the hardest to find.