The Trail Beckons
Down to the Wire
In a few days, I am flying to Atlanta, where I will  spend the night with cousins Helen and Howard.  The next day, I'll return to the airport to take the MARTA to North Springs Station. From there, I will meet Ron Brown, who is shuttling me to Amicalola Falls State Park.  So far, the weather forecast is mostly promising for the first week of my hike.
After registering my flip-flop hike,  I will take the Approach Trail to Springer Mountain. Unlike some thru-hikers,   I'm looking forward to climbing the steps alongside the falls!
In late July, I am flipping north to Maine.  I have a reservation for one night at the Appalachian Trail Hostel  and two nights at Katahdin Stream Campground. After summiting Mt. Katahdin, I am heading south.
One friend may hike Shenandoah National Park with me. Other friends and family members may meet me at various points along the way.  I am psyched!
Resupply and Gear Update
I packed 13 resupply boxes and mailed out two of them already. I will mail a third just before I leave. The couple housesitting for me will mail the others.
I've been fine tuning my footwear choice.  Unfortunately, the Salomon Speedcross 6 Wide trail runner that I planned to wear ended up being too snug.  I'm back in a new pair of the Keen Voyager, the hiking shoe I wore comfortably last summer on the Wonderland Trail.
Training
I ended my cross country ski season early in mid-March so I could focus on hiking.  In Vermont, we are in the midst of mud season, when the State Parks and the Green Mountain Club urge hikers to stay off the trails.  Therefore, most of my training has been on dirt roads around a pond or woods roads.
I've gradually increased my mileage from 5 to 8 miles, to elevation changes of over 1,000 feet, and to a pack weight to about 22 pounds.  On some of the training hikes, I have been joined by either Suzi, Anne, Charlene, Jessica, Karen, Darryl, or Leslie. Thanks everyone for supporting my training!
Pack Weight
Talking about pack weight:  My base weight (without food and water) is about 14  pounds.  Fully loaded, my pack weighs about 23 pounds.  With the addition of a canister of fuel and  two mini bic lighters, I expect the weight will be closer to 24 pounds. And if I am loaded to full water carrying capacity, the weight will increase more.
I am carrying or wearing knee sleeves,  and carrying a journal, and a map and compass. I know  I'm old school.  I do also have FarOut on my phone.
I am also bringing gifts from friends: From Jill –  a tube of chapstick made with natural ingredients. From Marasha – a flag pin of Ukraine to wear on my hat. From Erin – who shortened my sleeping bag liner with a  professionally-looking French seam. From Roman and Lynn – a jagged shard of pottery from Zhovkva, Ukraine, and a smooth beach stone from the Philippines, which I nestled in a small, Chinese cloth coin bag,  and a beautiful blue bandanna. (After thinking long and hard about whether to carry the extra weight, I decided the shard and stone must be my good luck charms and that I would need a second bandanna).
From Suzi – homemade, roasted  sweet and spicy cashews to fill my resupply boxes. From Julia – recordings of songs she sung beautifully into my iphone to inspire me along the trail and soothe my soul. From Joyce – a dollar to give  to a needy person during my journey. And from  so many people – warm wishes and sweet blessings for an enriching, thrilling, wonderful, safe, and fun journey. Thank you all!
Anticipated Mileage and Physical Concerns
I am starting my hike with low miles:  between 7.3 and 8.9.  I plan to gradually increase to 14 to 16 miles.  My initial goal is to keep my feet, knees and hips happy.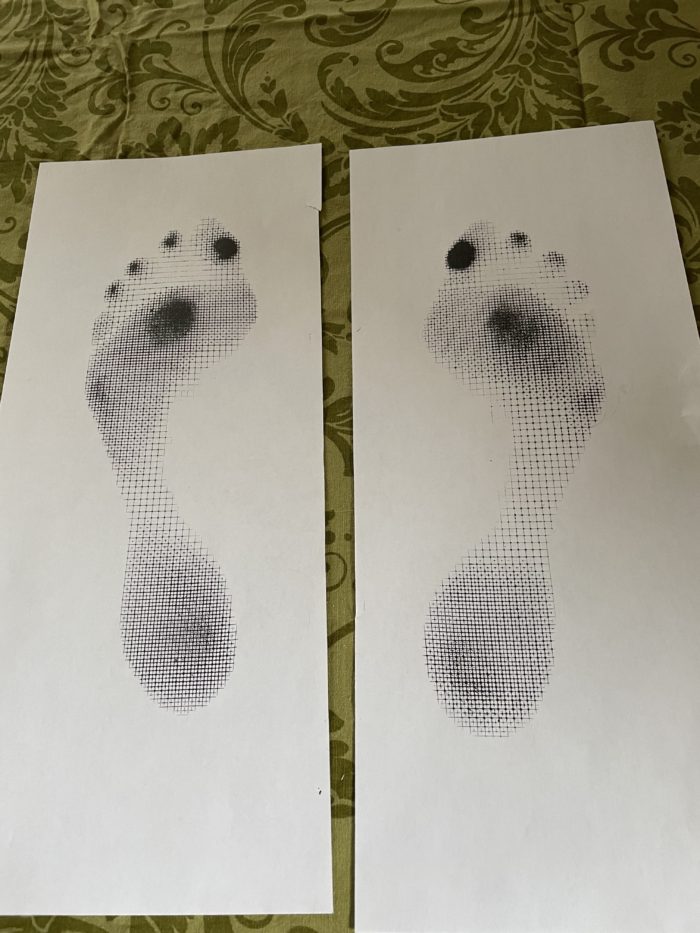 Since the fall, I have received periodic structural foot reflexology and taken weekly strength training class with members of my ski club, an informal bone builders class,  and Feldenkrais lessons.  I recently participated in a series of physical therapy sessions to reduce joint pain and to strengthen my core.  My knee doc says my arthritic knees should be fine but gave me  left knee cortisone and durolane injections.  I plan to wear Bauerfeind knee sleeves as a preventative measure.
The  Last Minute Details
House sitters, car sitter, and lawn care are set up.  Work responsibilities are almost completed. Bills are  on autopay.  Newspapers are canceled.   At a rummage sale, I picked up a soft suitcase for $2 that will hold my pack. I'm enjoying farewell dinners (thanks Suzi for the send-off dinner) and visits with friends and family.  Stay tuned for my next post  from the trail!
Affiliate Disclosure
This website contains affiliate links, which means The Trek may receive a percentage of any product or service you purchase using the links in the articles or advertisements. The buyer pays the same price as they would otherwise, and your purchase helps to support The Trek's ongoing goal to serve you quality backpacking advice and information. Thanks for your support!
To learn more, please visit the About This Site page.