There's no need to redesign the wheel
It's that time already!!!
I can't believe people are filling their packs with all their new found lifelines and are headed into the woods in hopes of completing a journey of over 2,000 miles, or until they have found what they are looking for.  I have spent days talking with some of these hikers trying to impart wisdom from my own experiences.  Let me share some of these thoughts with you, maybe I can save you a lesson that's already been learned.
Packing:  **I have included my own list of items at the bottom of this section**
"Don't pack your fears" – this tidbit of wisdom is not mine (credit to Miami Vice) but well worth sharing as it applies to everyone!  We are taught to always be prepared but there comes a point where being too prepared puts you at risk.  Every item weighs something.  Consider your fears weight, both physical and mental.  Be willing to head off on this journey and take the first step towards growth.
As you put items in your pack think about why you have them; do you have 4 pairs of socks just incase you run into wet weather? Do you really need 4 pairs?  1 pair for hiking in, 1 pair to change into at camp, and… yeah, 4 pairs is overkill.  Come morning you will slide your nice dry feet into the disgusting cold, wet pair of socks you took off the night before and put your now cold, wet feet into your saturated shoes.  Don't bother sacrificing a nice dry pair of socks only to put them into wet shoes or boots.
Your emergency kit carries all of your "what ifs" and "what ifs"= fears
What if my headlamp dies?  carry batteries
What if I gouge my knee?  carry gauze, Neosporin, and medical tape
What if I get too cold? carry an emergency blanket
What if I get lost?  carry a compass
What if… the list goes on and on, each one adding weight.
So what if your headlamp is dying? you'll have time to pick up fresh batteries in town before it's an emergency, just pay attention to the batteries when on trail.  Work smart not hard, take a Wilderness First Aid course (WFA) before you hit the trail, learn options for quick fixes on the trail to protect yourself and others.  Duct tape is your friend!  The trail is well marked with White Blazes, it is a rare day when you lose track of these, don't get me wrong I had my moments, but there are common sense solutions when this happens, or you think it has.
After hearing "don't pack your fears" I sorted through all of my gear in the next town and mailed home a pound and a half of "fear".  I never needed any of the stuff I sent along, I was just happy to be able to carry a pound more food!
If you haven't used it in four days you probably don't need it! – In our day to day lives we have so many items surrounding us we don't even realize how often they sit unused for days, weeks, months, maybe even years.  On trail if an item doesn't have multiple uses or daily importance it's probably not needed.  Believe me, I carried a couple items with me for over a month before I recognized:
I was carrying it out of "what if"
I couldn't remember the last time I'd used it
When I look back over items which I sent home during the course of my trek I am embarrassed to think I ever carried some of them.
My first batch of items sent home included: EMS fleece, sunglasses case, extra batteries, extra stuff sacks, bulk of my first aid kit, extra pair of socks, pack cover, knife, and maybe one or two other small items.
I started off with two camp towels, one for me and one for the dog.  I didn't want a wet dog in my tent and I didn't want to share the dog towel *insert hysterical laughter at this,* it quickly became a mote point whether or not I shared this towel, we were both disgusting.  I ditched my second towel and carried the more rugged "dog" towel which was more absorbent and effective.
Think outside to box – it's why you're in the woods
I was back on trail in PA and heading north in October.  No one else was around, at least not for more than the time it took to say hello and exchange pleasantries.  I'd arrived at the road in Wind Gap, PA and needed to get into town for a mail drop, I'd learned early on you always did better hitching with a sign – having a clear destination makes it easier for folks to commit to picking you up.  I started digging through my pack trying to come up with an item to write on, I shifted the Tyvek out of my way and dug deeper… wait a minute, what could be more perfect than the white Tyvek I carried everywhere with me to write a hitching sign on?!  I quickly wrote in block letters PO.  I lifted the sign, stuck my thumb out and watched as the first two cars passed me by, car number three was my lucky one!  The Tyvek became my hitching sign, depending on how I folded it I could access anywhere I needed, WAL-MART, TRAIL, PO, STORE, TOWN, HOSTEL, DOCTOR, VET,  you get the idea.  The more use you can get out of one item the better off you are!
Pack smart – there are basic rules to packing your gear some are meant to be bent…
…some are not.  I was all about getting everything to fit INSIDE my pack.  I don't like things hanging, banging, or otherwise swinging off my pack.  There were some exceptions to this rule: Tent poles should go on the outside of your pack – this reduces the risk of bending or breaking them by putting them under unnecessary stress!  Personally I liked storing mine is one of the water bottle sleeves.  Aside from that have at it!
Common layering for a backpack: sleeping bag at the bottom, along with other light weight gear, Mid weight towards the center of the pack, and heavy items at the top.  ** Wild Backpacker has a great write up about it **
Many thru hikers use this method to their advantage to access their food bag quickly.  I wanted to store my heavier items, my food bag, more toward the mid section of my pack.  Each day I would pull the items I would need for snacking and lunch and pack them separately from my food bag.  This allowed me to balance my pack in a way I found more efficient and still allow me quick access to the food I would need throughout the day.
I got rid of most of my stuff sacks but kept a few to make it quick and easy to locate or organize items.   By packing items loosely into my pack I reduced "dead" space and was able to have a better balanced pack.
** THE GEAR I HAULED WITH ME **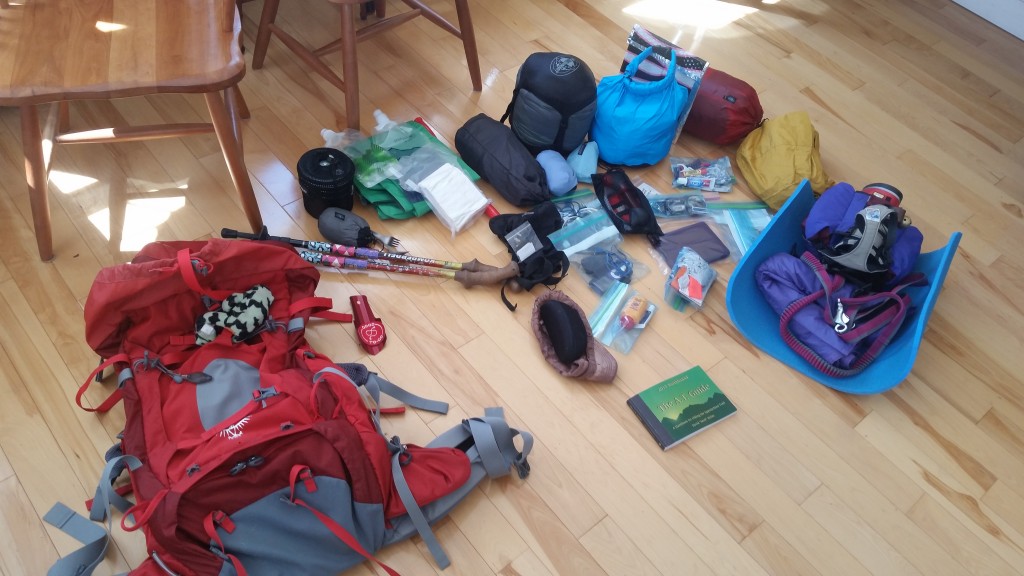 Remember I hiked the AT in an unconventional method I didn't fully NoBo or Flip-Flop but instead did a "leap frog" which meant I hiked from GA to PA, MA to ME, and finally PA to MA.  Because of this the weather I encountered may vary from a regular thru hiker or a flip-flopper.
What did I carry:
BASIC GEAR


Osprey Ariel 55L
Contractor garbage bag internally lining my pack
MSR Hubba Hubba
Big Agnes Mystic 15 degree (bounce boxed between VA and NH)
$5 fleece blanket (used between VA and NH)
Sea to Summit silk liner
Sea to Summit E-vent compression sac
NeoAir Trekker sleeping pad
NeoAir mini pump (sent home in VA)
Cocoon Ultralight Pillow (comfort item)
3'x6′ piece of Tyvek – tent floor protection from dog
Komperdell trekking poles

COOKING/H2O

MSR Hyperflow filter – Sent home in VA
Sawyer Squeeze – Picked up in VA – best decision all trip!!!
1.5L Evernew water bladder for filtration – set up gravity feed system with Sawyer
Camel-back
MSR Pocket Rocket
Fuel canister 8oz
Small cook pot
Bandana
2″ knife (with scissors)
Freezer bag cooking cozy
Bear rope – 50′ pcord
Sea to Summit 20L Lightweight Dry bag – bear bag/food bag

CLOTHING

2 Pairs of Darn Tough socks – 1 pair I wore, 1 pair was stored in sleeping gear
2 Pairs of Injinji toe socks = blister prevention – 1 pair I wore, 1 pair back up
1 pair compression shorts – daily hiking attire
1 pair of hiking shorts converted into a skirt (finally sent it home in NH)
1 pair wool compression shorts – sleeping attire
2 sleeveless tops – daily hiking attire, sleep attire
2 sports bras – 1 daily hiking attire, 1 town attire
1 set long underwear tops and bottoms
Winter hat (Sent home in TN)
Buff – daily attire
EMS Down jacket
EMS Thunderhead rain jacket (Sent home between VA and NH)
Brooks Cascadia trail runners – daily foot wear
Dirty Girl gators
Vivo Barefoot Ultrapure – camp shoes

DOG STUFF

1/3 closed cell sleeping pad for dog bed – I carried
Small 2'x3′ down blanket for dog – I carried
Towel – I carried
Dogtra Training collar (Sent home in NH)
Ruffwear Roamer Leash
Groundbird Gear Harness and Pack system – Dog wore daily
4 Dog booties – Dog carried in her pack
Ruffwear Dog bowl – Dog carried on her pack
Bear bell – Attached to harness

SAFETY

AWOL guide book – pencil
Cell Phone – Samsung Galaxy 5
Wallet – ID, ATM card, and Medical info
First aid kit – blister pads, mole skin, thread and needle, band-aids, duct tape (attached to trekking poles), Ibuprofen, Benadryl, Inhaler, tweezers, and fingernail clippers
Hand Sanitizer
Headlamp
Rescue Whistle
Medical paperwork for dog  – Vaccine updates; Rabies and  Kennel Cough

EXTRAS

Pstyle
Deuce of Spades trowel
Toilet Paper
Toothbrush & toothpaste
Battery pack
Charging cables and plugs
Kindle Paperwhite (sent home in VA)
Ipod mini (died in VA)
Sunglasses
Comb
"The Stick" massage roller (sent home in VA) – for post knee injury care
Rogue Fitness VooDoo band (sent home in VA) – for post knee injury care
Sharpie (picked up in NH)
Affiliate Disclosure
This website contains affiliate links, which means The Trek may receive a percentage of any product or service you purchase using the links in the articles or advertisements. The buyer pays the same price as they would otherwise, and your purchase helps to support The Trek's ongoing goal to serve you quality backpacking advice and information. Thanks for your support!
To learn more, please visit the About This Site page.