The Things I Carry, My 2018 AT Gear List
Everyone is different, has different needs, different goals, has different levels of pain and comfort, different styles and attitudes. Thus, there will be endless variations among peoples' choices in backpacking gear.
Things will inevitably change along the way. I know that what I start with at Amicalola Falls State Park will not be the same as what I carry to the summit of Mount Katahdin.
Below is what I intend to start with on my 2018 thru hike of the Appalachian Trail. This is not a must-type list. Rather, these are the items suitable to my needs as I've discovered through experience. This list is a result of knowing what my goals are and how I intend to travel. I don't know the exact weight on all this. Varies between 15 and 19 pounds, depending on how many books I carry. Serious.
I don't believe in luxury items.  There are things I can do without and things I can't. Everything below are things I can't do without at present. A luxury item, in my opinion, would be something like a French press or a Yeti cooler. Nonetheless, I hope this is helpful.
Big Three
There are clearly more than three items, but they all come together to form the backbone of my backpacking kit.
Backpack–ULA Ohm 2.0. Approximately 63 liters. The main body is 2100 cubic inches and has a 500 cubic inch extension collar bringing the main compartment to about 42 liters. This sounds almost comically small but it carries everything I have. I removed some of the hardware like the foam frame sheet and the water bottle holsters. I attached a shoulder pocket.
Shelter– Mountain Laurel Designs Superlight Solo Bivy and Six Moon Design Gatewood Cape. I decided to replace my 10×10 flat tarp for a shaped mid after my rain fiasco. You can read about that trip here. The tarp and bivy are paired with with 7 MSR Groundhog Stakes and a Gossamer Gear polycyro groundsheet. I use Black Diamond Ergo Cork poles as my structural support to the tarp. I use the poles to walk, too.
Sleep System– 20 degree Enlightened Equipment Revelation Quilt with Sea to Summit Liner because I like to be toasty. I'll swap these in the warmer months for a combination more appropriate to weather conditions. I use a Thermarest Prolite Plus self inflating pad. While this pad is a little bulky, it has a great R-value, is well insulated and is incredibly comfortable. I use this as my frame sheet in my backpack as well, which provides good rigidity and support. I also use the Sea to Summit Aeros pillow. Lastly I use a four section piece of an old ThermaRest Z-Lite pad as a butt pad. I'll place this between my bivy and the polycro because the silnylon and the plastic slide all over.
Z-Lite Review-I used the Z-lite accordion pad on the PCT and it was ok. The biggest problem was when I attached the quilt straps to the pad, the pad would taco up and wouldn't maintain a good seal around my body. With the self inflating pad, in addition to the bivy, I haven't run into this problem. I normally sleep like garbage anyway, at home and in the back-country, so this is the area where I obsess and I am willing to carry a little extra.
Clothing
I embrace the fact that most of my clothing items will either be lost or destroyed during my trip. There are plenty of opportunities to find discount items at home and on trail. I'd encourage the same.
Kitchen

Stove, Food, Etc.– Jetboil MiniMo. Red bandanna for cleaning. Sea to Summit spork for eating. Small container of salt and pepper and taco seasoning. 8 oz bottle for olive oil, which is the best way to make meals better and to add calories. Other baggie of condiments such as soy sauce and Sriracha. 50 ft nylon cord and 20 Liter Sea to Summit dry bag. Bic mini lighter and waterproof matches.
Water– Sawyer Mini. Water scoop expertly engineered from old Sprite bottle. 2 Liter Platypus bottle with black duct tape patch. I don't mind dry camping, actually kind of prefer it. I like the option to carry a little extra water for camp. Will use Smart water bottles or Gatorade bottles as appropriate.
Dity Bag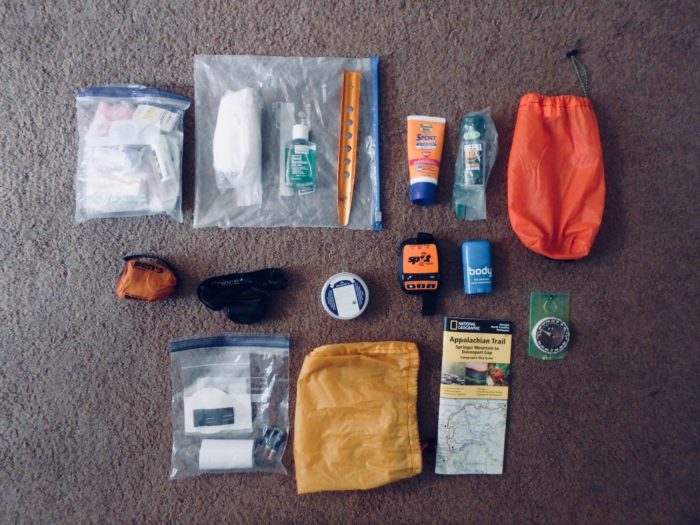 I basically have everything here separated into three bags. The orange bag is stuff I could need throughout the day. The yellow bag is stuff I'll need in camp. Then the toilet bag, which comes when it comes.
Orange Bag
Body Glide for the chafe, crippling if left unaddressed
Bug spray for the bugs, terrified of ticks
Sunscreen for the sun. I was encouraged to bring sunscreen until the trees begin to fill out which makes total sense
Spot device in case I break an ankle. The Spot is a personal locator beacon (PLB) and puts a little bit of comfort in the hearts of folks back home.
I also have a compass and a map. I like maps to get a bigger picture view of where I'm at and I got a good deal on the NatGeo set. I like to see where to connector trails go, to know the names of streams and ponds, to read the peaks and valleys. I just like it. I will also not be using any form a GPS or smartphone app for data or navigation, personal preference.
Yellow Bag
Headlamp
Bugnet that doubles and rock bag for bear hanging
Repair kit with needle, thread, and tenacious tape
Spare batteries
Tooth brush, floss, toothpaste
Also have tin of mentahladed balm which is great on the feet and sore muscles. Its like super rub for your tired body.
Toilet Bag
TP
Hand sanitizer
Snow stake for digging cat holes. Also my 8th tent stake.
First Aid Kit
The first aid kit is perhaps one of the more confusing pieces of kit to develop. I first bought a big kit for two people, only to realize I didn't know how to use may of the items there. Also, there were plenty of redundancies and items I know I would never use. This is what I have now after trial and error and finding what works for me. I believe this kit serves me well and that is who it is primarily intended for, myself.
Various band aids and wound closure kit
Mole skin, alcohol wipes, lighter and safety pins, athletic tape, all for blister care
Various pills, burn gel, triple antibiotic, ibuprofen, antihistamine for allergies
Non Latex gloves, tweezers and checklist from NOLS first aid class
Aqua tabs as backup water treatment
Condoms, because safety first people
Binary and Non-Binary
Electronic
Anker 10000 Power core
A couple cords, headphones
Anker Wall charger
Olympus TG 870 Tough camera with spare battery
iPhone SE
USB memory card, for sweet blogs and other writings
Paper
Paper journal with ball point pen
AWOL guide book in sections
Books, yes real ones
Affiliate Disclosure
This website contains affiliate links, which means The Trek may receive a percentage of any product or service you purchase using the links in the articles or advertisements. The buyer pays the same price as they would otherwise, and your purchase helps to support The Trek's ongoing goal to serve you quality backpacking advice and information. Thanks for your support!
To learn more, please visit the About This Site page.