This Church Group Is Getting Too Rowdy (Days 86 to 90, Waynesboro PA to Duncannon)
---
Day 86
Start: Bushcamp just beyond PA 16
Finish: Quarry Gap Shelter
AT Miles Hiked Today: 17.8
Overall AT Miles Hiked: 1,084.5
Miles To Go Until Katahdin: 1,104.6
I slept great last night, but woke up early as the traffic started getting heavier on the street nearby. I bummed around and had a slow morning, and got moving around 7:30.
It felt strange not having a hiking partner. Nard hiked with me from Front Royal to Harpers Ferry, and Alli joined me through Waynesboro PA. So I had been hiking pretty slow to enjoy my time with my friends. Now that I was solo again, I plugged in my headphones, and started flying up the trail.
I cleared the first 6 miles almost without stopping. The trail cooperated with nice level terrain, and I planned on taking advantage of it and getting in some serious morning miles.
I made a quick pit stop at Old Forge Park for some water out of a faucet. The janitor said locals will come up here and fill up their water jugs, because they believe it's spring water.
I climbed up to a flat run of trail, then continued a blistering pace. I had some service so I saw on the radar that rain was moving in, and I wanted to make it to Caledonia State Park at 15 miles in before the rain started flying.
As I was trotting down the last mile, the rain started to come down. Fortunately it wasn't too heavy, and I got under the cover of the park pavilion to rest up and eat a few snacks. I had cleared 15 miles before 2pm! Time to be lazy for the rest of the day.
I saw in my guidebook that there was a concession stand, so after the rain ended I walked over to the pool to check it out. They had some good stuff on the menu! I got a hot dog combo and chatted with a local ridgerunner.
I was still hungry after that. So I ordered another hot dog combo and went over to the picnic tables under the trees to relax. As I was eating, Cavs and Peter Pan came and joined me. We relaxed and they played some cards. The weather was fantastic, hot and sunny, and we drank Pepsi and watched hikers come and go for the next few hours.
Eventually I left the state park to do the 2 miles up to the nearest shelter. A man named Crazy Bear was giving watermelon to thru hikers as they passes by at the end of the park. I was feeling good as I got to the shelter around 5:30.
I ended the day down at the spring near the shelter, chatting with Morel and Backseat Driver. All of a sudden I was horribly nauseous, head spinning. I went off into the woods to lie down for a few minutes to regain my balance. When I got back to the shelter I went straight to my tent and went to bed. Maybe I got a bad hot dog? Either way it knocked me out for the night, I was on my back and not feeling well at all.
One last thing – there's a church group all camping in the group tenting area on the other side of the shelter. They are getting ROWDY right now! Singing, laughing, yelling, they're louder than the thru hikers at the shelter! It's past hiker midnight! Man, I never thought I'd write the sentence "I hope that darn church group doesn't keep me awake all night!"
Day 87
Start: Quarry Gap Shelter
Finish: Bushcamp Just Outside of Pine Grove Furnace State Park
AT Miles Hiked Today: 18.8
Overall AT Miles Hiked: 1,103.3
Miles To Go Until Katahdin: 1,085.8
I slept in until around 7, but eventually the rowdy girl scout troop woke me up. I was feeling so much better this morning! It was shaping up to be another 90 degree day, so I got out of camp as quickly as I could.
It was easy walking for the most part. The trail here in southern PA has been awesome! I'm worried that the trail will be the complete opposite in northern PA. A southbounder I spoke with said the trail starts to get gnarly heading into Duncannon, then again North Port Clinton.
I was walking on and off with Cavs and Peter Pan all day today. Goblin (Cavs' friend and hiking partner from Maine) had to get off at Harper's Ferry, so Cavs is flying solo for the first time all trail. We three have been running in the same circle for the past few days, and it's been really enjoyable.
Around 1pm I finally, FINALLY got to the official halfway point! The trail length changes as sections are added or rerouted, and it makes it tough to build a monument and move it around every year. This was a simple printout on a post, but it was a big moment stepping over that line. Officially on the back 9!
A few miles later they had the halfway marker with the incorrect mileage. Ah well, I got a picture there too!
I ran into the whole crew from the shelter last night a few miles outside of Pine Grove Furnace State Park. It was around 1:30 at this point, and it was hot as hell. We were at low elevation, below 1,000 feet, and cruising down the trail, just trying to get to the state park. Fortunately the trail continued to be nice and flat! But seriously, we were sweating through every article of clothing we owned. Somehow even the shirts in our packs were getting sweaty, that's how hot it was.
We cruised into the general store around 2, and immediately went for the ice cream. Now folks, in case you weren't aware, Pine Grove Furnace State Park is home to the Half Gallon Challenge, where they challenge you to eat a half gallon of ice cream, and as a prize they give you a tiny wooden spoon and a congratulatory slap on the back. You'd think with the number of hikers they have coming through the park, they'd have half gallon containers ready for the challenge, right?
Nope! You have to buy a 1.5 quart container, then finish that and bring it in, at which point they give you a hand scooped kind of ballpark pint of ice cream from their dirty ice cream cooler behind the counter. Only then can you call yourself a half gallon challenge champion and earn your tiny little spoon.
So, we all sit down with our 1.5 quart containers and get to work! There were probably 10 of us out on the porch sucking down ice cream.
I, of course, picked boring old Vanilla. I figured if I'm trying to eat 3,000 calories worth of heavy cream, I don't want a bunch of accoutrement in their mucking up my chances of finishing.
It was funny to watch the hikers go from ecstatic at the taste of ice cream, to concentrated on their task, to silent as they regarded their half empty containers, to disgusted once the ice cream sugar headache kicked in. Of the 7 sitting near me, only 1 finished the challenge. Spoiler alert: it wasn't me.
But! I did finish the 1.5 quart container! So I didn't get the tiny wooden spoon, but I'm now the proud owner of 180 grams of sugar and 2,000 calories of cream sitting in my stomach.
Oh, and did I mention we can't stay at the park overnight? We need to hike out. Eesh.
Morel and Hellbender were across the porch and finished theirs! But me and Backseat Driver just shook our heads and sighed. Honestly, I probably could have finished another pint after the 1.5 quart container. But that is a LOT of cream. I drank no milk and ate no ice cream before this trail. I guess Reindeer started to train me by getting me on board with chocolate milk when we were hiking together, but to do the half gallon challenge seems like going from 0 to 100 really fast.
So now here I lay, a mile or so outside of the park, with a terrible stomachache. And my only consolation is the image of the hikers who completed the challenge, laying in their tents, groaning and holding their stomachs, just staring at their tiny wooden trophy spoon and thinking Whyyyyyy did I get that extra pint of ice cream?
Day 88
Start: Bushcamp Just Outside of Pine Grove Furnace State Park
Finish: Boiling Springs, PA
AT Miles Hiked Today: 17.7
Overall AT Miles Hiked: 1,121.0
Miles To Go Until Katahdin: 1,068.1
I was up with the sunrise. It was awesome to have the little campsite all to myself last night – it's rare to have zero other hikers around me at night, especially considering I'm in the NOBO bubble.
The morning was beautiful, and I was hiking by 7:15. Shortly after my campsite I ran into Cavs and Peter Pan packing up camp. I felt like a little solitude this morning, so I said hey and cruised on.
The path was alternating between smooth and really rocky. I think I'm going to hit some bad rocks before Duncannon so I'm using this as practice!
It was slow going over the big boulders. At times I had to toss my trekking poles up and over then crawl on all fours up and between rocks.
I was cruising right along, wondering if I'd be able to get out of boiling springs today as well, when all of a sudden my left ankle was on fire. I didn't roll it, but something happened. I slowly made my way down the mountain towards the flat stretch into town. I was really moving slow.
The trail passes right through downtown Boiling Springs. I went to a local italian joint and ordered a sub, then used their wifi to catch up with email and such. My ankle was still on fire, so I called over to a local hotel in the guidebook. No sense in injuring myself even more than I already have! And it's only 26 miles to Duncannon, where I'm meeting my friend on Friday.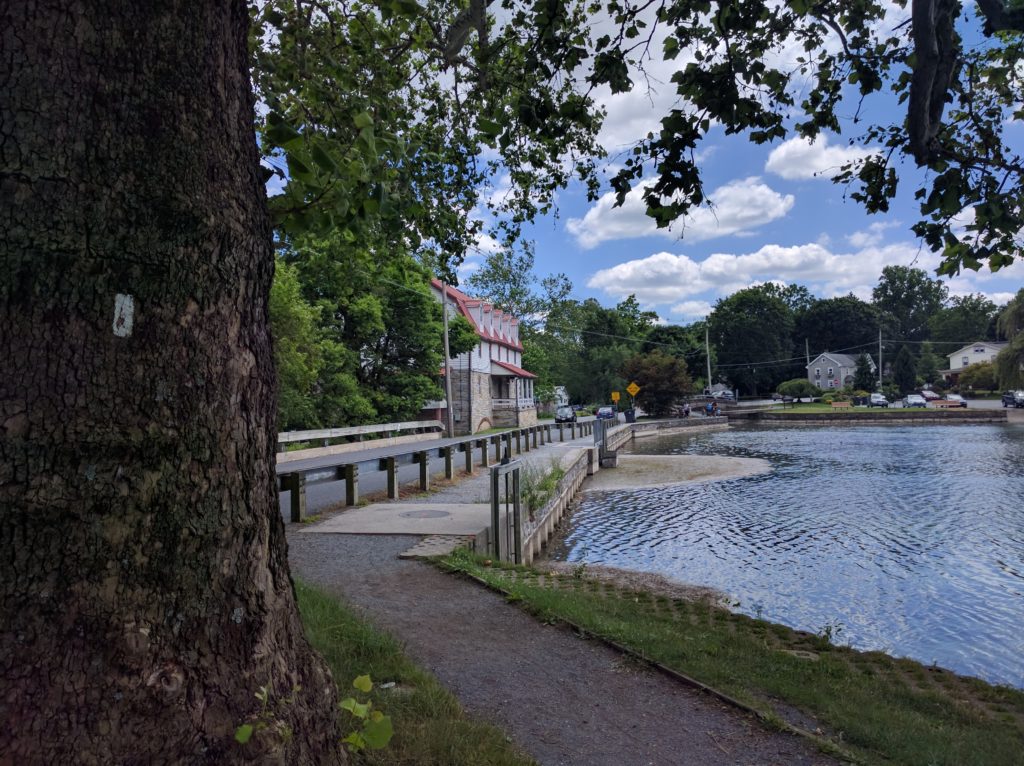 I rested my ankle and hung out in my room for most of the evening, calling friends and catching up with them while I lay in bed or on the grass out front. This hotel is really more of a dilapidated resort. A local told me at dinner that the owners didn't put any capex in for years, and now it's being auctioned off next month. What a bummer! I sat overlooking the smelly closed pool and caught up on blog posts, then eventually went to bed.
Day 89
Start: Boiling Springs, PA
Finish: Stream Campsite 1.5 miles past PA 850
AT Miles Hiked Today: 17.9
Overall AT Miles Hiked: 1,138.9
Miles To Go Until Katahdin: 1,050.2
Awesome day of hiking today! I woke up around 6:00 and got hiking around 8:30. It's always tough to leave a comfy hotel room, but I wanted to get some miles under my belt before the heat set in.
Almost as soon as I got back on the trail, I ran into DJ Space Gator and his girlfriend. I was in no rush, so I hiked with them, telling stories and laughing. They both have great, dark senses of humor, so it's easy to joke around without worrying about offending them.
The entire first 10 miles of our day was practically flat, and running alongside (and sometimes through) farmland. We got a cooler full of trail magic a few miles into our day, and as we were drinking Mountain Dew and talking, we ran into another thru hiker names Stephen (he recently shed his trail name). We all ended up hiking most of the rest of the day together.
The day was turning nice and hot, as usual, when the shade ended and we walked through open fields and along roads for most of the next hour. I'm glad I brought sunscreen!
We took a nice long break around 1pm at Scott Farm, an ATC managed farmhouse with a shady picnic table an a water spigot for hikers. I hadn't been able to filter all day, thanks to the farms we were surrounded by. Any streams we crossed likely were contaminated with cow poop and pesticides.
Around 2:30, DJ Space Gator and his girlfriend broke off to hike alone, so Stephen and I hiked ahead. We hit our planned campsite around 3 so we decided to press on and give ourselves a shorter day into Duncannon tomorrow.
Our plan was to get water at a stream marked in the guidebooks and hike on to find a site, but there ended up being a really nice couple of spots right next to the water, so Stephen and I set up and relaxed for the rest of the night. It was only 4:45 when we got to camp and we were both in our tents before 7.
What a great day. It's been a while since I've hiked the whole day with other thru hikers, and I forgot how enjoyable it is to get to know others and joke around while hiking. The day just flew by. Tomorrow we hit some crazy rocks for almost the entire way into Duncannon, but at least we set ourselves up for a shortish day.
Day 90
Start: Stream Campsite 1.5 miles past PA 850
Finish: Clarks Ferry Shelter
AT Miles Hiked Today: 12.0
Overall AT Miles Hiked: 1,150.9
Miles To Go Until Katahdin: 1,038.2
Another beautiful day of hiking today. I think the little bubble of hikers I'm in is dodging the worst of the weather! It always seems to pour a little north or south of us.
Stephen and I got rolling around 8, and headed up onto the 5 mile stretch of rocks that everyone was warning us about.
As we were walking, we kept wondering Is this it? When do the rocks start? Surely just around this bend. But no! The rocks really never not bad. Just a bit as we were heading down into Duncannon. The brutal rocks of Pennsylvania have yet to show themselves.
As we were hanging out at Hawk Rock, we started chatting with some locals. They recommended a BBQ place just as we entered town. Well, it was almost 11! Time for some lunch.
As we walked up to the BBQ place, I saw Shovel and Stumble out front eating. I walked up, and they immediately handed me a PBR. Well, it was almost 11:30! Time for a beer or two! Apparently they only sell beer by the case here? They picked up a 30 rack of PBR and were very gratuitous with their beer gifts to hikers as they rolled into town. Who says you can't do trail magic as a hiker?
By the way, this BBQ place is called Road Hawg BBQ, and it was delicious! Highly recommend it for the next time you hike through Duncannon.
And Duncannon seems to definitely be the type of town you hike through. Very sketchy. Houses which have clearly evicted tenants right on main street. Not a very good vibe. I resupplied at a local gas station, popped into the post office to mail home a few things, and cruised out of town.
I spent the rest of the day at a local truck stop just outside of town. I was waiting for my friend Jason, who is hiking through the 4th of July weekend with me! Unfortunately he had to work today, which wasn't a big deal, as I got to sit and eat subway and twizzlers and hang out with Morel, Hellbender and Backseat Driver, who also stopped by the truck stop to resupply and relax.
Jason arrived around 6, and we hiked up and out of town to the nearby shelter. I was expecting him to be slow ascending the steep 1,000 foot climb, but he was flying! I can tell that he won't have a problem keeping up over the next few days. Even over the steep uneven rocks, Jason was faster than me. I was huffing keeping up!
When we got to the campsite, we camped next to Morel, Hellbender and Backseat Driver. There was also a face I didn't recognize – and it turned out to be Joyride, the legendary hiker I'd been hearing about since Shanendoah! He told us all his trail name story, and we laughed and ate and drank Maker's Mark that Jason packed out of town. All in all, an excellent night! We got to bed after hiker midnight, which is rare for me.
I'll be hopefully hitting Port Clinton / Hamburg in 5 days. Cruising through PA! Looking forward to one last stretch with a friend, then back to the solo thru hiking for a while. I gotta say, I'm enjoying running in the circle I'm in right now. I feel like I'm exactly where I'm supposed to be. That's a great feeling.
Until next time, happy trails!
-Slice
Affiliate Disclosure
This website contains affiliate links, which means The Trek may receive a percentage of any product or service you purchase using the links in the articles or advertisements. The buyer pays the same price as they would otherwise, and your purchase helps to support The Trek's ongoing goal to serve you quality backpacking advice and information. Thanks for your support!
To learn more, please visit the About This Site page.