Three and Four Hundred Miles…and Counting
I managed to get through the Smokies
…and lived to tell about my night at Standing Bear (IYKYK).
Leaving the Smokies I got a wake-up call to be more vigilant about the snakes emerging from their winter homes. Hiker Liam saw me and asked if I saw the rattlesnake that last day in the Smokies. I hadn't, and he proceeded to show me photos of the fat snake sunning itself across the trail, and a video of it slithering away. Red said he had a standoff with a copperhead right on the trail. I've been wide-eyed ever since.
Spring also means fresh forest ingredients
Hikers Legs and Lynx both foraged ramps/leeks and Lynx made himself a soup of the leeks, nettles, rehydrated jerky, and other fresh forest ingredients. I trusted their knowledge of forest cookery and added leeks to my ramen. I don't trust my meager knowledge of foraging and won't be concocting any stews on my own.
Fresh leeks made my ramen so much better!
As I hiked further into North Carolina, I was gratified with clear, sunny weather at Max Patch, the first bald with 360-degree views. Ascending the trail, I was passed by day hikers carrying picnic blankets and baskets of food. (Day hikers smell so clean!) A light breeze cooled the bald and I didn't want to leave. Still, Hot Springs beckoned.
Partial view from Max Patch.
Hot Springs
I made it into Hot Springs in time for their Trail Celebration. Free live entertainment, a hiker cooking contest, an author book discussion, a rubber duck race, and an art show were only part of the festivities.
Hikers prepared to take part in the cooking contest.
Hot Springs residents revel in their role as a hiker town with many hostels and BnBs, a variety of restaurants, and the obligatory well-stocked outfitter. I picked up a few resupply items, enjoyed the festivities, and hit the sack (at the Appalachian Trail-er) early. A hiker pancake breakfast was the following morning, and I didn't want to miss it on my way back to the trail.
The sidewalks in Hot Springs are emblazoned with the AT symbol since the trail runs right through town.
Crossing the French Broad River on my way out of town, I recalled the climb that was ahead of me as the same one my husband and I had climbed in January of 2022. I promised him I would take a photo in the same spot–Lover's Leap–where we took a selfie.
It just wasn't the same without him.
Reaching 300 miles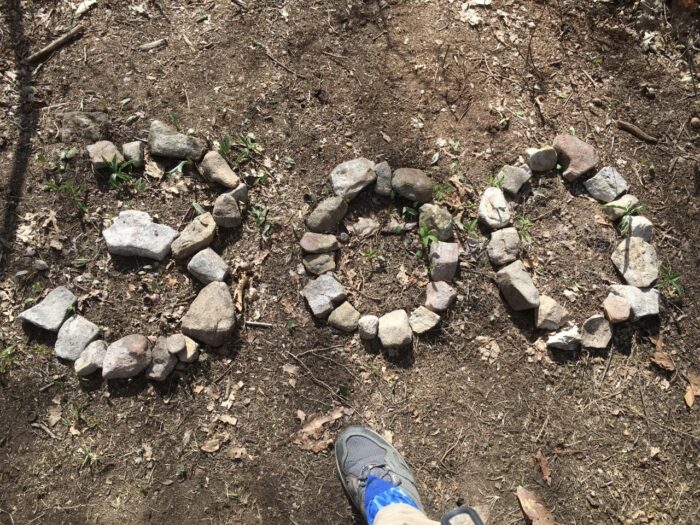 Yep, it happened.  I hiked up and over Howard's Rock, which is really a ridgeline, the views from which were spectacular. Just prior to the climb was a sign warning that the ridge was exposed and an arrow pointed to a bad weather route. Blue skies beckoned me to the climb marked as "strenuous."
Ha! I'm almost 300 miles in and you think you're going to scare me with the word "strenuous?"
The view from Howard's Rock went on for miles and miles.
Graves in the woods
Prior to and after Hot Springs, the number of memorial stones (graves as well) along the trail was surprising. I took a photo of each one I noticed, determined to look up the names at some point when I've completed my journey. One of the graves had a small fence and the stone simply read, "Mother."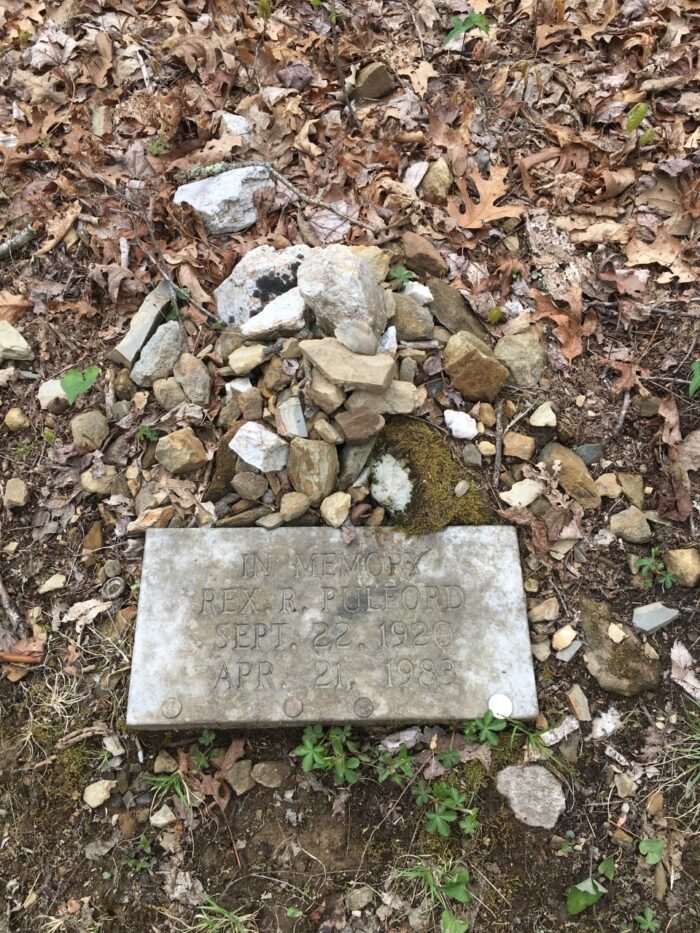 Memorial marker along the trail
Some of the markers specifically stated that the person had hiked the trail while others marked the resting place of ashes. One set of graves in particular dates back to the Civil War: The Shelton Graves.
Blue-blaze trail to the Shelton Graves
This site along the Tennessee/North Carolina border marks the final resting place of three Union soldiers: brothers David Shelton Jr. and William Shelton, and Millard Haire. The three were ambushed on this site, killed, and buried. Google "Shelton Graves Appalachian Trail" if you'd like to read more about the event.
A return to the cold, gray weather
As much as I had hoped for more spring-like weather, it was not yet to be. The forecast included chilly nights and wet, windy days for almost every day. When the sun peeked through, I'd stop and turn my face to the sky hoping for a bit of warmth.
A damp chill pervaded the forest for days on end.
As I climbed to Beauty Spot, the wind began to increase. The folks at Uncle Johnny's Hostel and Miss Janet had told me all about the amazing views at Beauty Spot. I had hoped to linger there but the wind chill made it impossible. I had no idea that was just the beginning of three solid days of unrelenting, brutally cold wind.
Beauty Spot with clouds rolling in.
I moved as fast as I could with the dual intention of keeping warm and getting to a tent site where I could get out of the wind.
Not even the dense spruce forest buffered the wind. They look like they're wearing fuzzy socks in anticipation of the incoming cold.
The first night of wind shook my tent. At one point I thought I heard rain, but my tent was dry in the morning. Of course, that much wind would dry anything. I put my gloves on to break down my tent–those metal tent poles were cold! The dozen or so other hikers were all having the same difficulty attempting to keep their tents from becoming kites and keeping their hands from stiffening.
Snow
I expected to see snow in the Smokies in early April but was disappointed. I was surprised to see snow on May 3 just north of Clyde Smith shelter. I opted to not stay near that shelter as I had just endured day two of wind and all I wanted was a more protected tent site. I found an established site just over a ridge where a thick row of rhododendrons provided a wind screen. However, at over 5,000 feet, it's no wonder I woke up to snow.
The snow outside my tent resembled "Dippin Dots" ice cream.
Day three of wind began.
One of my goals when hiking the AT was to stay at Roan High Knob Shelter, the highest shelter on the trail at 6,275 feet. I had seen photos of the shelter and knew it was enclosed with an actual front door due to the extreme weather conditions. I hoped it would be somewhat like the shelters in the Smokies with a fireplace.
The day was overcast and cold. I hiked on and on with visions of collecting firewood and getting a lovely fire going for whoever arrived after myself. As I gained elevation, the water on the trail became solid ice. Snow clung to the downed leaves. Icicles hung from the hillside. The wind became painful. My phone decided the cold was too much and no longer took photos or updated my distance on FarOut. I tucked it inside my jacket in hopes of warming it enough to get it working again.
I finally reached the shelter, pushed open the door and stepped inside. Three other hikers were there attempting to warm themselves in vain. There was no fireplace. Although out of the wind, the place was cold-soaked, dark, and dismal.
I couldn't get my hands to work, not even to sign the shelter log. Bitterly disappointed, I wondered what to do. A voice in my head clearly said, "Get off this mountain." Not wanting to get frostbite…or worse…I headed back out into the wind and down the mountain.
As I descended, my phone came back to life enough to make a phone call, but the FarOut app still wouldn't update. I called my husband who has a copy of the AWOL guide. He said Carver's Gap was not far ahead. I then called Miss Janet (shuttle driver and trail angel extraordinaire) who told me exactly where to find shelter at Carver's Gap.
This was the coldest I had been. This was the most scared I had been. But after a hot shower and five hours inside a cabin in the state park, I began to recover.
Finally, a break!
The next day dawned bright and sunny, albeit still windy. I set out once again from Carver's Gap up and over a series of balds which allowed for amazing views and photos.
Roan Mountain slopes up on the right with other mountains of North Carolina in the background.
By mid-afternoon, I was able to pack away my gloves and outer layer as the wind gusts diminished and the sun was allowed to bring a little spring.
Another item on my list was to see Overmountain Shelter, the barn shelter that was decommissioned in 2019. It is beautifully situated in a valley with views of the surrounding mountains. I do hope that the barn is replaced with a safe shelter eventually. What a lovely location for a hiker to relax.
Overmountain Shelter
I tented at a site between Little Hump Mountain and Hump Mountain and woke up to the challenge of climbing Hump Mountain first thing in the morning.
You can see two hikers heading up the trail which squiggles up and up and up…
While other mountains might have been taller or had amazing views at the top, the climb was always treed-in. This climb was one of the most rewarding thus far as I had views the entire way up.
When I finally summited, I broke out in a loud rendition of "Oh, What a Beautiful Morning" from the musical Oklahoma, and frightened two doe that were resting in the tall grass. I managed to catch one in a photo before it disappeared over the ridge.
The deer were not fond of my singing.
Hump Mountain was the final ascent in North Carolina, and I'm happy to say the state saved it's best for last, in my opinion.
Crossing state lines
At long last, I left North Carolina for good. Weaving back and forth since the start of the Smokies, the trail rides the border between North Carolina and Tennessee for almost 225 miles.
No one was around to take my photo, so I set the timer and plopped my phone in the grass.
Tennessee greeted me with bridges–lots of bridges! But what a nice way to keep the banks of the creeks and rivers from eroding from the constant onslaught of hiker feet. I'll have more of the wonders of Tennessee in a later blog (the waterfalls!!!) but for now, I'll just have to let you know that Tennessee is also the home of the 400 mile mark, which I crossed on day 45 of my journey.
Clever bridges over swampy areas as well as creeks marked my introduction to Tennessee.
Four hundred miles down!
Affiliate Disclosure
This website contains affiliate links, which means The Trek may receive a percentage of any product or service you purchase using the links in the articles or advertisements. The buyer pays the same price as they would otherwise, and your purchase helps to support The Trek's ongoing goal to serve you quality backpacking advice and information. Thanks for your support!
To learn more, please visit the About This Site page.