Three Faces of the Trail… Plus ROAD TRIP!
I find that, for me, there are three different faces of the Appalachian Trail.
The first is the trail itself, the time spent surrounded by nature.
Because I spend most of my time watching my foot placement when hiking, I make it a point to occasionally just stop walking, breathe deeply, and look slowly all around me.  I'm always amazed by the profusion of greenery around me, the deep, woodsy smells,  the lack of sounds of civilization (usually, unless within earshot of a highway or town), and the oxygen-rich air I'm breathing all day long. I never get tired of all of this.
Then there's the aspect of being part of the hiker community. It's always interesting to meet folks out on day hikes, but I feel a special kinship with those who are spending at least several nights out on the trail.  We automatically understand some of what each other might be experiencing, be it several days of rain in a row or tackling a tough portion of the trail.
The last major influence is the outside community. Or perhaps I should call them the inside community, since they are the ones who live near the AT and deal with the ragtag collection of backpackers, year in, year out.  I marvel that they are not all completely jaded and burnt out by the demands and idiosyncrasies of all the hikers.
This post will focus on my most recent experiences from these three different viewpoints, although I have been deeply aware of them during my entire AT adventure.
Regarding nature, I have truly enjoyed my time being in Vermont. The trail has gradually lost many of its rocks and become a more forgiving surface and a pleasure to hike on.
Yes, there have been some big mountains. But they haven't been scary and they've usually had lovely views at the summit.
The day I climbed Killington peak (Vermont's second highest peak at 4,229 feet) was heavily overcast.
I had hoped to take the steep, .2 mile blue trail to the actual summit for its extensive view.   However, since it would have been a whiteout, I chose instead to relax on a wooden tent platform near a shelter and cook a serving of butternut soup at 10 a.m.  This was a total change for me, cooking during the day, but I was hungry.
While eating, I enjoyed talking with a day hiker, Suhneu (originally from Taiwan), who was out on a solo hiking trip throughout the Northeast
The clouds disappeared, we climbed the rocky trail to the summit, and enjoyed the view together.
After that, we continued our conversation as we hiked down that tall mountain together.
I just realized this experience encompassed both nature and a fellow hiker.  That's the way it often is.
A lake along the trail one day demanded that I stop and put my feet in it.  I obeyed and was glad of it.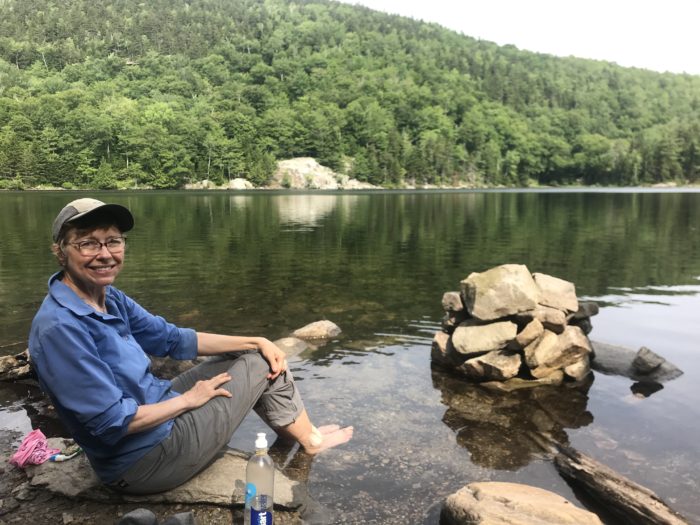 The river by West Hartford, VT,  is a fun playground for local kids.
I also had the occasion to walk on the only stretch of the AT that is handicap accessible. It is composed of a boardwalk and a smoothly groomed pebble trail leading to a deck overlooking a lovely waterfall.
I'm glad this stretch of the trail exists, and wish the handicapped had more access to nature like this.
A quirky highlight one day was coming across two different "rock gardens," in which hikers had carefully balanced rocks in unique locations and configurations.  I just added one rock to an existing creation, but really enjoyed viewing people's handiwork.
Rounding out my nature section, it just seemed to me that even the streams were prettier in Vermont.
I truly enjoyed solo camping by such a stream one evening when a good spot appeared along the way.
As for the community of other hikers, I've already mentioned the pleasure of meeting Suhneu.  Let me add to the list Nancy, aka Sgt. Sunrise.  I first met her atop one of the several mountains we climbed in VT.
It was her purple hair that first caught my eye, but it was her fun sense of humor that kept me interested and entertained. We ended up hiking together off and on for a couple of days and spending two nights together at shelters.  Lots of fun!
A father/adult daughter pair continued to pop up every now and then. I first met Tom and Molly a month ago at Goddard Shelter, where I was able to capture these shots during our extremely close hungry bear encounter.
Since we tend to cover the same basic distances most days,  I've never known when they might appear:  at the Inn at the Long Trail, where I spent my last zero,
or walking down the sidewalk in Hanover, NH, where there was a reminder of just how far we had come.
Not far from this town, we three enjoyed breakfast at a quintessential New England diner.
Moving on to the community of residents near the trail, I had the unexpected and highly improbable experience of a free lunch at the Dartmouth $$ University dining hall. As I walked on the longest AT road stretch (three miles?), which brought me into Hanover, NH,
I saw a sign tacked to a telephone pole,  telling hikers to text one of these numbers to reach a member of the Dartmouth Outing Club.  He/she would meet us and swipe his/her dining card, giving us an all-you-can-eat lunch. I never thought I'd eat at an Ivy League university.  I felt disgustingly filthy, but the students appeared to be used to hiker trash.
There were also several instances of trail magic, both along that long road walk and on a later trail.  Folks really do go out of their way to treat and encourage long-distance backpackers.
When the trail took me through a beautiful traditional campground early one morning, I was offered a piece of bacon by campers.  I must have looked like a bear with my nose up as I sought out the source of the tantalizing scent.
Two former thru-hikers, who happened to elope while on the trail a few years ago now own a darling little farm just a five-minute walk from the trail in VT.  The word is out and notices posted about their "Back Porch."
Between 9 a.m. and 4 p.m., hikers are welcome to relax on their enticing porch.  Snacks are available for purchase, but that's not the couple's goal.  It's just to provide a nice resting spot for their trail family.
The young expectant mother, a former teacher,  and her toddler visited with me and two other hikers while the father mowed the lawn and tended the large garden.
It was a sweet respite.  I enjoyed hard-boiled eggs and watermelon, and a sense of deja vu.  When we were in our 20s, we also had a little farm, an organic garden, a toddler, and another one on the way. And I was also a former teacher.
By pushing myself to cover 18 hilly miles one day, I was able to get to the Lookout.  This cabin, with an amazing view from its rooftop deck, is privately owned by a farmer.  However, because it is only a short distance from the AT, he leaves it unlocked so that backpackers can spend the night there.
And now a whole different way to personalize this AT adventure: ROAD TRIP AGAIN!  One month ago, I rented a car and drove four to five hours west to watch son Jon in a sports car endurance race at Watkins Glen, NY.
I have now rented a car at Hanover, NH, and am having several fun adventures in a three-day time frame.
First, I drove just 1+ hours to Keene, NH, where I saw my dear friend, Sue, who was a very important part of my life when we lived in Kobe, Japan.
Then I returned to Dalton, Ma, where, a month ago,  I had skipped about seven miles of the trail in order to get to the rental car office in time to claim my car for the Watkins Glen jaunt.  I couldn't honestly say I have hiked the entire AT if I didn't get those miles done.  CHECK!  Done on day two of this excursion.  Honesty is truly the best policy.
And the main reason for this three-day escape-from-and-avoidance-of-the-upcoming-big-scary-mountains-of-NH?
Another one of son Jon's races.  Being just 3+ hours away from Lime Rock Park in CT was too tempting to resist.  So here I am, staying a second time at Vanessa's hiker hostel in Salisbury, CT, near the well-known track, which I looked down on from the trail a month ago.
Hikers at the hostel said they could hear the cars roaring around the track all day, during their practice rounds.
So how did Jon and racing partner Gavin do in their race on the next sweltering summer day?
Well, let's just say that they won't count this as one of their most successful races.  After having been on the podium the last three races, all our expectations were rather high.  The car had some issues, which kept them in the back of the pack.  But they did finish the race and look forward to applying some of the lessons they learned about car setup to the next race.  I still really enjoyed being there and watching them roar around the track.
And here I now sit in my rental car, back in Hanover, NH, finishing my blog while I still have access to Wi-Fi.  Off I go in a few minutes to the first shelter, just 1.5 miles up the trail.
Here I come, New Hampshire.  My little three-day excursion was a wonderful break, and now I'm recharged. So let's do this thing!
Affiliate Disclosure
This website contains affiliate links, which means The Trek may receive a percentage of any product or service you purchase using the links in the articles or advertisements. The buyer pays the same price as they would otherwise, and your purchase helps to support The Trek's ongoing goal to serve you quality backpacking advice and information. Thanks for your support!
To learn more, please visit the About This Site page.