Thru-Hiker Hunger Games
Or how I tried not to starve
My Hiking Appetite Theme Song
(Cue synthesizer)
I just can't get enough / I just can't get enough / I just can't get enough / I just can't get enough – Depeche Mode
Hunger is a funny thing.
I am sitting on a shuttle out of Winding Stair Gap, riding into Franklin. Reeking of the woods, I feel like the homeless woman on the back seat of the bus. I'm surrounded by what seem to be squeaky-clean day hikers.
I'm Afraid I Will Steal Their Food
My stomach rumbles. It is all I can do to sit on my hands to keep from swiftly reaching over the seat to grab their packs and rummage for food. I am quite certain that if there were a garbage can, I would be going through it.
I watch one of the passengers on the bus in front of me, a smiling, 50-something woman. She leans over and kisses the man she's with, as they affectionately share a PayDay bar.
"I will not take their PayDay," I repeat to myself. "I will not take their PayDay," summoning all powers of restraint. They kiss again. "I will not yell or punch them."
I Ran Out of Meals 24 Hours Ago
I ate my last calories earlier that day—a lone packet of apple cinnamon oatmeal.
What's the big deal? I have fasted before. I have dieted and cleansed and done ten-day green-smoothie challenges before.
But not while hiking ten to 15 mountain miles a day with a 30-pound pack on my back.
This kind of hunger is new. This kind of hunger encompasses every muscle, every cell, every bone.
This hunger has invaded my brain, giving me violent fantasies of confiscating the woman's fanny pack on the seat in front of me.
My hands and fingernails are caked in dirt, and I put on my sunglasses so I don't have to make conversation or eye contact.
My empty belly feels like another character on the bus, yelling at me for not packing enough food. The smell of the woman's peanut bar wafts into my nostrils and I try not to breathe.
She tries to make small talk with me and I cannot concentrate on the words because the peanuts—the peanuts are so loud and taunting and the woman is so clean and kissing and not-hungry and I am trying so hard not to scream.
Welcome to a Hell Called Hunger
I have never, ever, felt this famished.
Disclaimer: I have never been truly poor. I have had a largely privileged life.
The bus driver careens around a corner and I make a promise. Never again will I walk through the streets of New York City without carrying an ample supply of protein bars or McDonald's gift cards.
I will never again walk by someone who looks hungry or says she's hungry, and not give her something to eat.
I did not know hunger can overtake you like an ever-expanding beast. Overtaking even your ability to think.
How Did I Get Here?
You don't get hungry overnight. The first week of thru-hiking, your body's still virtually back at home, burning off those cushy calories you ate in your former life.
The second week you start to have an appetite, but it's no big deal and you are excited. Thru-hiking is fun! New friends and vistas abound. You packed about the amount of food you ate the first week, and crush those miles.
By the end of the second week, if you are trekking at a good pace in good weather and clocking ten to 15 miles a day, something inside you starts to shift.
So This Is Hiker Hunger
I had heard of this. But like Big Foot and the Loch Ness monster, it was more of a legend people spoke of—not something I imagined experiencing for myself.
I am a small woman. I have a small appetite. I am known for rarely being able to finish more than half a meal or half a beer.
But now we are pulling in to Franklin and I cannot get off this bus fast enough to get to food. Any food. All the foods. Every food.
Domino's? That works. The liquor store? Sure. Is that a gun supplier? Might have snacks. Let me off, driver. Anywhere with consumable calories, please.
I Get to the Mexican Restaurant
And it feels like a mucho bueno heaven on earth. I do not pass go. I walk in with my sweaty pack glued to my body like a second skin and my stomach says to the server, "Yes, Miguel. Yes, I will start with guacamole. No, the large one, please."
Only after guacamole, tortilla chips, margarita, and a full plate of enchiladas, rice, and beans, does my brain start to function again.
This Is Not True Hunger
And I am humbled by one very true fact: I am a stranger to real hunger.
My hiker hunger can be easily sated within the week, at a restaurant where I can afford to eat.
True hunger is not knowing where that meal will come from. True hunger is not being able to fill the belly.
True hunger sounds terrifying.
I scrape out the last of the guacamole with a tortilla chip and make three more vows:
1. I will not let myself get this hungry again.
2. I will not let a fellow hiker get this hungry.
3. I will give what I can to not let any fellow human get this hungry.
That Scene from Gone With the Wind
Remember this one?
"If I have to lie, cheat, steal, or kill…"
Yeah, that one.
Why Hunger Matters
One thing I am relearning on this trail is Maslow's hierarchy of needs. When you are just too tired or hungry, nothing else matters. Not the possibly infected cuts on your thumbs. Not a 30-second conversation about gear with a friend. Not the metaphors of beauty in nature, not the deeper levels of philosophy and spirituality.
This is why ending global and local hunger matters. Now I understand how it is at the root of everything. How education and technology and after-school programs are pointless if kids are starving. How employee incentives mean nothing if workers are undernourished. How so much of my own "achievements" are simply a result of being well-fed.
Thru-Hiker Hunger Is a Math Problem
Here is what no one tells you: hiker hunger is a calculus problem. And remember back to my second blog post, when we established that I dropped out of calculus the first week?
The equation goes something like this:
Healthy nutrition = heavier pack weight.
Heavier pack weight = more exhaustion, fatigue, and hunger.
Lighter pack weight = poor quality foods or insufficient amount of healthy food.
Do you see the issue?
I have solicited the help of my smartest nutrition-minded friends back home, as well as savvier trail companions. And honestly, no one seems to have solved this riddle.
My current work-in-progress solution is simply to reduce mileage, increase food in my pack, and add in more frequent resupply days.
What this has cost me is my first trail family (who moved ahead) and my first backpack (which wasn't built to carry more food weight).
As a small female, the additional challenge is that even with a new, improved pack and the above adjustments to my schedule, I can only carry so much food on my back without it seriously throwing off my balance on the steep inclines and descents along the trail.
Addressing Another Hunger
At the risk of this thru-hike becoming Cari's Appalachian Church Tour, I find the second thing I'm hungry for upon arrival in town is God.
Specifically people worshiping God. The usual Sunday hodgepodge of people, gathered around some old songs and a brick building and a wooden cross, hungry for something beyond themselves.
After my tummy leaves the Mexican restaurant happily wearing a sombrero and dancing to a mariachi-band soundtrack, it craves some soul food.
I walk to the Presbyterian Church, where to my delight, there is a woman preacher. I am a woman preacher by trade but I hid this fact last Sunday while worshiping at a church where women aren't allowed to be ministers.
This Franklin church understands the hierarchy of needs. There are bottles of water by the pews for thirsty hikers and the service has barely ended before the welcome committee identifies me and insists I take a bag labeled "The bread of love" (read: pound cake).
But here is what surprises me most. I need this church almost as much as I need real food. As a minister, I often roll my eyes when someone talks about whether or not a church service "fed them."
As a religious professional, I chafe at the idea that we are somehow responsible for whether or not you walk away spiritually full.
But today I get it. I am so hungry for these familiar songs and prayers and words. After spending all week focused on the most basic of survival functions, pushing my body to its limits, I am hungry for this thoughtful Reverend to bring me something she has chewed on all week, to feed it to me in a way that I can digest.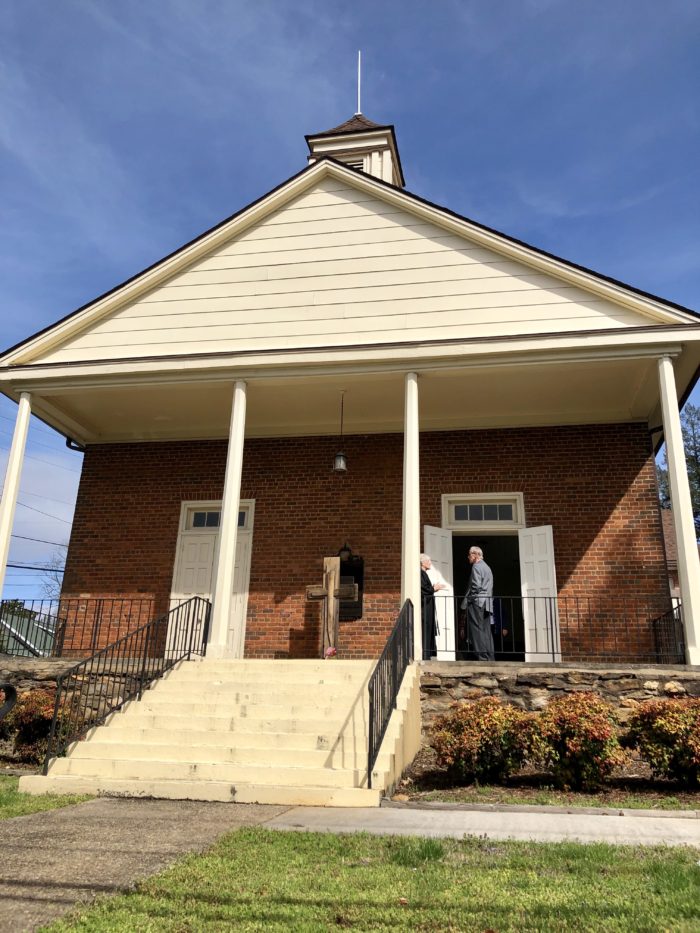 I taste her appetizer of wisdom and apply it to my struggles to set up my tent right: "Pride isolates you from others. Humility connects you with others." She is saying I can ask for help.
I savor her reminder that "Obedience of action is far more important to God than obedience of words," and think about my past relationships.
I order seconds of this portion: "I obey the voice of God inside me because I love who I am when I am obedient to God."
As she unpacks the nuances of what obedience is and is not, I think about the hungers around me and in me.
A Scandalous Prayer
She ends with a prayer that I feast on for dessert.
"Lord, may your word help us love you more, love other people better, and fall more deeply in love with ourselves."
Are we allowed to pray that? Something in me recognizes that these are foreign words. Words I am so hungry for. Words I have not even let myself try on in the midst of all my self-doubt and recurring frustration on this trip.
I often feel slow and clumsy on the AT. I am older than most. I rarely feel I have anything to offer. But lately I have started to ask myself every morning: "How can you add value today?"
It's a question from author/speaker John Maxwell's books on leadership. Sometimes the only value I can add is making a fellow camper a cup of green tea. Or listening to them talk about their breakup or the death of a parent. Or telling someone "great job" on a hill. Or sharing my food.
I used to be such a bad sharer. You can ask my brothers. Maybe it was a scarcity-mentality thing. I used to have issues around food, and for over a decade I battled binge eating. It was a comfort food addiction to avoid dealing with unpleasant emotions.
It took a long time to sort all that out, and I had good help. Now I'm sorting out other hungers. New math problems and equations around food. Friendship. Love.
The Start of a Solution
My friend Jeff said that when we think about the difficulty of loving our enemies, we forget that we probably need to start with ourselves.
Because sometimes we can be our own worst enemies. We can spend countless precious hours being hard on ourselves, wishing we were something other than we were.
I begin to metabolize the words from the sermon: Humility. Obedience of action. Connection with others. Loving and being loved.
Oh No, Not Them!
We are happy and well-fed now in Franklin, and my friend Grubber comes down the hill as I'm walking up. There's a movie and free food and friends waiting for me at the taproom.
But as I get closer, I see that Grubber is with them! The couple from the bus! The kissy, sweet happy couple that I openly glared at, avoided conversation with, and tried not to steal from.
I have to reintroduce myself, though they barely recognize me now that I'm showered and smiling. I explain that I met them while illustrating the dictionary definition of "hangry."
We all share a good laugh, and I harbor no residual desire to swipe their snacks.
Affiliate Disclosure
This website contains affiliate links, which means The Trek may receive a percentage of any product or service you purchase using the links in the articles or advertisements. The buyer pays the same price as they would otherwise, and your purchase helps to support The Trek's ongoing goal to serve you quality backpacking advice and information. Thanks for your support!
To learn more, please visit the About This Site page.