TLDR: Summarizing the 2021 Appalachian Trail Thru Hiker Survey (Plus Hikers' Favorite Sections of the Trail)
For the past few months, we've been analyzing the results from the 2021 Appalachian Trail Thru Hiker survey. In this post, we'll summarize what we've learned from the class of 2021 so far, covering general information, footwear, shelters, sleeping systems, packs, cooking, and water filtration. As a bonus, we'll also reveal hikers' favorite (and least favorite) places on the trail.
General Information
Three hundred ten hikers filled out our 2021 survey. Sixty-two percent were male, 92% were white, and the average age was 37. Only three hikers were from outside the USA, with the majority of hikers coming from the east coast. The majority of hikers were vaccinated (80%), with a mixed level of concern for COVID-19 being shown by respondents.
Nearly two-thirds of survey participants said the longest trip they'd done prior to starting the AT was seven days or fewer. Seventy percent of respondents managed to hike the whole trail, with injury being the most common reason hikers quit.
Nobos tended to start hiking from early March to mid-April. Flip-flops tended to start from April to May. Meanwhile, June saw the majority of southbound starts. The average pace was 13.8 miles a day, with 60% of hikers opting to sleep in town on most town days. Sixty-six percent started their hike solo, although most hikers slept in the presence of others (either at ATC shelters or more established sites) most nights. Most hikers reported that they followed good LNT practices.
The most helpful resources were Guthook/FarOut and TheTrek.co, while the least popular resources were A Walk in the Woods and Facebook. Half of those that thru-hiked the trail spent between $5,000-$8,000 on their hike. About two-thirds of thru-hikers spent between $1,000-$2,000 on gear.
There is so much more information in our General Information post here:
Footwear
Each year, a higher percentage of hikers have opted to wear trail runners for the majority of the hike, rather than heavier, sturdier boots or shoes. While boots may still be preferable during the snowy sections, we recommend that hikers planning thrus or long sections should consider lightweight, more flexible shoes for the majority of their hikes. In general, thru-hikers should plan to go through 4-5 pairs of shoes.
Altra has maintained its lead from last year as the most popular brand for trail runners, though Hoka One One is rapidly gaining in popularity. The Altra Lone Peak was the most popular trail runner and the most popular footwear on the AT overall with 25% of users using this model. Darn Tough, Injinji, and Smartwool socks were all well represented on the AT, but Darn Tough were by far the most popular socks (worn by 75% of respondents).
Read more here:
Tents and Shelters
Around 80% of thru-hikers on the AT used a tent, 13% used a hammock, and 4% percent used a tarp. The majority of hikers were satisfied with the shelter system used, with the highest dissatisfaction seen by those using a trekking pole tent.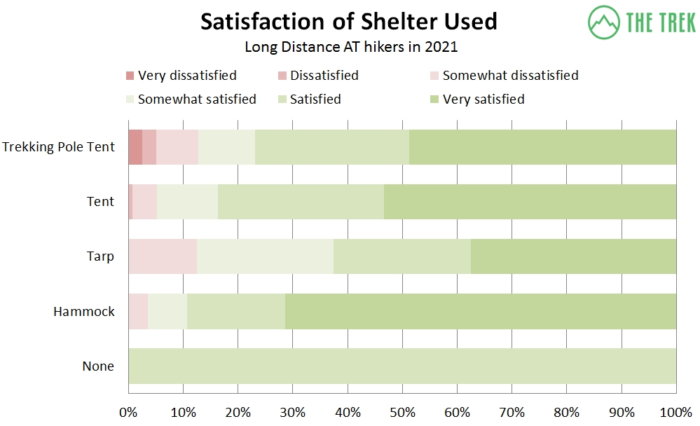 About 50% of those who use a tent go a size up. The most popular brand of tent was Big Agnes, followed by Zpacks and NEMO. Gossamer Gear's "The One" was the most popular one-person tent, the Zpacks Duplex the most popular two-person, and the Copper Spur UL3 from Big Agnes was the most popular three-person tent.
Read more here:
Sleeping Bags and Pads
This year saw a big shift to more hikers embracing a quilt, with 63% using a quilt of some form. The majority of hikers were happy with their sleeping system. Dissatisfaction was mainly due to popping pads or running cold. Natural down remains the most popular option on trail, with an average temperature rating of 23 degrees Fahrenheit. Enlightened Equipment has become by far the most popular brand on trail for sleeping bags/quilts, while Therm-a-Rest continues to lead for sleeping pads.
Read more here:
Backpacks
Most thru- and section hikers use internal frame packs, but ultralight frameless packs are not uncommon. The overwhelming majority of hikers were satisfied with the pack they used, with 70% making it through the whole trail on the bag they started with. The average capacity of a pack was 52 liters, with the average base weight starting at 20 pounds and dropping down to 16 by the end of a successful thru hike. The Osprey Exos/Eja was the most popular bag, the Gossamer Gear Mariposa the second most popular, followed by the Hyperlite Mountain Gear Southwest and the Osprey Atmos.
Read more here:
Stoves, Filters and Diet
The majority of hikers filtered their water at every source using a medium-sized filter like the Sawyer Squeeze. The result was only 3.2% of those surveyed reported any water-borne illnesses. The number of people who contracted Lyme disease was also low (<2%) although only 87% of hikers reported taking precautions like using permethrin or checking for ticks daily.
Hikers typically resupplied every four or five days and even those with dietary requirements primarily used towns to resupply rather than relying on mail drops, with 80% of hikers using this method.
Eighty-six percent of hikers used a fuel canister stove to cook with just 6.4% opting to go stoveless. The MSR PocketRocket continues to be the most popular stove with 139 respondents using it. This was followed by the Jetboil Flash (21) and the Snow Peak LiteMax (9)
Read more here:
Hikers' Favorite Places on the AT
New for this year we asked hikers what their favorite and least parts of the trail were. From the results Southernmost Virginia was hikers' favorite place with 222 positive results and nine negative results. In second was Baxter State Park/Mt. Katahdin (210) followed by the White Mountains National Forest in New Hampshire (204). Northern Pennsylvania was by far the least-loved part of the trail with 170 negative responses – more than three times any other area.
Conclusion
Many thanks to the hikers who participated in the survey! Congratulations to you all! A special thank you to Kelly Floro and Zach Davis for the support, distribution, and editing of all the posts in this year's Appalachian trail hiker survey. Finally, I've appreciated all the comments and questions in the comments. We've taken a few suggestions which should make 2022's survey even better.
Data Caveat
Data were collected from participants recruited via our social media platforms, Backpacker Radio, and TheTrek.co. Participants submitted surveys anonymously between October and November of 2021. There was some data cleanup done during the analysis of the data where obvious spelling mistakes were made or brands/models were obviously the same. We also changed any start dates that referenced 2022 to 2021 and couldn't find any obvious duplicates in the data. That said, please keep in mind you can't always believe the answers to what you ask strangers on the internet.
Featured image: Graphic design by Chris Helm (@chris.helm).
Affiliate Disclosure
This website contains affiliate links, which means The Trek may receive a percentage of any product or service you purchase using the links in the articles or advertisements. The buyer pays the same price as they would otherwise, and your purchase helps to support The Trek's ongoing goal to serve you quality backpacking advice and information. Thanks for your support!
To learn more, please visit the About This Site page.