Top Backpacks on the Appalachian Trail: 2021 Thru-Hiker Survey
Each year here at The Trek, we survey long-distance hikers on the Appalachian Trail (AT) on the gear they used on their 2021 thru-hike. In this post, we'll cover all things backpacks—including the most popular models on the trail last year and hikers' base weight and level of satisfaction with their pack choice.
The Hiker Sample
Three hundred and ten hikers participated in the survey, all of whom had walked a section or thru-hike of the AT in 2021. Almost three-quarters were thru-hikers, and the rest were section hikers. For more details on the hiker demographics, check out our post with general information from the survey.
Frame Type
Similar to 2019, about 80% of hikers used a pack with an internal frame. Frameless bags have slightly increased in popularity since 2019 (from 12% to 16%), while external frame bags continue to become less relevant (5% used external frame packs in 2021 compared to 9% in 2019).
Satisfaction
The majority of hikers (92%) were satisfied with their backpack choice, while forty-eight percent said they were very satisfied. Only 25 respondents had negative feedback about their packs. Gossamer Gear, Osprey, and Zpacks received the most negative feedback (note: these were also some of the most used packs so this is to be expected).
Here are the quotes from those who were dissatisfied with their packs. I've included all of them as this was asked for in our Tent and Shelter survey results:
"Know better but I started with an ultra cheap backpack. The padding in the shoulder straps disintegrated, unsurprisingly."
"Zpacks Arc Haul came apart on me, needed repairs constantly"
"Zpacks Arc Haul zip rode very uncomfortably after 100 miles"
"Both Zpacks I had failed"
"65L was too much space. Could have done with 55L"
"The ULA circuit in Xpac pooled water at the bottom. Then towards the end it started to tear in multiple places. The frame broke through the bottom but it somehow made it"
"Started out with an Osprey Aura, and it was overkill. The squeaking while I walked really annoyed me and the 4.5 pounds was too much"
Switching Packs
Seventy percent of those who thru-hiked finished with the same pack as they started. A quarter swapped to a different model, whilst five percent replaced their bag with the same model they were using before. Those who swapped tended to opt for a lighter pack. It is unclear from the survey data if those who changed packs but stuck with the same model had their originals replaced by the manufacturer.
Capacity
Over half of all survey respondents had a bag between 55 and 64 liters with the overall average being 55 liters. Thru-hikers' pack capacities ranged from 28 to 79 liters, while for section hikers this ranged from 15 to 80.
Thru-hikers packs had an average (mean) capacity of 52 liters, but anything between about 43 and 61 liters was common. Thru-hiker pack capacities ranged from 25 to 80 liters. Apart from the outliers, section hikers and thru-hikers shared similar capacities as can be seen in the chart.
Base Weight
Base weight refers to how much a backpack weighs when it is filled with everything except food and water. This often fluctuates during a long-distance hike, but it is more stable than total pack weight with food and water. Hikers in our survey reported the average base weight both at the start and end of their hike.
Three-quarters of hikers had a base weight between 10 and 25 pounds, with the median being 20 pounds. The average was not drastically different between completed thru-hikers and section hikers / individuals who didn't finish. The lowest base weight for a thru-hiker was 7.3 pounds while the heaviest pack was 38 pounds. For section hikers, base weight ranged from eight to 45 pounds.
For thru-hikers, it was evident that hikers tended to get lighter as their hike went on. By the end of their hike, the average base weight was 16 pounds, down from 20 pounds at the start. Only one hiker ended the trail with a base weight above 30+ pounds, with the lightest pack at the end of the trail weighing in at just six pounds of base weight. Eighty percent of those who finished had a base weight of 20 pounds or less, suggesting that anyone planning to thru-hike should attempt to get their base weight as low as possible with sub 20 pounds being a realistic target.
The top brands and models.
Finally, we asked hikers for their favorite brands and models. The Osprey Exos/Eja has maintained the top spot with 33 responses, while the Gossamer Gear Mariposa has risen to second place (25), followed by the Hyperlight Mountain Gear Southwest and the Osprey Atmos in joint third with 17 users apiece. A full breakdown, ranked by brand, is below. We've included any bags that received more than five responses: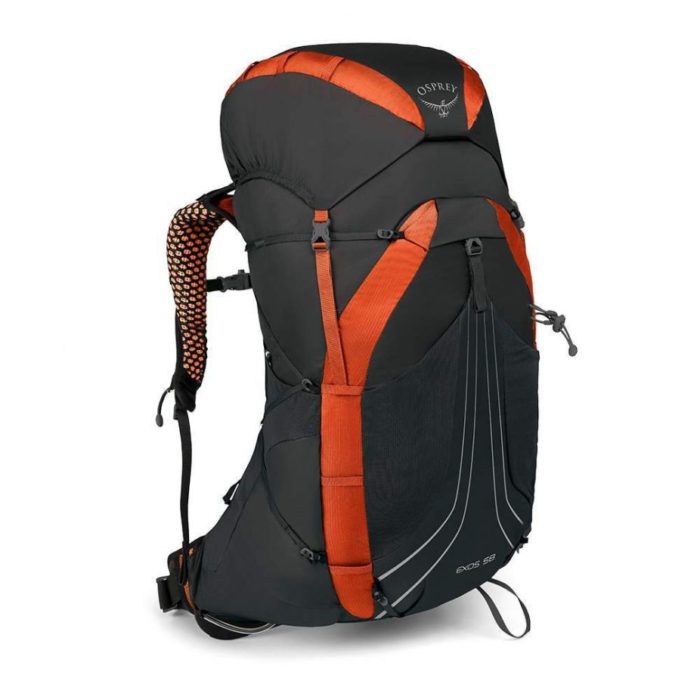 No bag had more than two responses.
Summary
Most thru- and section hikers use internal frame packs, but ultralight frameless packs are not uncommon. The overwhelming majority of hikers were satisfied with the pack they used, with 70% making it through the whole trail on the bag they started with. The average capacity of a pack was 52 liters, with the average base weight starting at 20 pounds and dropping down to 16 by the end of a successful thru hike. The Osprey Exos/Eja was the most popular bag, the Gossamer Gear Mariposa the second most popular, followed by the Hyperlite Mountain Gear Southwest and the Osprey Atmos.
Conclusion
Many thanks to the hikers who participated in the survey! Congratulations to you all! Check out our previous posts for general hiker information, the top sleep systems of 2021, the top tents of 2021, and the top footwear of 2021. Next week we'll cover stoves, food, and water, followed by hikers' favorite places on the AT. To stay updated on the subsequent hiker survey posts, subscribe to The Trek newsletter.
Read Next
Data Caveat
Data were collected from participants recruited via our social media platforms, Backpacker Radio, and TheTrek.co. Participants submitted surveys anonymously between October and November of 2021. There was some data cleanup done during the analysis of the data where obvious spelling mistakes were made or brands/models were obviously the same. We also changed any start dates that referenced 2022 to 2021 and couldn't find any obvious duplicates in the data. That said, please keep in mind you can't always believe the answers to what you ask strangers on the internet.
Featured image: Graphic design by Chris Helm (@chris.helm).
Affiliate Disclosure
This website contains affiliate links, which means The Trek may receive a percentage of any product or service you purchase using the links in the articles or advertisements. The buyer pays the same price as they would otherwise, and your purchase helps to support The Trek's ongoing goal to serve you quality backpacking advice and information. Thanks for your support!
To learn more, please visit the About This Site page.