Top Stoves and Filters: The 2019 Appalachian Trail Thru-Hiker Survey
We surveyed 365 section or thru-hikers about their stove, food, and water preferences and their experience of illnesses on the Appalachian Trail in 2019. We found some interesting differences in stove and resupply choices among hikers with dietary restrictions. For more information on the hikers, check out our general information post. You can also skip to the TL;DR at the bottom.
Related
Stoves
About 84 percent of hikers started with canister fuel stoves and 80 percent finished with them. Using no stove at all was the second most popular option, with 10 percent starting without a stove and 15 percent finishing without one. Alcohol fuel stoves declined in popularity this year (from about 5 percent of hikers using them in 2018 to about 2.5 percent using them in 2019). Liquid fuel and solid fuel were uncommon among AT long distance-hikers in 2019 and no one reported using a wood stove this year.
Favorite Stove Brands and Models
We asked hikers about their favorite stove that they used during their 2019 AT hike. The majority of hikers preferred canister fuel stoves by MSR and Jetboil.
MSR (162 hikers' favorite)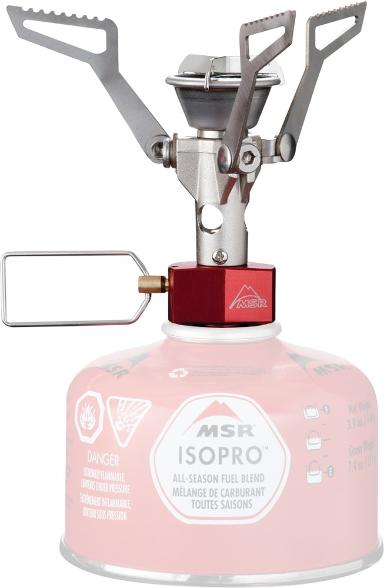 Off-brand stove (4)
Other (14)
Homemade stoves from cans were used by only 1.1 percent of all hikers in the survey, a sharp decline from last year when 7 percent of hikers used homemade stoves. Homemade stoves from aluminum cans are also an option, and the Titanium Siphon by Toaks is a manufactured option using alcohol fuel. These are instructions on how to make your own.
Stoves and Dietary Restrictions
About 17 percent of hikers (61 people) reported some sort of dietary restriction, including vegan, vegetarian, gluten free, and allergies to common foods.
Like the hikers on the whole, those with dietary restrictions preferred canister fuel stoves. Hikers with dietary restrictions were somewhat more likely to prefer not to use a stove at all, compared to hikers with no dietary restrictions.1
Resupply
On average,2 hikers went four days between resupply, with about two-thirds of hikers falling between one and ten days. This year, three hikers in the survey went extended periods between resupply; one hiker each said they went an average of 50, 55, and 60 days between resupply. One of the three reported they were dissatisfied with their resupply strategy, but didn't offer more detail.
Hikers with dietary needs were significantly LESS likely to resupply at stores and were MORE likely to use mail drops or both, compared to hikers who did not have special dietary needs.3
Water Treatment
We asked hikers how often they filtered water they took from natural sources.
Overall, hikers tended to treat their water. Over three-quarters said they treated their water every time, which was a higher percentage of hikers than those who treated their water every time in 2018. Treating all water except direct spring water was the next most common response. Very few hikers said they never treated their water.
Water Treatment Type
Water treatment generally comes in four types:
A pump that filters the water, requiring no wait time before drinking.
Liquid chemical treatments that take a few minutes to react before the water is safe to drink.
Tablets that operate the same way. Tablet treatments have been around longer than liquid treatments and, while small, are more bulky than liquid options.
Devices inserted into the water bottle or bag that use UV rays to treat the water.
Mid-size water filters, such as the Sawyer Squeeze, were preferred by over three-quarters of AT hikers. Liquid chemical treatments (e.g., AquaMira) steeply declined in popularity this year. Tablets (e.g., Coleman) and UV treatments (SteriPen) remained unpopular.
Illness
Only 2.2 percent of hikers in the survey (eight people) reported they contracted a waterborne illness during their 2019 trek. In past years, we found that people who filtered less often were more likely to contract waterborne illness. This year, since so few people contracted waterborne illness, we weren't able to look into this.
Illness Prevention
Only 2.2 percent of hikers (eight people) said they contracted Lyme disease on the trail in 2019. As with waterborne illness, since so few people contracted Lyme disease in 2019, we weren't able to look for links between prevention tactics and illness.
We asked hikers about the actions they took to prevent Lyme disease. Only 9 percent of hikers (33 people) did nothing at all to prevent Lyme disease. 60 percent (219 hikers) sprayed their clothing with permithrin, compared to only 40 percent in 2018. 32 percent (116 hikers) checked for ticks daily.
TL;DR
The majority of AT long-distance hikers use canister fuel stoves, the most common model being the MSR PocketRocket.
Alcohol stoves decreased in popularity this year. These are typically handmade stoves from cat food-type cans.
For people with dietary restrictions (such as vegetarian), canister fuel stoves are still the most common, but going without a stove was more common than it was for hikers with no dietary restrictions.
The average number of days between resupply was four days, but up to ten days was common.
About three-quarters (75%) of hikers primarily bought food in town, rather than using mail drops.
However, mail drops were significantly more common for hikers with dietary restrictions. While mail drops used to be the norm on the AT, at this time, if you don't have dietary restrictions, you probably don't need to bother with mail drops.
For the most part, hikers treated their water.
Mid-size pumps, such as the Sawyer Squeeze, are the most popular type of water treatment system.
This year, so few hikers contracted Lyme disease that it was impossible to get much information about how prevention tactics worked for them. About 60 percent used permethrin and about 32 percent checked daily for ticks.
Thank You!
Many thanks to all the hikers who participated in the survey! Congratulations for walking so far! I am grateful to Maggie Slepian and Zach Davis for their input and for distributing the survey. Thank you to everyone reading this for your patience with my delays in getting it out.
Want to Contribute to Next Year's Surveys?
I will need some help next year to get all the survey posts done more quickly. If you are interested in helping with these posts next year, please contact The Trek. It would be especially helpful if you are familiar with R/R Studio statistical software and/or making graphs in Excel, and if you have done long-distance backpacking. Contact The Trek here if you would like to help.
More from the Annual Hiker Survey
Check out the 2019 overview post, as well as the posts on footwear, sleeping bags, shelter systems, and backpacks. To stay updated on the subsequent hiker survey posts, subscribe to The Trek newsletter.
Notes for the Nerds
χ2 = 6.763, df = 3, p = 0.079
4 days was the median time between resupply. Mean time between resupply = 4.7 days.
χ2 = 7.714, df = 2, p = 0.021.
Affiliate Disclosure
This website contains affiliate links, which means The Trek may receive a percentage of any product or service you purchase using the links in the articles or advertisements. The buyer pays the same price as they would otherwise, and your purchase helps to support The Trek's ongoing goal to serve you quality backpacking advice and information. Thanks for your support!
To learn more, please visit the About This Site page.