Trail Magic Number #2-4: Reeds Gap, Catawba, and Dickey Gap, VA
Better put on your wizard goggles (that's a thing) because shit's about to get real magical.
The following Trail Magic update encompasses the most recent three trail magic sessions:
Trail Magic #2: May 1st at Reeds Gap (mile 838.7).
Trail Magic #3: May 2nd at Catawba, VA (mile 704.2).
Trail Magic #4: May 5th at Dickey Gap, VA (mile 516.6).
As always, it's only right to lead by thanking our generous Trail Angels for these few rounds: Jeff Vreeland, Jason Schultz, Daniel Goff, Jeff Nicholson, and Crozet Pizza.  THANK YOU!!! You are superheroes to hikers.
Trail Magic Session #2
This bout of Magic at Reeds Gap was co-hosted by fellow 2011 thru-hiker and good friend, Road Dog and Jeff Nicholson, aka the world's greatest Trail Angel.  We were a bit north of "the bubble" and consequently the thru-hiker traffic was slow.  Upon setting up shop, we waited.  And waited.  And waited.
A bit frustrated, we decided to be more proactive and drop off some magic near the closest shelter to the south.
After  three hours, just as we were talking about throwing in the towel, the magic began (probably more so for us than the recipient).
Just as we were considering throwing in the towel, Professor Turtle made his way to our station. Little did he know he what he was in for—five full pizzas (one of which he devoured to himself. Like. A. Boss.), a cooler full of Blue Mountain Brewery beer, sodas, and the best damn company a thru-hiker could ask for. And me.  Professor Turtle will be going to grad school and the University of Wisconsin-Madison because he is great at life.
Next up was Milky, a seasoned British hiker who's hiking the AT as the final leg of his triple crown.  Even more impressive than Milky's hiking experience is his razor sharp wit.  Brits will do that.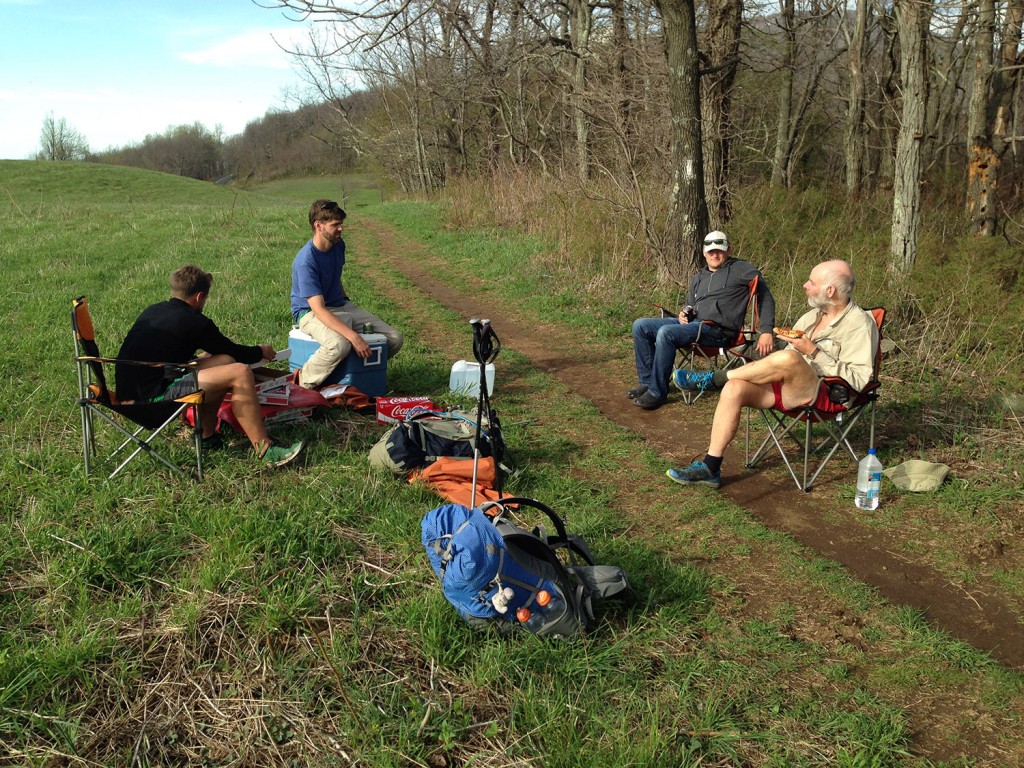 Just prior to dusk, we were joined by Hellcat, a three-time AT thru-hiker.  Proof that the AT is crack.  Some people just can't get enough.  Also crack-like: Crozet Pizza.
Trail Magic Session #3
Despite Professor Turtle's valiant effort, we ended the previous day's trail magic session with a couple boxes of leftover pizza (my second least favorite word combination, after "fake bacon").  Naturally Road Dog and I set out a bit further south to get the pizza* to its natural setting: hikers' stomachs.
* For those of you thinking "day-old pizza is pretty weak-ass trail magic," I recently overheard a story of a thru-hiker telling another thru-hiker that they ate a gusher off the Trail a couple days before.  It wasn't their own and it could have been there for any length of time.  To the point: in hikers' eyes, day-old pizza is the equivalent of a Wolfgang Puck-catered affair.
Upon arriving, we were met by Tick Sack (it means exactly what you think it means).  He was nice enough to help us with our effort to finish the rest of the pizza.
A few more hours would go by without seeing another hiker.  Then we got three.  That's how it works.  They were a lovely group of section hikers (who I would coincidentally run into the next night a bit further down the trail).  They weren't much help in the pizza consumption department, but what they lacked in appetite, they up for with great conversation (life in the 70s sounded so much better).  Pizza Mission: Complete.

And then Turtle (no relation to the Professor) came and shut-shit-down.  We had seven pieces left.  The pie was a bit (read: very much so) stale at this point, but Turtle's thru-hiker taste buds didn't seem to mind as he polished off all seven pieces in approximately five minutes.
Trail Magic Session #4
Because the previous two sessions were clearly outside of the bubble, I felt compelled to dive back in.  I informed our Bloggers* that the next session of Magic would be earmarked for one of them (since they all started in the high season).  Ellie B. (Trail Name: Sparky) jumped all over it.
*Reason #3784 to apply to be a future Appalachian Trials Blogger.
As it would happen, fellow Appalachian Trials writer and former thru-hiker Carlie "Rainbow Braid" Gentry had the week off work at REI and wanted to get in on the fun.  She suggested a Cinco de Mayo-themed Trail Magic.  Carlie is basically a fountain of good ideas.
And a Cinco de Mayo Trail Magic event can only mean one thing…
Taco Bell.  Way too much Taco Bell.  In case you were wondering what 60 tacos looks like.
An early candid shot of the group at Dickey Gap. Iron Chef, Caveman, Gameshow, Sparky, Easy Rider, and The Dogman.
Things would got weird (the good kind) quickly.  The group unanimously formed a circle to engage in a game of "ninja".  I'd try to explain it to you, but after witnessing from start to finish, I still can't say that I understand.  Greatly entertaining either way.
You may notice the pizza boxes in the background.  The 60 tacos didn't stand much of a chance against this group.  A second food (and beverage) run landed the knockout punch.
And then there's really no good explanation for this…(notice everyone simultaneously ignore my "rule")
Because legend had spread of the antics at the first Trail Magic episode, the Cinco de Mayo crew felt compelled to one up Fozie's First Stand.   They also wanted to express their profound gratitude for the wonderful food and beverage that our Internet Angels provided.  This is what would result.
The fun persisted for so long, before we knew it, day had turned into night.  The crew's ambitions to hike the four miles to the next shelter quickly diminished and tents / hammocks would be set up in the scene of the magic.  And as any good host would do, Rainbow Braid and I followed suit.  In total, the magic lasted  eight hours and we slack packed the team into Partnership Shelter the following day.  No one should have to carry a fully loaded pack with a hangover.
Trail Magic #5 update coming soon…
Affiliate Disclosure
This website contains affiliate links, which means The Trek may receive a percentage of any product or service you purchase using the links in the articles or advertisements. The buyer pays the same price as they would otherwise, and your purchase helps to support The Trek's ongoing goal to serve you quality backpacking advice and information. Thanks for your support!
To learn more, please visit the About This Site page.