Trail Magic Zero
Day 131
We enjoyed the bunkroom to ourselves at Boots Off Hostel. We were provided with hot coffee, fruit, cereal and donuts for breakfast. After many bowls of cereal and several donuts we had to drag ourselves away and started hiking south again.
The weather continues to be excellent and we leap frogged with Backtrack for most of the day. We stopped for lunch at Laurel Fork Falls and Gorge. It was a beautiful sight! It's always surprising to us how few waterfalls are on the AT.  We definitely took advantage of this one and stayed for a while just watching the fast falling water.
We passed Backtrack again who mentioned that at the Station at 19E Hostel and Pub has a trail magic link for friends and family.  They can provide donations to be spent on food, drinks, resupply, and evening lodging.  Seems like a really awesome idea.
We filled up water from a nearby stream and arrived at our campsite. It is nice to be in our tent again. Between the shelters and hostels it has been a while. The moon and stars shown bright and Eric made a small fire.  We enjoyed the peaceful and quiet night.
Since we are staying at the Mountain Harbour Hostel tomorrow and already play to go to Station 19 Pub for dinner to formally celebrate Eric's birthday, Hayley posted the trail magic link on social media.  Hopefully a few people would like to buy Eric a birthday beer.
Day 132
We were up early and started hiking under headlamp for almost an hour. These mornings will start to change once daylight savings hits, it's dark until about 7:30AM right now. We passed Backtrack in the morning and knew we would likely be leap frogging him again today.
We moved well through the gradual ups and downs. The leaves on the ground continued to hide roots and rocks so we tripped and stumbled as per usual. It's starting to look a lot more like November, most of the leaves have fallen and the bare branches reach up to the gray skies. We have been seeing more pines and it's making us excited for what is to come in the Smokies. Tennessee has been beauitful so far and the mountains are getting bigger.
The afternoon transformed into a beautiful, warm and sunny day. We started to feel the sun burning our faces and realized the canopy of leaves wasn't there to shield us. Eric did have a mishap during a quick break, his last trekking pole snapped in two. The first pole was snapped in the Shennies and the other snapped today. Hayley gave him one of hers for the time being. One trekking pole is way better than none when you have a heavy bag to carry.
We reached Jones Falls and had to sit for a snack. Two beautiful falls in two days!
During one of our road crossings we emerged from the woods to find Trail Magic! Marlene, recently trail named Emoji because of the amount of emojis she uses in text messages, was there with an amazing spread! Cold drinks, chips, cheese, and chocolate.  Everything a thru-hiker could want. We talked with her a bit and she updated us on the others SOBOS that had come through. After a while we reluctantly pulled ourselves away but we had another hostel to get to!
We arrived at Mountain Harbour Hostel in the late afternoon and got to showering and laudrying. Eric is very excited, this was a hostel he had missed in 2011 and we have been hearing great things about the breakfast they provide.
After the choring was done we headed up the road to The Station at 19e for dinner to officially celebrate Eric's birthday! The owners of the hostel/restaurant had a genius idea to set up a website that allows people to contribute money that a thru-hiker can put towards any good or service the hostel/restaurant provides. We sent out a message through social media the night before expecting a few people to kick in a couple bucks but we were in for a shock when we arrived!
We walked in to the bar and saw Backtrack, Lennon and Grazer. They greeted us and said we had a fortune waiting for us! We laughed at their joke and proceeded to order some delicious local craft beers. The owner/bartender told us they weren't joking and we had a substantial credit waiting for us! We were stunned! The generosity was overwhelming! We filled our thru-hiker stomachs with yummy sandwiches, snacks and craft beer (of course!) By the end of the night we still had a large credit so we booked a room at the hostel for tomorrow and decided to take a zero!
We are still blown away by generosity and this zero fits into our hiking plan well. There is also going to be rain tomorrow that we are happy to wait out at The Station 19e tomorrow. Eric was even able to find a spare trekking pole in the hiker box! The trail provides. What an excellent day. We said goodbye to everyone at The Station at 19e and headed back to Mountain Harbour for the night. We have a feeling we will see them again tomorrow when we return for our trail magic zero.
We just want to say thank you family, friends and trail angels who were so kind to have donated. This is easily the best birthday Eric has had in a long time.  It is really special to celebrate on the AT with other thru-hikers.
Day 133
We enjoyed Mountain Harbour bunkroom to ourselves.  Perks of being a SOBO!  The legendary breakfast at Mountain Harbour lived up to the hype and then some.  We've been hearing about it since we first crossed paths with the NOBOs in Maine.  Eric didn't get to stop here in 2011 but had also heard about it then which is no surprise since this has been voted best breakfast on trail for 13 years. The quality of the food was just excellent. Fresh baked muffins and strawberry danish! Egg souffle, potatoes, sausage, tomato pie! Fresh baked biscuits and gravy! French toast with pecan honey or homemade strawberry jam. We filled our thru-hiker stomachs again! We like to think of it as building insulation for the cold days ahead.
During breakfast we met Hawk and Owlcat, along with their dog PR. We had actually met Owlcat and PR in Gotham, NH.  She was providing trail magic just outside of the town. Hawk is on his 7th thru-hike and Owlcat met him down south to hike a section with him. They are also going to skip out on the rain and head to The Station at 19e. We will see them there!
After breakfast we packed up and headed back to The Station at 19e hostel to take our trail magic zero!  Lucky Charm, the caretaker is incredibly kind.  Even though the pub doesn't open until 2PM he offered to make us food if hungry.  "The pub is always open for hikers" he said.  We appreciated the offer but are still full from breakfast.
We enjoyed a rainy day off listening to a mountain music jam session, playing cribbage, drinking craft beers, and of course eating.  This was truly an unexpected day of rest.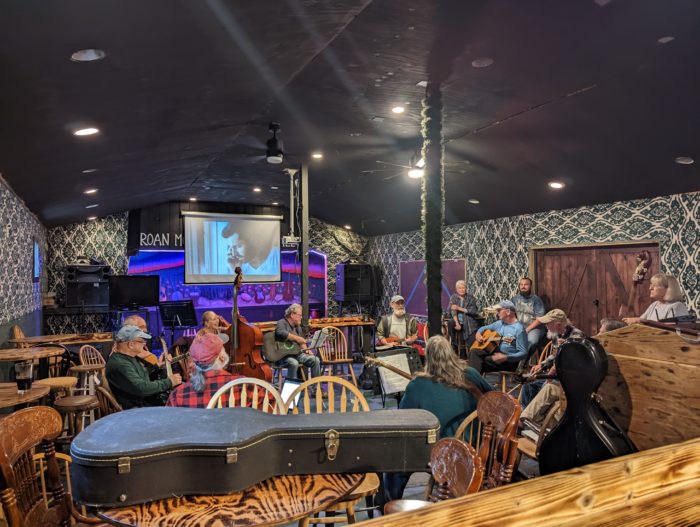 Affiliate Disclosure
This website contains affiliate links, which means The Trek may receive a percentage of any product or service you purchase using the links in the articles or advertisements. The buyer pays the same price as they would otherwise, and your purchase helps to support The Trek's ongoing goal to serve you quality backpacking advice and information. Thanks for your support!
To learn more, please visit the About This Site page.