Trail town tranquility (and more)
We didn't walk out of Hanover on Sunday. It was a beautiful afternoon in the high 70s and the sky was filled with puffy, pure-white clouds – perfect hiking weather, especially in an area as volatile as New Hampshire. Yet there I was, drinking an iced coffee at the Dirt Cowboy Cafe, wearing my camp shoes, and my backpack was nowhere in sight. I sat there writing and watching tourists and Dartmouth College's summer students come in and out of the Cafe, ordering smoothies and coffee and baked goods that I couldn't help but look at with wide eyes. I felt oddly in my element, and I also felt slightly guilty about it. Were zero days supposed to feel this good?
It's now Thursday, and Dad and I did make it out of the vortex that was Hanover. As I was leaving town, though, I began to think about what this journey has become. So far, our flip-flop thru-hike has taken us more than 750 miles, from Harpers Ferry, West Virginia all the way to the White Mountains of New Hampshire. The experiences I've had while walking the physical Trail itself have been amazing, but I believe I underestimated how life-changing our time with people along the Trail and in towns would be.
Our stop in Hanover, for example, was only made possible by what I like to call true Trail magic: friendship. Back in Pennsylvania, we met a hiker, Thoreau, who was walking a section of the A.T. from Harpers Ferry to Dartmouth, where he is a Ph.D student. He finished his section a little ahead of us, and he made sure we stayed in touch so when we got to Hanover he could see us again. Not only did we all enjoy dinner together while we were there, but he also let us stay with him in one of the campus dorms, he helped us with our laundry and resupply, and he gave us the best tour of the town we could have asked for. The night before we were set to leave, as we were sitting around enjoying wine out of plastic cups, we toasted to the Trail, and to the moments that arise out of choosing to walk its path. It is an incredible thing to be surrounded by people who not only love a 2,189-mile footpath, but what it represents, too.
Other highlights from the past few weeks:
I picked up my third pair of shoes at the post office in Falls Village, Connecticut, and it does seem like the third time is the charm. After suffering from pretty bad and consistent toe blisters, I listened to the recommendations of a few other thru-hikers and bought a pair of Altra's Lone Peak shoes. For me, the wide toe box seems to do the trick.
Crossing into Massachusetts was a rush. I felt like we were finally getting into the "real" mountains (no offense, mid-Atlantic!) Traversing Connecticut's Bear Mountain and then Mt. Race and Mt. Everett in Massachusetts was challenging, but exhilarating. We had lunch on top of Race and watched the clouds roll in and out, treating us to a glimpse of what I'm sure was a beautiful view on a clear day.
Upper Goose Pond Cabin is a gem. It's half a mile off the A.T., but well worth the side trip. Dad and I even got to go canoeing! If you're lucky, the caretaker will make pancakes in the morning, too. You'll leave with a full stomach and a full heart.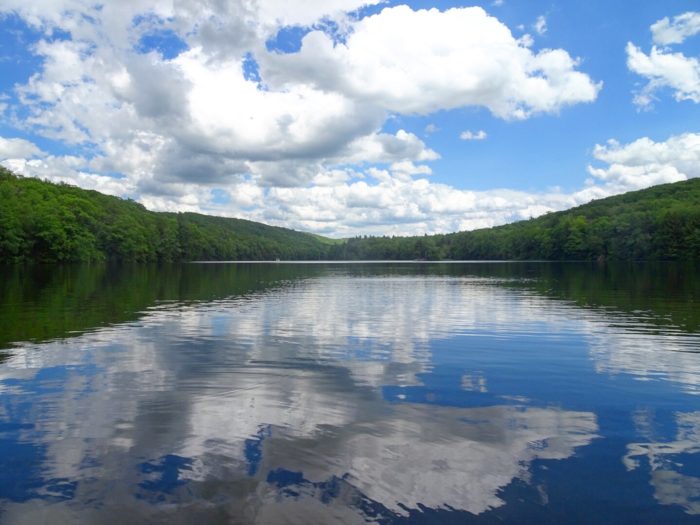 We met lots of Long Trail hikers once we crossed into Vermont. The A.T. joins the Long Trail at the border, meaning you'll meet plenty of new hiker friends for about 105 miles until the two trails split apart at Maine Junction near Killington, Vermont. I loved seeing the fresh enthusiasm from the Long Trail hikers we met, and I wish everyone the best on their journey!
Speaking of the Long Trail, the Inn at the Long Trail in Killington is a great place to rest up for a night (or two…or three). Ben and my mom came to visit us for the Fourth, and we stayed at the Inn for a few days and slackpacked some miles in the area. It was such a nice mental and physical break for me! There's something about climbing mountains with just a daypack that makes you remember why you got into hiking in the first place.
My favorite (unofficial) shelter on the A.T. so far is definitely the Lookout, a cabin two-tenths of a mile of the Trail that is privately owned. The owners graciously allow hikers to stay there. There's an observation platform on top of the cabin that offers 360-degree views.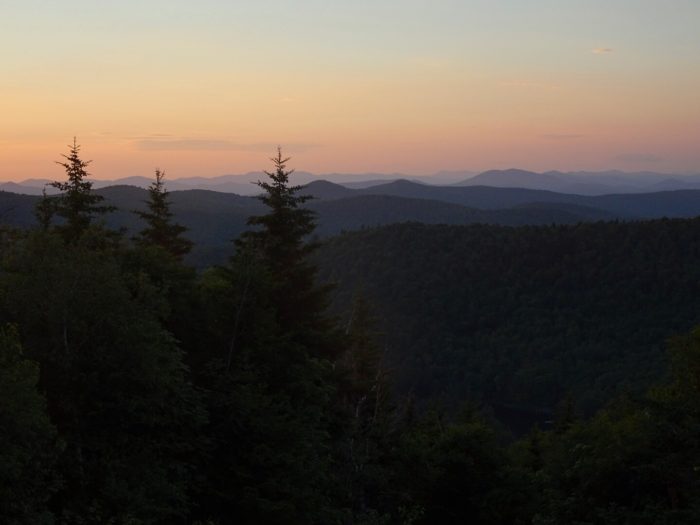 Tomorrow we get our first taste of the White Mountains: Mt. Moosilauke. Although I've done a little bit of backpacking in the Presidential range, tackling the Whites on our thru-hike is something so meaningful to me. I'm going to follow the advice I've heard from other hikers: take our time and enjoy the beautiful scenery. Talk to you on the other side!
Affiliate Disclosure
This website contains affiliate links, which means The Trek may receive a percentage of any product or service you purchase using the links in the articles or advertisements. The buyer pays the same price as they would otherwise, and your purchase helps to support The Trek's ongoing goal to serve you quality backpacking advice and information. Thanks for your support!
To learn more, please visit the About This Site page.