Trail update: Days 4-11
Day 4: July 18th
Miles: 30.1-48.3
Mud bogs and logs over mud bogs, was the theme of the day. I forgot to mention previously, we have picked up trail names! Gordon is Red, because his beard is red (also he has been sporting a red hat) and I am now going by GiGi, becuase I'm always moving at a slower (but steady) pace, aka granny gear.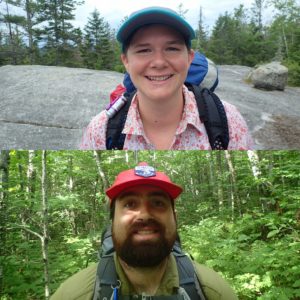 We started the day with a fairly good climb, followed by a steep decent. Red slipped on a slick rock going down, hit his forearm pretty hard. Thankfully it did not turn into a serious injury.
It was a beautiful day for our longest mileage to date.
That night at the shelter we met a few more flip floppers, Natural, Hashbrown and Maple Bacon Pie (Hashbrown's pup). We also met a dad and daughter combo, heading southbound, going by BXE and Dory. Brian earned his trail name, Tracker. He has been keeping track of the weather and our where-abouts on the trail.
We ended our day at Potaywadjo Spring Lean-to.
Day 5: July 19th
Miles: 48.3-59.7
Red, Tracker and I all slept in. The long mileage the day before kicked our butts. The day went by quick. Another flatish section, made for quick miles. Even though the trail had been getting easier, my feet started to hurt. The entire bottom of my foot started to hurt, and I started to get blosters. My pinky toe on my right foot and booth heels seem to have been the target.
We reached Cooper Brook Falls Lean-to by 3pm. The falls were beautiful, with a wonderful pool right in front of the shelter. I changed into my compression shorts and sports bra and jumped in. The water was nice and cool. Perfect after a sweaty hike!
Day 6: July 20th
Miles: 59.7-71.4
I was in a crappy mood for some reason, partially due to the unexpected hard terrain. I didn't keep a journal entry for this day, however, I do remember when we got to the shelter that night it was full, along with all the tent sites near it. We ran into Natural, Hashbrown and Maple a few tenths of a mile away from the shelter, where they had found some space to camp, and invited us to share space. The only spqce we could set up on was on a slope and right next to the trail.
Day 7: July 21st
Miles: 71.4-84.2
The terrain has started to get difficult. I wasn't really sure what Maine was going to be like, but straight up and down mountains with constant boulder climbing is not what I had even imagined. My achilles started to ache early in the day. Thankfully, I cared some self-sticking wrap and wraped up my ankle for some support.
Up and down, and up and down all day.
We reached the Carl A Newhall Lean-to at a reasonable time. We debated on continuing a few more miles to a campsite. The guidebook elevation made it look like it would be relatively easy, so we asked a few NOBOs who just came from that area what ot was like. They said it was a gradual climb and nothing too serious. This became the day we question everything said by a NOBO. Of course it was nothing to them, who have come 2000 miles. We struggled on 4 miles to find where we wanted to camp was a no-go so we had to continue 2 more. We reached the West Pleasant River for our first shoes off river ford. Just on the other side were tent sites. Exhausted, we quickly set up camp, ate and passed out.
Day 8: July 22nd
Miles: 84.2-90.2
We woke up to rain. It was motivation to get up quickly and hit the trail. The day started immediately with a long gradual climb. We were expecting to stop at a spring to fill up,with water halfway up the climb, however, when we reached it we had found it was dry. Shit! The next water source listed was the Lean-to 3+ miles away. So, we started to ration what we had and kept an eye out for any other small spring or water source. Up and up we climbed, and hotter and hotter it got. We reached a point were I was afraid. I was already dehydrated from the day before and now it was getting hot and no water in site. We crossed paths with two section hikers. We asked them what the water situation was like at the shelter. Unfortunately they said it was dry, but… they had already heard the reports of low water and had PLENTY to spare! They told us of where our next fill up would be then said goodbye.
This day was a very hard day for me mentally. I was so exhausted from the week of non-stop hiking, exhausted, and dehydrated. If you would have said my helicopter was on the way to pick me up I would have taken it.
We climbed up Chairback Mountain. Too bad I was having a bad day, beause I didn't take any pictures of the views. Just the crazy climb up.
We reached the Chairback Gap Lean-to to find a dry spring, just like the couple had said. I was so tired and in such bad spirits I demanded a long break. I laid down in shelter and closed my eyes. After resting, I ate some lunch, drank almost all the water we had and finally had some energy to force myself to the next source of water.
We arrived at West Chairback Pond, filled our water, set up camp, and ate dinner on a rock by a large pond. We listened to Loons and the sounds of storms in the distant.
Day 9: July 23rd
Miles: 90.2-99.4
We slept in a little later than normal, got up and had breakfast by the pond.
I was in a much better mind space and ready to tackle the day. Rehydrated and rested, I was ready to climb the 5 peaks in store for us. Up and down, and up and down we went. When we reached Barren Mountain it sounded like we were hiking directly into a storm. We reached the top and saw the storm moving off in the opposite direction. Beautiful views again. Back down and back up to my favorite view of the trip so far.
We ended our day at Long Pond Lean-to.
Day 10: July 24th
Miles: 99.4-114.5
Shortly after beginning our day we reached mile 100!
Another deceptive day. The elevation chart looked manageable, but damn… it was rough. Not much to say but, we pushed through our day in pain. We are on a pain train through Maine!
Got picked up by the owner of Pete's Place in Monson. We heard from a trusty NOBO that even though it's not advertised Pete's Place has bunks for rent. We had called around and every place was booked, so we figured we would give them a call and see if the rumor was true. And it was! Colleen picked us up from the trail head, stopped by the restaraunt and even though it was closed she had a tray of mac and cheese she could bring back for us to reheat. Trail Magic at its finest!
Day 11: July 25th
Our first zero. And it is good. It's getting late now, but we ate breakfast at Pete's Place, lunch was gas station pizza and getting lots of rest. I did get an injury yesterday, so I've been resting, and icing, hoping to be in better shape tomorrow.
Affiliate Disclosure
This website contains affiliate links, which means The Trek may receive a percentage of any product or service you purchase using the links in the articles or advertisements. The buyer pays the same price as they would otherwise, and your purchase helps to support The Trek's ongoing goal to serve you quality backpacking advice and information. Thanks for your support!
To learn more, please visit the About This Site page.