Trail Update: My Second Week, Monson to Rangeley
After a pit stop in Monson, I was feeling re-energized and ready to take on the trail again. There was no doubt in my mind that this was where I needed to be. So, even though it was raining, I began my hike.
The second week presented many new challenges as I pushed into Southern Maine. The terrain was tougher and the summits higher, but the views at the top and the tiny communities scattered throughout the bottom made it all worth it. Here's the breakdown of my second week:
Day Nine: Bald Mountain Brook Lean-to (18.7) – Easy
Day Ten: Caratunk, ME, Caratunk B&B (15.1) – Easy
Day 11: East Flagstaff Lake Campsite (19.1) – Easy
Day 12: Stratton/Carabassett Valley, Hostel of Maine (17.9) – Difficult
Day 13: Crocker Cirque Campsite (7.3) – Moderate
Day 14: Redington Stream Campsite (16.9) – Difficult
Day 15: Rangeley, ME, the Hiker Hut (8.0) – Difficult
Day 16: Rangeley, ME (Zero Day) – Super Easy
Day Nine: Bald Mountain Brook Lean-to (18.7) – Easy
This day was very relaxed. The trail was relatively flat and the terrain was pretty tame. I put in my headphones and listened to an audiobook nearly the whole day. There were a couple of rivers that needed fording (no, I didn't fall into any of them this time), but aside from that, no real obstacles. I did decide to cross Moxie Bald before setting up camp. It was not a bad climb at all, and there were tons of blueberries and great views at the top. (There's also a side trail that gives you the option to skip the summit, which I was tempted by but ended up taking the official way up and over.)
Day Ten: Caratunk, ME, Caratunk B&B (15.1) – Easy
I don't know why but I felt really sluggish this day. I took loads of breaks, though the terrain wasn't bad at all. I had originally planned to get into Caratunk by 1 p.m. so as to catch the ferry before 2 but didn't end up arriving until 3. In case none of that made sense, just past Caratunk is the Kennebec River. It's pretty well known for the number of drownings it's seen over the years, so there is now a free canoe ferry service for hikers. The only problem is that it only runs from 9 a.m. to 2 p.m. during the summer. So if you get into Caratunk after 2, you're going to have to stay there. There are some stealth sites just before the road and a lean-to not too far back, but even if you don't plan to stay the night in Caratunk, Mr. Paul and the B&B are worth checking out. First of all, Caratunk is extremely small. It's basically a one road collection of houses, and right in the middle of them is the B&B. Paul, the owner, is well-known throughout the hiking community for his milkshakes and pulled-pork sandwiches (he also has vegetarian/vegan options). In the B&B there is a small resupply and photos from all of Paul's adventures. If you get a chance, I highly recommend stopping by and asking Paul about his experiences hiking. He is a true legend.
If you do end up staying at the B&B, Paul will take you to the local brewery in the evening (which has a hot tub — what?) and will make you a huge breakfast in the morning. I ended up camping outside to save a bit of money ($10/night) and would easily rate my experience in Caratunk as one of the highlights of my entire hike thus far.
Day 11 : East Flagstaff Lake Campsite (19.1) – Easy
Overall an easy day terrain-wise. It was pretty boggy but no huge climbs. The only issue was the forced late start due to the canoe schedule for crossing the Kennebec River (though even that wasn't a big deal). Paul at the Caratunk B&B offered a huge breakfast for only $7, which included homemade French toast, eggs, fruit, bacon, and potatoes. It was delicious and well worth the price. Not to mention, it gave me something to do while I waited.
I officially began hiking around 9:30 and, as a result, wasn't able to take as many breaks as I normally would have to make it to camp by nightfall. I ended up getting in just before 6 p.m., so I probably could have pushed on to the lean-to, but I couldn't resist the lakeside hammock spot. I set up camp and ate my dinner on the beach just as the sun was setting behind the mountains. Priceless.
Day 12: Carrabassett Valley, The Hostel of Maine (17.9) – Moderate/Difficult
I went into this day with the mentality that this was the official beginning of the end — meaning: the Bigelows are tough. In some ways, they are the first big test for SOBOs as you ease into Southern Maine and the Whites. I woke up early, had a hearty breakfast, and then started off around 6:15. I first crossed Little Bigelow, which wasn't any worse than some of the ascents I'd already seen in the 100-Mile. I summited and reached the valley below by 10:30. After a short break, I started the ascent toward Mount Avery (Big Bigelow). On my way, I had my first bona fide SOBO spotting. I don't talk about it much, but there aren't many SOBOers out here. Although I see and meet tons of hikers daily, they are usually going the other way.
Anyway, I made it to the top of Mount Avery around noon, and the view was exceptional: a sea of brilliant green trees and hazy mountains on one side and a smattering of lakes on the other. If you have the option, you should really wait to summit the Bigelows on a clear and sunny day. The view is simply stunning, and I've heard the climb is miserable in rainy/windy conditions.
Quick anecdote: Whenever I'd reached the top of Mount Avery, I asked a girl there if she could take my photo. Not hearing fully what I'd said, she responded automatically in Spanish. I was thrilled. I studied Spanish in university and have spent a significant amount of time in Mexico and Spain, so I responded in Spanish, and we quickly struck up a conversation. It turned out she was from Mexico, so we sat and chatted for a while with another friend of hers from Colombia. We probably sat there for a good hour chatting, snacking, and enjoying the views. People walked by with friendly hellos, but then one man stopped with his family and asked us where we were from, in Spanish! We were floored. I know it's not rare to find a Spanish speaker in the US, but it turned out that this man and his family were on vacation from Spain. The Mexican girl couldn't believe it either — she had traveled over 2,000 miles without finding another hispanohablante and then there on the top of this mountain we had a little población from three separate countries all speaking in Spanish. What's crazier is that the man and his family were from Oviedo. I knew Oviedo quite well because it's the city that bridges El Camino Norte and El Camino Primitivo — two of the more prominent caminos of the Camino de Santiago in Spain. As they said their goodbyes, the man's wife called out to us, "Buen camino," which is the popular salutation to pilgrims on the in Spain. It was a really beautiful moment that transported me back to my own pilgrimage and all the cultural exchanges I experienced earlier this year. I think I'll write a more lengthy missive about this, but if I have one criticism about the AT thus far, it's that I don't feel I'm getting as varied cultural exchanges as I did in Spain. But then again, that's not entirely the point of hiking something like the AT.
Now back to the good stuff: I eventually pulled myself away from my Hispanic friends and started back down the trail. The path between Mount Avery, the West Peak, and the South Horn wasn't bad. The descent from South Horn seemed to last forever, though. The first part of the trail was a little slow, as I had negotiate a few tricky rock faces, but after that, was nice and smooth… it just seemed to go on and on. I finally made it to the main road around 6 p.m., where I'd scheduled for a shuttle to come and get me. I'd booked a bunk at the Hostel of Maine and could not wait for a warm shower and a hot mug of tea.
The Hostel of Maine
Whenever you get to Route 27, you have two options: Stratton to the right or Carrabassett Valley to the left. While most hiker guides detail Stratton, many NOBOs had told me about this gem of a hostel in Carrabassett called the Hostel of Maine. It's relatively new and very reasonably priced for everything it includes. They have a small resupply there, and there's also a small store and library right around the corner. I decided to take a nearo the next day, spending the morning in the library and taking advantage of their homemade breakfast in the morning (they even made their own bread — oh, my gosh), but I seriously could have stayed for a week. The Hostel of Maine is not only the nicest hostel I've seen on the trail but probably the nicest hostel I've ever seen in my life. It is extremely homey, and the hosts, Mel and Justin, are very kind and welcoming. If you're planning on taking a break around Stratton, I highly recommend turning around and heading to Carrabassett Valley instead. The Hostel of Maine is an experience you will not want to miss.
Day 13: Crocker Cirque Campsite (7.3 mi) – Moderate (The Crockers)
The forecast called for thunderstorms in the morning, so I happily slept in and enjoyed a lovely breakfast at the hostel (I mentioned the homemade bread, right?). Around 10, I got a ride down to the library to work for a few hours and then piggybacked on a shuttle to the trailhead around 1 p.m. It was still raining, and I seriously considered just staying another night at the hostel, but I figured it would be best to get some mileage in. I was soon soaked and miserable but the terrain up wasn't bad at all. The Crockers were actually quite easy compared to their neighbors, but the descent was a bit more challenging. It was extremely steep and unprotected in some parts, making it a bit tricky. It was also wet when I made my descent, which only added to the difficulty. I called it quits around 5:30. I could have pushed on to the next campsite with the daylight I had remaining, but I was wet, cold and really just wanted to bundle up and have a warm meal.
Day 14: Redington Stream Campsite  (16.9) – Difficult (Saddleback Junior)
And so it begins. I think I've officially arrived to Southern Maine. I woke up this morning raring to go. That's not true — it was so cold outside, and it took me a good 20 minutes to peel myself from my sleeping bag and warm up some oatmeal. My clothes were still damp from the day before, and my entire body cringed at the thought of putting them back on. I eventually got going, though, and was on the trail by 6:20, heading for Sugarloaf. Around 8, a SOBO caught up to me — I know this may not seem significant to you, but I've met two other SOBOs in my two weeks out here, so it's always a wonderful surprise to meet someone else going the same way. We hiked together for maybe an hour, but his pace was far above mine, so we split. The morning was pretty easy. The ascent to Spaulding Mountain wasn't bad but the descent felt like it took awhile. It wasn't difficult, just long and tiring on my knees. Once I reached the bottom of the valley, though, things started to get real. The climb to Saddleback Junior was difficult. There were many steep sections that required scaling. Then, once I got to the top, the wind was so powerful, it nearly knocked me off my feet. I had originally planned to make it a bit farther that day, but from the crest of Junior, I could see Senior, and I thought it best to stop there versus risking getting caught out in the dark. I usually can hike about two miles per hour, even with some mild ascents/descents, but there are some sections here where I'm lucky to go a mile an hour. And this is just the beginning of the really fun stuff.
Day 15: Rangeley, ME, the Hiker Hut (8.0) – Difficult (The Horn and Saddleback Mountain)
Ah, this day. Around 3 a.m. I was awoken by a zipping noise inside my hammock. In my grogginess, I reached out to inspect the zipper, only when I went to grab it, the zipping noise sped up and got louder. At that moment, my butt hit the ground. Turns out it wasn't a zipping noise but a ripping noise.
My hammock had literally ripped in half. I was stunned.
Do you know what you should do when your hammock rips in half at 3 a.m? No, that's a serious question because I sure didn't. I was at a campsite, not a shelter, so I had nowhere to go, and my tarp provided limited protection from the elements. So I just sat there like a banana, butt on the ground, waiting for dawn. I took the time to draft an email to the hammock supplier with hopes that I could get service and send it at the top of Saddleback. When 5 a.m. rolled around, I happily hauled myself out of the hammock (ripping it more), made breakfast, and was on my way.
First of all, I cannot tell you how happy I am that I chose to split up Saddleback Junior and Saddleback Senior (I don't actually think anyone calls it senior). And despite the morning's events, my hike up to Saddleback was quite enjoyable. I actually took my time, taking the opportunity to snap some nice sunrise photos. The previous day's winds had also died down, and the hike from the Horn to Saddleback was really nice. The initial ascent up and the final descent down from Saddleback were a bit tricky, but the bridge between the Horn and Saddleback much reminded me of the bridge between Mount Avery and the South Horn. It was also very exposed, so I would recommend summiting on a nice day.
At the top I was able to get service and send an email to my hammock supplier. When I got to Rangeley, I saw they'd already responded and sent a new hammock to Andover, but it wouldn't arrive there for another three days. That meant I'd have to take a zero either in Rangeley or Andover. I chose Rangeley and was quite happy that I did because Rangeley has some amazing food.
So, that was my second week. As always, thank you for following along. If you have any specific questions about my experience or any insights I might have gleaned on the trail, don't hesitate to reach out.
Happy Trails,
Red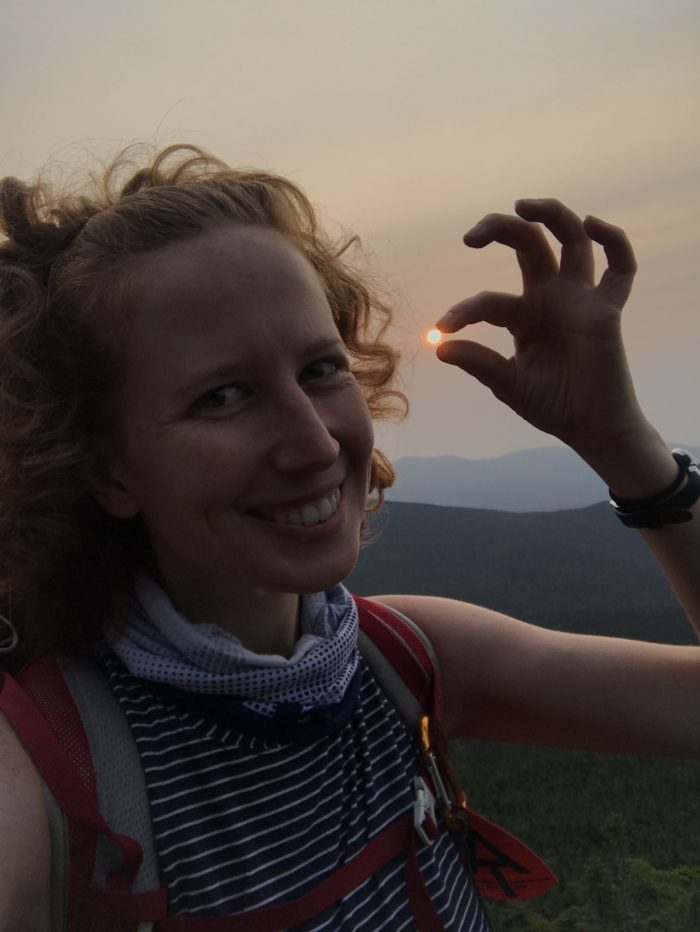 Affiliate Disclosure
This website contains affiliate links, which means The Trek may receive a percentage of any product or service you purchase using the links in the articles or advertisements. The buyer pays the same price as they would otherwise, and your purchase helps to support The Trek's ongoing goal to serve you quality backpacking advice and information. Thanks for your support!
To learn more, please visit the About This Site page.