Training Hike #2: Manitou Incline
The Manitou Incline…After One Week at Elevation
Just a quick recap: My first training hike was through Garden of the Gods and was about 6mi. It was recommended to me that the Manitou Incline is not only a rites of passage for Colorado Springs residents, but an awesome workout. With only knowing that it was a smoker and challenging (see sign pic below) I agreed to tag along with a couple family members. This is a .88mi hike up wooden railroad ties used as stairs cut into the side of the mountain. The elevation gain is 1850ft over that .88mi. The link below will really explain the actual hike, history, elevation gains, etc.
https://coloradosprings.gov/parks/page/manitou-incline
Weather and Clothing
It was a chilly 35 degrees (felt like 31) when we first started. I wore my Altra Timps with Smart Wool cushioned socks, Northface Paramount Active pants (Exoffico underwear again), a base layer of Merino Smart Wool 150 1/4 zip and then a 250 1/4 zip for an outer layer. No gloves and just a ball cap. I did try out the REI toe warmers. They are sticky on one side so you can choose top or bottom of your toes, they stay in place, and last for a long time. Definitely recommended on cold hike days.
Starting the Climb
After a quick check-in at the base with an attendant, you're off. The below pic shows the view when we first started.
Starting off is a gentle incline which hides the pain and misery to come. The first 100-200m isn't terrible, but then the incline flips the switch. Steep. Very steep and the stairs become closer, yet higher to step up. My heart rate went above 150BPM and I heated up enough to take off my outer layer. I didn't wear it again the whole hike. Each 100 steps there is a metal plaque which states the general number of step you're on (100-2700). While this is nice to keep track, it can become a mental game when you realize you're only halfway to the halfway point…
Walking Zombies
The best way I can describe the rest of the hike up to the top is everyone seemed like a walking zombie. Imagine the Walking Dead climbing a mountain. People were mostly hyper-focused and just concentrated on their next steps. There were one or two outliers (assumption ultramarathoners) who flew up and then back down before I even got to the top. Or maybe I'm just that slow. The below pics will show how steep some parts were. #shutuplegs
False Summit
You can see the top or at least what you think is the top from the very start of the climb. As you get closer to the top, you realize there is a false summit and you still have a little over .25mi to go. Struggle bus time and demoralizing to some. I forgot to mention there are bail out points along the way, or you could just turn around and go back down. The pic below shows the view right after the false summit.
At the Top Finally!!!
About 50mins later, I finally made it to the top. My average heart rate through the majority of the climb was between 160-170BPM. I started to get a headache about halfway up which was either due to dehydration or just not being acclimated to the elevation. I drank water consistently, though did not eat anything. I was happy to summit, take a look around and marvel how steep of a climb it was (pics below). I chugged a small bottle of pickle juice to make sure I wouldn't cramp up on the way back down and we headed to the descent.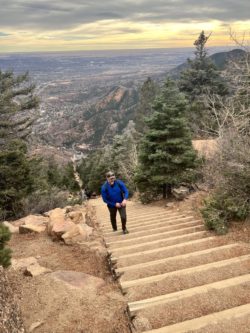 What Goes Up, Must Go Down
For the descent there are two options: Go back down the same way you came up, or take the Barr Trail with switchbacks down to the bottom. The trail is about 3mi long. We opted for the trail and off we went. There is an amazing view of Pikes Peak right when you turn onto the trail, but it was covered by clouds that day (pic below).
There are also trails to take you to Gold Camp and Barr Camp off the descent trail. The terrain going down was primarily hard compacted dirt with pea gravel and some larger rocks. We used an "airborne shuffle" on the descent and made it pretty quickly. Hiker etiquette was in full play as some would pause to let you by if you're traveling at a faster pace. A nice "Good morning, thankyou!" was exchanged amongst those who did. There were also those ascending on that trail to the top as well. We saw the same runner twice on the descent. Not sure if he was running hill repeats or not but he passed us going down, and then again going back up.
Back to the Start Point And Final Thoughts
We reached the end point and made our way back to our parking spot. The Altra's held up well; no hot spots or foot pain. I didn't bring my trekking poles or only a few hikers were using them that day. At some points I was bending over to help with the next steps because they were pretty steep. This is a great workout and I burned 1.5kcal with a total distance of 4.01mi. Total time was 2:17:37 (this included some resting on the way up). Average pace was 34:17min/mi. Total gain in elevation was 1,871ft. Starting elevation was 6,400ft and at the top it was 8,518ft.
All in all a great workout and I will most likely complete this two or three more times before my AT thru hike starting in February. My next training hike post will cover the Columbine Trail on Cheyenne Mountain. Thanks for following along!
Affiliate Disclosure
This website contains affiliate links, which means The Trek may receive a percentage of any product or service you purchase using the links in the articles or advertisements. The buyer pays the same price as they would otherwise, and your purchase helps to support The Trek's ongoing goal to serve you quality backpacking advice and information. Thanks for your support!
To learn more, please visit the About This Site page.