Traversing the Great Smoky Mountains
Day 15
The Fontana Dam shelter offered a fabulous view over the lake that I enjoyed while making breakfast.
Dragon Queen and I set out together. It was a road walk down to and across Fontana Dam, which is the highest in the eastern United States. Shortly afterwards, we entered the Great Smoky Mountains National Park. It was an uphill slog and my pack felt heavy with its six days of food. I lost track of Dragon Queen as I had a faster pace uphill. For the first couple hours, I kept myself going by promising a lunch break when I reached the Firetower. The tower was the tallest I have encountered and offered an amazing view of Fontana Lake, the dam, and tree-covered hills.
In the early afternoon, I descended to a campsite for water and ran into Dragon Queen. Unfortunately she missed the tower. We hiked together for the rest of the afternoon; chatting made the climb better. We have a lot of similarities such as being the same age and trying to eat healthy on trail. She is originally from Latvia.
Eventually we reached Mollies Ridge shelter. The shelter itself was quite nice, a mixture of stone and wood with a working fireplace. Instead of a privy there was a "toilet area". It was a sad sight, a hillside strewn with TP. Come on people, pack it out or bury it!
The evening was fun. Psyched showed up and warned us about wild boars. My four new friends from yesterday also made it. The group of us sat down and chatted over dinner. We didn't stay up much after dark. I hung my Ursack on bear cables for the first time. The forecast predicted rain overnight so I gave shelter sleeping another try to avoid packing a wet tent.
Day 16
I slept well until one guy got up at 5:30. Since I couldn't fall back asleep, I used the time to journal. Then it started to rain and I felt grateful as all my gear was dry inside the shelter! It became a fun social hangout after several others ran in with tents and gear, trying to stay dry.
Following breakfast, Dragon Queen and I put on our rain gear and headed into the drizzle. The rain varied in intensity, but never got heavy. We encountered the next shelter three miles later. A half dozen people were huddled inside. We stopped for a snack, stood by the crackling fire, and then continued on. I saw my first deer of the AT. By around noon the rain subsided and shortly after we had a quick lunch on Rocky Top. It was a neat view, mountain tops sticking out of an ever-changing sea of fog.
Even though it wasn't raining, it was still chilly with fog and dripping branches. My pack felt good on my body. Dragon Queen and I were both energized so we decided to do our longest day on trail, 17.8 miles. The day totaled over 4,000 ft. gain, but the mix of ups and downs made it seem like less. We got sunshine and a chilly breeze for the last two hours. Finally the Silers Bald shelter came into view.
We claimed spots in the shelter. Setting up a tent felt like too much work and the fire was inviting. I put on warmer layers, cooked dinner, stretched a little, and set up my sleep area. No privy again, the AT straddles the state line and apparently the North Carolina shelters have them but the Tennessee ones don't. It means as of last night, I added Tennessee to my list of visited states, yay!
Day 17
It was cold last night, low of 32 with a brisk breeze. Other than my feet I was toasty and slept decently. The wind stayed chill and the air was misty so I ate breakfast with feet tucked into my sleeping bag. I was too cold to get water and left my three upper layers on as Dragon Queen & I started hiking. We stopped at the next shelter. I got water and did laundry. It was a lovely spot, sunny, tucked into a gap, surrounded by fir trees. It was fun to see evergreen trees after a couple weeks of deciduous trees.
The morning's hike continued through a Fraser Fir and Red Spruce forest that felt enchanted. Everywhere the fallen trees were covered in a thick coat of moss. The sunlight was patchy and the grade gentle. Before noon we reached Clingman's Dome and climbed the winding ramp to the observation platform. Got a couple pictures then retreated from the chill wind. Double exciting as the mountain marks 200 miles plus it's the highest point on the AT!!
The afternoon had several highlights. I saw a Salamander!!!!  The park features 25 varieties so I wanted to see at least one. This one was black with red on the sides of its head. I gently moved it off the path to safety. Then came hillsides covered in Spring Beauty flowers. At Newfound Gap we chilled on the grass with some other thru-hikers before tackling the final ascent.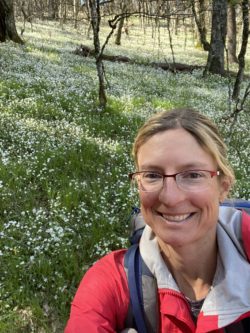 Icewater Spring shelter has an amazing view that I admired during dinner. It also has a privy!! It is the busiest shelter I have been to, though in the Smokies tenting is only allowed at shelters so people tend to bunch up. Dragon Queen & I nabbed the last two spots inside. I am on a shelter sleeping streak! The night was getting chilly so I quickly did my camp chores and climbed into my cozy down nest.
Day 18
I stayed warm, even my feet! When I poked my head out of my sleeping bag, bright sunshine lit up the shelter. I soaked in the warmth as I made breakfast and reorganized my pack. It was one of my favorite breakfasts, strawberry almond oats. I like the almond crunch and flavor burst of the freeze dried strawberries.
It's fun having Dragon Queen as a hiking companion! We have a similar pace and watch out for one another. It's nice to share the beauty of a wildflower or awe at a vista. There were plenty of vistas today. The trail spent most of its time ascending and descending ridge lines. We saw Clingman's Dome in the distance and lots of tree covered hills. There were also patches of moss covered forest where shelf fungi perched on tree trunks.
I contemplated tenting until I saw the land around Tri-Corner Knob shelter, rather slanted. There were plenty of spaces inside. Psyched is trying shelter sleeping for the first time. I'm torn on whether I like it. The ease and weather protection are nice; the snoring and noise are challenging. A ridge-runner named Ricky educated us on leave no trace principles. He recommended swallowing your toothpaste or spitting it into a trash bag. I tried the former, minty!
Day 19
When I gathered my bag from the bear cables this morning, I realized my readers may have no idea what they look like. Basically, you lower a hook, attach your bag, use the cable to raise the hook back up, and clip the cable to a post to suspend the bag far above the ground. These cables are heavily loaded due to the number of people at the shelter.
My last day hiking in the Smoky Mountains. There were ascents throughout the day, but overall it was a descent from 5,900 ft. to 1,600 ft. We stopped at a shelter near the mid-point to have lunch. While getting water from the spring I found more salamanders!! This time an adult and two tiny ones. A different species from the last one as the coloration was a dark reddish brown.
Shortly after lunch we took a side trail to the Mt. Cammerer firetower. It was a neat octagonal structure with a circular walkway, constructed on hand-quarried stone and timber. The view was amazing, though it was a bit shocking to see civilization in the distance.
As we descended the woods became vibrantly green and the undergrowth lush. It was a sharp contrast to the still bare branches we encountered at elevation in the Smokies. At Davenport Gap we came across Psyched who was waiting for friends from home to pick him up so they could camp together. We gave him a hug then continued on for around a mile. We found lovely campsites next to a gurgling stream. I smiled as I set up my tent and climbed inside – home sweet home!
Affiliate Disclosure
This website contains affiliate links, which means The Trek may receive a percentage of any product or service you purchase using the links in the articles or advertisements. The buyer pays the same price as they would otherwise, and your purchase helps to support The Trek's ongoing goal to serve you quality backpacking advice and information. Thanks for your support!
To learn more, please visit the About This Site page.