Two Days Two Deli's
Day 65
Leaving town with full bellies, we had slight lapse of judgement.  The worst game to play out here is the "where's the water" game.  Since we have been in a drought this summer we have been regularly filling up extra liters "cameling up" for camp in preparation for the next day.  This time, we only filled our normal 2 liter bottles and no extra water for camp. This impacted our ability to drink at camp if we were thirsty and worst of all…no coffee in the morning. Boo! Well we all make mistakes on trail and this definitely could have been worse.
Shortly after leaving camp we left New England and crossed into our 6th State, New York, for a few miles. The trail crosses back and forth over the CT/NY border before leaving CT for good.
Luckily we were able to filter water at a slow moving stream, not the worst water we've drank. We will have to be much less picky about water going forward. All we had been hearing from NOBOs about the Mid Atlantic is how hot and dry it is and they passed through this area weeks ago so it has only gotten worse as the drought continues.  To make matters worse, many of the shelters had wells established providing water.  These wells have since been closed because it was deemed not possible to maintain them to safe standards under the Clean Water Act.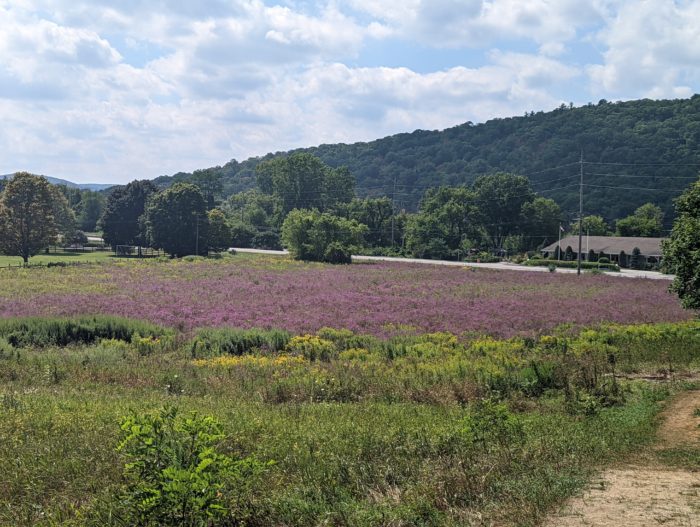 The terrain rolls and passes through the NY county side. We also cross many roads, thankfully many still have water caches left by trail angels. It eased our minds a little.  We can't complain too much though, we have also entered the "deli stretch".  Today, we went to Tony's Deli which is just a short walk from one of the road crossings on the AT.  This may have been the best Italian sub Eric has ever had.  Meats thinly sliced and stacked high in a way only New York can achieve.  We also drank several cold drinks which was heavenly after long hours in the heat.
Hayley enjoyed a refreshing outdoor shower at Native Landscapes and Garden Center at the same road crossing. They are friendly to the hikers and let them use the outdoor shower behind the building, however it's use at your own risk because there is no door and the commuter train to NYC (track about 30 feet away) runs past it regularly.
The final few miles passed over an idyllic boardwalk surrounded by wetland wild flowers and meandered passed the Dover Oak. Reportedly the largest oak on the AT, which has a girth of over 20 feet and is hundreds of years old.
We enjoyed a nice fire at camp which was only kind of peaceful.  Being New York, traffic and trains are always in earshot. We went to sleep happy and excited for another day on the deli stretch.
Day 66
 This morning we enjoyed another fire while drinking our morning coffee.  We left camp a little later than usual and were on trail by 8:30AM.  We met another SOBOer this morning, Sparrow.  She started July 6th.  Eric and her became hat buddies as they were dawning the same yellow hat.  Some people just have good style.
The trail passes by nuclear lake, the site of a nuclear fuels processing research facility until 1972.  The land has since been tested and given a clean bill of health.  Thankfully we didn't have to drink from it because we arrived at another full water cache.
When we arrive at viewpoints, it reveals the impact the drought is having on the landscape. It's shocking to see such dryness and decay. While this area is known to be the dryest on the trail, it still makes you feel a little uneasy about the future. The ground is packed down and cracked. The dirt dust coats our hands and faces. The grass fields we walk across are brittle and yellow. We push on wondering if there will be any foliage this year.
At one of our road crossing we took a detour to Mountain Top Deli for lunch and cold drinks.  While charging our phones, we also enjoyed some refreshing gelato next door where we sat in comfort in the A/C to beat the heat of day.  While we liked Tony's sandwiches better yesterday the bread Mountain Top used was amazing so we packed out a deli sandwich for dinner.
As we continue moving south through the Mid-Atlantic the trail passes through the backyard of America. Even the campsites are in neighborhoods. Eric has memories of staying at RPH shelter during his previous hikes. You can even have pizza delivered to this campsite. Nonetheless we enjoyed having some green space to ourselves.
Affiliate Disclosure
This website contains affiliate links, which means The Trek may receive a percentage of any product or service you purchase using the links in the articles or advertisements. The buyer pays the same price as they would otherwise, and your purchase helps to support The Trek's ongoing goal to serve you quality backpacking advice and information. Thanks for your support!
To learn more, please visit the About This Site page.