Ukelady and Possum Sing the Virginia Blues
Hot off the presses, it's the latest update from Ukelady!
June 8 – 13.2 miles
We are champions of the world. Our day started with the kind of joy that can only be associated with hotel continental breakfasts. Full of grits and waffles, we were ready to catch the bus out of Marion (only fifty cents, what a steal!) and get back on the trail.
Our optimism only lasted for the first mile, though. It's always hard to come back to the reality and monotony of the hike once you've had something nice and different. So we trudged along until lunchtime, when we found lively company in the form of the Imperial Forces, aka a trio of hikers who are really having a good time out here. They night hike with light sabers, way cool.
Their energy perked us up and helped us push on to Atkins. On the way we found an old school that just begged to be explored.
The trail ran trough town so we grabbed some dinner at The Barn Restaurant. This was a good choice as we watched a fierce thunderstorm develop, hit, and calm down before we ventured out again. There were no convenient stealth sites, so we did our first bit of night hiking to get to our planned camp. That taste was enough for me; the dark holds too many mysteries, so no thank you. But we made it to our destination easily enough, and the hardest part of the night was getting our bear bag untangled in the dark (my cleverness saved the day!).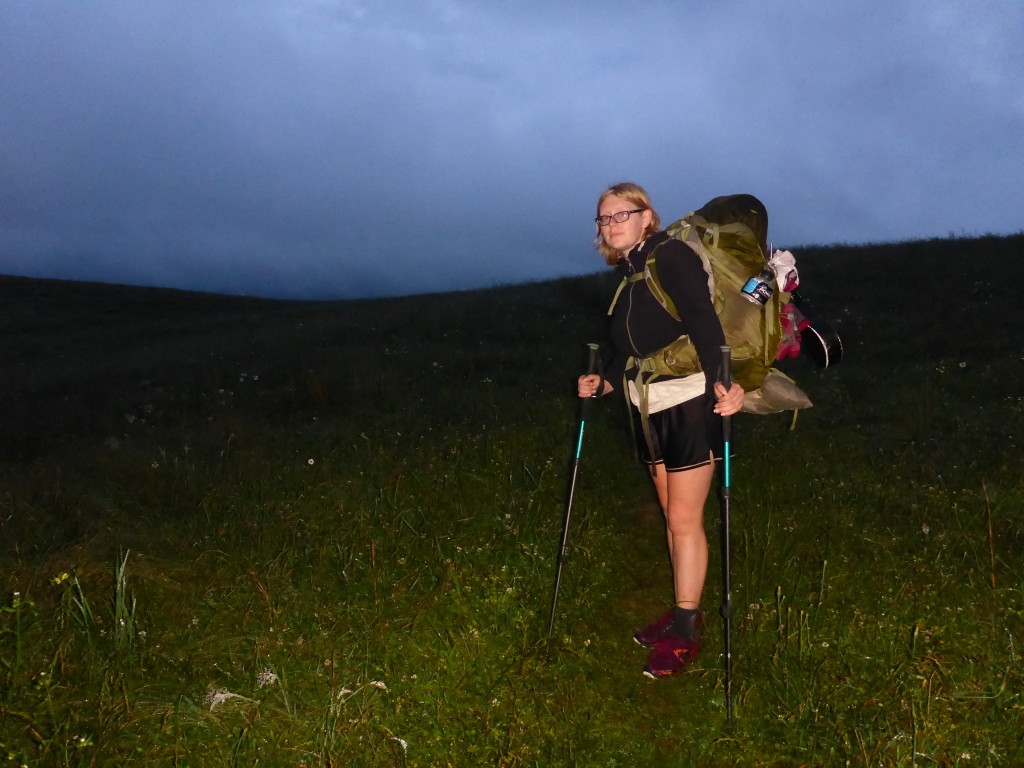 June 9 – 10 miles?
We ran into our friend Salamander again – his hiking partner Smiles had to leave the trail for family matters, which is a bummer and we'll miss her. I'm glad Possum and I are still traveling strong together – I feel like if one of us had to stop for some reason, we both probably would. It definitely feels like a team endeavor at this point.
The hike was hard, but we hit a great landmark: the quarter mark! We have now completed 1/4 of the trail. It felt pretty incredible, pushing myself up the hill, seeing Possum standing in front of the sign as Jonsi's music crooned through my earbuds: "We should always know that we can do anything." Damn right. We are amazing.
We did fall short of our planned miles, though, because hiking is hard.
June 10 – ? Miles
Ever stop to get water because there might not be any for the next ten miles? And the water is a sad trickle? And it's 7:00 pm and you still have two uphill miles to do? And your pack is covered in bees? Yeah, today sucked hard.
June 11 – 15.8 miles
Most miles yet. A pain, a bore, and exhausting, but we did it. Possum is calling it "a reluctant victory." I'm just glad it's over.
June 12 – 10.2 miles
We are feeling great again! Waking up where you can sink your feet into a creek is a great part of improving your mood on the trail. Virginia terrain is much more forgiving than previous states, and we flew toward town in good spirits. The world rewarded our improved attitude with trail magic!
Then we had an easy hitch into town, where Possum bought some hot dogs to help fund a kid's scoliosis surgery. Bland is such a typical American small town, with that community vibe. We picked up the one resupply we had bought before the trail – it was a pretty good box, so good guessing, past us. We also got goodies from our families – thanks so much!
We had read that Bland was a hard place to resupply, but that's no longer the case thanks to a new grocery store called Grant's. Enjoy, future hikers.
We finished our day early so we would wake up at a water source. Virginia doesn't believe in having water sources closer than ten miles apart. Way to fail, VA. But we used the extra time to learn a new card game and eat gnocchi, so all is well.
June 13 – 10.7 miles?
I can't quite understand why today was so hard. We slept in and got a late start, but between the long path for water and too many conflicting trails around the shelter we had done a mile of walking before we even stepped foot on the A.T. The terrain wasn't too bad, but the day was hot and humid which makes things twice as hard. We played a lot of games to pass the time as we usually do, but the day just dragged. Is this the famous Virginia blues?
I felt like garbage when we got to camp, so Possum picked up my slack and let me rest. What a champion. Plus we hit 600 miles today, so even with our flagging spirits we know deep down we're doing something amazing.
June 14 – 11.2 miles
Rough night last night as some animals came through our camp – deer, we think. One bumped into our tent and spooked us a bit. Then we were paranoid all night, to the point that I once feared Possum's growling stomach was a bear. Nighttime paranoia is a party and a half.
Today was supposed to be a slightly bigger day, but we can't seem to manage to leave camp before 11:00 am. But on the pro side, we got to spend the afternoon hanging out at Dismal Falls! Finally, something fun.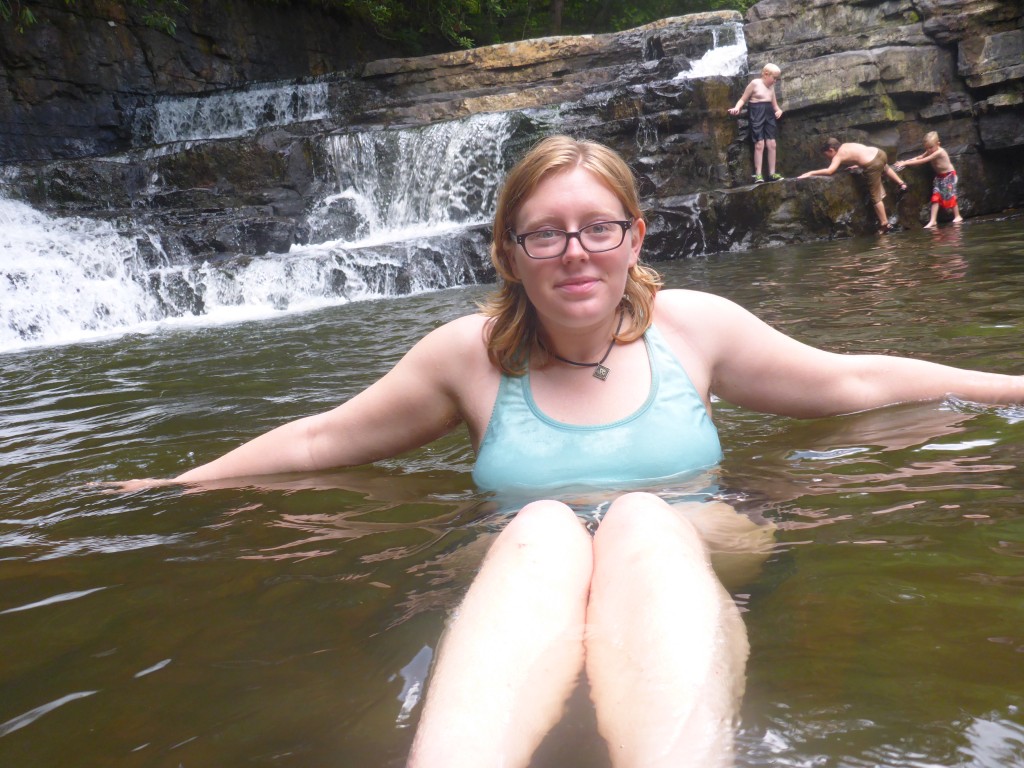 June 15 – 9.5 miles
We left our campsite late again – mornings are killing our mileage. Luckily, we had planned a short day so it wasn't a big deal. Soon after heading out, we found this awesome pond just shy of Wapiti Shelter. It wasn't in our guidebook, which is weird because it was right on the trail and had a sweet campsite next to it. We stopped to skip stones and play cards for a bit.
Our moods were pretty great at this point, and the day only got better. We stopped for lunch at an awesome view with Crunchy Goat and Jumanji, who we hadn't seen since Max Patch.
Everyone on the trail was headed to Wood's Hole Hostel, us included. As soon as we got there, it was like a wave of relaxation rolled over me. No hiking, no tent, no worries for a whole night. We splurged on the bunk room and communal meals of dinner and breakfast for $36 each. Usually that's above our price range, but this place was so cozy and homey that I wanted the full experience. If we're voting with our dollars, this is the kind of world I want to live in.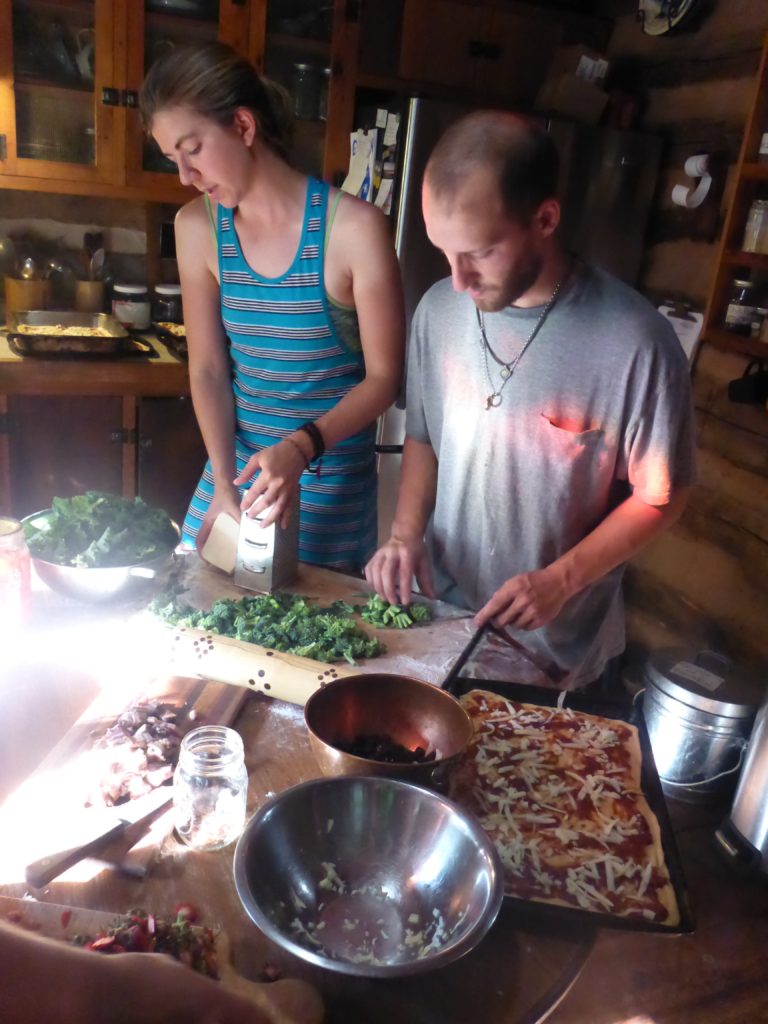 We helped assemble pizzas for dinner, with delicious farm fresh ingredients. And then we got to share in good company as everyone sat outside together, eating dinner while watching the goats play on the hillside. It was an awesome rejuvenating break, a vacation from this vacation, and I'm thankful our hike gets to include cool experiences like this.

Affiliate Disclosure
This website contains affiliate links, which means The Trek may receive a percentage of any product or service you purchase using the links in the articles or advertisements. The buyer pays the same price as they would otherwise, and your purchase helps to support The Trek's ongoing goal to serve you quality backpacking advice and information. Thanks for your support!
To learn more, please visit the About This Site page.