Ups and Downs in the 100-Mile Wilderness
Maine so far has been everything I was told it would be—rugged, rooty, rocky, and beautiful—but not in the way I expected. I suppose it's one thing to hear about the roots and rocks, but another to have your feet eaten by them.
Day One: Katahdin
Day one I climbed Katahdin with an older couple who I rode in with from the hostel to Baxter State Park. They provided helpful advice, good stories, and kept my pace in check to keep me from overdoing it on day one. There were several choke points throughout the climb where we had to wait as others progressed through them at glacial speeds. However, the waiting provided time to eat wild blueberries and look out over the tons of lakes that were in the surrounding areas (when the clouds would occasionally blow out). In short: very Maine. I got to my campsite that night around 3 in the afternoon and piddled around making numerous treks across the courtyard to empty my walnut-sized bladder until I wore myself out enough to go to sleep.
Days Two and Three: Toot Toot Train Starts a Rolling
The next two days can be summarized as "moderation is not my forte." Prior to leaving I had mapped out where I would make myself stop each day, no matter what, in order to force myself to start slow. I arrived at these cutoff points before 11 a.m. each day and decided to scrap these plans in favor of hiking until I felt like quitting for the day. The terrain was flat, albeit covered in roots, and so covering larger miles than I had originally planned didn't seem to have had too much of an ill effect on me.
Day Four: I Hate Bogs and You Should Too
I started a humid day four cranky and impatient at the prospect of another day of flat, uninspiring trail traversing many bogs. Bogs are dumb. Smelly, humid, muddy, and dumb. As someone who could also be described as humid and smelly I tried to give them the benefit of the doubt but they are just the worst. They are the hairless cats of the outdoor world–if you find someone who likes them you need to run. Quick.
Which is essentially what I did the rest of the day. I forced myself to really push my speed in order to provide the challenge and stimulation the trail lacked. When I stopped for a snack and to filter water by a lake, I encountered another hiker who apparently had never had a conversation with a human before as he greeted me with the question, "Are you alone?" This immediately triggered my Spidey senses but I answered truthfully that I was. His response? "Good." As I prepared for what I could only assume was my impending death he dropped his shorts and went to swim in the lake. Talk about a swing of emotions! I can confidently say this will be the maximum amount of happiness I will ever feel at seeing another man naked. As I turned to leave I saw his T-shirt read "I heart Bogs." Figures.
Day Five: Climbing and Teaching
Day five was the first day with real elevation change and I could not have been more excited. I climbed the first few peaks and was rewarded with some stellar views of the surrounding wilderness.
When I stopped for lunch there was an older man who I chatted casually with for a bit. He saw me filtering water and asked about my filter. Boy, did he not know what he was getting himself into.
Ever since starting at REI I've talked about gear all the time. Having not worked in a week at this point there was a persistent itch that this poor, unsuspecting man had just brushed up against. Now, aware of its existence, I had no choice but to deliver a three-hour sermon on the pros and cons of the Sawyer Squeeze vs. the Katadyn BeFree in order to satisfy the itch. After handing him his plaque certifying he had a college-level education in all things water filters, I was on my way back down the trail and it wasn't long before I had arrived at my campsite for the evening.
Day Six: Dynamic Hiking?
Day six started off with some relatively easy trail and the appearance of the first real swarms of day hikers I had seen on the trail. They smelled of soap; I did not.
As I continued on, the trail became a lot less friendly and far more steep. I was able to maintain my speed fairly well but was plenty happy to arrive at a shelter for lunch. I had passed several pairs of hikers on the way and decided to wait around until they arrived to chat. A woman who had stayed at the same lean-to as me the night before showed up first and we both agreed the difficulty had jumped up a notch. Several others dragged in looking increasingly like they had been drug behind a horse for several miles.
I took off and decided to really push myself to see how fast I could go. I decided to label this display of flailing limbs and trekking poles "dynamic hiking," when in reality "out of shape trail running" or "partially controlled rolling" would have been more apt descriptions. When I reached my campsite that evening I felt tested but good for having been able to push through the toughest section of trail yet.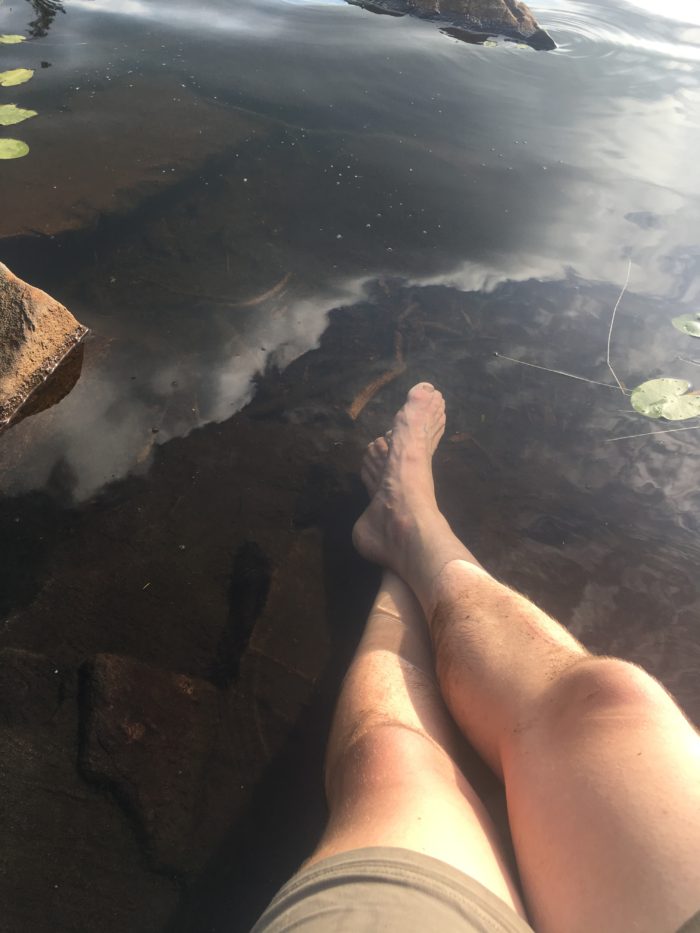 Day Seven: Actually Tested
Day seven was a bunch of BS. The guide showed gently rolling, mostly flat terrain with only one or two real climbs. This was not the case in reality. The trail was never flat and constantly switched up and down over the type of terrain that hates all joints equally. I ended up dehydrated and a tad disheartened that I had struggled so much with what should have been an easy day when I arrived at the shelter that evening. I tried to convince myself that even still it wasn't a bad day; this sort of half-hearted attempt only made me feel worse as I dined on plain tortillas and Peanut M&Ms, all I had felt like preparing. After chatting with the two others in the shelter, I was starting to feel better as they agreed this day was deceptively hard. Later, two sets of other hikers rolled in real haggard looking and had clearly had similar days as well. The combination of commiseration, Peanut M&Ms, and warm dry socks left me falling asleep feeling a lot better, and as I did I decided that denying that I had a bad day was not productive and chose to instead focus on the fact that a bad day happened and I was still able to make it out on top.
Day Eight: We Outchea
The next morning I hiked the three miles out to the road to head into town almost without incident. I started sliding on a slab of wet rock but was able to maintain my composure until I got to a spot where there was some dirt I could stick my pole into. Then, while trying to play it off as a joke for my hiking companions, I jumped around and pretended to self-arrest, stabbing my pole squarely into my thigh in the process. Like what? Who else would manage that? I suppose the 100-Mile Wilderness wanted one more shot at me–nice try Hundo, but Gabe moves on!
Affiliate Disclosure
This website contains affiliate links, which means The Trek may receive a percentage of any product or service you purchase using the links in the articles or advertisements. The buyer pays the same price as they would otherwise, and your purchase helps to support The Trek's ongoing goal to serve you quality backpacking advice and information. Thanks for your support!
To learn more, please visit the About This Site page.