Vermont: The Original Tough Mudder
If rocky Pennsylvania was where "boots go to die," Vermont is surely where they go to get buried…in the mud! The appropriately nicknamed Ver-mud is home to The Long Trail (LT), a popular USA hiking destination. The AT and the LT are concurrent for about 100 miles, and it's because of the heavy foot traffic and a very wet winter & spring that the southern portion of the trail has become one giant mud puddle. Add in ferocious black flies and relentlessly wet socks and boots, and I think the trail would give any ToughMudder competitor a run for their money (a ToughMudder is usually a 10k or longer race that people pay to run through mud and obstacles). Still, this week has only helped prove to ourselves that we are stronger than we think, and we've also been rewarded for our perseverance with the most gorgeous views we've seen so far!
We left Dalton, MA on Day 51 for our last full day in "Magical Massachusetts." Although cloudy and chilly at first, it soon cleared and became beautiful, dare I say perfect hiking weather! We were sad to be parting ways from last week's hiking group, including Packrat and Fairy Dust, but that just means meeting new people! A few hours into our morning we passed a pond, and were intrigued to hear the sounds of a flute being played in the woods. First a tuba, now a flute…I am waiting for the full orchestra to greet us next! The flutist ended up to be a hiker by the name of Loom, and we enjoyed his playing for a bit before moving on.
After our descent into Cheshire, MA, we stopped for lunch at Diane's Twist, a small shack on the side of the road that you would drive by without giving a second glance. But the hiker friendly establishment turned out to have delicious meatball subs and ice creams that we enjoyed in the sunshine. About halfway into our meatball subs we heard a great racket, and turned around to see a horde of 12 hikers arriving. We were stunned! We haven't seen a crowd this big at a shelter, let alone bombarding a 1-woman run lunch establishment. This must be part of the Northbound thru-hiker "bubble" that is slowly catching up to us.

Since they all mentioned that they were headed to the same destination as us for the night, we finished our sandwiches and got back on the trail, hoping to have a bit of a head start to the Mark Noeppel Shelter. Up and up we went, through wildflower sprinkled meadows, and through pine covered forests. This was the beginning of our ascent up Mt. Greylock, the tallest mountain in Massachusetts. We would be summiting it tomorrow, shortly before entering Vermont.

Fortunately we arrived in time to grab the loft space in the shelter before the other hikers arrived. We enjoyed dinner with Carbo, Loom, Riccola, Matador, Tinman, and Ygritte. Conversations ranged from astrophysics to Minecraft, and we could feel the buzz of excitement as everyone prepared to enter a new state. For us, Vermont is the 7th state, but for the Northbounders, Vermont is the 12th state out of the 14 of the AT.

Day 52 began with the final ascent up Mt. Greylock. We ate our breakfast at the top, and enjoyed views of both the South and North. To the South, where we had come from, the mountains looked almost comically small and flat. They stood out in stark contrast to the seemingly gigantic mountains of the North, where we were headed. We are hoping that the difficult ups and downs of Vermont, New Hampshire, and Maine will strengthen our legs enough to make the walk from Virginia to Georgia a breeze!

We headed down the mountain into the small town of North Adams, MA and couldn't resist the temptations of Papa John's Pizza. The large group of hikers puzzled us at first, but we soon figured out why everyone had trekked a mile off the trail specifically for chain restaurant pizza…50% discount for thru-hikers! The owner was super hiker-friendly and offered charging stations, water refills, and even a hiker box for us to pick through while we waited. This last bit of Trail Magic was the icing on the cake for our wonderful time in Massachusetts, or more appropriately, the pepperoni on the pizza ?

Our full stomachs wanted us to take a nap, but we had states to conquer! After some tough uphill rock scrambles, we officially crossed the border into Vermont, which is also the southern terminus of the Long Trail.

The trail maintenance switched from the Appalachian Mountain Club (AMC) to the Green Mountain Club (GMC) and immediately the trail was different. Giant mud puddles appeared, forcing us to get creative with our rock hopping, and the fallen trees were left as is instead of being cut and moved to the side of the trail. It seemed like the GMC wanted to give hikers a more authentic experience!

Turns out we had spent too much time eating pizza, as the Mark Warner Shelter was full, and most of the tent sites were already taken. We found a lumpy little spot for our tent, crossed our fingers for the rain to hold off, and zipped ourselves in to escape the bugs.
We started Day 53 with a little bit of luck…the rain held off right up to the moment that our tent was packed away, safe and dry! Ahh, the little things. We dashed over to the now-empty shelter and sat down to eat breakfast and wait out the worst of the storm. We were joined by Tinman who set up his sleeping pad and promptly laid down for a post-breakfast nap. We have found that the white-noise sound of rain makes for the best sleeping. Our window of opportunity came around 9:45am when the sun decided to appear and pretend it was there all along, heating up the trail and humidifying the air.

Yesterday's "challenging" mud puddles were laughably easy compared to what we had in store, especially after the heavy rain. The whole day we walked through ankle deep mud that sucked at our shoes, tripping us and slowing us down significantly. At least after the first 25 minutes we could stop precariously stepping around because our boots were already soaked through to our socks…there was no point to try and stay dry. I never thought I'd actually miss the rocks of Pennsylvania!

We took our lunch at the next shelter with Tinman and Riccola, and were relieved to hear they were having tough days too. Since they were both Northbound hikers who started in Georgia, we knew it was the muddy terrain that was giving everyone a hard time, not just us being silly. Something about the combination of mud and sunshine brings out tons of butterflies, and we ate lunch watching them land on our shoes. A few bold ones even landed on my toes, and I sat there feeling their tiny little feet tickle me while Chris tried to capture a picture.

With another storm on its way, and assuming the large crowd of NOBO thru-hikers and Long Trail hikers would all be at the next shelter, we decided to get a motel room for the night in Bennington, VT. We also figured a shower would boost our morale after a very muddy day.
By the time we made it down the mountain, the rainstorm was in full swing. We crossed the road, probably looking pretty funny in our ponchos and water-logged shoes, legs and packs covered in brown mud. Our ride into town had told us to look for his silver pickup truck, so of course we raced over to the silver pickup truck that was idling in the parking lot. Oops! We accidentally interrupted a couple, um, enjoying the rain. Embarrassed, we quickly apologized, and went to go huddle under the the driest spot we could find-the trailhead sign-while we waited for the correct silver pickup to arrive. Surprisingly, the couple rolled down their steamy windows and invited us to jump in and get out of the rain. At first we politely refused, but after some insistence on their part we climbed into the truck, packs and all. Trail Magic…with a dash of awkward!
The Catamount Motel provided us with hot showers and soft beds, with a burrito joint and a Friendly's ice cream establishment down the street. We patted ourselves on the back for being so smart, treating ourselves and avoiding the big crowd of hikers at the same time. Well, that feeling lasted until the following morning when we woke up to see that very same big crowd of hikers that we tried to avoid had all stayed over at the motel too! I guess everyone had the same smart idea!

Although the rain had subsided, humidity was left in its place, and the combination of the wet trail and the hot temperatures erased any evidence of showers from the previous night. Day 54 also was the start of the weekend for locals, plus the beginning of July 4th celebrations, so the trail was full of thru-hikers, section hikers, day hikers, AT hikers, and LT hikers alike. Although more foot traffic makes the trail tougher to traverse, we are happy that so many people are out enjoying the day and the mountains instead of sitting inside behind a computer or TV screen.

We planned on taking our lunch break at the next shelter on the trail, but when we arrived we were swarmed by black flies! These little teeth with wings are known to be northern nuisances from May to July, and leave behind itchy welts on the skin after a tiny bite. It took us only 4 minutes with our packs off to decide it would be better to just eat on the go. We grabbed water and continued on up the mountain. Black flies live by running water, so even though they suck (literally!), getting swarmed by them means there is a really good water source nearby, which is good for thirsty hikers. As we move further north, their season will come to an end and the population will die down. Then we can get back to being annoyed by just mosquitoes again!
About another hour into our hike we started hearing the ominous rumble of thunder. With another 3 miles to go we weighed our options, and decided it would be better to try and find a "stealth" campsite and stay dry rather than get drenched and arrive at a possibly full shelter. "Stealth Camping" means to find and make a campsite in any old spot in the woods rather than at a designated site. Usually the stealth camper is trying to avoid sites where they'd have to pay to stay or, like in our case, avoid hiking in the rain.
We passed a nice stream where we could collect water for the night nearby a soft flat spot that could perfectly fit our tent. With the thunder getting louder we decided to not press our luck and set up. The rain started to fall as soon as the last peg had been pushed into the ground, so we threw ourselves and our packs into the tent, desperate to keep our gear dry.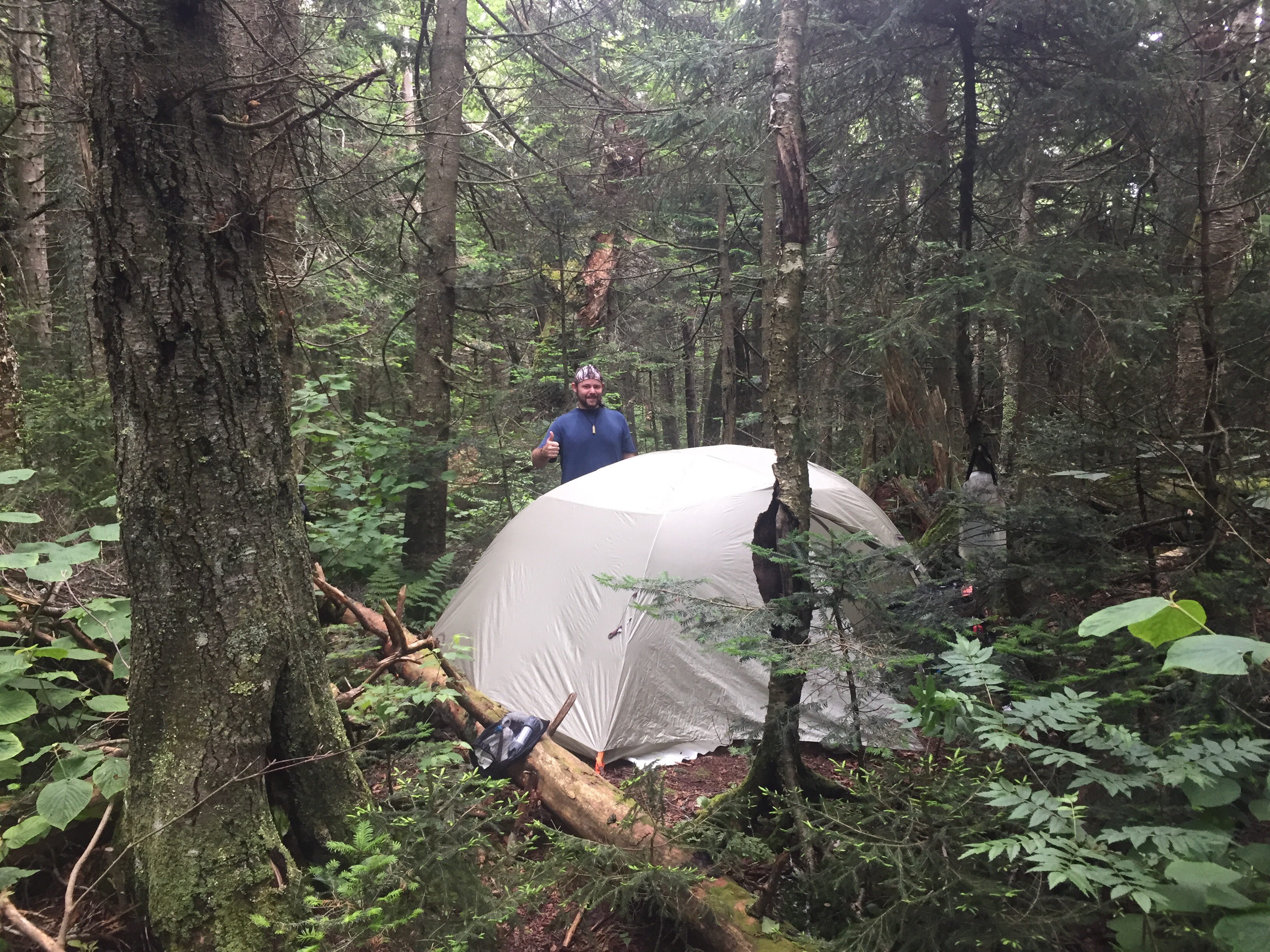 From inside the nylon material we watched as the sky got black and listened as the rain started to pelt down. The wind shook our tent and we tried to push the thoughts of falling trees out of our minds. We ate a dinner of candy and chips, happy to have beat the rain and happy to be with each other. The storm came directly over our heads… the thunder was deafening and the lightning lit up the sky with streaks of blues and purple. Oh, did I mention we were pretty much on top of the mountain? It was scary, but exhilarating at the same time!
We woke up on Day 55 to sunny skies and a dry rain fly, but a very wet trail. We may not enjoy the mud, but you know who does? Slugs! Especially the mud on our boots! Our morning was spent peeling the slimy creatures off our gear and trying to bite the bullet of putting our wet, smelly socks and shoes back on. Oh the hiker life!
It was definitely slow going through the muck, but we reached the next shelter for our lunch break and found a sunny spot to dry out our boots and socks. We met Jazzy, Torque, Take-a-Step, a pup named Spiderdog, and a couple who entertained us about their hiking experiences in Cambodia. Mud doesn't even compare to tree leeches and paralyzingly hand-sized spiders of the jungle! We felt a bit better when we moved on.

We debated about calling it quits after trudging through 10 miles of goop, but when we reached the next campsite we met 2 hikers, Maverick and Pudge, who convinced us to push on another 7 miles to catch the sunset on top of Stratton Mountain. Stratton Mountain is where Benton McKaye conceived the idea to form a footpath through the mountain range stretching from Maine to Georgia. His idea eventually became what is known as the Appalachian Trail, and its only with his vision and dream that Chris and I, along with countless others before and after us, can enjoy this journey!
We worked extremely hard to get to the top of one of the tallest mountains in Vermont at about 4,000 ft elevation in record time, summiting in under 2 hours! We were greeted by caretakers at the top and encouraged to climb another 5 stories up the fire tower to see the 360 panoramic view. It was very windy, but gorgeous to see the sun setting over the mountains. Although we're not sure where the state lines were, we could see Vermont, New Hampshire, New York, and Massachusetts surrounding us!

3 more miles on was the bunkhouse where we planned on staying, and with the fading light we kept up the quick pace. We arrived at the Stratton Pond Shelter around 8pm, greeted by Pudge, Haiku, Uncle Pyro, Nav, Pogo, and a handful of weekend hikers. We grabbed some remaining bunks, ate, and hung our bear bag, our feet happy to be out of wet boots.

Day 56 arrived with gorgeous weather, and by some magical happening, the trail started to dry up! We were headed into Manchester, VT for a resupply and would have to hitchhike the 5 miles into town. So far we've been lucky enough to be offered rides into town, but we knew our luck would end eventually. We ate some snacks at a gorgeous view, Prospect Rock, and got to chatting with a local couple who was out hiking for the day while enjoying the view of the valley. When we told them we were headed into Manchester, they offered us a ride! Woo, Trail Magic! Hitchhiking would have to wait til later.

We walked down the mountain with them to their car, and tried to let the least amount of our muddy, wet, crusty, stinky shoes and clothes touch their very fancy, clean, expensive Audi. Still amazed they even offered us a ride in our state of being, but we are finding that the further away we get from NYC, the kinder strangers get.
They dropped us off at the grocery store in town where we saw Pudge talking to a local man from town. We went to go say hi and the man, later dubbed "Taxi," offered us a ride back to the trail later that afternoon! Turns out his son is also hiking the AT and he wanted to break his wife's record of having more than 3 thru-hikers in his car. We gladly accepted and made plans to meet him in a few hours.
We went into the grocery store and came out, proud to have only gotten the essentials. And Mike 'N Ike's. And M&Ms. And Doritos. And Cola Gummies. Ok, maybe more than the essentials. We visited the outfitter in town to get more fuel for our cook system, and ate lunch, getting more than a few stares of curiosity as we mingled with the townspeople and vacationers. We resisted the temptation of staying in town overnight, instead planning on returning to the trail for the next few days. Our boots and socks dried in the sunshine and we even had time for ice cream before heading back to meet Taxi.

We piled into his SUV along with Pudge, Torque, Take-A-Step, and Spiderdog, with our packs stuffed in the back and on laps. 2 short miles later we scored a nice private tent spot at the Bromley Shelter, and we even got to wash our feet and legs in an extremely cold mountain stream. We went to sleep listening to sounds of fireworks in the distance.

Day 57…Happy 4th of July!! A glorious day to celebrate the birthday of our country. The trail was dry, the terrain had just enough mountains to make it challenging but not too challenging, and the temperature and humidity were both low. We ran into the Bounders coming up Stlye Peak. Since they drive up north and hike south, it's always nice to get a little report about what's coming ahead. They told us about a few places to check out in Rutland, and we were encouraged by their talk of sunny weather.

We arrived at the Lost Pond Shelter nice and early, and enjoyed the holiday evening with Pigpen, Pollen Moon, Wanderlust, and KiltMan. We had some troubles hanging the bear bag when the first tree was too high, and the second tree branch snapped with the weight of our bag and came crashing down. But don't worry, there were a lot of other trees to choose from. The guys built a fire, I played a little guitar, and we were all tucked in our sleeping bags as the sun set.

Day 58…ahhh, wonderful nero days! We had plans to meet my friend, Rainbow, at the next shelter, only 5 miles away. She was headed south on the LT and we were headed north on the AT, so we arranged to all meet at the Little Rock Pond Shelter. Since there was no reason to rush, our morning was spent very leisurely, finally getting on the trail at 11am!

At 1pm we found ourselves unpacking at Little Rock, and within 20 minutes, Rainbow arrived! I hadn't seen her since Thailand about 2 years ago, so we had a lot to catch up on! We had a great time reconnecting, talking about hiking experiences, Thailand, life in the USA, and future life plans. We all went into the pond (lake really), and met the other hikers as they rolled in. We passed around my guitar and enjoyed a roaring campfire after dinner. One of the hikers even read a story out loud to us all while another carved a spoon. We don't often have late nights, but when we do they are always good times with good company.

We said our goodbyes to Rainbow on the morning of Day 59 as she prepared to hike south and we prepared to continue north. We passed through 3 types of forest today and our noses were treated to the smell of pine all morning. Early in the day we came across a very magical looking spot in the woods where people have built dozens of cairns with the marble and slate rocks. Cairns require both patience and balance to build, and there was an essence of meditation in the air as we passed by.

At the next road crossing we stopped to make hotel reservation in Rutland for later that evening. As we were standing there, a car came screeching to a halt, and a man came running over. We were intrigued, not knowing if he needed some help or if he was offering us a ride. Well neither actually. Marcel just wanted to connect with people, and told us he always stops if he sees hikers. He had some blueberries to offer us as we chatted about our hike and Vermont and before we knew it, he was gone again! Quite the character! The blueberries were great fuel for our last climb up and over Bear Mountain (seems like every state has a Bear Mountain)!

We reached the other side and faced an 8 mile walk into Rutland. Nobody was stopping to offer us a ride, so we knew the time had come…our first attempt at hitchhiking. We started in the direction of town and stuck out our thumbs whenever cars passed by. It was pretty depressing at first, as the cars flew by us, the passengers giving us looks of pity and confusion. But after about a half-mile we were overjoyed when a car pulled over for us! Jackie, a Rutland local, told us she tries to pick up hikers whenever she can. We were so grateful for her trust and kindness and couldn't stop thanking her all the way to the Post Office.
We will be taking a zero day in Rutland tomorrow to wash our clothes and resupply our food bags. And amazingly we only have a few more days left in Vermont! Quite soon we will be crossing the border into New Hampshire, where the mountains are tall, cold, and rocky. But after the toughness of Rocksylvania and the mental toughness of Vermud, we think we are ready for this next challenge. Bring it on!
Affiliate Disclosure
This website contains affiliate links, which means The Trek may receive a percentage of any product or service you purchase using the links in the articles or advertisements. The buyer pays the same price as they would otherwise, and your purchase helps to support The Trek's ongoing goal to serve you quality backpacking advice and information. Thanks for your support!
To learn more, please visit the About This Site page.