Virginia Blues & Views
Despite being well over halfway done with my thru hike, the Virginia Blues unexpectedly hit me hard. Maybe it's just at that point the trail starts to feel repetitive or knowing I was nearing 5 months of my life spent thru hiking.
When Hiking Becomes a Job
A large part of my savings for this half of our thru hike came from working 30-40 hour weeks at a grocery store for 6 months. It became so repetitive after a month and all I could do is think about thru hiking more and how this would all be worth it in a few months.
Hiking quickly became just as repetitive as my retail job. I'd wake up, walk, eat, walk more, go to town every few days, stay in hostels/ hotels, and hitch rides. Shortly after hiking into Virginia I began to feel burnt out. I was now hiking just to get to the next town, to finish it, and just complete a goal.
What changed?
I've found the Virginia Blues to be a gradual process. It started with caring less about seeing views as I see them frequently and gradually became more bored with each passing day. My stamina was built up so the hours and miles flew by. I felt like it was a short day only to check Farout and see we did 20 miles.
The Virginia Blues are a symptom of getting comfortable and getting into a routine. It had also been well over a month since we've seen friends or family. We had the advantage of completing the majority of the trail and seeing the finish in sight. Still, I wasn't in a good mood, feeling that I was hiking just to finish the trail, not to fully enjoy the experience.
How I got out of the Virginia Blues
Taking a Zero
Taking time off trail makes you appreciate your time on trail more. Chilling inside with internet and town food is nice, but after a few hours I start to miss the trail.
Reevaluate why you're on the trail
It's easy to just get into the process of walking everyday with no plan in mind. Sometimes this can be freeing, other times it's just what I do and becomes a job. When I start to autopilot through the day frequently, I go back to my journal and read my reasons for being on trail. Am I still accomplishing those goals? Am I still enjoying being out here? It's normal that your reasons for being on trail will change.
Take it day by day
Setting goals too far out can end up being more detrimental to your hike. Instead of thinking about Katahdin, the next state or next 100 mile marker, find something in the next day to look forward to. For me, I like to check the elevation profile. I find what the highpoint of that day will be and set that as a goal to take a break up there. Sometimes, I also take road crossings as goals. There's always a chance of trail magic, even if it's infrequent, the possibility of trail magic motivates me.
Change up your schedule
While I set my food resupplies based on a 15 mile average, my daily mileage varies. Usually the first day out of town I do under 15 miles and increase my mileage as my bag gets lighter. Some days I get up at 6am, some days I don't leave camp until after 8am. Some days I end for the day around 3pm, some days I eat dinner and hike 3-4 miles after. Creating variety in your mileage and hours of hiking helps with the monotony. I also leave room to make these decisions during the day versus set a schedule between resupplies.
Value Your Time
Understanding that being on trail is only a small portion of your life is important. As I'm writing this, we only have about a month left of our AT adventure that has spanned 5 months. Its hard to believe for as long as I've planned this hike, it's going to end soon. Take the good with the bad. That time you slipped in a silly way to get scrapped up, the time you got caught in pouring rain, the nights sleeping in below freezing temperatures, while miserable in the moment, will be just as memorable as the good moments.
Why am I thru hiking?
My goals when I started thru hiking weren't too involved. I wanted to prove my physical & mental strength to myself, become more comfortable with socializing as part of the hiker community, enjoy a break from academic life, strengthen my relationship with Ian, and enjoy a slower pace of life on trail.
After completing 3/4 of the trail, I've already accomplished some of those goals. I've pushed myself farther than I thought possible from below freezing in March to heat waves in July. I've hiked through drought and times where all my gear felt damp despite trying to dry out.
I know it's been said before, the trail is ultimately a mental game. I've built up my strength and stamina that nothing in Virginia has been physically challenging. It's been a mental game, pushing myself to do endurance exercise daily and find a way to keep it interesting.
My Reformed Goals
My primary goal for the last month of my hike is to not wish the time away. It's inevitable that hiking is repetitive, but I don't want to spend the last month rushing through it.
Living in the moment is easier said than done. When I'm exhausted and grouchy, I'm going to have Ian try to hold me accountable for finding the good in everyday. Noticing the wildlife around us, a view to see how far we hiked, accomplishing a long uphill, meeting new hikers, the beauty of the AT is that there can be something new everyday.
Listen to nature more. I spend most of my time hiking listening to podcasts, audiobooks, or music. While this is a nice way to pass the time, it removes me from being present while hiking.
Trail Updates!
Our total mileage is now 1762 miles! While I always aspired to thru hike, I didn't know how I would feel hitting that mileage. Thru hiking has become just as normal as any major event in life like school or work. Fully invested in the experience, I know that only a serious injury could take us off trail at this point.
We completed the 'Cake Walk' challenge by slackpacking a marathon back to Bear Garden Hostel. We really stumbled into that situation! We got our tent out to set it up in the 40s when it started raining. After eating dinner under a covered picnic area, we were cold and wet so we went to the hostel. We met people we recognized and set out for our cake walk the next morning.
I highly recommend stopping at Bear Garden Hostel! It was such a cozy cabin and the chocolate cake was delicious!
We took a zero in Pearisburg to enjoy Cinco de Mayo. The motel was right across the street from a great Mexican restaurant! We also got Dairy Queen multiple times. Hiking out of Pearisburg we encountered some unexpected wildlife, goats! They proceeded to follow us down the trail, leaving a bruise on me. We were able to scare them away from our campsite, just saw them again the next morning coming up the trail.
We saw the oldest tree on the southern half of the trail, I had to give it a hug!
We pulled big mileage in this section, hiking 25 miles to cross over Dragon's Tooth and McAfee Knob in one day.
Stopping in Daleville, we got haircuts to keep up with the warm weather. The warm weather also brought out more reptiles & amphibians. We made a game out of counting the number of red efts we see each morning. The time went quick and we made good time getting to Glasgow for a resupply.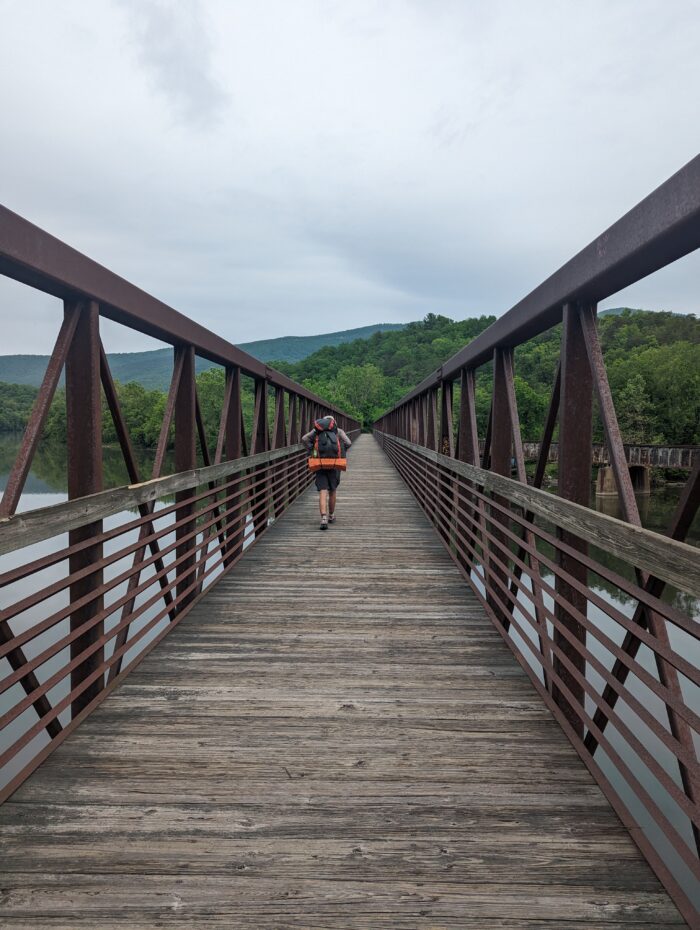 From Glasgow to Waynesboro we encountered a stretch of good weather and little rain (except for the first night in a shelter). We had some great open views. The climb down from The Priest wasn't as bad as I was expecting.
Our most recent stop was Waynesboro where we had to stop at the Chinese buffet.
Now closing in on Harper's Ferry, planning to get there by the end of May, we'll soon be leaving the bubble of hikers to complete our hike in Maine!
Affiliate Disclosure
This website contains affiliate links, which means The Trek may receive a percentage of any product or service you purchase using the links in the articles or advertisements. The buyer pays the same price as they would otherwise, and your purchase helps to support The Trek's ongoing goal to serve you quality backpacking advice and information. Thanks for your support!
To learn more, please visit the About This Site page.