Why They Walked: Portraits of 2018 Appalachian Trail Thru-Hikers
It's been 11 years since I started collecting stories and portraits of northbound thru-hikers as they trek through their final state, Maine. Every year I am astounded by the hikers I come across and their powerful stories. Through the years I've noticed how the trail is in sync with the pulse of the country and the current events that shape our world. The last several years have been punctuated with veterans of the recent wars in Iraq and Afghanistan, many using the trail as a healing tool. This year, from the interviews I've conducted, I've found that many woman are hiking the AT to empower themselves and those around them.
Maybe when the time is right, you will be motivated to explore the trail yourself, if you haven't already. Maybe it will be after you retire, maybe the time is now. Maybe it is a thru-hike, maybe it is a day hike. Whenever and wherever it is, be prepared to be touched by the trail forever.
Appalachian Trail Stories Video
Gabriel "Pay It Forward" West
"I started the trail April 23, two years after the passing of my mother. I spent the last two years getting my dad and family squared away and healthy and finally realized that I was the only one who hadn't truly healed yet. A friend recommended I hike the Appalachian Trail and get it all figured out. The first 500 miles I had a whole lot of issues to straighten out. Every mile after that has just been a gift. Being able to get my mom's passing out of my head and into my heart… it took two years. It was never about getting to the top of Katahdin and getting a picture… it was about the journey, it's been a blessing."
Eric "Paddington" Stroud
"I've lived in monasteries a good bit of my life. When I was 19 I went into a Cistercian Abbey for the first time. That was the first time I really got the noise of life out of my head; it was a real powerful experience. I did it again for an extended period when I turned 30. Then I was diagnosed with cancer in 2009. It really upended my priorities. At the time I was working 60-80 hours a week, really putting it to the grind. I was making a lot of money and doing really well for myself; I had a great career track. But I knew something was wrong. Maybe I worked myself sick? I don't know, I was probably going to get cancer anyway… but ever since then I've tried to structure my life in a way that I won't have any regrets. If there is something that I want to try or do then I'm going to go out there and do it. I first heard about the trail in high school, and after I had cancer I decided I wanted to do it. I have no kids, no wife, no girlfriend. The trail just kind of creeped in. Its one of those ideas that just seeps in and takes hold. I started researching last fall and on March 6 found myself walking the trail in Georgia."
Briana "Tangerine" Crawford
"When I was young my family would take me every fall to Amicalola in Georgia to see the leaves change. Amicalola is where the Appalachian Trail starts. I really enjoyed it and I think someone probably told me while I was there that the trail went all the way to Maine. Ten years later I was in my early 20s and I was watching the movie Wild, I was in a relationship, I had a job I didn't really like even though I was making good money, and I started to think about hiking the trail. I really wanted to do this to have an accomplishment for myself. I wanted something that I put my mind to and finish for myself, not because society told me to. Last year I started the trail and made it 623 miles to Pearisburg, VA, but had shin splints really bad because I was trying to do too many miles per day. So this year I started over again. I started on Feb. 25 and hiked on my own, connected with a few people and then after Harpers Ferry decided I wanted to hike alone again. Its been nice; I'm walking slower. I was out here to establish myself or find something within me. I'm not perfect, but somewhere in Vermont at the five-month mark I just accepted who I was, and that was a very powerful moment."
Warren Doyle
Warren owns the record with the most number of traverses of the full length of the AT, 18. He also once held the fastest known time on the AT—66 days–in 1973. "I just completed my 18th traverse of the Appalachian Trail. It was a section hike. I've thru-hiked nine times and section hiked nine times, spanning 45 years. That will be my last traverse. I will not traverse the entire Appalachian Trail again. I'm an educator and all of my educational beliefs and values and ideals come from the trail rather than the classroom. Eight of my nine thru-hikes I organized groups of people and we hiked the trail together as a group to help facilitate people's dreams. I strongly believe that a country's strength is not in its military might but the amount of people in that country's society that have fulfilled their dreams. Helping these people along the trail is my way of serving my country. The trail is apolitical, it's nondiscriminatory. It's one way for a person to be free in an unfree society."
Fred "Santiago" Jolly
Fred's trail name is a reference to the the fisherman in Ernest Hemingway's Old Man and the Sea. "Four and a half years ago my wife and I launched on a road trip to see all of the national parks. One of the places we stopped at was the Gettysburg battlefield, which is very close to the trail at Pine Grove Furnace. It's the halfway point of the Appalachian Trail. We hiked out to the halfway sign. It was then that I told myself that I was going to hike this thing. I decided to do it when I turned 62. I like to tell people that I left the Social Security office and went directly to the trail. I wanted to hike the trail for a cause as well. So I decided to raise money for the National Park Foundation, with a goal of $25,000. I think I'm going to hit that goal."
Rick "Wiley" Yates
"One of the guys I'm hiking with named me Wiley, as in Wile E Coyote, because I'm always chasing the guy in front but I'm never the guy in front. I've always been drawn to the Appalachian Trail but it's never been one of these lifelong goals. For my friend Navster, it has been a goal of his. He was at a place where his job was eliminated and he had a year of time where he could actually do this. Along the way he dropped a note to me and asked if I was interested. At first I was just going to do a section, from Springer Mountain to Damascus, VA, because you know… I left my wife at home, she didn't sign up for me to be gone for so long. Along the way, my wife and I had a good long phone call and she said, 'If you want to do this, you should do it because you will always regret not doing it.' So I converted to a thru-hiker in Johnson City TN, during a snowstorm. I've never done anything so physically and mentally challenging, to endure something like this for so long. The byproducts are amazing, getting to see this slice of America. The little trail towns, the people you meet along the way, it's amazing how supportive the community is for hikers."
Nick "Milk Eye" Kinsley
"You know, it's funny; I still don't have a good answer at this point to why I hiked the trail. It was something I kinda always wanted to do. I grew up in Pennsylvania about an hour from the trail. I was always aware of it but I don't think I really understood how far it went. I went backpacking with some buddies in the Smokies in college and I remember seeing a thru-hiker and thinking to myself 'damn, that is badass," and wanting to hike the trail, but not being too serious about it. It was always, 'maybe someday.' I lived in Arkansas for three years after college and I wanted to move and I had money saved up. I had hit that point when I thought to myself that I can want to do it forever or I can actually do it. So I chose to hike. I don't know what comes next. I want to travel. It's so difficult in life to not be connected to a job or something else, and I want to take advantage of that and enjoy it."
Ryan "Hot Wheels" Wright
"I blew out my knee about 14 months ago and had MCL and ACL reconstructive surgery. I wasn't walking for roughly five months. I didn't think I would be ready by the time I was supposed to be starting the hike, but I bought a flight anyway. I figured I could always stop if I couldn't handle it. And now I've just finished. I'm not back to 100% use of my leg, but it's pretty impressive what doctors are able to do. My leg wasn't even functional before I had surgery. That's pretty much what brought me out here."
Jacob "Kuck" Street
"I grew up in Pennsylvania. My father died when I was eight, but before that he and his best friend would always take me hiking on the trail. I remember the white blazes on the trees. They always told me what the trail was about. The dream was dreamt at that point when I was very young. Then I moved away from Pennsylvania and the trail and I grew up and you know, started getting addicted to stuff… but the dream was always there. I always talked about it. But I had to get my life in order. I had to quit alcohol and cigarettes and drugs. I did all that and I got my life together where I could afford to hike. Thirty years after the dream was planted, now I'm done."
Wilson "Rebel Yell" Stanton
"Hiking the Appalachian Trail has been a dream for probably eight or nine years. I heard about it in college in South Carolina and looked it up one day when I was in the computer lab. Each spring I would think about the trail and follow bloggers who were hiking. I started taking small day hikes in South Carolina. Being up on top of a mountain, man, that is addicting. I was ready to go in the spring of 2012. I had all my gear, I hadn't registered for classes. I did everything except show up and start hiking because I tripped and fell in love with a girl real hard. That relationship blew up a couple of years ago and I found myself back home with a dead-end job in a dead-end town. I looked around one day at my job; I was working with a bunch of middle-aged men who had done the same thing at this factory for 30 years and they talked about the same thing every day for the last 30 years. It was like the movie Groundhog Day. It was miserable. I still followed bloggers every year so I decided it was time to stop thinking about it and start doing it. I took a leap of faith and it's been the greatest decision I've ever made in my entire life. I feel like I'm where I'm supposed to be. There are no bad days out here, only bad moments. Even when I finish on Katahdin I want to keep hiking, The walk's not over."
Ryan "Stretch" Vineyard
"I live in San Francisco but I grew up on the East Coast. I get asked a lot why I'm not on the Pacific Crest Trail. I was always familiar with the AT growing up, I was an Eagle Scout, I hiked Springer Mountain and Blood Mountain in Georgia when I was a kid. I've been living in California for the last decade so I wanted to come back and see the East Coast. Why am I out here hiking? I think the question was, 'Why not?' Why not take the time? I had a few people in my family pass away too early in their lives and it hit me that you just need to live life. Last year I realized that and that's when I decided to hike the AT. This journey has been amazing. We had a lot of shitty weather at the beginning and I feel like we went through it to earn this ending. Maine has been phenomenal, the Whites were really great."
Lorrie "Easy Bake" Hess
Laurie carries a steam canister and sometimes bakes muffins on the trail, hence the trail name. "I don't think there was single catalyst that made me want to hike the Appalachian Trail. I know that the idea came to me years ago and I decided I would do it soon after. I did know how long it was, I didn't know how hard it would be. I began looking for partners to hike it with and wasn't finding any. Finally, my daughter said she would go with me. As the years passed and she grew up I could tell she didn't really want to do it. I told her she was released from her promise and I didn't really know when to go. My husband encouraged me hike it solo next season, so in June of 2017 I decided I would go in March of 2018. Even thought there was no big event that made me decide to hike the trail, a month ago, after almost five months of walking, I realized why I wanted to finish the journey. I want to finish not to see if I could physically do it, or to get over the mental obstacles, but simply to finish, to stick something out even when it is super difficult and I want to quit, even when it would be easier to leave, when no one else cared but me. A lot of things I didn't finish in life… and they were important things. So this time I'm going to finish."
"Godfather"
"I grew up near the Appalachian Trail in Pennsylvania. Over time I heard about the concept of thru-hiking and I just couldn't get the idea out of my mind. I had to finally act on it. I had some things in life that went my way that allowed me to take off for a while, like work. I got an opportunity to travel for my work and make far more than I had been and all of a sudden I was a year ahead of schedule in my savings. I was actually going to hike the trail in 2019. I quit my job to hike the trail so I'm going to go home and put my feet up and not do a damn thing for a week; then I have to get back into the grind."
Michael "Navmaster" Davis
"I went to college in north Georgia, not far from Springer Mountain. I hiked with friends in college, and they went on and had the time to hike the trail back in the mid '90s, so it had always been on my mind. I talked about it more and more as I got into my 40s, and I got a chance to have some time away from work about a year ago." With tears in his eyes, Michael continued: "My wife basically told me I need to put up or shut up, so I put up. Here I am six months later. I did it for the adventure. It was everything I expected. It was an absolute adventure. Well worth it. What is next? Man, tha'ts harder than deciding to hike the trail. I don't have a job lined up when I get home, but my wife has been extremely supportive."
Richard "Zephyr" Overmyer
"When I was younger my parents would take me along the East Coast to various points along the trail and go for little day hikes, so I've been aware of the trail for much of my life. Just a few years ago I had the chance to go for another hike along the Delaware Water Gap and a friend of mine hiked the Pacific Crest Trail, so thru-hiking was particularly on my mind. It was then that I decided that this was something I wanted to do. I wanted the challenge, I knew it would be an amazing opportunity. That opportunity presented itself this spring and now here I am at the top of Katahdin. It's been such an amazing experience. I'm so happy. Despite all of the obstacles and difficulties, I'm so happy I did this, so happy to be here, so happy that I met all of these amazing people." I asked Zephyr about the numbers that covered his legs and arms. He replied: "Back in New York with about 800 miles to go I was getting upset, day in and day out I had a really negative attitude. There was a point where I sat down with myself and had an internal conversation. I told myself that I can quit right now, I can go home, but in a week I'll want nothing more than to be out on the trail and around my friends. I started writing how many miles I had to go on my arms and legs as a reminder that I only have so much time before this experience ends, only so many miles left before this dream that I'm living ends. I need to be thankful for every mile I'm able to hike because I'm lucky to be out here."
"Misty"
"I was introduced to the Appalachian Trail seven years ago by my environmental science teacher. We spent a day at a lean-to in Vermont. That was the point I learned about the trail. It kind of simmered all through college. College was a bad situation, I transferred and I shouldn't have, there were lots of mistakes. I ended up working at a law firm as soon as I graduated. I went on a date with a girl who really didn't like me very much, and I told her that I was working at this firm and her immediate reaction was a very sassy, 'Why?' I was like, alright, you have a point. I don't actually want to be doing this. So I quit the job and decided to hike the AT."
Sheila "Still Sheila" Taylor and Cole "Mt Goat" Taylor
"As a family my husband and my two sons and I spent about a year traveling around the US and Canada in an RV. While we were doing that Cole and I spend a lot of time hiking together around the national parks and discovered that we really enjoyed it. Then we did a one-week backpacking trip on Vancouver Island and got hooked. When it was time to come home we got a little bored just sitting around. We thought, 'What adventure could we get into next?' "
Bekah "Happy Feet" Siddiqi
"I decided to hike the trail for a bunch of different reasons. I first met people talking about the trail when I first started doing outdoorsy things, I thought that it sounded pretty cool, maybe one day I'll do that. Then I started doing trail work and one of my buddies decided to hike the trail. I started working for the Appalachian Mountain Club and got to see thru-hikers coming through Pinkham Notch every day, and I thought it would be really cool to be that person one day. This year I'm that person! It's been such a special thing. I've been in the outdoor industry for a while and I decided to challenge myself."
Adam "Geo" Parkman
"I grew up pretty close to the trail in Georgia. As my parents were getting divorced when I was seven, my dad took me up to hike on the trail. Since then I've been familiar with it and have always hiked around in the mountains and the woods. I just graduated from college and thought it would be the appropriate time. While I've been out here I've had a lot of time to think and I've decided to get my master's degree."
James "Papa J" Brooks
"I started the Appalachian Trail because I have a degree in Appalachian folk music from Berea College in Kentucky. I decided that now I'm retired at 59 and a half years old, I wanted to continue my teaching of folk music and the best way to support my ideas would be to immerse myself in the culture of the Appalachian Mountains, and the best way to immerse myself in the culture is to hike the trail!"
Tim "Bear Foot" Frain
"I started thinking about the Appalachian Trail ten years ago. I was in the Boy Scouts and I had just got my Eagle badge and we went on one final camping trip and it just happened to be on the AT. That weekend I met a bunch of thru-hikers and talked to them and I just fell in love with the idea. But at 18 years old I couldn't afford a thru-hike, so I just put it off and it went to the back of my head. Ten years later I told myself, why don't I just do this thing I've been thinking about forever. So I came out and did it. I had to quit my job. I worked at CVS. I'm in the process of maybe getting that job back? I don't know. Fingers crossed."
Randy "Flash" Fuqua
"I started on March 19 and I got about 160 miles to go. I'm doing this because I'm 57 years old and I'm not getting any younger. It's one of those things that I kept saying that I could do, should do, then you get old and you never did it and say you wish you had. I just decided to make it happen. My family has been very supportive and my employer has been supportive. Everything worked out for timing… it's been a great trip and a great adventure. I won't lie, I'm tired. I'm looking forward to the end but also looking forward to everything in between. It isn't for everybody, but those that do it certainly walk away with a whole new perspective on life, the environment, people, and this country."
Jessica "Summit" Barber
"I wanted to hike the Appalachian Trail to see what I'm made of. I saw seven thru-hikers finish on top of Katahdin in 2015. They were of all different ages and athletic ability. I always thought thru-hikers would be young, athletic men, but when I saw that it could be anyone I thought to myself that maybe I could do it."
Elliot "Ball Flap" Schaefer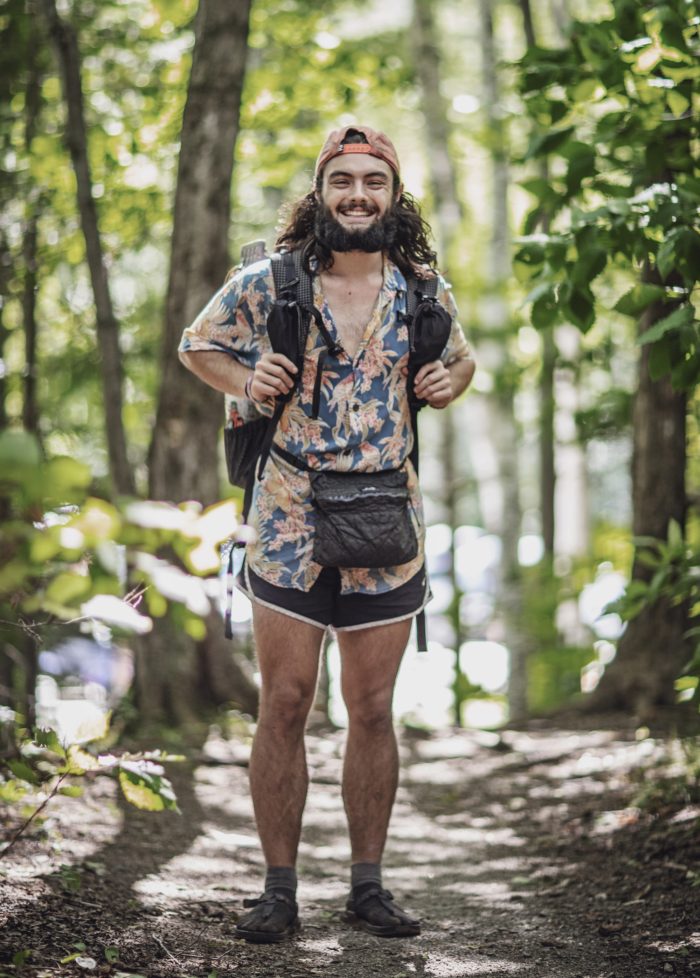 "Last year, I hiked the Pacific Crest Trail and fell in love with thru-hiking and traveling in general. I had just graduated from college and had a job lined up with a marketing firm in California, but then got cold feet and backed out. I knew I still wanted to go to California so I figured hiking the PCT would be a way to do that. I worked at a ski resort last winter and realized around March that I wanted to hike the AT and go for the Triple Crown. My plan is to work at a ski resort again this winter and save money for the Continental Divide Trail next summer. I live cheaply. I don't really drink or go out. I pretty much just ski and get ready for the next adventure." I asked Elliot if marketing was in his future after hiking the Triple Crown. He have a hearty laugh and responded with, "Probably not. Marketing was just something people told me I needed to do… to get a cushy 60k a year job. I don't want to be locked up in an office for the rest of my life."
Brad "Little Blue" Duffan
"I figured that it was getting too late in my life and I needed to hike the trail now. I'm 36, and I've been planning to do the trail for a few years, but every time I wanted to go something would happen; I'd put it off for a trip, or a family event, or a raise at my job, so I thought there was no way I could quit now. I was starting to think that the only available time I'd have to hike the trail was after I retire. All the retired people I've met hiking the trail, they're having fun and they all have a bigger bank account, but that's not really how I wanted to hike the trail. I wanted to come out and do it while I still had fresh enough knees to finish."
Garret "Scrapbook" Hernandez
"I hiked the Pacific Crest Trail in 2016 and the Continental Divide Trail in 2017 and I'm about to complete the Appalachian Trail in 2018. I love hiking and I love walking. As my hat says, I'm born to hike. I knew I was going to hike the PCT after I graduated high school; I needed something to do before entering the real world. I did that and somehow ended up in the desert of New Mexico the next summer at the start of the CDT. After I finished that I thought to myself, well, I'm two in, I should probably finish the Appalachian Trail." I asked Scrapbook how he finances hikes. "I just work in the winter" he replied. "Then blow all of my money the next summer! The bond between hikers is what I love. There is no other place where you can meet someone in the morning to sharing a hotel room with them in the afternoon to licking their spoon clean in the evening. The bond is unreal."
Pacecar (right) and Pacman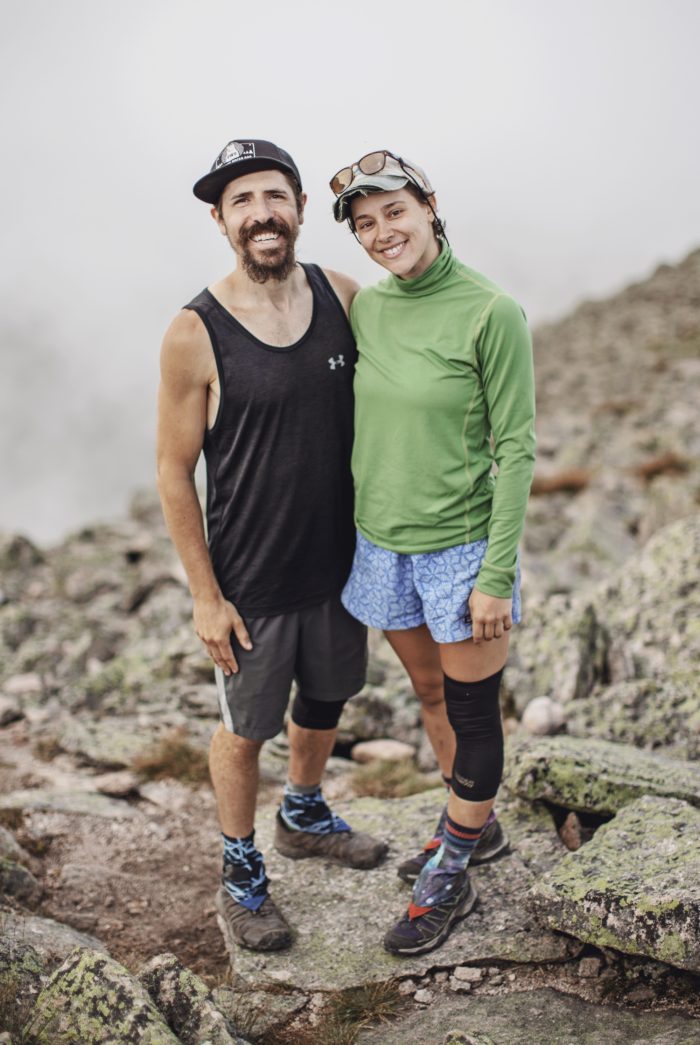 "We met seven years ago" says Pacman. "We were married last October and this is kind of our honeymoon. Instead of a regular wedding registry we had an REI registry… so we didn't have to pay for any gear! We had set some money aside and we quit our jobs, we got a sublet for our apartment in New York, so we actually couldn't go back if we didn't like the trail. Yep, there was no way out, so here we are four and a half months later. It was definitely a journey of good and bad and hard and easy and rain and pain. But we definitely feel stronger now together and I'm glad we did the journey. I think there may be more hikes in our future."
"Hummingbird"
"I work as a nurse back home. People are sick; it's easy to find a job. So I quit every once in a while to hike. I love the simplicity of it. Hike. Work. Save. Hike. I hiked the Pacific Crest Trail in 2016. The Continental Divide Trail seemed too intimidating and I'd never really been to the East Coast, so I decided to come out here and explore the East. I could do without the southern states but I love New England."
Affiliate Disclosure
This website contains affiliate links, which means The Trek may receive a percentage of any product or service you purchase using the links in the articles or advertisements. The buyer pays the same price as they would otherwise, and your purchase helps to support The Trek's ongoing goal to serve you quality backpacking advice and information. Thanks for your support!
To learn more, please visit the About This Site page.