Wedding Bells (Days 149 to 156, Gorham to Grafton Notch)
Day 149
Start: White Mountains Lodge and Hostel
Finish: Bushcamp at the NH/ME state line
AT Miles Hiked Today: 16.4
Overall AT Miles Hiked: 1,907.3
Miles To Go Until Katahdin: 281.8
I was sleeping on a cot right next to a window last night, so I woke as it started getting light at 5:45. I went down and drank some tea, packed my bag, and waited for breakfast at 7.
What a fantastic hostel for hikers to stay in! White Mountains Hostel and Lodge is among my favorite stays on the entire trail. The breakfast this morning did not disappoint, it was hash browns, sausage, a chocolate chip muffin and a big serving of some kind of egg/apple/cream cheese casserole. Five stars!
I was hiking by 8, hoping to do around 13 miles. The hostel is only 31 miles from Grafton Notch, where I am being picked up on Wednesday morning, to fly to a wedding. It is Monday today, so there's no sense in rushing. I crossed over the Androscoggin River and headed back up into the mountains for my last stretch of NH!
The terrain was decent, although I suppose anything would seem decent compared to the white mountains. I cruised right along and got up to 2,400 feet, where I'd be spending most of the day.
There were ominous coulds overhead all day, and it sprinkled rain a few times. It was chilly and windy, very nice hiking weather, but whenever I stopped I wanted to take out my puffy jacket!
It's strange hiking without Reindeer, who took a few days off trail with his family right before the Presidentials. He's been my constant companion for almost the entire hike. Hope we are able to meet up again in Maine! We both agree that it would be awesome to summit together, after spending so much of this journey with each other. We will make it happen, I have no doubt. Still, it's strange to have no hiking partner. I cruised along listening to Wilco most of the day, enjoying the solitude.
Also, I replaced my Sawyer filter in Gorham yesterday. The flow rate had gotten abysmal and I may have left it outside in freezing weather the night I went over Lafayette, which renders the filter useless. It's so nice to have a new filter! I can filter a liter in, like, 15 seconds. The things hikers get psyched about, right? It's awesome. So much hydration.
I passed by two beautiful Alpine lakes today – Page Pond and Dream Lake. I've heard there are lots of lakes like this in Maine, I'm excited to camp next to one and go swimming! Somehow I haven't gone swimming once on the entire trail.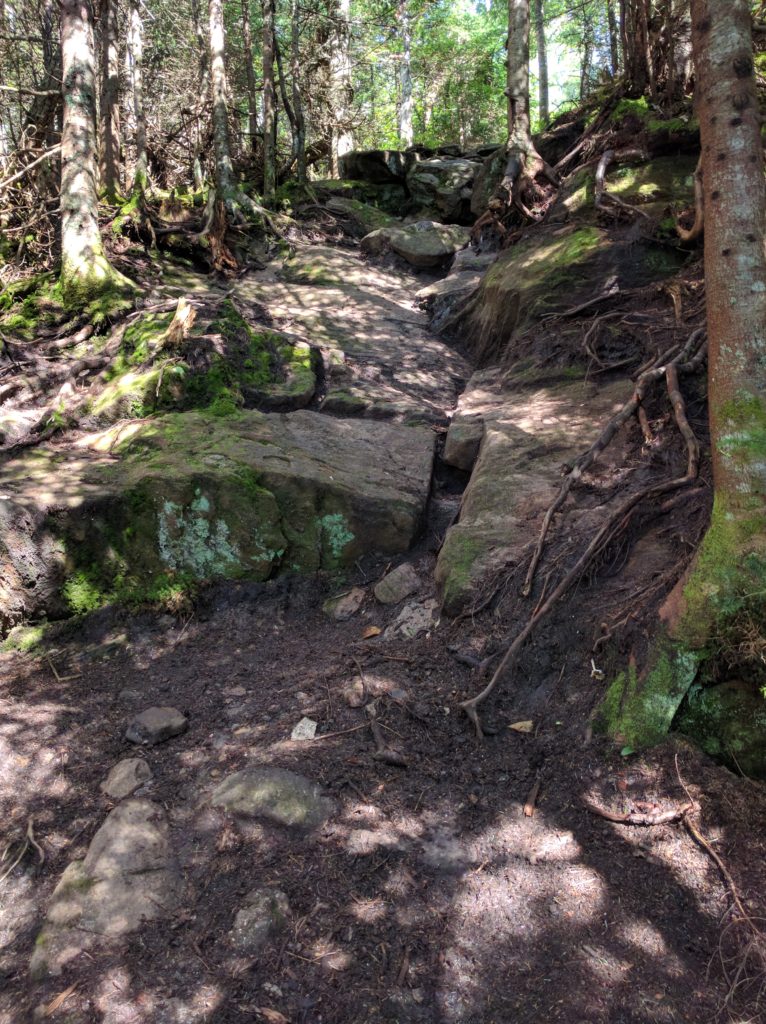 I got to my planned campsite 13 miles in at 2pm, so I decided to press on to see if I could clear the Maine border by end of day. Halfway up Mt Success I found I had service, so I gave my mom a call for the first time in a while. Cell service has been awful in towns for me so I hadn't talked to her since Hanover!
After a treacherous descent down Mt Success, I finally got to the NH/ME state line. Only one more state left! Finally, Maine!
I set up camp right next to the state line marker. I think I'm technically still in NH by a few feet. So I'll get one more night in my home state, then it's on to Maine. I ate a lunchable that I picked up in Walmart yesterday (don't judge, it was delicious) and had an early bedtime before 7:30. It's extremely windy and chilly already tonight. I'm glad to have the 10 degree sleeping bag!
Day 150
Start: Bushcamp at the NH/ME state line
Finish: Bushcamp a mile shy of Grafton Notch parking area
AT Miles Hiked Today: 13.7
Overall AT Miles Hiked: 1,921.0
Miles To Go Until Katahdin: 268.1
Oof, I am glad that I did some bonus miles yesterday, because my first day in Maine did not disappoint. What a brutal day.
The day started off easy enough. The few miles leading up to Goose Eye were scenic and rocky. I love the peaks over the last few days. Lots of open summits and boardwalks to protect the Alpine vegetation.
The trail below tree line got steadily more technical as the morning wore on, with several points where I had to toss my trekking poles, sit on my butt and scoot down sheer rock faces. I fell in with a group of hikers who spent last night a half mile ahead of me at the shelter. We refilled on water at Full Goose shelter. The first peak out of the shelter included scrambling up ladders built into the mountain.
The views from Goose Eye will be tough to beat. Lots of open hiking with views in all directions. There are very few points in the AT where you can see a mile ahead and behind on the trail. The Whites had plenty of views like this, but being above tree line here was much easier hiking, which gave me time to appreciate the views.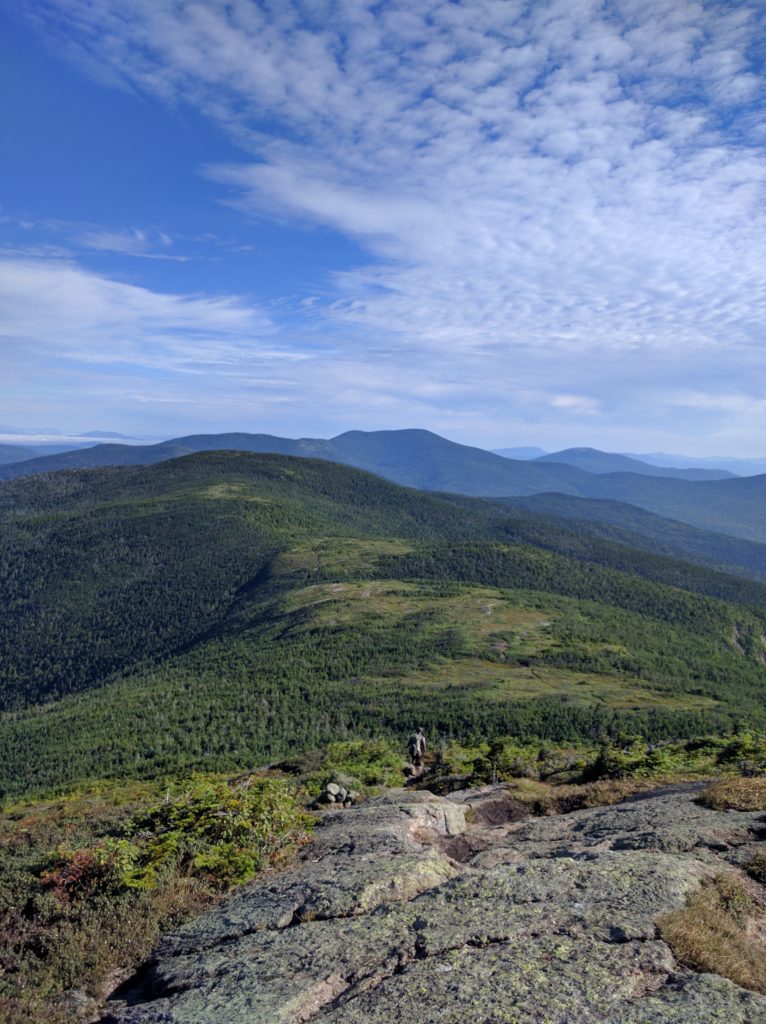 Then, we hit Mahoussic Notch.
I had been hearing about Mahoussic Notch for the last few hundred miles from SOBOs. It's known as the "Slowest Mile on the AT" and many hikers have referred to it as the most rugged section on the whole trail. Glacial flows deposited a jumble of crazy boulders between Filling Mill Mountain and Mahoussic Mountain, and the masochist trail planners decided to run the Appalachian Trail right through the insanity. Even during the summer, snow and ice hide within the deep clefts. Hikers are forced to go directly over the boulders, because the mountains shoot directly up on both sides. Sounds fun, right?
I was immediately stuck at the first big boulder. It seemed to be impossible to safely navigate. Either I'd have to jump down 5 feet with my pack on, or I'd have to backtrack. This can't be the trail, right? But there it was, a white blaze just up ahead, on another wild boulder. Nothing to do but make your peace and take a leap.
Many hikers collapse their trekking poles and stick them in their pack as they are useless here, but my poles are so bent at this point that they won't collapse at all. I had to hold them in one hand as I clumsily made my way through the maze.
The ground wasn't even the ground. We could hear running water hidden in deep crevices about 5 to 10 feet below the dirt we were stepping on. I couldn't toss my poles for fear they would take a weird bounce and be swept away down one of the weird gaps in the ground.
About halfway through we reached a small flat spot. Other hikers had congregated there to commiserate on how awful this was. A hiker with a dog was tending to his dog's injury and was trying to figure out a way back to Gorham to get veterenary help. A few minutes later a hiker was stuck at a vertical ascent that required spider walking up two boulders with our packs on. The terrain just didn't let up.
At one point hikers were required to take of their packs and push them ahead of them through a gap in the rocks. Hope you're not claustrophobic! Always the white blazes and arrows pointed us through the mayhem. As if we had any other choice than to slowly, slowly press on. 
It took me over an hour and a half to reach the end of the Notch. One mile in over an hour and a half. I was bleeding from four separate wounds, including one on each shoulder from tripping into broken trees and being impaled by small broken branches sticking out from tree trunkd. My shins were scraped and bloody. Dear lord.
Oh, and what comes directly after Mahoussic Notch? One of the steepest climbs on the entire Appalachian Trail. Mahoussic Arm climbs 1500 feet in under one mile. What a mess. I was so tired. But it felt good to not be scrambling over, under and around boulders, so I didn't mind the climb. At least I wasn't in immediate danger any more.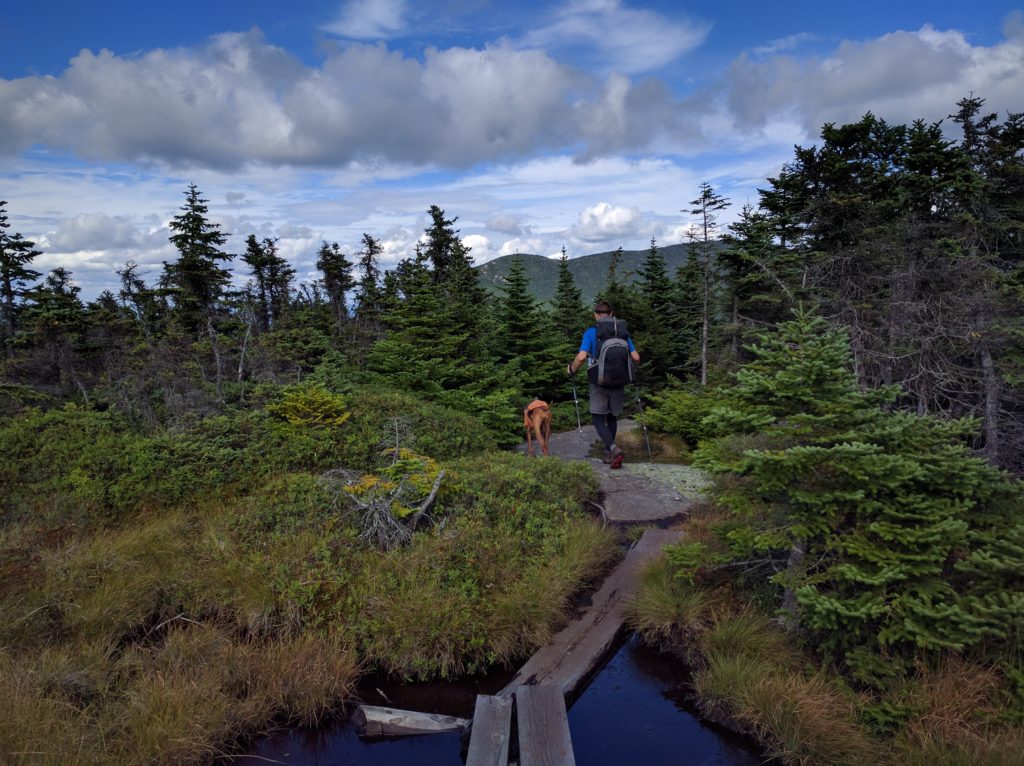 I slowly went up and over Old Speck, the third highest mountain in Maine, then started looking for water and a bushcamp. I was so ready for bed. Some days you want to hang out at a shelter and socialize, and some days you want to lay down ASAP and be silent the entire night.
I ended up camping a mile shy of my planned pickup location tomorrow. As I lay down to write my blog and charge my phone, I found that my phone wasn't charging. Either the external battery or my phone is broken. I'm too exhausted to deal with it tonight. I'm going to bed.
Day 151
Start: Bushcamp a mile shy of Grafton Notch parking area
Finish: Grafton Notch parking area / Wedding in Wyoming!
AT Miles Hiked Today: 0.9
Overall AT Miles Hiked: 1,921.9
Miles To Go Until Katahdin: 267.2
Heavy rain started up around 4am and I couldn't get back to sleep, so I got an early start and packed up during a break in the rain. I managed to arrive at the parking lot and hide under the Forest Service information board awning just as more heavy rain moved in.
I still didn't know if my phone was working and I was down to 15% battery, and I wanted to save that in case my phone couldn't charge for some reason. So, I killed three hours throwing rocks at other rocks. It was… Fun? What did people do before the internet could entertain them? Anyway, I discovered that there were no repressed rock-throwing talents hiding inside me. My Uncle David showed up at 9:30 and we hit the road!
We stopped off at a McDonald's and luckily my phone was able to charge. My external battery pack will have to be replaced I think. I'm happy this is a $40 purchase instead of a $500 new phone purchase.
We arrived at the Manchester NH airport bin plenty of time. 3 flights later I found myself in Wyoming for the wedding of one of my best friends!!
We are so far away from the trail right now. That cluster of red is the remaining trail, a little over 250 miles. It seems so small compared to how far is just traveled today. Planes are amazing.
Days 152-156
Start: Grafton Notch parking area / Wedding in Wyoming!
Finish: Grafton Notch parking area / Wedding in Wyoming!
Miles traveled: Several thousand, but AT Miles Hiked: 0!
Overall AT Miles Hiked: 1,921.9
Miles To Go Until Katahdin: 267.2
There are very few people in my life as important to me as my friend Louis. He got me my job in Chicago and set my life on a completely different trajectory. He talked me off many cliffs as I panicked planning for my thru hike. We spent many nights slugging some combination of wine, whiskey and beer while we laughed and stumbled our way through our mid-20's. His friendship and advice has helped shape me into the man I am today.
When he asked if I would be one of his groomsmen, I immediately said yes – knowing full well that I would need to get off trail, take many days off from hiking, then figure out a way back to the road crossing where I jumped off. It's a price of both time and money that many hikers wouldn't be willing to pay.
I wouldn't miss his wedding for the world.
He is marrying a beautiful, smart and funny girl named Sarah that I am proud to also call my friend. My friends Tyrone, Jamal, Joe and Max all flew in as well. All helped me as I planned for the Appalachian Trail over the past few years, and what a treat it was to spend several days with them in Wyoming. Despite my absence from their lives as I have hiked this year, it was as if no time had passed at all.
Wyoming is an amazing state. It's the least populated state in the country. Huge, unbroken plains stretch across the landscape, leading to 10,000+ foot mountain ranges in the distance.
The rehearsal dinner and wedding all went off without a hitch. Louis and Sarah also announced that they are expecting a child in February! So many life events. What a whirlwind.
I had a perfect week off trail. I'm coming back exhausted, slightly hungover, and grinning like an idiot. This week showed me what I'm hiking back to after I finish the trail.
Here's to you, Louis and Sarah. May you two be happy forever, be married forever, and be my friends forever.
Until next time, happy trails!
-Slice
Affiliate Disclosure
This website contains affiliate links, which means The Trek may receive a percentage of any product or service you purchase using the links in the articles or advertisements. The buyer pays the same price as they would otherwise, and your purchase helps to support The Trek's ongoing goal to serve you quality backpacking advice and information. Thanks for your support!
To learn more, please visit the About This Site page.