Week 1 – Update from the Trail
Beautiful weather and low miles made for a perfect first week…
The Start
Over the past two years, I've done numerous section hikes on the AT. While the idea of a thru hike has been on my mind, it didn't become a serious idea until just a few months ago. But once that idea turned into a plan, it was game on. I began researching, buying gear, dehydrating food, and setting up resupply boxes.
Still, with all this preparation, it felt like the start day would never come…and yet…
When my alarm went off at 5:30am Tuesday morning, it was finally time.
I loaded my pack in the car, and rode along (with a sleeping dog in my lap), as my parents drove us 3 hours to Amicalola Falls State Park.
Upon arrival, the first step was to check in at the visitor's center, sign the official thru-hiker registration, and get my tag. Here I am doing that:
From there, my parents planned to walk with me for a bit before saying our final goodbyes. The guy at the visitor's center showed us a map and gave directions on where to go next. "Take a right after the small footbridge…yada yada…reflection pond…yada yada…stairs".
It should be noted that the entire visitor's center area is currently under construction (registration took place in a make-shift construction trailer). So these directions were important; however, as you can tell from the "yada yadas", I didn't pay much attention.
We left the visitor's center, took a right at the footbridge, and walked for a bit, until the trail abruptly ended in a construction zone with an arrowed sign pointing the opposite direction (the way we just came from). "Hmm that's confusing", we thought, as we turned around and retraced our steps.
But as we continued on, we saw more signage that confirmed we were going the right way. We soon reached the reflection pond, which I remembered from the directions. Perfect. Kept going.
Past the pond, the paved trail got steep, switch backing it's way alongside a stream, until we reached the first set of stairs at the base of the falls. This should have been where we parted ways. Instead, me and my mom looked at each other and said "wait, where's the arch?"
If you're familiar with the AT, you'll know that the trail officially starts at Springer Mountain, about 8 miles north of Amicalola Falls State Park. A more popular starting point, though, is the state park – and part of this has to do with the historical archway that you walk through to begin your journey. We had somehow missed it.
Really wanting that official start (and pic), I decided to walk back down with them and try to find it.
(But first, we took waterfall pics):
It wouldn't have been far to go had we just retraced our steps, but thinking we'd gone the wrong way, I tried taking us a different way back. This was a mistake, as we meandered down a side trail, eventually turning around and going back the way we came.
The whole excursion at this point had taken a couple of hours, and we were hungry. Now, back at the visitor's center, where we started, we had lunch at the picnic tables – me eating the food I intended to eat on trail, them eating sandwiches packed in the car.
After regrouping (and Dad confirming with the guy inside), we realized our mistake. When the guy said "take a right at the footbridge, yada yada", those were directions to the arch before doubling back to start the trail.
Alas, found the arch, got the picture, gave hugs goodbye, and off we went.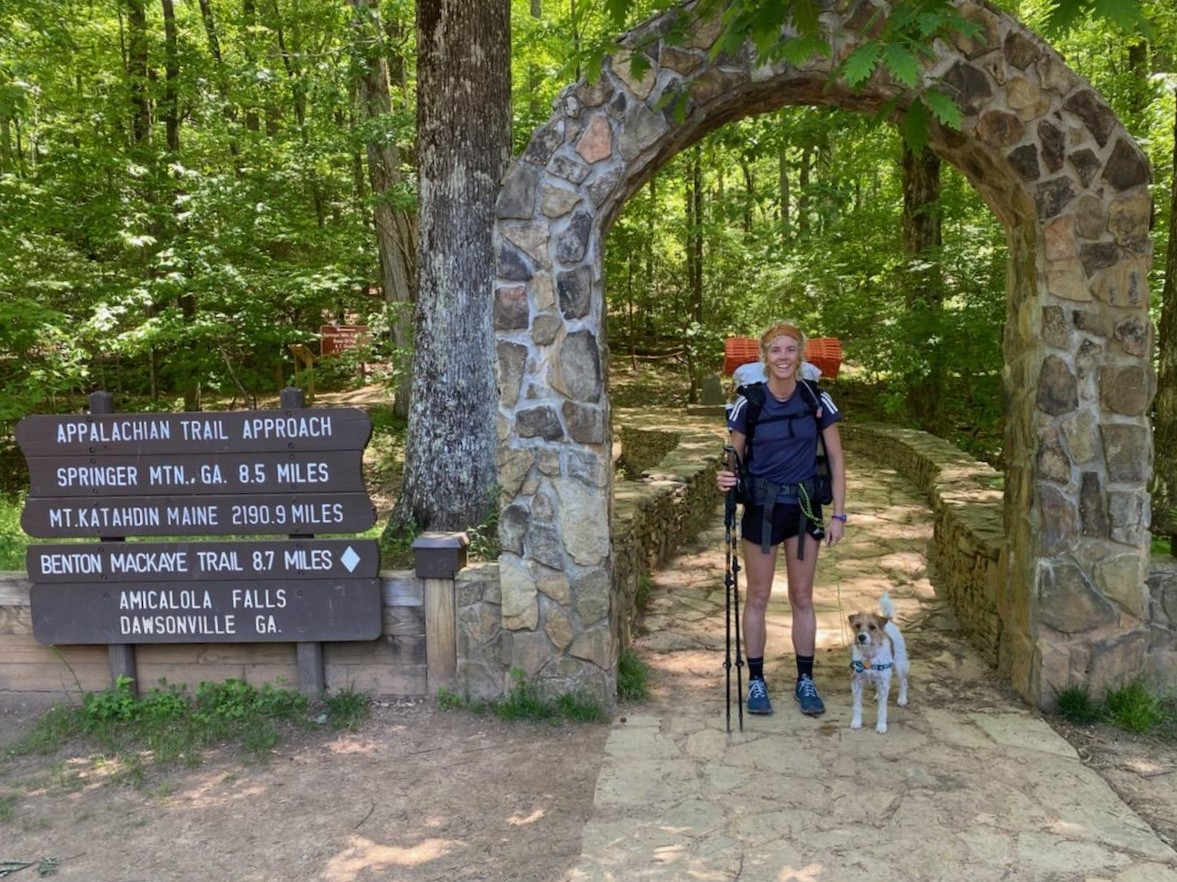 Day 2
8.9 miles to Hawk Mtn Campsites
The previous day, we walked about 7 miles, setting up camp at Black Gap Shelter, just shy of Springer Mtn.
Today, we reached Springer Mountain, the official start. It's nothing fancy – just a small clearing in the woods with a plaque on a rock. Inside the rock is also a metal box where thru hikers can sign the log. I tried explaining to Bonsai what we are doing, but he seemed unimpressed.
Our plan for the first couple of weeks is to keep the mileage relatively low (8-10 miles a day) to adjust and hopefully avoid any over-use injuries.
Today, we walked 8.9 miles to an area called Hawk Mtn Campsites. The setup here was unique. Spurring off the main trail was a side trail with 30 individual, numbered campsites.
Being the first campers to arrive, we checked out all of the sites before choosing site #18. This was a large site, sitting slightly above hill from the trail, with a few nice logs to sit on.
Here's Bonsai snoozing at camp:
Day 3
6.8 miles to Justus Creek
The original plan for today was to hike 8.3 miles to the next shelter. Plans changed, though, after talking with a guy named "Trail Guide" at lunch. Trail Guide has hiked the Georgia-NC sections numerous times and told me about one of his favorite camping spots coming up – Justus Creek.
I decided to follow his lead and camp here too, and glad I did.
It's a steep hike down to the campsite and a steep climb coming out of it, giving the area a lush, almost canyon-like feel. The creek itself was flowing well, compared to most of the small, trickling water sources in this area. Bonsai enjoyed playing in the water, and I loved falling asleep next to it.
Day 4
9.8 miles to Lance Creek
In my journal for today, I wrote "today was a good day"! But nothing particularly interesting to write about. So here are some pictures:
Day 5
11.5 miles to Baggs Creek Gap
Often on the AT, you'll climb and climb, only to reach a summit of trees with no rewarding views. Not the case today.
The big climb today was up and over Blood Mountain. This was a climb I'd done before on a section hike with friends (shout out Mountain Blazers!). It was fun doing it again and thinking about them. Here's a pic of us at the top:
At the bottom of Blood Mountain, you come to Neel's Gap, which is a popular road crossing with a large outfitter's store. I grabbed some snacks and also bought a sewing kit, as the rocks really chewed up Bonsai's booties on the way down.
Not in a hurry, we stayed at Neel's Gap for a while, enjoying the break in civilization.
Day 6
14.6 miles to Blue Mountain Shelter
I'd planned on getting up early this morning and catching the sunrise at a nearby peak. But there was a slight rain when we woke up, so decided against that. Instead, we slept in a little and left camp around 8.
Then, we heard there might be more rain coming in the afternoon, so we busted out miles and got to camp as quickly as we could. Arrived at camp around 3, but no rain ever came.
Overall, it was a fun, beautiful day with relatively easy elevation, but lots of great lookout points.
Day 7
12.8 to Sassafras Gap
Phew. What a physically brutal day. Lots of hard, steep ups and downs. Here's what the trail looked like for much of the day:
Initially planned on this being another 15 mile day, but just couldn't make it. We were both zonked. My knee was hurting, and since initial plan is to keep injuries at bay, there was no reason to push it.
One exciting highlight of the day, though – we saw a bear! On the way back to our campsite from getting water, Bonsai suddenly stopped. His tail went straight into the air and he began growling at the woods. I looked out, and sure enough, about 100 yards away, I saw the head of a black bear poking out from behind a tree.
Bonsai was not on leash at this point and I was super nervous about what he would do. Please do not chase that bear, I thought. But he stayed put, letting out a small bark, and the bear ran away. Phew. I scooped Bonsai up and carried him the rest of the way to camp.
Day 8
6.3 Miles to Around the Bend Hostel (Dick's Creek Gap)
After a full week on trail, I was very much ready for a shower and opportunity to do laundry.
We got up early and hiked 6.3 miles to Dick's Creek Gap, where we followed the road for a bit before arriving at Around the Bend Hostel.
What a treat! The shower felt amazing. I also got my resupply box that my family lovingly sent here (complete with sweet notes inside):
After settling in, they shuttled a few of us hikers into the closest town (Hiawasee, GA), where I grabbed a burger and fries at the brewery. I also popped into the local thrift store, where I bought a book to take back on trail with me.
We were intending to stay only for the day, as they don't allow dogs in the bunk house (private rooms only). BUT they made an exception for Bonsai (because he's the best doggie in the world), and we got to stay the night.
Onwards!
Today, we'll head back to the trail. After a full day and night's rest, I'm ready to get back at it. Also, there are a lot of cats at the hostel and Bonsai is driving me nuts trying to chase them.
Affiliate Disclosure
This website contains affiliate links, which means The Trek may receive a percentage of any product or service you purchase using the links in the articles or advertisements. The buyer pays the same price as they would otherwise, and your purchase helps to support The Trek's ongoing goal to serve you quality backpacking advice and information. Thanks for your support!
To learn more, please visit the About This Site page.