Week 11 – Cheshire, MA to Bennington VT
We have arrived in Bennington, VT and are going to be changing things up a bit! Soon, we will be NOBOs for a few days, only to again become SOBOs after Jess leaves for Rochester, NY. Boy are we going to confuse some or our SOBO and flipflopper friends! Here we go!
Day 71 (time – endless, 0 miles)
Today, we are spending the day in town. I have my orange juice and DayQuil, some cough drops and tissues. I'm ready to tackle this cold! I have to kick this out of my system ASAP! Tonight, Dan and Jess will both be arriving and sharing the hotel with us!
Free Bird and I got to sleep in this morning.  By "sleep in", I mean only waking at 7am! Whoohooo!! We showered and spent the morning in bed, as I worked on writing to all of you and posting my pictures, in between chugging glasses of orange juice of course!
After a little while, we decided to get breakfast at Friendly's, then head to the library. We had to time that right because the library opened later in the morning.  After taking care of business in the library, we walked the small town of Bennington, VT, looking at the different art stores and other shops in the area. We chatted with many nice local people, had some lunch in town, then eventually returned to our hotel room so I could rest as we waited for Dan and Jess.
Well, Dan made it in the late afternoon, but Jess was not going to make it until the late evening hours. Oh well. Looks like we'll be going to dinner without her.
As we were leaving our hotel room, about to walk to the same, excellent, restaurant we ate at the previous evening, I turned to find Gary with his dog, Arrow, entering the hotel room next to us!
"Hey!" I shouted jubilantly.
He turned with a start, but, when he recognized us, a big smile grew on his face. We chatted and caught up for a while. Apparently, Arrow had been hit by a porcupine a day ago. Gary, besides himself with worry and grief, remembered he had stayed with a nurse at the shelter the previous night, so he sprinted to catch the man, looking for help to treat his dog. He was able to find the nurse, who helped remove the quills from Arrow's muzzle and leg. But today, Arrow was not himself and Gary was quite worried. So we invited him to join us for dinner and I took some time to chat with him on the way to the restaurant.
My main concern, reminding him I was not a Vet, but a Physical Therapist, was infection and the possibility all the quills may not have been thoroughly removed. I provided him with the warning signs of infection and suggested if things did not improved soon, to take Arrow to a Vet.
That night, we all enjoyed an excellent dinner, sharing stories and catching up. As we were ready to head back to the hotel, Gary insisted on paying for our meals! Wow! How unexpected and wonderful of him! We thanked him endlessly and we returned to our hotel.
As we were saying goodnight to our new friend, Gary looked at me with worry thick in his eyes. "I'm sorry to ask this, but would you mind looking at Arrow?"
I reminded him I was not a Vet, but agreed to take a look. I, too, was worried about him and wanted to help. Arrow was lying on the hotel floor, so I talked to him and pet him for a little while, allowing the dog a chance to feel comfortable and trust me. As I started to gain his trust, I continued to talk to Arrow and I slowly moved one hand over his injured paw. He growled at me as I VERY gently touched his wound, checking for quills that may have broken off and warmth (a major warning sign of infection), all while consoling Arrow and petting him, ensuring him I meant him no harm. He allowed me to gently inspect his wound. There was a good amount of swelling, but no excessive warmth. I informed Gary that I did not think there were any quills remaining and the wound did not seem infected. I also added that I would expect to see swelling after an injury such as his. I did, however, recommend a visit to a Vet if anything changed or refused to improve.
With that, I said goodnight to Gary (who seemed much more relieved now) and Arrow (who limped himself back to his sleeping mat) and returned to my room. Jess arrived later that evening and we all turned in shortly after for the night. Tomorrow, Dan drives us to Cheshire, MA and we start our hike as NOBOs for a few days!
Day 72 (12:12-4:25pm, 5.3 miles)
As I rolled out of the comfortable hotel bed this morning, I could see Gary roaming around outside. So I threw some warmer clothes on and dashed out the door, eager to find out how poor Arrow was doing.
"He's doing MUCH better!" Gary said with a gleam in his eye.
"That is so good to hear!" I replied with a big smile on my face. "You may still want to take him to the Vet to make sure he's good, but I'm so glad to hear he's doing better!"
Gary is heading home today so I wished him luck with Arrow and we bid farewell. We will be hitting the road soon as well. My trail angel/bandmate/"twin", Dan, will be driving all of us to Cheshire, MA today and dropping us off at the trailhead as we start our adventure as NOBOs.
After breakfast, we all piled into Dan's truck and off we went.  We had a 45 minute drive ahead of us until we arrived at the trailhead in Cheshire.  As I helped navigate Dan to our destination, we reminisced about the olds days, playing in our metal band up on stage.  We laughed, and chatted, while rocking out to Megadeth and Lamb of God, our fingers racing as if we were playing our instruments up on stage once again, our heads lightly bobbing to the music.
"Dan, when I'm done with this trail, you have got to come out to Rochester and jam with Bob and I!" Recently, we have been chatting about trying to get the crew back together, just for fun.  Fingers crossed, it may start to happen!  That'll give me something else to look forward to after the trail!
After 45 metal filled minutes, we pulled into our location.  We all fell out of the truck, me and Free Bird demonstrating the telltale hiker hobble with each step; 45 minutes is a long time for us to sit still without stretching now a days!  Once we start moving again, we waddle around like the Tin Man, our joints temporarily fused together at the knees, ankles, and hips.
We hobbled to the back of the truck, collected our gear, and said our goodbye to our amazing trail angel!  One last picture and we were on our way, Dan offering his assistance again if we need it.  What an AMAZING friend!  I am a very lucky girl for having such wonderful support while I'm on my adventure completing my dream!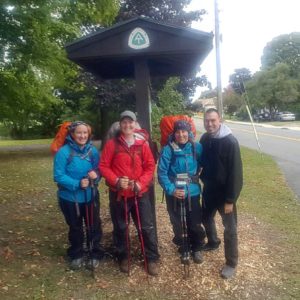 Our short journey today starts with a walk through town.  We walked down a few roads, and then through a corn field.   It looked as though the farmer had only recently cut down his corn stalks.  This must have looked amazing with the stalks still growing!
Unfortunatly, we cannot get used to the nice walk through town.  We will be heading up, up, and away very shortly!  The remainder of our hike today will be up a significant grade until we get to the Mark Noepel Shelter.  While the hike was steep, we did have a few breaks through more picturesque fields.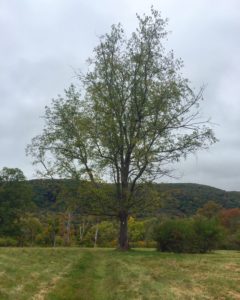 As we trekked on, we passed several other hikers.  It has been a while since we have crossed paths with anyone heading in the opposite direction from us, since the NOBOs should be either done, or almost done with their treks by now.  It was an odd sensation to be hiking as NOBOs ourselves now!  Today, we met Tangle, another SOBO, and her friend Willow, a section hiker.  They asked us, with confused looks on their faces, if we were NOBOs, obviously concerned that we would not make it to Katahdin before the snow.
"No, we're actually SOBOs," I explained.  I attempted to explain our plan to hike north back to Jess's car in Bennington, then return to Cheshire as SOBOs once again.  I'll have to get used to explaining this as we will be passing many other hikers we have already met.  This should be good!
1,845 feet in elevation gain, and several breaks later, we arrived.  A gentleman, Brady (another section hiker), was already there, with a roaring fire going!  Whooohooooo!  It had been a colder day today, with threat of rain all around us, the clouds hovering low to the trees, so we were eager to warm ourselves by the fire.  This shelter had several bunks and a loft, so we grabbed our spots, mine up in the nice warm loft, and started making our dinner for the evening, chatting with our new friend, Brady.
As we got ready to settle into bed, in walked Speedy and Whisper!  We happily greeted our old friends, laughing and reacquainting ourselves, and introduced Jess to our hiking buddies.  Many laughs later, we all turned in for the evening.  Day 1 completed as NOBOs.  Tomorrow we plan to hike farther.  With a deadline to get back to Bennington, we have a lot of miles to cover!
Day 73 (8:30am – 5:55pm, 11.4 miles)
We have another gloomy day today.  The weather is cold and foggy.  We will be climbing the highest point in Massachusettes today, but are unsure if we will have a view.  We'll see!
We packed up our gear and said goodbye to everyone.  Free Bird and I hope we'll be able to catch Speedy and Whisper again, but they are fast hikers.  We'll have to MOVE and log some big miles!
We start our hike today heading up for a while.  Thought we were done with that yesterday!?  HA!  We will reach Mount Graylock sometime around lunch, where we plan to warm up and eat at the Bascom Lodge at the top.
Just before we reached the lodge, we came upon a small pond, with a little hut peaking through the fog.  We stopped to take in the view for a few minutes, before we continued our climb up to the mountain top.
Shortly after, we arrived at Boscom Lodge.  A man greated us and led us inside the lodge, explaining to us, with a large grin ear-to-ear, that his daughter had just gotten married at the lodge the previous night!  We congratulated him and his daughter and dropped our packs on their dinning porch floor.  We snacked and had our lunch, warming and enjoying the nice break from the weather outside.  Once we had our fill of food, we packed our gear again and stepped back into the fog,
Before we left Mount Graylock, we stopped to check out all the plaques and statues around the mountain top.  Unfortunatly, they were working on the monument at the top of the mountain, so we only got a glimpse from behind a fence.
We continued on our way, with only one more mountain to summit; Mount Williams.  The critters didn't make it out for the top of Graylock, so they'll come out for this mountain top!
We were hoping to get to the Seth Warner Shelter today, but it looks as though we're only going to make it to the Sherman Brook campsite.  We are not able to do the mileage we need to and are running out of time.  So I made a quick call and changed our reservation at the hotel in Bennington, giving us an extra day to get there.  With that taken care of, we continued on our way.
Today, we finally met, and crossed paths, with Smuggler (a sectioner) and Centaur (a flipflopper ending his adventure in Port Clinton, PA).  We had heard about these two from Speedy and Whisper, and have seen their posts in the log books at the shelters!  It was wonderful to finally get to meet them both!  Maybe we'll see them again once we start our adventure as SOBOs in a few days!
After a long days hike, we barely got to the campsite before night fall.  We set up our tents, with some daylight still peeking through the trees, then went to gather some water.  The water was just a trickle so it took a little while to gather.  As we waited for our bladders to fill, the sun dipped behind the horizon and we were in the dark.  We returned to our tents, cooked our dinner in the dark, the called it a night.  Since we had planned on staying in shelters for this entire NOBO stent, I left my tent in Jess's car, to attempt to reduce some of the weight of my pack.  With no shelter at this campsite, and therefore, no where for me to stay for the night, Free Bird let me share her tent.  We said goodnight and crawled into the tent for a good nights rest.  Maybe, tomorrow, we can make up the mileage we missed.
Day 74 (8am – 4:20pm, 12.9 miles)
Today we start by climbing again. We really need to rethink this! But oh well, up we go! We woke late today. When trying to set my alarm last night, I inadvertently reset the time in my watch instead of resetting the alarm. So we woke with the sunlight instead of waking before sunrise to be hiking with the sunrise. That'll cut into our time for today.
Since we didn't get as far as we would have liked, we are trying to cover more ground today. I'm still battling this sinus infection and there is a threat of more rain today. So, if it rains, I will take off and head for the Congdon Shelter, where we plan to stay for the night.
We have become used to the better terrain, but today's climb has reminded us the AT is still challenging and unforgiving at times. We were back to climbing up giant boulders once more!
What a start to our day! Nothing quite like hitting the ground climbing with no warm up!
Once we got to the top, huffing and puffing, we took a small break then continued on our way. After a short while, we reached the border between Vermont and Massachusetts! Great! We're back in Vermont! But we celebrated as though we were entering another state regardless!
A brief snack break and celebration later, and we were back on our way, now tackling the Long Trail as NOBOs. We met and passed Sas and Supertramp first, two flipfloppers we had picked up and given a ride to when Dan was driving us to Cheshire a few days ago. Shortly after we passed Marshmallow! We chatted with him a little, introducing him to Jess, then continued along our way. Later we met and passed another SOBO, Gap. We'll probably see him again when we return as SOBOs in a few days. As we neared a gravel road, there was Rabbit! He looked up at us, and instinctually hollered, "Hey."
He looked back down at is bag, fiddling around with something, then suddenly stopped and shot a glance at us again. "Hey!"  Finally recognizing us, with a rather confused look on his face as we approached him he asked, "Aren't you two going the wrong way?!"
We all laughed and explained why we were heading North for now. Chatting and catching up, Jess joined us and we introduced her to our old hiking friend. With the clock ticking, and our daylight hours growing short, we had to bid Rabbit farewell and pressed on once more.
We stopped briefly and ate lunch at the Seth Warner Shelter, then plodded on, waiting for the rain to start. With Free Bird leading the way, and me shortly behind her, we both suddenly felt the wind kick up and the leaves began to flip upside down. Recognizing the signs immediately, we both dropped pack and pulled out our rain gear. The storm was about to hit!
Once Jess had caught up to us, we told her our plan; we were getting ready for the rain, I would press on for shelter once it hit in an effort to keep this cold from getting any worse, and Free Bird would stay behind with her. Until then, we would stick together. Ready for the storm, on we went.
Within minutes the rain started. Knowing if I stood around in the cold rain, my sinus infection would worsen, off I went at a fast clip. Little did I know, that would be the last time I would see Jess and Free Bird that day!
I hiked and I hiked, as the rain poured down. When the rain stopped, I would stop and wait. And wait. And wait. But no Free Bird or Jess would emerge. Knowing Free Bird had all the skill and experience she needs to be just fine out here, once the rain started up again, on I pressed once more.
Eventually, I knew I had gotten so far away from my trailmates that it would not be beneficial to wait for them any longer, but instead push to the shelter so I could save them some spots in the shelter. On and on I went, as fast as I could, sniffling and blowing my nose all the way, until, finally, I reached the shelter!
As I was setting up camp, spreading out my gear to save spots for my two friends, I pulled out my phone to see if I could contact Free Bird. A text message was waiting for me:
It's 3:30 and Jess hasn't reached the pond yet, which is 3 miles from where we had lunch. If she's still not here by 4, we're setting up camp here and we'll meet you in town tomorrow.
Oh no! Now I'm worried! Where was Jess!? I quickly texted Free Bird back and remained in contact with her for a few hours. The good news is Jess eventually did show up and was, for the most part, doing ok. She had slightly injured her ankle, but was still able to walk, but the pain was slowing her down. So it was decided. I would remain by myself that night, and they would stealth camp there and meet me in town tomorrow.
This will be my first time alone! Here we go! I got my bear bag hung and changed into warmer clothes. As I was fiddling around, a young man arrived. He introduced himself as Brian and we chatted for a while. Brian was going to be hiking for a week, heading north on the LT. We joked and laughed for a while, his presence actually putting me at ease a little, then eventually retired into our own sleeping bags for the night. Tomorrow I will head to town, try to hitch, alone (I am definitely concerned by that), take care of some business, then take care of this cold! Hopefully I will see those two in town tomorrow! I sleep a little uneasy tonight, as I will worry about them in their tents in the rain for the night!
Day 75 (8:24am – 10:30am, 4.3 miles)
It rained hard last night! I woke this morning and grabbed my phone, hoping Free Bird and Jess had made it dry through the night. I shot Free Bird a text and slowly started getting myself ready to break camp. Even though last night Free Bird told me to head to town, I felt uneasy leaving, not knowing where, on the trail, they were or how they were doing. So I slept in a little this morning, giving them time to get closer to the shelter, and maybe even get here before I left!
I gathered my gear together, checking my phone every other minute for a response from Free Bird, cooked my breakfast, checking my phone again and sadly still finding no response, until I was eventually packed and ready to go. I chatted with Brian for a bit before I finally just hit the trail. I took my time hiking, still hoping they would catch up.
On I went, passing various hikers along the way. I left my phone ringer on, since I cannot feel the phone vibrate when I get a text. As I hiked silently through the woods, suddenly my phone started growling at me. I stopped immediately,recognizing my Megadeth ring tone, and quickly checked my phone. It was a message from my significant other, Frankie. While I was happy to hear from him, I was bummed it was not a message from Free Bird.
Eventually, I hit the road and started walking towards town. I was prepared to hike the 5 miles to town, but threw out a thumb to attempt to hitch as I went. Car after car raced passed me as I walked down the road, still wondering how my friends were doing behind me. Finally, an incredibly nice woman in a Jeep pulled over and drove me to my destination in town; the library.
I jumped out of her car, thanking her for the drive and good conversation, then entered the library to take care of some errands. The black cat, Pete, that runs the library, or at least he thinks so, greeted me at the front counter. After I paid my dues in scratches, he graciously allowed me to enter and get some work done. Such a cute cat!
After my work was done, I stopped for lunch, then made the long walk to the hotel. I checked in, showered, and rested, still recovering from this cold. Still nothing from my friends!
Finally, at 3pm, my phone went off again. I jumped out of bed and grabbed my phone. It was Free Bird! We're at Jess's car and we'll be at the hotel soon.
Whooohoooo!!! They're ok and they made awesome time! Once they arrived, they showered, we all caught up, then went out for dinner that night. Much relieved, I will sleep well tonight.
Day 76 (11:10am – 5:30pm, 12 miles)
After our little adventure as NOBO hikers, we are ready to continue on our SOBO journey! We have several people we are trying to catch up with now, so we're ready to start logging some BIG miles!
We all ate breakfast together, packed our gear, and head on our way, driving back to Cheshire, MA. Jess pulled in and parked at the exact same place we were dropped off at by Dan a little under 1 week ago. We took one last picture with her before we said our goodbyes, and Free Bird and I were on our way.
Today, per usual, we will start climbing up a mountain. Why not!? The packs are at their heaviest again, let's start going up hill!
We summited The Cobbles and enjoyed a gorgeous view overlooking Cheshire, MA. We were able to look back and see where we had been several days before, specifically noting the top of Graylock Mountain in the distance.
We took in all the view we could get, then continued on our way. Later today, we will be hiking through Dalton, MA and, if we hike fast enough and there is time, we can stop in their local bar for some food and a beer or two. We are on a mission!
We eventually arrived in Dalton, plenty of time to spare, and made our way through town. Along the way, we passed an old historic site. That was pretty neat to see!
As we continued through town, walking for blocks, still following the AT, we crossed Gap sitting on a grassy hill taking a break. He's planning on heading to the same shelter as us tonight! That's one person we caught up with! Several more to go!
We stopped at Jacob's Pub and had a small snack and a beer, chatting with some locals. They had a small logbook for thru-hikers to sign, so we read through, enjoying learning that some people we had met along the way, had made he same choice as us stopping at this bar for a snack!
After we were fed and our thirst quenched, we donned our packs once more and pressed on towards the shelter; the Kay Woods Shelter.
Just as we were exiting Dalton and entering the woods once more, we ran back into Rabbit! He had a friend that had hiked with him for a day or so and was saying goodbye to her before he continued on his way. He, too, plans on staying at the same shelter as us! Tonight will be a fun night!
We caught back up with Gap, passing him as we neared our destination. Finally, the sign for our shelter emerged, and we arrived at the Kay Woods Shelter. There was already a tent set up and behold! It was Marshmallow! Whohooooo!!! We've now caught three people!
We all settled in for the night, cooking ourselves dinner, laughing and joking until the sun dropped. It is so good to be back with our trail friends again! What a great group of people! We all quieted down and snuggled into our sleeping bags, ready for a good night's rest to help us tackle the day tomorrow. We still have a few more people to catch!
Day 77 (7:50am – 5:30pm, 20.3 miles)
As the sun rose this morning, we all slowly woke, crawling out of our warm cocoons to brave the cold morning air. We did our morning routine of dressing, packing, cooking, and eating, and were ready to start our day. Today may be the last time we see Marshmallow because we are planning on logging some BIG miles going forward. After doing some calculations, in order to be done with the ENTIRE AT before the end of January, we have to do at least 15 miles each day. So here we go!
We hit the trail and took off running. Well, not literally running, but averaging somewhere between 3-4 MPH. Not too shabby.
As the temperatures are dropping, we are really starting to see the fall colors pop! Walking through archways of orange and red, fields with hues of yellow and green, the color pallet that surrounds us is stunning around every weave and turn.
As we enjoyed these views, Free Bird had one goal in mind; get to the cookie lady! Today, we will enter a road that leads to a husband and wife's home where they take in hikers, bake them cookies, and perform other trail angel duties! We are off to the races to get there!
As we hiked and hiked, doing our best to find the cookie lady, we finally arrived at the road! We found the driveway and walked up to the home. There, at a gorgeous picnic table, sat Sas and Supertramp! Two more people caught!
We learned from them that the cookie lady was not home and the husband was ill, but we were still welcomed to stay and eat lunch. Oh no! Sorry to hear that the husband was not doing well, we decided to stay outside and join our friends for a bite to eat. Free Bird was bummed there were no cookies, but we enjoyed the sunny spot and took a nice break. Rabbit was quick to join us and we all chatted and caught up.
After our lunch, Free Bird and I were ready to press on. We said goodbye to our friends, certain we'd see them again, and started to head for the trail. The others remained behind to continue to enjoy their break.
We started by walking down a gravel road. This is nice! We chatted and laughed as the trees were a blur alongside us. Suddenly, I got the sensation we were off trail.
"Are we still on trail?" I asked Free Bird.
"Yea. I saw a white blaze not long ago."
Ok, maybe she's right. But I still had that nagging sensation we were going farther off trail.
We continued to follow the road, but now I was actively hunting for that ever trusted white blaze. Nothing! That nagging feeling was growing stronger. I pulled out the map and compass. We were heading in the right direction, but should have turned left a while ago!
"I think we're off trail." I told Free Bird, now feeling a little more certain we were off.
We both consulted our maps. "No look, I think we're right here," she said pointing to a spot on her AWOL Guidebook. "We've only gone ¼ mile."
It feels like we've gone longer than that! But maybe she's right. So we continued following the road. Still no white blaze to be found.
A few minutes later, I was done! WE ARE OFF TRAIL! I could ignore the red flags no longer! I stopped immediately, dropped my pack, turned on a dime and hollered over my shoulder, "You wait here. We're off trail! I'm going back to find the last white blaze then I'll come get you."
I ran back down the road. Wow we've gone far! This is definitely more than ¼ mile! I ran and ran, and walked, and ran. Finally, I saw a small opening in the brush on the side of the road. There was a tiny white blaze above it. Well there's the last white blaze. Where the heck is the trail!?
I stopped to inspect the opening in the brush, and there, tucked amongst the branches, barely visible, was the double white blaze and a sign indicating this was where the trial turned; almost back where the road started I might add! At least I found the trail! But I'm fairly certain we went at least ½ mile off trail!
I ran all the way back to Free Bird and my pack and informed her I found the trail and we were, indeed, off trail. As we started back towards the trail, I saw Rabbit approaching us. Well, this will be the second time he thinks we're going the wrong way, only this time he's right!
"Oh no! Why are you two going the wrong way again!" He shouted to us.
"Turn around Rabbit. We're all off trail. There's a tiny turn we all missed back close to the other road," I hollered back.
"Are you serious!" He dropped his head and turned, and we slowly lugged our gear all the way back up the gravel road until we could see the road the cookie lady's home was on. Then we made the turn into the brush to continue on the AT. Oh well!
So far today, we were disappointed with no cookies, walked a total of 2 miles off trail (counting the down and back I had to do twice), but it's ok. We have another exciting moment that will, hopefully, not fail us.
Two and a half months ago, we drove from Rochester, NY on our way to Millinocket, ME to start this adventure. Along the way, we had crossed under a bridge on I-90 with the road sign reading Appalachian Trail. I had pointed that out to Free Bird and we have been waiting to cross that bridge ever since. Today is that day! We will cross the bridge we drove under all that time ago! Sometimes it's the little things you have to celebrate.
So on we pressed, now looking forward to that bridge. We passed by ponds and mountains, only stopping for quick pictures, and played hopscotch with Rabbit all day. Due to our little detour, Sas and Supertramp were ahead of us, or so we thought.
We continued to walk through the woods, turn after turn, as we started to hear the low rumble of cars in the distance. I-90 is coming up! We're getting close! We picked up our pace and the sound of traffic grew louder. Finally, we could see the highway! We were there! Two and a half months of waiting and we were finally at our bridge!
I don't think there has ever been a time I have been so excited to see that road! Excited to have finally reached this mark, we had a small celebration and continued on our journey. Earlier that day, we had decided, even though it was 0.5 miles off trail (usually WAY too far off trail for us to even consider), we would stay at the Upper Goose Pond Cabin that night. Why? Because they had free pancakes and coffee in the morning of course! THAT made it worth the 0.5 mile hike in! Rabbit was also convinced, so after a nice long snack break, we all head for the finish line to our long, half disappointing, day. At least we will end on a good note!
We arrived at the sign that told us we only had 0.5 miles to go, and made the turn. Almost there! Finally, we walked up the last few steps of the porch. We're done for the day! I eagerly dropped my pack to the floor with a huge THUD as the caretaker greeted us. Surprised by the sound my pack made hitting the ground, he looked at me and said, "That's it, we have to weigh that pack right now!"
I looked at him, somewhat stunned, and warned him about the weight as he tried to lift my pack.
"How much does this weigh?" He asked as he jolted it up into the air.
"I'm not entirely sure but the last time it was weighed it was 55 pounds. I'm sure it's a bit lighter now though."
He placed it on the scale. "43 pounds!" He hollered with a tone of astonishment in his voice.
"43 pounds!" I shouted with glee! "That's the best it's been yet!"
"I can't believe you are carrying that much weight!" He exclaimed as he dropped my pack back on the ground, eyeing me at the same time. He looked me up and down, trying to figure out how someone my size was carrying, what he believed, to be a huge amount of weight.
We all laughed and introduced ourselves. His name was Platypus and his brother and nephew were helping him run the place for a few days. Shiver and River (two NOBO sectioners) were already checked in and introduced themselves as well. We secured our bunking for the night as Rabbit and Sas arrived.
Platypus presented us with a piece of paper with names of all the other hikers that had come through in the last few days. As we scanned the document, looking for those we knew and were trying to catch, a few stood out; Tangle, Speedy and Whisper, and Centaur and Smuggler. They were all only there a few days ago! We're getting closer!
Everyone got settled in their bunks, cooked dinner, laughed and chatted. But where is Supertramp? Sas informed us she could not convince him to make the extra 0.5 mile push to the shelter, so he decided to stealth somewhere on the trail. We may see him tomorrow. Oh well. It's a shame he'll miss the banter and free pancakes and coffee of course!
Fed and ready for bed, with plenty of time left in the evening, I decided to take advantage of the lakeside view.
I walked down to the dock and layed on my back, now with night's dark blanket covering the skies, and watched the glittering stars. With no city lights to hide them, all the stars glittered and shone with brilliance, the Milky Way clearly visible as well. I thought of the summers I have spent laying in the dock at Indian Lake with my love, Frankie, missing him as I lay alone in the middle of Massachusetts. But it's ok. In a few weeks, we will be in Stormville, NY, where my Dad will pick us up and take us back to his house in NJ for the weekend! Then, Frankie will come down and I will see him for the first time in 3 months! I can't wait!
We are back to being SOBOs again and are off to catch more trail friends.  Come race with us as we push bigger miles, brave the cold, meet new friends and become reunited with loved ones.  More to come as we continue our journey towards Georgia!
Happy Hiking!
If you are interested in assisting in my dream, click here to help!
Affiliate Disclosure
This website contains affiliate links, which means The Trek may receive a percentage of any product or service you purchase using the links in the articles or advertisements. The buyer pays the same price as they would otherwise, and your purchase helps to support The Trek's ongoing goal to serve you quality backpacking advice and information. Thanks for your support!
To learn more, please visit the About This Site page.