Week 13 – Stormville, NY to Lakeside, NJ
We are moving through the states relatively quickly and will be seeing my family several times over the next few weeks!  Looking forward to seeing everyone, having some days off, then getting back to the trail!  Still aiming for the end goal, but meeting new people and building new friendships along the way!
A little side note about my last post:
There are two people in particular that we got the opportunity to see while on our adventures last week, that somehow, I managed to momentarily forget and neglect in my post!  Yuuup, Dori is a perfect trailname for me!  This was certainly not intentional!  Sometimes there is so much going on, that I forget some important pieces.  To me, this was one of those important pieces that I feel needs to be mentioned!
While on our short visit with my old guitarist, Dan, we were able to stop in and see his mom and step dad!  Being friends with Dan for as long as I have been, and really feeling like his long lost twin, I have come to know his Mom fairly well over the years.  I COULD NOT WAIT to see her before we left to hit the trail again!
As we walked into their home, she greeted us with the biggest smile across her face and we embraced in a big hello hug.  Dan's stepdad, Eric, came around the corner and quickly asked with a huge smile on his face, "Hey Dori!  How's your ankle feeling?  Oh and let me see, did you recover from that sinus infection?  Oh and did you get new tent poles?"
I was stunned! He knew and remembered all the little details from the posts I had made previously about our adventures and mishaps!  I love seeing others enjoy our adventures as much as we do!  We happily sat and chatted for quite a while and learned that years previously, Eric had also tried to do the AT.  Don't give up Eric!  Maybe you too, one day, can do part or all of the trail!
I could have sat and chatted with them all day long, but alas, we had to say goodbye and leave for the trail.  I extend my biggest, most sincere, thank you to these two wonderful people for spending the time with us, chatting and laughing, and my most sincere apology for forgetting to bring up this joyous reunion we had before we hit the trail once more.  It truly was a highlight of my day to get to spend time with them both and I look forward to seeing them again when we are done with our adventure!  Now back to the story . . .
Day 85 (7:49am – 1:30pm, 11.8 miles, 42 degrees)
Today, my dad will be picking us up from the trailhead leading to Stormville, NY!  He'll take us back to his house, then, later tonight, my Mom and my love, Frankie, will be joining us!  I CAN'T WAIT!  But first, we have to hike some miles.
So we woke early this morning, and took off for the trail.  The weather today is a little better and a little warmer, but the water scenario is not really improving, despite the recent rain we've had.  We have a few miles this morning before we reach a reliable water source; a lake!  But I have enough water to get me there, so I should be ok.
We finally arrived at the water source, and decided it was a good spot to take a snack break while I filled my water bottles.  We sat against a tree, our snacks spread all around us, enjoying the warmth of the sun.  After our short break, we were back to the trail once more.
We chatted and joked, laughing along the trail, our spirits a little higher (since we would be taking a mini vacation with my family for the weekend).  Roughly half way to the trailhead, we approached the Morgan Stewart Shelter, where we planned on having lunch this afternoon.  A man was scurrying around, his belongings spread throughout the shelter as we sauntered up to the shelter.
We introduced ourselves and learned that he was a NOBO, Patrick, that was unsure of his ending point.  We didn't stay long, simply eating our lunch and chatting some more with Patrick, then continued along our way.  Just before we left the shelter, I noticed a sign on the side, indicating the mileage to different landmarks along the AT.  We have less than 1500 miles to go now!  While it may still sound like a lot, to me, it is exciting to creep closer to 1,000 miles to go!  It's the little celebrations that keep you going out here!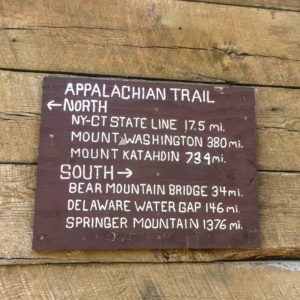 On and on we trotted, through the woods, over hills, and past a beautiful pond.  The musical sound of ducks conversing and other birds singing rang through the air as the trail meandered around the large pond.  The views of the pond were endless.  We made our way through the trail, seemingly unnoticed by the residents at the pond, until the trail started to lead us away from the small haven.
We were getting closer and closer to the parking lot where my dad would be picking us up around 1:30, and the time was starting to speed up, or so it felt.  We still had a few miles to go, and no time to waste, so I picked up the pace.  I started to take the lead, and was moving fairly quickly, and somewhat quietly, through the woods.  The white blur of white tailed deer bounded left and right as I sped through the woods, following the winding trail.
Finally, I approached an AT stand, where small paintings, done by local school children, were posted of the local wildlife.  I took a brief moment to enjoy their artwork, then arrived at the parking lot with time to spare.  Ratatouille was not far behind.
We unloaded our gear, changed into somewhat cleaner clothes, and sat happily, munching on our few remaining snacks, waiting for my Dad to arrive.  I watched the road as we chatted, and suddenly, there he was!  He had passed the entrance to the hidden parking lot and was pulled over on the shoulder.  I was about to go down to the road to wave him down, when he took off down the road.  Oh well, he must be turning around.
We quickly packed all our gear, knowing he would be back soon.  A few minutes later, I saw his truck again heading down the road.  I popped up from the rock I sat on, and did my best fast pace waddle down to where the parking lot met the road.  You see, since we have been hiking for almost 3 months, we have both developed something called the "hiker hobble".  It is the cost of overusing joints and muscles and makes us a little stiffer, almost like the Tin Man.  Just picture the Tin Man trying to run down a hill.  It can be quite hilarious!
So I waved him down, and he quickly pulled into the lot.  With jovial hugs all around, before we knew it, we were off towards NJ!   We chatted the entire 1.5 hour drive back to my fathers home, stopping briefly for food on the way, and spent the remainder of the night waiting for my Mom and Frankie to arrive.
Sitting on my dad's couch, having now completed our wash and taken a shower (which felt amazing!), my phone went off, indicating I had a text waiting for me.  My excitement was bubbling inside me, barely able to sit still, looking forward to seeing Frankie for the first time in 3 months.  I quickly grabbed my phone and read the text, as the bubbling excitement slowed to a simmer, then sank to the pit of my stomach.
I sprung a coolant leak in the car and am sitting on the side of the road off route 80.  Dad is coming to get me and take me to his house.  I will have to come back out here to get my car tomorrow after we pick up a trailer from U-Haul.
OH NO!  I could feel the tears start to form in my eyes as I quickly shunned them away.  Frankie was not going to make it to my Dad's house tonight, and it sounds like he wouldn't make it till tomorrow later in the day.  That meant we would really only get to see each other for a total of one day.  While it's at least something, that came as a HUGE disappointment to me!  But there was nothing either of us could do.  I didn't have a car, my Mom was on her way to see me as well, and we were scheduled to see my grandmother tomorrow afternoon!  Feeling like a caged animal, my mind reeled with any solution, falling short of any answers.
To make matters even worse, Frankie had my resupply!  Everything I needed for the next three weeks was with him.  I quickly texted him back, and texted my mother, making arrangements for her to stop by his parents' house to pick up my resupply on her way to my Dad's home.  I sank back onto the couch, trying to keep my mind off the recent development.  The hours slowly ticked by.
Sulking on the couch, my phone rang again.  This time, it was my mother calling.
"Hey Jamie.  I just got on route 80.  Did you want me to pick up Frankie and bring him to you?  I can do that." My mom asked over the phone.
"Thanks, Mom, but he needs to stay there," I moaned.  "He needs to fix his car tomorrow, and then will try to get here after that."
"Do you want to borrow my car and see him?"
"No, it's ok.  Thanks though," the sinking feeling starting to cause tears to well in my eyes once more.  "We are scheduled to see Grandma Carol tomorrow and I'm sure you want to see me too, so I have to stay here."
It was incredibly nice of her to try to do anything to get Frankie and me together that night, but it just wasn't seeming to work out.  I returned to the couch and chatted with Ratatouille and my father a bit longer.  The minutes crept by.
Suddenly, my brain kicked on, and I had a thought.  Wait a minute!  I could borrow Mom's car, drive to Frankie's parent's home, spend the night, and still make it back here tomorrow before Grandma Carol comes over!  I leapt from the couch, phone in hand, dialing Mom's number.  I hope she hasn't gotten to Frankie's exit yet!
"Hello," she greeted.
"Mom, did you get to Frankie's exit yet?"
"No, I'm still on 80."
Fantastic!  There's still time!  "I'm so sorry to ask this, but can I borrow your car to go see Frankie tonight?  I will be back tomorrow early afternoon before Grandma Carol comes over.  But I know you want to see me too."
"Jamie, that's fine.  Frankie comes first."  Wow what an amazing, understanding, Mom I have!  "You can absolutely borrow my car."
Tears once more welled in my eyes, this time out of joy and relief.  "Thank you so much!  I feel bad because you are coming down to see me as well."
"I'll see you tomorrow.  Frankie should come first."
Now having a plan, hoping Ratatouille would be ok being left with my parents tonight, I returned to the couch with the new game plan.  I asked if it would be ok, and Ratatouille jumped at the opportunity to be free of me for a night!  With everything falling into place, the sinking feeling in my gut dispersed and I was able to relax the remainder of the evening until my mother arrived.
With a quick greeting and some hugs, I promised to return the following afternoon and was off to Frankie's parent's home.  Well, at least I will get to see Donna and Frank!  Oh, and Turbo, the little Jack Russell that lives there too!  Less than an hour later, I was at their beautiful log cabin, Turbo ready to knock down the front door to see me, and I was greeted with lots of hugs from my other family.  It felt so wonderful to finally see Frankie again!  We stayed up late, talking and snuggling, until we finally fell asleep, back in each other's arms.  I am FINALLY home again!
Day 86 (time – endless, 0 miles, who cares degrees)
Woke this morning in my love's arms.  Being away from those you love really makes you appreciate the little things.  Forgetting the little bickering moments; arguing over blankets, or being snuggled with too early in the morning, wanting to sleep more hours.  Really just sitting back and appreciating those moments you have together, knowing they will be temporarily suspended again shortly.  Every little moment you spend together, you cherish and hold onto forever.
But eventually, we did have to get up for the day, so we pried ourselves out of the bed and joined Donna and Frank, Frankie's parents, downstairs.  Within an hour or so, Frank, Frankie and I were off to pick up the U-Haul trailer to then go retrieve his broken car.  I shared stories of our travels with Frankie, and we enjoyed each others company along the drive.  After hours of traveling back and forth, we were back at Donna and Frank's home, with car in tow, and I was forced to say goodbye, for now, and return to my Dad's home.
Later that day, Grandma Carol came over!  She is the sweetest, most enjoyable, most fun grandmother I have ever known!  Growing up, we played pranks on others together, shared MANY laughs together, spent hours at the beach, and she soothed me to sleep.  She is one of my most favorite people on this planet!  Even on the trail, I do my best to call her once each week, sharing stories with her and asking how she is doing.  Such a wonderful woman!
Just before she arrived, Frankie made it to the house and we were all, happily, together at last.  Ratatouille finally got to meet the man I had been spending the last 3 months talking about!  Shortly after, Grandma Carol pulled up and big hugs were shared all around!
We chatted and caught up.  I showed her all the pics from our trip.  Before I left for this adventure, I had made several framed maps for my father.  He had expressed interest in trying to follow us along our adventures, and since this was just as much, if not more, his dream than mine, what better way than to track us on a map!  He had hung those maps along our stairwell and was showing Grandma Carol our progress.  It was fun to see him so excited about our travels!  I'm glad I am able to share this with him!  If nothing esle, that is one thing that will definitely keep me going.  I am GOING to complete this dream for the both of us!
After studying the maps, we all went out to dinner for a round of Prime Rib.  That's right.  A ROUND!  Meaning, nearly all of us at the table ordered Prime Rib.  We ate almost an entire cow between all of us!  Hiker Hunger!
After we were well fed, we returned home for the evening, bid Grandma Carol farewell, and enjoyed the remainder of the night in each others company.  Tomorrow, we go back to the trail!
Day 87 (4pm – 6:20pm, 5.1 miles)
Today, we had one last breakfast together as a family.  After breakfast, my Mom will drive back to Rochester, NY, and Frankie will drive Ratatouille and I back to the trail head, sending us back along our way as SOBOs on the AT.
We enjoyed an excellent breakfast together, cherishing the last few moments we all had together, for now.  Next weekend, we all will be back together again, so this is not goodbye for good.  It is simply just a farewell until next week.  As we spent a little time relaxing before we needed to head to the trail, I stood on the back porch, watching the feral kittens play.  I could spend hours watching them stumble and romp around, but we had to get going.  I'll see them next week!
Before we left for the drive back to the trail, it was time to take one last photo.  Thank you, Mom and Dad, for all you have done for us and all you will be doing for us!  You are some of our most important Trail Angels!
We cheerfully drove back to the trail head, laughing, talking, and joking the whole way.  As we pulled into the same parking lot my Dad has collected us at only days prior, I started to feel a sinking feeling in my gut.  The realization that I would have to part ways with the man I loved most was starting to rear its ugly head.  We climbed out of the car and started to collect out belongings.  Since we had run into some traffic along the way, Frankie, sadly, would not be able to hike with us.  We were going to have to say goodbye here.  But first, we needed some pictures!
Keeping my composure through the pictures, the time to leave was now.  I hugged Frankie goodbye, tears streaming down my face.  I know I will see him again next weekend, but it was just SO hard to say goodbye, even for just a little while.  We embraced for a long while, before I finally felt strong enough to let go.  I hoisted my pack on my back, as he got into his car.  Tears in my eyes, I sniffled my way towards the trail, trying to keep my composure as I watched him drive away into the distance.  Tears streaming down my cheeks with each step, focusing on the trail ahead, off into the woods we went.  Eventually, the tears stopped, I will see him again soon, and the trees welcomed me back, and I once again felt at home amongst the trees and rocks.
Ratatouille and I hiked through the woods silently.  I was not mentally strong enough to try to strike up conversation and we simply focused on the trail.  We didn't have far to go to get to the shelter, but the hour was growing late, and the sun was starting to drop.  Just before the sun set, we arrived at the RPH Shelter.  There, at the table, was Centaur!  I don't know how, but we finally caught up with him!
"Hey!" we both shouted!  "Where's Smuggler?"
"He finished his section hike," Centaur explained.
Another gentleman, Bo, a section hiker, was also staying at this shelter tonight.  We all chatted and got to know one another better, then climbed into our bunks for the evening.  Tomorrow, it seems as though we will be hiking with Centaur.  Bo will be continuing his section hike, heading north, so we will part ways with him.  Who knows, maybe we'll stick with Centaur for a while!
Day 88 (8:08am – 6pm, 19.2 miles)
Early this morning, some odd sound pierced the air, just as the sun started to rise. Waking from my sleep, I attempted to figure out what this odd sounds was. Metallic, high pitched, with various notes and tunes. . . someone's alarm! Centaur shuffled around in his bunk, quickly turning off the alarm. It's ok, it was time to wake up anyways.
We, once again, collected our belongings and got ready to leave camp. Saying goodbye to Bo, wishing him luck along the way, Centaur, Ratatouille, and I all head on our way. We have a LOOONG day today!
Centaur was quickly off as Ratatouille and I brought up the rear. We're all heading to the same place tonight, so we'll catch back up with him later today. As we started our climb up the mountain, the sun slowly crept into the sky, the thermometer inching higher and higher.

We are into the middle of October and the temperatures are reaching the 80s! To avoid heat exhaustion, I was forced to, once more, strip down to my spandex and sports bra! How ridiculous!
On we climbed, up one mountain, down the next. Eventually, we summited the Shenendoah Mountain, where my critters wanted to sit by the 911 memorial painted on the rock face.
The heat was brutal and the trail was frustrating as we snaked back and forth and up and down, but on we trudged. As we walked through the woods, the color pallet burst around us, enveloping us in a living painting.
Regardless of how frustrated we may have been with the heat and difficult terrain, nature still made us feel peaceful and at home. As I walked along our path, scanning the ground below me for rocks, roots, and anything else that may be lurking below the leaves, I suddenly spotted some movement just before I placed my foot on the trail. I screeched to a halt, pulling my foot quickly up into the air, balancing precariously with my trekking poles, as a HUGE Garter snake slithered from under my foot, off the trail, and hid behind a rock. Glad I spotted that one!
As our day wound down to an end, we finally arrived at the Graymore Spiritual Life Center. Centaur, Sputnik (another SOBO), and Poke (a SOBO section hiker), already had their places under the large gazebo and greeted us as they ate their dinner. Ratatouille and I set up our tents and joined them, after taking a brief cold shower that was provided to us. After chatting and getting to know everyone a little better, realizing, again, we were heading to the same destination tomorrow, we said goodnight to our new friends and settled in for the evening.
Day 89 (8:12am – 5:50pm, 15.7 miles)
As Ratatouille and I woke this morning, everything was sparkling with a thin covering of dew. I crawled out of my tent, pulling my damp rain fly back, and started to pack up my gear. With an attempt to dry my tent before I had to pack it up, I laid the tent out on one of the picnic tables and left that for last. We all ate our breakfasts, then, one by one, we all slowly left camp. First Sputnik, then Poke, followed quickly by Ratatouille, then Centaur. I was last to bring up the rear, taking every minute I could to try to dry my tent. It did not work. Oh well!
It is going to be another hot day today, but at least the sun will be out. I hiked, alone for a while, walking across the ridge. On and on I went, enjoying the sun and light breeze, trying to stay as cool as possible, until finally, I caught up with Ratatouille and Centaur, both sitting on a rock for a mid morning snack.
After a short break, we all took off together. Only a few days ago, my life support and love of my life, Frankie, had driven us across the Bear Mountain Bridge and dropped us off for this section of our adventure. Today, we will walk back across this bridge and summit Bear Mountain! It was beautiful!
As we crossed the bridge, the trail took a sharp turn and we found ourselves walking into the back entrance of a small zoo. The trail actually goes through a zoo! We meandered our way through the zoo, looking at the various wildlife they had, and couldn't help but feel we were part of the display! Large groups of kids on school trips oogled at us, with or absurdly large packs and unclean appearance, like we were one of the exhibits. We even had plaques around the park that explained about us, the wild thru-hikers often found on the east coast of North America. We prefer a more mountainous terrain but can also be found in open fields and sometimes even homes and bars! How interesting!
Giggling to ourselves as we walked along the trail that meandered us through the zoo, we came to the lowest point in the AT; the Bear Den! This is where I learned that Black Bears can actually be cinnamon in color as well! That's not confusing or anything!
After enjoying the zoo to the fullest of our capabilities, we continued on our way. It was feeding time for the wild thru-hikers and you don't want to see us when we're hangry! So we head for the Bear Mountain Lodge where we planned to enjoy a nice lunch and, perhaps, some ice cream as well!
Ratatouille and I found a nice tree to sit under, but even though we were now free wild thru-hikers, escaped from the zoo, we couldn't help but feel like we were still on display. The hoards of people around us stared at us as we spread our tents across the sunny lawn to dry. We ignored their stares and ate our lunch, and found some delicious ice cream to enjoy as well! Eventually, Centaur managed to find us amongst the crowd. He started up Bear Mountain long before we did. We lingered a bit too long enjoying the sun and our meals.
It was finally time to tackle the mountain. This section of the trail is, by far, the most frustrating! It had to be the most convoluted section of the trail! Either the people that designed the trail were trying to send messages to the gods, or they just enjoy torturing us with trails that send you full circle. But I've done this section of the trail before, earlier this year in fact, and it's no big deal. So off we went. At least the views were gorgeous today! But it is one hot day for sure!
Bear Mountain, I should add, is one large tourist attraction. At the base of the mountain, they have an area that educates the public about the AT and the wild thru-hikers. They even have examples of the various terrain we cross that children and adults alike can walk across to get a sense of what we feel out on the trail! It was quite interesting actually! As we made our way to the top of the mountain, we became celebrities for the day, with loads of people staring and smiling as we passed, some giving us big thumbs up or talking amongst themselves, admiring what we were doing.
As a thru-hiker, you experience both sides of this spectrum. People either look at you with admiration for the enormous feat you are attempting to complete, or they look at you with sustain and disgust because you are a smelly/dirty hiker that is obviously out here because you don't want to work. Or at least that's what they think!

But that aside, we made it to the top of the mountain and bid our fans farewell as we continued on our journey. No sign of Centaur yet, but we are planning on going to the same shelter, so we'll see him again soon!
As we hiked and hiked, our feet becoming sore, we still had a ways to go. Our spirits were dropping fast, as we recognized we were zigzagging meaninglessly through the woods. The sound of a busy highway started to leak through the forest, becoming louder with each step we took, until we found ourselves looking at the Palisades Parkway. But there was a major problem. There was no way to cross!
So, today, I did the most dangerous thing I've ever done in my life; crossed a major highway on foot; twice! During rush hour! Are you kidding me! We had to sprint across the road with full packs to avoid getting run over by angry drivers blaring through at 60-80 mph! Insane! Nothing makes me happier on a hike then trying to play Frogert across a major highway! Ugh! But luckily, running with full packs, pretending we were deer, we made it safely across on the other side. Why did the wild thru-hiker cross the road. . ?
Now thoroughly frustrated and ready for our day to be over, we placed one foot in front of the other as we pulled ourselves up the last mountain of the day; Black Mountain. The sun was dropping quick and we were getting closer to the shelter. Just as we summited Black Mountain, coming around the corner, there was Centaur, sitting on a rock, smiling at us.
"Hey! I was hoping I'd see you guys here! Do you want to camp at the top of the mountain tonight?"
Without skipping a beat, or taking any encouragement I might add, we instantly agreed and thought that was a fantastic idea! He had waited for us for a long time, after all. We couldn't possibly turn him down! So we set up camp, and enjoyed a wonderful meal, with the most beautiful backdrop we could ask for as the sun dipped behind the mountains. What a fantastic end to a long and frustrating day, spent with good friends! After enjoying the stars and chatting for a while, we snuggled into our individuals tents for a well deserved rest!
Day 90 (8:15am – 5:30pm, 15.9 miles, 80 degrees)
It was a little windy last night, but we all stayed warm through the crystal clear night. Centaur beat us out of camp again today, so Ratatouille and I hiked together through the rocky cliffs for most of the day.
We spent most of today walking ROCKY ridges. Not rocky in the sense that they were big boulders that were easy to step on. But rocky in the sense that they were jagged, slippery, dangerous boulders that were like walking across a knife's serrated edge. When we're not traversing across the serrated edge of a knife, we're dancing and tumbling across the leaf covered pebbles that like to roll beneath your feet like marbles on ice. Let's just say today was filled with tons of slips, luckily no falls, but my ankles are sore and tired as we skied down the mountain! New York is trying to beat Maine in its rough terrain!
Though the terrain was difficult, the views were stunning. We made decent time as we danced across the ridge. Up until we got to the Lemon Squeeze that is!

The Lemon Squeeze really lives up to its name! It was a tiny section of bouldery, rocky, trail that I had to remove my pack to really squeeze my way through! After inhaling, holding my breath, and making myself as thin as possible, I turned to see Ratatouille walking down a different, MUCH easier, way. Ha! Well that wouldn't be the first time I took the hard way!
Eventually, we came upon our sole water source for the day. Centaur was already there, filling his water bottles. As we dropped pack to do the same, being wary of the River Guardian, we decided that would be a great place to camp for the night.
After setting up camp, near the Mombasha Road, we decided to clean up in the river a little. Ratatouille graciously checked me for tics as well, since I had seen one IN MY TENT that morning! Yup, that's right! IN MY TENT! I pulled my shirt over my head so she could check my back, leaving my arms still in the sleeves. Once I had the all clear signal, I went to pull my shirt back over my head. But something went wrong. I wriggled and fought my way back into my shirt, finally able to pop my head through the hole, just in time to see Centaur, jaw dropped, staring at me.
"What is going on over there!" He managed to get out between bursts of laughter.
Slightly embraced at my clumsy attempt at smoothly redressing myself, I laughed and explained to him, rather simply, that I had gotten stuck in my shirt! "I'm just here to provide you with endless entertainment!" We enjoyed a good hard laugh together as I went to try to hang my bear bag.
So, I say try to hang my bear bag because, well, it was successful, eventually! But it took a LOOONG time! I had found the perfect spot, and had my rock tied to my string. Toss after toss, I threw that rock, trying to get it through the crotch of the tree. First toss, BANG! I hit the tree. Ok, let's try again. Second toss, straight up in the air as I ran for cover so it didn't hit me on he return flight down. Ha! That was a good one! Third try, like a bullet straight at the tree. Not even close. And so on and so forth until I managed to get the string, oh and the rock, stuck on a tiny little branch on another tree! Ahhhhhhhh!
I slowly problem solved my way through this one, really not wanting to cut my string, and VERY determined to get it freed. I pulled and tugged, walking all over the place trying to free it from different angles, to no avail. Ok, now what? I could hear the snickering coming from Centaur's direction as I decided to start climbing the tree like a Hawaiian native climbing a palm tree for coconuts. As I neared the branch, somewhat stunned that I was even able to get that far, it occurred to me that I would have to hold onto the trunk with one hand, and try to free my string with the other. That's not going to go well! So down I jumped. Let's think of something else!
I studied my dilemma, as Ratatouille encouraged me to give up and Centaur continued to laugh hardily from afar. Finally, I figured out what the hang up was! With a well placed flick of my wrist on the string, POP! It was finally freed! Now all I had to do was get the rock through that darn tree.
I went back at it for a little while until finally, GOAL!!!!!' I got it through the tree! Arms up like I was celebrating a Stanley Cup overtime goal, I looked around, realizing I celebrated alone, and finished hanging my bear bag. Again, at least I am good entertainment for those around me! You're welcome Centaur and Ratatouille!
After everyone exercised their stomach muscles, laughing their fool heads off at my misadventures, sarcasm, and jokes, we all snuggled into our tents for another good night's rest. The three of us are really having a good time on the trail together. I'm glad we've been able to hike with Centaur and get to know him! The trail creates these wonderful friendships that will last for a long time! The trail provides!
Day 91 (8am – 3pm, 15.2 miles)
Today will be our last day hiking with Centaur, at least for now. We will be getting picked up, once more, by my Dad. Then Frankie and my Mom will be joining us at his home, and we'll take a few days off once more. We'll see if we catch back up with Centaur when we return to the trail!
Today will also be our last day in NY!! Whohoooooo!!!! Excited to get going, we said goodbye to Centaur and took off down the trail. We continued to struggle our way through the rocks as the trial wound us back and forth, making sure we went over every single rocky outcropping possible. With each dangerous step we took, I continued to mutter under my breath, as I stood on top of a precariously perched boulder, looking at a gloriously smooth trail off to my right. What!!? There's a trail that goes around this nonsense!? Oh well, too late now!
Up and down the ridiculous rocks we went, enjoying some of the views along the way, until we finally crossed into New Jersey. The critters and I dropped pack and took a moment to rest. Ratatouille quickly followed suite!
After our brief rest, we realized we had to boogey to get to the road in time to catch my Dad. So off we went, racing across the tops of the mountains, down the ridges, and through the woods, until we reached the road at exactly 3pm! Dad would arrived any minute so we quickly changed, ripped our boots off our feet, and were ready to go just as he pulled up.
On our way back to his home, I suddenly saw a sign emerge on the side of the road. Belleville Creamery! Two women had told us about this place several weeks ago, highly recommending we stop for ice cream there!
"Look! Belleville Creamery!!" I shouted like a little child seeing Disney World for the first time.
My Dad quickly pulled into the lot, laughing at my innocent excitement at something so simple as ice cream! We stopped and enjoyed fantastically delicious ice cream and enjoyed the gorgeous view.
Later that night, we were all warm and comfortable at my Dad's house. My mom and Frankie had arrived. We sat on the couches and watched marathons of Halloween Wars until "hiker midnight" hit, and we all retired to our nice, comfortable, beds for the night. What a relaxing way to end a frustration section!
We are once again amongst loved ones and in a nice warm home. What adventures are next to come? You'll just have to wait and see! Until next time, my loyal readers. . .
Happy Hiking!
If you are interested in assisting in my dream, click here to help
Affiliate Disclosure
This website contains affiliate links, which means The Trek may receive a percentage of any product or service you purchase using the links in the articles or advertisements. The buyer pays the same price as they would otherwise, and your purchase helps to support The Trek's ongoing goal to serve you quality backpacking advice and information. Thanks for your support!
To learn more, please visit the About This Site page.