Week 2 – 100 Mile Wilderness, Monson, and off to Caratunk
Our adventures have begun and my feet are feeling a new definition of pain!  Maine has certainly proven itself as a force to be reckoned with!  Let the adventures continue!
Day 8 (6:50am -4:50pm, 12.8 miles)
Today is a big day for us!  We summit White Cap mountain today (along with 3 other mountain tops)!  Gorgeous day for a hike.  We started our day up, up, up and away!  What a view at the top!
After taking in the view, on we moved.  We summited a few other mountains and forded our first river.  With the major drought affecting most of the east coast, the major fords are now ankle deep trickles.  But ford we did!  It felt amazing!  I eagerly dropped pack, toar off my boots, put on my Keen water shoes and off I went.  No problem!  We set up camp tonight at a stealth campsite next to that river (west branch pleasant river).
Blisters are gone for the most part but legs and feet are tired and sore! It seems as though my trail name will end up being Shortterm (thanks Adam)! Otherwise quite evening with not much to report through the long day.  Starting to get my hikerlegs
The NOBOs we crossed today (the ones I got trailnames for at least)
Otis (awesome NOBO that chatted with us for a while)
Brawney
Day 9 (7:10am – 6pm, 11.6 miles)
Broke camp and headed for several other peaks today.  Today we summit roughly 8 peaks (4 official mountain tops).  Some of the trail was incredibly steep today!
Along our way, we met a couple NOBOs.  When asked my trail name, I replied with "Shortterm".  Ron John, one of the two NOBOs, looked at me funny so I explained my name, stating simply, I had memory problems.  He laughed and replied "Oh no.  Your trail name should be Dori!" Ha!  So it seems I may have donned a trail name after all.  We'll see what other thru-hikers think!
Got the chance to chat with a group of 3 guys hiking the 100 miles wilderness heading north. Joked around with them for a bit at the top of Third Mountain.  Good group of guys!  The trail was super busy today! At least 3 Boy Scout troops and a few other large groups, one large enough to take up Third Mountain!
We traversed a few more mountains and took a break at one of the peaks, staring off into the clouds.  I can't remember the last time I was able to do that!
As our day neared an end, all we needed to do was find the sign that pointed us in the direction of our resting place, Cloud Pond lean-to, 0.4 miles off trail.  We got closer and closer, but no sign!  Where the hell is it!  My feet can't take much more!  Finally,  distraught, tired, and achy, I plopped down on a rock, dropped pack, kicked off my boots, and elevated my feet dead center of the trail.  Ah, that's better!  After a brief rest, with our spirits a bit lifted, we continued our search for the elusive sign.  Finally!  Behold our sign!  Only 0.4 miles to go (feels like an eternity at the end of the day).  All the tent sites were full as we damn near crawled into camp.  We were forced to stay at the lean-to that night which I was sorry to say was trashed from some previous guests.  Oh well. Two more nights till Monson!
The NOBOs we crossed today (the ones I got trailnames for at least)
Day 10 (6:50am – 5:10pm, 12.6 miles)
We left our campsite this morning completely grossed out by the pond water.  Even after we filtered it, the water had a nasty taste to it, so we were set on getting to the next water source!  After hiking roughly 5 miles, we were ready to refill our water and take a break for my aching feet, and we passed a lone man.  
"Hey, are you guys southbounders?"  he shouted at us as we got close to his tentsite.  
"We are! What about you?"I hollered back.
"I'm a southbounder too!"
WHOOOHOOO!!!! Our first SOBO!  We were overjoyed!  His name is Damian (also known as Tree Native).  He's a 39 year old guy with a couple kids and has 60 days to travel as far south as possible!  I introduced myself as either ShortTerm or Dori, and he felt Dori was a much better fit.  So my new trail name is Dori!  He has joined our party and we are now hiking together.  He will most likely stay with us for a while.  
We forded another river today.  There was a rope across the river, and Damian was curious about its purpose, so he attempted to use the rope as off he forded.
He made it safely across but boy did that pack get close to the water!
We found a great place to stay tonight.  We stealth camped at the top of the Little Wilson Falls.  Gorgeous spot in the woods as we walked across the top of the stony waterfall.
The feet are still a bear but starting to feel a little better.  The miles are getting easier to do.  Lots of stories shared today between the three of us.  Last night in the 100 mile wilderness!  To Monson tomorrow!
Day 11 (7:10am – 1pm,  6.5 miles)
We have packed up our gear this morning and are heading to Monson! We took a brief break today at one of the lean-tos where we ran into a bunch of northbounders and some section hikers.  I got to chat with Josh regarding the pain I had been struggling with in my feet (he was a wealth of knowledge and a pleasure to speak with), and chatted with Dark Water (a NH native who shared the same love of the White Mountains as I).
Tonight, we stay at the Lakeshore House.  
As soon as we arrived, we met Peaceful and Arnery (Carrie), two great emoployees at the Lakeshore House, I showered, then went to get some food.  HMMMM,  home cooked meal from Pete's Place!  Delicious!  
I ate an entire piece of Lasagna, a salad, and two scoops of ice cream!  I'm not sure I've ever eaten this much in one sitting! At the hostel, we met Marshal and fiddle, two other NOBOs that were taking some zeros in Monson, and Frank, another SOBO!  Frank had been layed up at the Lakeshore House for several days due to some injuries.  
After getting settled, I sat down and opened up the loaner computer.  Dun dun duuuuuuuuuuun, time to see if I passed my board exams!
Side note:  I had left so late in the season to begin this little adventure of mine so I could take my PT board exams to become a licenced physical therapist.  I literally left the DAY AFTER the exam.
So, now was the breaking moment.  Did I pass or not.  . .
I PASSED!
I let out the loudest cheer and all of our new hiking friends cheered with me!  I was official!  Some time later, Marshal walked by with a beer in hand, handed it to me, and said congratulations!  What an amazing gesture!  Peaceful shared a beer with me later that night as well, to continue the celebration!  What a great group at the Lakeshore House!
Later that night, we were joined by a flipflopper, Sivy, who was heading towards Katahdin.  Damian is still traveling with us, so the three of us walked around town, had a great dinner and some drinks, and resupplied where needed.  This is a great town and a great first stay at a hostel on the AT.  The Lakeshore House is definitely setting the bar high for the hostels to come!
The NOBOs we crossed today (the ones I got trailnames for at least)
Gray Blaze
Dutch
Josh
Dark Water
Marshal
Fiddle
Veggie Man
Day 12 (time = whatever, 0 miles)
Today we took a zero day in Monson.  The company was great, no one was leaving to start their hike, so we all hung out together.  I took some time to look at Frank's injuries and found an ace wrap in a hiker box (great place to find free stuff) and gave that to him.  I showed him how to wrap his injury and provided some advice, strongly recommending he stay with us the one more day to let it heal.  He did take another zero day with us, which was great for his injury, and he is fantastic company!
We also met a few other SOBO's, Whositwhatsit and Hobbit.  These two will be hiking as far south as they can up until September, when Whositwhatsit will have to return to his teaching position.  They are a blast to hang out with!  We played some crazy dice game they called Womp Womp, and just hung out a chatted for a while.
Frank has some great stories as well!  During our conversations, at one point, he was expressing his frustration with self centered people, one of the reasons why he stepped out into this 2,200 mile trek through the woods, and stated he always wanted to ask them, "What does the universe look like, from the center!"  HA!  Great question!
Among sharing stories, I spent the day watching movies with Frank, ate more food at Petes place and at the pub attached to Lakeshore House.  Arnery made some pies for the pub, they were fantastic!  That night, the Lakeshore House had a huge party and the staff was running around like crazy trying to take care of us thru-hikers, as well as the guests downstairs in the pub.  We tried to stay out of their way as much as possible, and I went out and bought them a case of beer (with Frank's assistance as well).  They were such a great host for us, and such a fun group of people, that I had to say thank you some how.  
I cannot say enough good things about that hostel and the staff!  It felt like a home and I was just living with roommates I got along with.  Lots of great thru-hikers and staff and lots of laughs and fun.  It was definitely hard to leave them!  They have set the hostel bar high!
Day 13 (8:15am-2:55pm, 9 miles)
Left Monson today after a full breakfast from Pete's Place and a generous ride from Arnery from Lakeshore house.  Carrie, Damian, and myself all left together.  Marshal and Fiddle were the first to go today.  They continued their northbound adventures at 7am.  Whositwhatsit and Hobbit left a little before us heading south at 7:30am and Frank left, chasing after us, at 9am.  This group has been a really fun group to hang out with and we will miss everyone!  Safe travels to all of you!
Tonight, we are staying at the Horshoe Canyon lean-to.  The three of us got to camp early, and Carrie had carried one of our last beers the entire way, so we found a nice river, and placed the beer in he river to keep cool for dinner.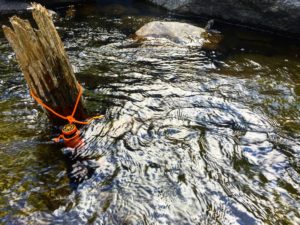 We put our feet in the water, and I took a nap on a rock sticking out of the water.  After a while, we became hungry, as all three of us cooked dinner on the rocks by the river.  As we cooked, we all wondered how Frank was holding up and if we would see him again tonight.   Suddenly, as we were cleaning up our dishes after we ate, we heard a sound on the trail behind us.  It was FRANK!  We cheered and told him we'd meet him up the hill at the lean-to. 
After we all cleaned up, we traversed back up to the lean-to.  As we got up there, Carrie handed Frank the beer.  We had decided as a group he was much more deserving of such a treat, and as she handed him the nice cold beer, his eyes lit up like a kid in a candy shop.  With a giant grin ear to ear, he downed that well deserved beer.  It feels good to hand out trail magic!
Tht night we had many laughs with Frank and shared many stories.  We asked how Frank's hike had gone, and how his injuries were doing.  "Things are still twitchy but I think it is getting better," he stated.  "But you know, I was hiking along, and I heard this clink clink clink.  I stopped and listened, but I didn't hear anything.  So I continued on.  Then again, I heard this clink clink clink. I thought I was going crazy.  Then all of a sudden, I see Dori's head pop up from the brush, like a prairie dog.  Then she was gone.  I really thought I was losing my mind.  Then I saw Damian's head pop up and I realized you guys must be by the river cooking or something."  We all let out a huge laugh as we had no idea he was standing there watching us!
As we turn in for the evening, my feet are feeling a little better.  We are all a little tired and we called it an early night.
The NOBOs we crossed today (the ones I got trailnames for at least)
Day 14 (7:50am-1:50pm, 9 miles)
Not much to report about the hike today.  I felt like a zombie for most of the day (I think I am still recovering from the little sleep I got in Monson) and we played hopscotch with Gray and Emily all day.  We are tenting at the Moxie Bald Lean-to today.  As we arrived, we ran into Randy, a woman that worked with an organization that was trying to purchase rights of the land in the area from the local logging companies.  Their mission is to preserve the AT and the natural habitat of that area.  What a great mission!  She chatted with us for quite some time as we set up tent and she waited for her co-workers to return from their trek, checking out the landscape.
As we were setting up camp, all picking spots very close to the water, Randy's co-workers returned and they handed us a ton of great food!  They gave us chips, grape leaves marinated in oil, bananas, apples, plumbs, and ice cold water!  What a great group of trail angels!  We happily ate these new treats and bid them farewell as off they canoed across the beautiful pond.
Later that day, Frank joined us again!  Yea Frank!  He set up his camp and we checked out the area.  Damian found a skull hanging in a tree and we determined it was a young moose skull.
Later, we found the mandible of the moose, then Damian found the entire skeleton!  It was amazing!  We are not sure why/how this young moose died, but the bones were picked clean and the entire skeleton was there!
As the sun began to set, I picked a rock to sit on by the water and watch the sun go down.
As I was looking over the water, I saw what looked like a log bobbing and floating in the water.  As I looked closer, I determined this must be a living creature!  It seems to be moving with intension!
"Carrie, check this out!"  I whispered.  We watched this created slowly float around and eventually could hear it!
Nom Nom Nom!  It was eating the greenery in the water!  But what was it!  It was still to far away to tell.  The two of us sat there silently watching, hoping it would come closer.  We silently waved the boys over and pointed out the little critter.  By this time, I had determined I thought it was a beaver.  Sure enough, it came closer and it was!
He was swimming around and eating all the greens in the water.   We sat silently and watched him dine for quite some time.  He did not seem to care we watched, as he munched and munched and muched.  Nom nom nom.  Good dinner!
What a good way to end what felt like an eternity today!  My feet are starting to feel better!  Let's hope this trend continues.
The NOBOs we crossed today (the ones I got trailnames for at least)
So that is it for round 2.   There will be more stories to come for the weeks to follow!  Thanks again for following and I hope you enjoyed this read!
As always,
Happy Hiking
If you are interested in assisting in my dream, click here to help!
Affiliate Disclosure
This website contains affiliate links, which means The Trek may receive a percentage of any product or service you purchase using the links in the articles or advertisements. The buyer pays the same price as they would otherwise, and your purchase helps to support The Trek's ongoing goal to serve you quality backpacking advice and information. Thanks for your support!
To learn more, please visit the About This Site page.