Week 5 – Rangeley to Gorham
In this week's journey, WE GET TO LEAVE MAINE!  Maine has been beautiful, very challenging, and fun but we are happy to push into another state!  Looking forward to hitting my old romping grounds; the Whites of New Hampshire!
Day 29 (6:38am – 1:30pm, 8.7 miles)
Today we head down the mountain for a short reprieve in a little Maine town called Andover.  This will be the last town we enjoy in Maine!   With only one mountain to summit, we should have a good day!
As we begin our journey today, we met a local grouse!  This particular grouse, however, refused to get off the trail.  We gave it some space, patiently waiting for it to fly or walk off trail, but it was insistent.  With every slow, respectful step we took closer, it too would step further down the trail.  As we continued this slow race down the trail, Free Bird and I gave up the race and started to overtake the grouse.  It quickly hurried off trail as we bid it fair well.
Today's weather was gorgeous!  We had some great views as we summited Old Blue Mountain!  The critters got to bag one more mountain and enjoy a brief photo shoot.
As we made our final steps down the mountain for the day,  we approached the road we would be trying to hitch from to get to town.  Walking across the road,  I saw a couple with 2 MALAMUTES!  We had heard of an Australian couple heading southbound with two Malamutes but I had not expected to catch them this soon!  Elated, since Malamutes are my FAVORITE kind of dog,  I hurried across the road and introduced myself to the nice couple. After getting to know them, Jules and Sidetrack, they allowed me to pet their dogs, Flame (the alpha female) and Husky (also known as Chewy on the trail for his boisterous talking that greatly resembles the sound Chewbacka makes from Star Wars).  The couple warned me that Chewy gets jealous and would most likely complain if I didn't focus on him, acting like a vocal subordinate, so I did my best to divide my attention evenly between the two beautiful dogs.  But of course, as soon as I started petting Flame, Ouuuwwouwwouuw, Chewy started talking and nestling his head into my lap, almost crawling into my lap like a lap dog. I was in HEAVEN!  I happily chatted with the couple, forgetting I was supposed to be attempting to hitch a ride, while I snuggled and pet the two Malamutes.  What a glorious end to a day!
After a while, I remembered that I was supposed to catch us a ride to town, so between pets, I hopped up to try to hitch a ride to town. Eventually, a man named Bill, pulled over and gave us a ride to Andover.  He asked us a bunch of questions about our travels and where we were from, and stopped to take us to Devils Den, a beautiful gorge that was off the main road on our way to Andover.  How nice!  As we continued to chat, we learned that he was going to be traveling to Rochester, NY soon for work!  WOW!  How easy it would be to hitch a ride home!  But no, I have a goal!  I am completing the AT and quite honestly,  I really am enjoying my life on the trail right now!  But I can see how easy it may be for anyone to be tempted to get off the trail!
We arrived in Andover, thanked Bill for the wonderful tour and ride into town, and checked into a small hostel called Pine Ellis.  There, we met several other thru-hikers, Rookie (a bright, friendly, and hilarious flip flopper), Disco (a young and brave NOBO), and Chicken Feet (another friendly NOBO).  After chatting with our new friends, I discovered Gray and Emily were staying at the same hostel!  WHOOHOOOO!  I popped up to their room to say Hi and chatted with them for a bit.
For the rest of the evening, we ran some errands, stopped by to get ice cream at a local parlor (one ran by a young girl named Kate!), then had dinner with everyone.  Tomorrow, we head out again, getting closer to the Maine/New Hampshire border!  Here we come!
The NOBOs we crossed today (the ones I got trailnames for at least)
Corncob
Mass
Disco
Chicken Feet
Day 30 (9:33am – 4pm, 8.2 miles)
This morning, we caught the shuttle from Pine Ellis to the trail head. Shortly into our hike, we came across a wonderful camping site with a picnic bench! That's right!  A picnic bench!  We haven't seen one of these in forever!  What a great place for a snack!  After a brief snack, we continued on our way.
Carrie and I hiked together for most of today. We chatted and laughed, sharing stories along the way. Today was one of those days when you arrive at your destination and you're really not sure how you got there. It was a great day to chat and walk through the woods.
As we chatted, we passed a group of freshman college students on an orientation trip in the woods.  How neat!  We found out they would be staying at the same campsite as us tonight.  That should be interesting!
No sign of Gray and Emily or Tree today!  We had learned along our trip from some fellow travelers that Tree may have taken a zero in town today. We are wondering if Gray and Emily did the same.  As we arrived at the Surplus Pond Campsite, we set up our tents out of the way, allowing the larger group of college students to have the majority of the campsite to themselves.  As we ate dinner that night, we sat and watched the young students scrambling, setting up their tarps and getting water.  It was quite interesting watching them set up their gear!  We chatted briefly with the leaders of the group and turned in early for the night, after playing some cribbage by the ponds edge of course.  Still no Gray and Emily tonight!  Hopefully we see them soon!
Day 31 (7:10am – 3:15pm, 9.9 miles)
We quietly broke camp this morning, careful not to wake the college students that were so respectful and quiet last night.  Today we traverse across two peaks to then arrive at the Baldpate Lean-to tonight.
As we creep closer to the ever forebiding, southern Maine, the terrain begins to get steeper and more treacherous.  We are now provided ladders and rope to help us gain elevation!
After climbing up, up and away, we got some gorgeous views at the top of both peaks of the Baldpate mountains.
With some trecherous steep slopes and bald mountain tops, the going was slow as Mother Nature once again tried to blow me off the side of the mountain.  Why is it every time I get to a bald mountain top, the winds kick up and knock me around?  We may never know.  But at least Free Bird has a warning when I'm coming up the mountain behind her.  All she has to do is wait for the winds to kick up and she'll know I'm rounding the peak!
Along our travels today, we met a few section hikers and chatted with them for a while; 44 and Tim.  Big Tom, a traveling trail angel, passed me on the way up to one of the peaks, and provided me with some much needed snacks, as mine were starting to run out!  Since I've begun this journey, the weight has been pouring off of me and it has been a real challenge to keep it on! So my snacks are precious to me and I find myself constantly eating!
As we end our journey for today, we arrived at Baldpate Lean-to.  Tree and Weebles arrived a little later in the day!  It was great to see Tree again and wonderful to spend another night getting to know Weebles!  As we chatted and caught up, Lady Bird, another flipfloperr, and The Professor, a sectional hiker, arrived and we chatted and got to know them as well.  Lady Bird did not spend the night with us, she pressed on to another camp spot.  We had heard it was supposed to rain this evening, so we all set up our sleep system in the lean-to, making sure we didn't repeat our soaking wet tent episode we have had in the past.  We all snuggled in for a long, dry, night.
The NOBOs we crossed today (the ones I got trailnames for at least)
Jonny Be Good
Tinker
Tarzan
Humdinger
Moss Man
Day 32 (8:13am – 4pm, 9.3 miles)
Today, Mother Nature did her best to blow me off the mountain.  But I'm getting ahead of myself.  Let's start from the beginning!  The first half of today I hiked alone.  As I packed this morning, I somehow managed to pack all my gear before anyone else.  Not in a major rush, I tried to sit and wait for the others, but as I sat there, I started to get cold.  So off I went, knowing the others would catch up to me shortly.
I took a brief snack break at the base of the mountain, but no one joined me.  Just as I was getting ready to put my pack on and start up the mountain, Tree and Free Bird appeared through the woods.  I had once again started to get cold, so off I went, alone again, as they settled to take their mid morning snack.
For the remainder of this afternoon, I shockingly remained alone.  I summited peak after peak with no sign of anyone from my group.  Oh well.  On I went.
As I got closer to summiting the 4th and final peak of the first mountain, (because it had so many false peaks) I began to get cold. I put on my rain gear to try to break the wind and keep in my heat. As I summited Grafton Mountain, I was tipped off by a NOBO that I would be exposed for a short period of time, the rocks were slick, and the wind was strong!  But I had no idea it would be THAT strong!
I continued on my hike, wondering when my exposure would begin.  As I rounded a corner, there it was; a bald section of mountain top with wet rocks, daring me to continue on.  The winds were already howling.  As I braved the wind and stepped from the shelter of the trees around me, Mother Nature billowed up all the force she could and she threw me sideways against a rock, then attempted to throw me head first down the mountain. I somehow managed to catch myself and avoided my demise.  Almost crawling along the exposed mountain top, trying not to lose my footing on the slick rocks, Mother Nature continued to do her best to send me sailing.  Slowly and  carefully I plodded on until finally, I dropped below tree line and had a small break from the winds.
Worried about my friends behind me, who surely were about to risk the windy traverse along the exposed section of the mountain, I waited at the Speck Pond Lean-to until their arrival.
It was not long before they surfaced and we all sat down for some lunch and attempted to warm up.  The Professor was snuggled in his sleeping bag, trying to get warm since the previous night his tarp gave way to the buckets of rain that pumled down that evening.  He managed to salvage his sleeping bag and some clothes, the last remaining dry items that would help him warm up.  Tonight he will stay here to dry.
After a while, Free Bird and I continued on while Lady Bird, Weebles, and Tree rested a bit longer.  Our next challenge for the day will be the Mahoosuc Arm.  We have finally reached southern Maine; the part of the AT everyone has been talking about recently.  What we have been told was the hardest part of Maine.
Mahoosuc arm was a CHALLENEGE to say the least! It was STEEP, slick, and dangerous! But lots of fun! We took our time.  We reached a downwardly sloped rock face and slowly and carefully began to descent. Suddenly, WOOSH!  I was sliding down the rock face, about to go over the edge for a short drop to the surface 20 feet away.  Before I could blink or think about anything, I spun myself around and flung my arm around a root nearby, abruptly stopping my deadly descent.  Wow!  That was close!  No injuries or scratches!  So on we continued, slow and steady, down the rest of our descent.
After a slow and treacherous descent, we made it safely to our campsite.  Tonight, we camp by East End, a campsite directly prior to the famous Mahoosuc Notch, the 4th hardest part of the AT.  From what we have heard, this section of trail is only 1 mile long.  But it has taken everyone anywhere from 1.5 – 4 hours to get through!  Tree, Weebles and Lady Bird join us tonight, and tomorrow we plan to start fresh with the Mahoosuc Notch!
The NOBOs we crossed today (the ones I got trailnames for at least)
Day 33 (7:45am – 5:50pm, 7.4 miles)
Today we have a fun day ahead of us! We are tackling Mahoosuc Notch!  Weebles was the first one out this morning, braving the Mahoosuc notch on hero own.  Shortly after, I somehow managed to get packed before everyone else and I was ready to go.  The Mahoosuc Notch is infamous for snagging and stealing items on the outside of packs, so I had managed to stuff everything that was on the outside of my pack, into the inside of my pack.  Sorry Mahoosuc Notch,  you're not going to get my gear today!
I paced the campsite, trying to stay warm as I waited for my trailmates to be ready to begin our adventure.  With every minute that ticked by, I got colder and colder until I couldn't take it any longer.  I had to get moving.
"I'll wait for you guys at the beginning of the notch," I hollered back as I started on my way.
As I walked along the trail, I reached a section with many large boulders.  This must be the start of the Mahoosuc Notch!  I scurried through this section and sat on a rock, waiting at the other end with my camera in hand.  I sat there, ready to snap pictures of my trail mates starting their adventures through the Mahoosuc Notch.
Free Bird and I continued through the notch, hoping that Tree and Lady Bird would join us soon.  Along we went until I came to a rock wall.  Staring up at the rock, I wondered, where the heck does the trail go?  Slowly, I searched for a white blaze until I turned, and there it was!  down pointing under the large rock i was just staring at!  Like a little overly excited child, I quickly scurried into the small cave and hollered back up to Free Bird, "OH MY GOSH THE TRAIL GOES THROUGH HERE!"
Laughing both at shock and excitement, Free Bird soon joined me in the small cave.  Soon we could hear Lady Bird and Tree approaching as we sat down in the dark.  Before I could see them, overcome wth excitement, I shouted, "GUYS GUYS GUYS!  THE TRAIL GOES DOWN HERE!"  Two smiling and laughing faces popped around the boulder, still in the light, as Tree and Lady Bird looked down to where we were.
Reunited in the dark, we all pressed on, our excitement bursting, every step and bend in the trail brining on a new CHALLENEGE.  Our trail was both rugged and steep at times, but we laughed, hooted and hollered all the way through.
Throughout our adventures in the Mahoosuc Notch, I had to remove my pack three times just to climb under two boulders, then have my bag handed to me to feed it through a small crevice. This has officially taken first place in my book of the most fun and challenging section of the AT!
We played in the Mahoosuc Notch for 2.5 hours (including the time it took us to have a snack break and talk to Furlough, only to realize we weren't done like we thought we were).  During our little chat with Furlough, she mentioned there was a trail angel up the ways handing out Snickers Bars!  But he was only going to be there for another 30 minutes.  SNICKERS!?  30 MINUTES!  BUT THATS NOT ENOUGH TIME!
As we bid my new favorite section of trail goodbye, we continued on our journey.  We felt as though we had gone 4 miles, but alas, we had only traveled 1!  We still had a long day ahead of us!  And we really had to rush to find this amazing Snickers man!
After a while of climbing, no Snickers man appeared.  "Sorry we missed the Snickers man Free Bird," I said after an hour of trudging on, just as we summited another mountain.
Just as we summited, Lady Bird emerged and shouted, "Hey Dori, guess who I found!"
"THE SNICKERS MAN!?"
Sure as can be, there he was sitting on the top of the mountain with Snickers in hand.  He introduced himself as Camo and chuckled at being called the Snickers Man.  He took each of our trail names and handed us a Snickers bar, offering to take our trash back down the mountain as well.  Wow!  Two pieces of trail majic in one!  We all happily ate and chatted with him for almost an hour before we pushed on.
For the remainder of the day, we played hop scotch with Camo.  Summit after summit we continued our traverse. Until we finally arrived at the Carl Col lean-to.
While setting up camp, we chatted with the new friends around us, as well as connected with some old friends; The Professor and Big Horn.  We were all tired after traversing over 4 peaks and playing in the Mahoosuc Notch.  Another phenominal day as we settled into our tents for the evening.  Resting up for the next day.
The NOBOs we crossed today (the ones I got trailnames for at least)
Day 34 (7:15am – 3:45pm, 11 miles)
Once again, I was out first this morning, starting my traverse due to being cold.  I wasn't concerned, as today's hike should not be too bad.  HAHA!  Suprise to me!  I started my morning today with a bouldering problem!  It was as if I was in Mahoosuc Notch again!  Maine just couldn't let me go without one last bang!  And BANG, I wailed my elbow against one of the enormous boulders that was twice the size of me as I was trying to pull myself atop the giant boulder.  Now I have a swollen elbow.  Thanks Maine!
I continued on my journey, laughing to myself about how naieve I had been, thinking I could escape Maine without a scrape.  but finally, around 7:50 this morning, I entered New Hampshire!
At 9:15 I summited my first New Hampshire mountain; Success Mountain!
I sat and waited at the top of the mountain for my friends to catch up, however they did not show after almost 1 hour.  So on I pressed.  Each step I took, brought me closer to my old friends, Mount Madison and Mount Washington!
My old friends, Washington and Madison loomed in the distance as I progressed further and further.  Eventually, my trail mates did catch up as we enjoyed the views along our way.
Tired, and ready for town, we arrived at the Trident Col campsite.  Weebles, Lady Bird, Tree, The Professor, Free Bird, and myself will all stay here tonight.  Tomorrow, we race towards Gorham, New Hampshire!  The Professor will bid us farewell as his journey will end there tomorrow.  It has really been a pleasure to get to know him, a fellow PT, and a wealth of knowledge!  I have truley enjoyed our anatamy and PT conversations!  Goonight for tonight!
The NOBOs we crossed today (the ones I got trailnames for at least)
Renaissance
IPA
Hammer
Wilco
Count
Day 35 (7:39am – 10:35am, 7.1 miles)
As we all broke camp this morning, each of us had one thing in mind; GET TO TOWN!  While we all LOVE being in the woods and mountains, after a while each of us are craving different junky foods, a shower, clean clothes and A BED!  So today, I was the LAST one out of camp!  The Professor was the first one out, with Lady Bird, Tree and Weebles quickly on his heels, then shortly followed by Free Bird, and I was the last one out, fiddling with my water filters and stuffing everything in my pack.  As I took my time and got ready to go, it suddenly occurred to me that I did not get the chance to share my information with The Professor, someone I hoped to be able to stay in touch with!  Now the game was on!  With only 7 miles to go today, and The Professor having and hour and a half head start, I was going to have to run to catch him before he left the trail.
When we met The Professor several days ago, we had learned that he was only going to be on the trail a few more days since he was a section hiker and had to get back to his teachings.  He is an Anatomy professor and used to be a practicing PT!  How exciting!  We discussed many different ailments, some of them my own, and I really enjoyed our conversations, looking up to him like a mentor, colleague and friend.  I had to catch him before he left us!  So off I went to the races!
I never did catch anyone on the trail that day, and I only had one goal in mind; getting down asap!  So I burried my head and kept a great pace!  In three hours, I came racing down the mountain to the road where I found my crew.  Free Bird came up to me and said, "Guess who's here to give us a ride to town!"
It was The Professor!  He had made it down the mountain at 10am and waited for us!  WHOOOHOOO!!!  I thought for sure that I was going to miss him.  So he graciously drove us to town and I gave him my information in hopes that we could stay in touch!  We bid each over farewell as he began his long adventure, by car this time, back to Tennesee.  Best of luck with your teachings and I hope to chat with you again soon Professor!
That night, Free Bird and I tented at the Libby house.  That's right, we just couldn't get enough tenting in the woods, so we felt the need to tent at the hostel as well!  In all reality, the bunk house was full so tenting was our only option.  But it included a nice shower and a way to clean our clothes, so we were fine with that!
By 3pm, my parents arrived!  They drove 6 hours from their vacationing spot in the Adirondacks to Gorham, New Hampshire for one night just to see us!  What a fantastic early birthday gift that was!
They drive us to Pinkham Notch (our next stop once we began hiking again in a few days) so we could pick up our resupply and go through it.  Free Bird and I had recently discovered that we had too much food in that resupply and did not want to carry extra weight up to Madison Mountain (my arch nemesis) in a few days.  So we had decided our best plan of action would be to pick up the resupply early, go through it in Gorham, bump items to Hanover, and then return our resupply to Pinkham for us to pick up once we got there in roughly 3 days.  So a BIG THANK YOU to my parents for making that happen, as Pinkham does not have a post office and we would have been carrying WAY to much weight up Madison Mountain!
After galavanting around New Hampshire, they took us out to dinner and surprised me with birthday cards and a piece of cake.  Yum!  Another great surprise!  Then we went for second desert at a local ice cream parlor, well, because hiker hunger!  Not to mention ice cream is something we all crave in the woods!
After a long day of catching up, reconnecting, and stuffing our faces, fat and happy we went back to my parents hotel room to just relax and chat.  Their room was FREEZING!  So Free Bird and I snuggled into their bed for warmth.  A REAL BED!  AMAZING!  We haven't felt one of these in a LONG time!  The beds at most hostels are very well loved and some have permenant body marks in them!  We were being spoiled tonight!  So, of course, Dad thought this would be a great opportunity for a photo opp.
Before we got too comfortable, and Mom and Dad lost their bed, back to the Libby House we went for a nice rest in our cozy tents.  As we were getting ready to settle in for the night, Dad called asking if we wanted a hotel room for that night!  He just couldn't stand watching how comfortable we were in real beds and wanted to pay for a hotel room for us!  We thanked him profusely and passed for that night since our tents were already set up and we had already paid for our stay, as we retired to our tents after a long, filling, enjoyable night.  I am so lucky to have such wonderful and supporting parents!  Being in the middle of the woods is teaching me to appreciate the ones I love more and more each day.  Every minute with them I cherished and look forward to seeing them again tomorrow.  It will be hard to say farewell to them again tomorrow, but the mountains are still calling.  And I must go!
We made it through Maine, not unscathed unfortunately, but still in one piece.  Mount Washington and Mount Madison have greated us from afar, two beasts looming in the distance, daring us to come near.  My old friend, the Presidential Range, some of the most dangerous and beautiful hiking with the worst weather in the world, will be our next challenge in the days to come!  I CAN'T WAIT!  This is what I'm used to!  This is what I know!  I'm home Mount Washington!  Here I come!  Until next time. . .
Happy Hiking!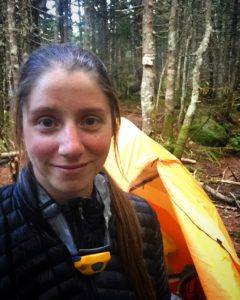 If you are interested in assisting in my dream, click here to help!
Affiliate Disclosure
This website contains affiliate links, which means The Trek may receive a percentage of any product or service you purchase using the links in the articles or advertisements. The buyer pays the same price as they would otherwise, and your purchase helps to support The Trek's ongoing goal to serve you quality backpacking advice and information. Thanks for your support!
To learn more, please visit the About This Site page.