Weeks 5 and 6: Smokey Mountain Breakdown
I apologize first of all for the significant delay since my last post! It's been a rough few weeks for me, and honestly my head space has made it difficult to write. More on that later.
I entered the Great Smoky Mountains National Park on April 19th. I was incredibly nervous about the 8 day time limit because I've still been going much slower than other hikers, and as a consequence I did two things that made the first day very rough. First, I wanted to avoid the need to stop in Gatlinburg for resupply, so I stuffed my food bag to the gills, leaving me with a VERY heavy pack weight. (close to 55 pounds with a days water added) In addition, I pushed myself to 11.5 miles on the first day. This may not sound like much, but for me that's one of the biggest miles I've done in a day, and combined with a several thousand foot climb out of Fontana, that days hike completely kicked my ass (pardon my saying so)
The first day was actually a pretty accurate introduction to what the Smokies was going to be like for me. Some miserable mood hiking, but combined with stunning views. First, the sight of crossing Fontana Dam at sunrise was something that simply couldn't be beat. Then once the first summit was done, I came to Shuckstack Fire Tower. I actually got struck with vertigo about halfway up the tower, but still had the wonderful experience of the sight from that point. It was amazing. The view was an excellent introduction to what would make the rest of my time in the park worth dealing with the annoying regulations, horse manure all over the trail, and toilet paper flowers and mice at every over crowded shelter.
A few days in, however the rain began. I'm still struggling with the rain, and at the time I had incredibly insufficient rain gear. (I've since purchased a full Fogg Troggs rainsuit and am hopeful this will prove to be the solution I need) I was still incredibly sore from the first days hike and this slowed me down dramatically. In addition, my mood crashed at the same time, and would steadily boil for the next few days. The final annoyance was that when I eventually reached Clingman's Dome, the highest point on the AT, it was covered in fog and there were no views to be had.
It was also at Clingman's Dome that I had to break down and admit that with my pace, the food is brought would not be sufficient to get me out of the Smokies, so I left the Trail to head into Gatlinburg for a resupply. The experience of the Clingman's Dome parking lot was a unique one, because as soon as I stepped off of the Trail, a couple RAN up to me, the wife waving her hands frantically in the air, "Are you hiking the Appalachian Trail?" It turns out they'd seen the Walk in the Woods movie and read the book, and were excited to meet a "real live hiker" in the flesh. They asked me to pose for several photos with each of them, and asked a number of questions. I slipped into teacher mode, and had a lengthy time with them and other visitors who stopped by to overhear, telling stories about the Trail, it's history, the life of Grandma Gatewood, and giving a recommended reading list. (some of my friends will freely admit that if I'd had the time and money to go to school, I'd probably be at my happiest as a teacher, perhaps in another lifetime)
I finally hitched a ride into Gatlinburg, where I checked into the cheapest motel in the guide book, then took the city bus across town to the grocery store. On the way, I met another couple of tourists, and again had an enjoyable time telling them stories, mentioning facts about the Trial, as well as learning about them. When the bus dropped me off, the husband ran back to catch me and give me a twenty dollar bill and wish me the best of luck on my trip. When I got back to the motel room, I found myself working through a weird list of emotions.
I should say, I have been absolutely blessed with a wonderful range of support along the way in this journey. I run a Facebook page to chronicle much of my experiences and through that I've met some wonderful people who are thrilled to share what they can of this trip. All of you who read on here have also been fantastic, with incredibly thoughtful and encouraging comments on every post I've made. I'm used to thinking of Internet comment sections as being a scary place for humanity, but you guys and gals prove that to not be a universal law time and time again. Many people in both places, however, have said things about how "inspiring" or "heroic" they find me to be, which is touching, but for some reason sitting in that motel room, all of those comments floated around in my head. I have struggled with depression for a significant portion of my life, and in those days, I felt the crashing together of the exhausting days, feeling like I was hiking too slow, feeling like I was simply insufficient to accomplish anything along here, any my own low self esteem responding to some of these things. Who am I to be called heroic? Inspiring? Don't they realize I'm a lonely fat kid who barely registers as a stable human being? I considered all of the dreams in my life that have failed. Dropping out of college. Failed attempts at marriage. Crushed career goals. Dead end attempts at being a pastor. Years of drinking myself silly, and over eating until I was lucky enough to walk a mile a day
Please please understand. I fully realize and recognize that these are not rational thoughts, and certainly not a reasoned response to my circumstances. I even knew that then in that moment. But the rational realization did not override the pit my mind had made for myself. I stewed in it. Depression is different for many people, so I won't claim any universal experience, but for me it's a matter of my own thought patterns overlaying themselves to hide the truth from my heart realization. At its core, what had happened was that I'd failed to keep an eye on my mental health. Just like if I'd been keeping from eating a healthy diet or hadn't been properly stretching or hiked with ill fitting shoes, I hadn't taken care of myself.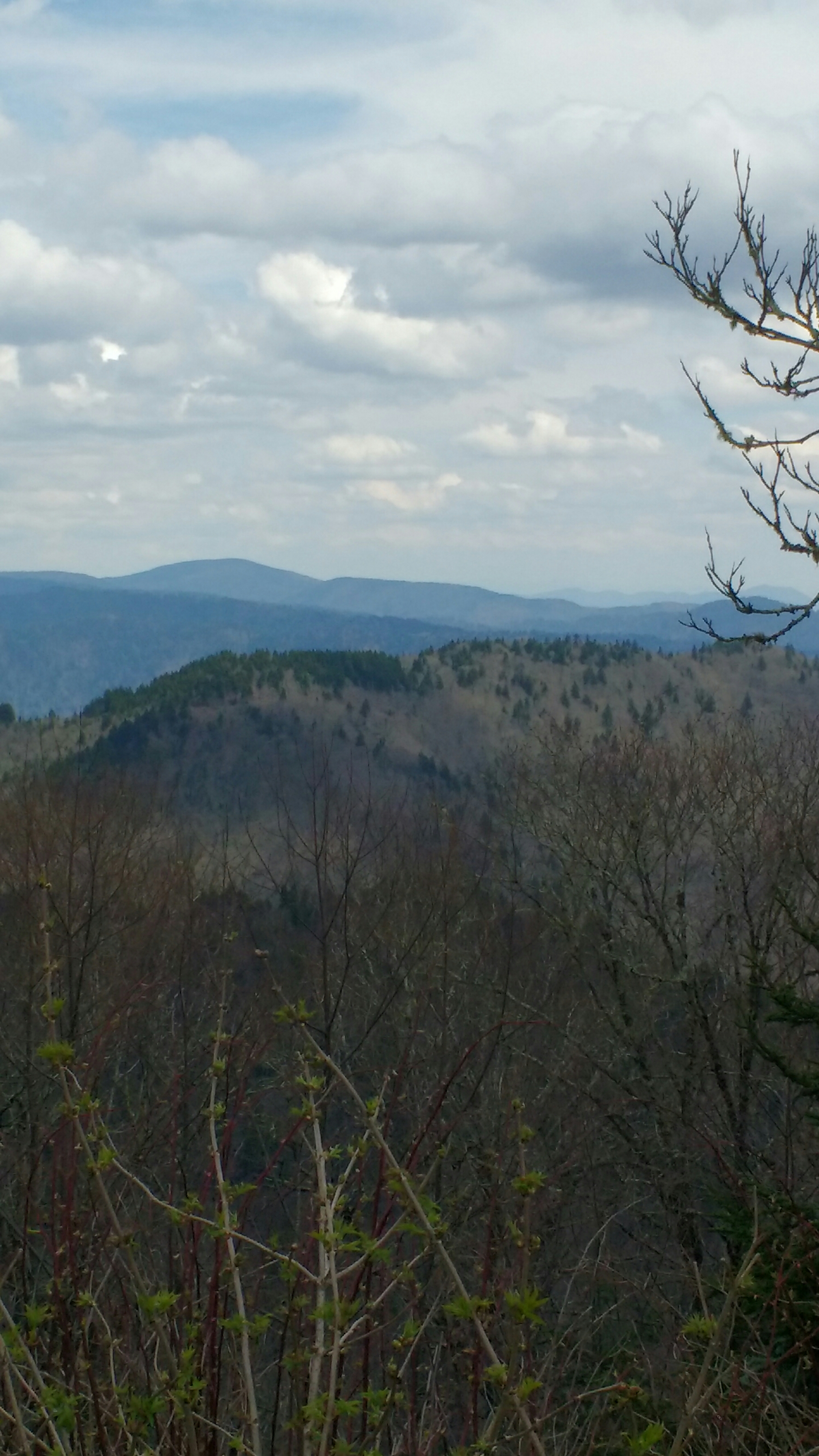 To my rescue came a few dear friends who listened to what I was thinking. They didn't offer advice or argue, so much as listened and told me that I wasn't alone. They shared how they sometimes felt the same way. They told me that they cared about me, and no matter what happened they were there for me.
I know you come here for hiking stuff, and I want to do everything I can to share that with you, but I want to take this moment to share with you two things. One: in hiking and in all of life, pay attention to your health. We say out here that you need to "listen to your body" paying attention to your aches and pains, ensuring that you aren't pushing yourself too hard. The same should go for listening to your mind. Your mental health is just as important for your hike as anything else. Make sure you take the time to do the things you need for your healthy balance. For me, that's reading, spending time in Scripture, prayer and mediation, and probably above all- sharing time talking openly and honestly with trusted friends.
Two: if you've got someone in your life who is sharing with you that they're depressed, don't feel like you need to fix them. First of all, be honored that they're willing to share that with you and obviously trust you. Then listen. Don't feel like you need to offer them advice unless they're asking for it. Don't tell them how they need to cheer up or how it could be worse. Just start by listening and show you care, and let them know they're not alone.
After I was able to pull out of that, I got back on the Trail. I have to say the section of the Smokies after Clingman's Dome was by far my favorite. The views were spectacular, especially Charlie's Bunion and Mt Cammerer Lookout. The crowds at the shelters also started to thin out, meaning more comfortable night's sleep in the shelters. I definitely missed the goal of finishing in 8 days (don't tell the ridge runners or rangers!) but I made it finally to Standing Bear Hostel for a restful end of the section.
My last day in the Smokies, I took the well worthwhile side trail hike to Mt Cammerer Lookout, where the day was clear and I could see for hundreds of miles. I had to stop and simply stare. It was amazing. I realized that until that point, I'd been underestimating the phrase "breath taking" because I literally stopped breathing at one point. I stopped to write poetry for the first time in years to simply vent the emotions I was feeling. (and I'm not showing it to anyone!) I found myself gazing off into the far distance, over fields, towns, and mountains, and thinking "I'm going to go there." I may not make it to Maine, heck I may not make it to Virginia, but I'm not going to quit yet.
Affiliate Disclosure
This website contains affiliate links, which means The Trek may receive a percentage of any product or service you purchase using the links in the articles or advertisements. The buyer pays the same price as they would otherwise, and your purchase helps to support The Trek's ongoing goal to serve you quality backpacking advice and information. Thanks for your support!
To learn more, please visit the About This Site page.