Welcome To The Whites, Slackers! (Days 137 to 141, Hanover to Lincoln)
Day 137
Start: Hanover, NH
Finish: Trapper John Shelter
AT Miles Hiked Today: 16.7
Overall AT Miles Hiked: 1,763.6
Miles To Go Until Katahdin: 425.5
It's always tough heading back to the trail after a zero day. It's doubly hard to go back after two zeros, and triply hard after seeing my family for the last two days at our camp in Lempster, NH. But, duty calls! My little sister drove us back to where we got off the trail in Hanover.
Halfway to the trail I realized I forgot my hat, so we stopped at a local Walmart, where Reindeer and I picked up stylish new hats. We got hiking around 9:30.
The first half mile or so was through Hanover via a road walk. We passed next to the Dartmouth College football stadium and their practice fields on our way out to the wilderness.
It felt both strange and great to be hiking again. Our zero days were filled with nothing but sitting on our butts, eating terrific food cooked by my mom, drinking beer while watching the Olympics and enjoying the company of our neighbors and family friends. My body clearly appreciated the rest, but as I got hiking again, I found my footfalls not coming as instinctual as usual. I had to put a bit more thought into each step. I was moving slow as we started, but I eventually got my rythym back.
We passed through some beautiful mountain meadows. This is just the start of the long wilderness views we will get in the Whites in just a few short days. I'm so psyched to be back in my home state of New Hampshire.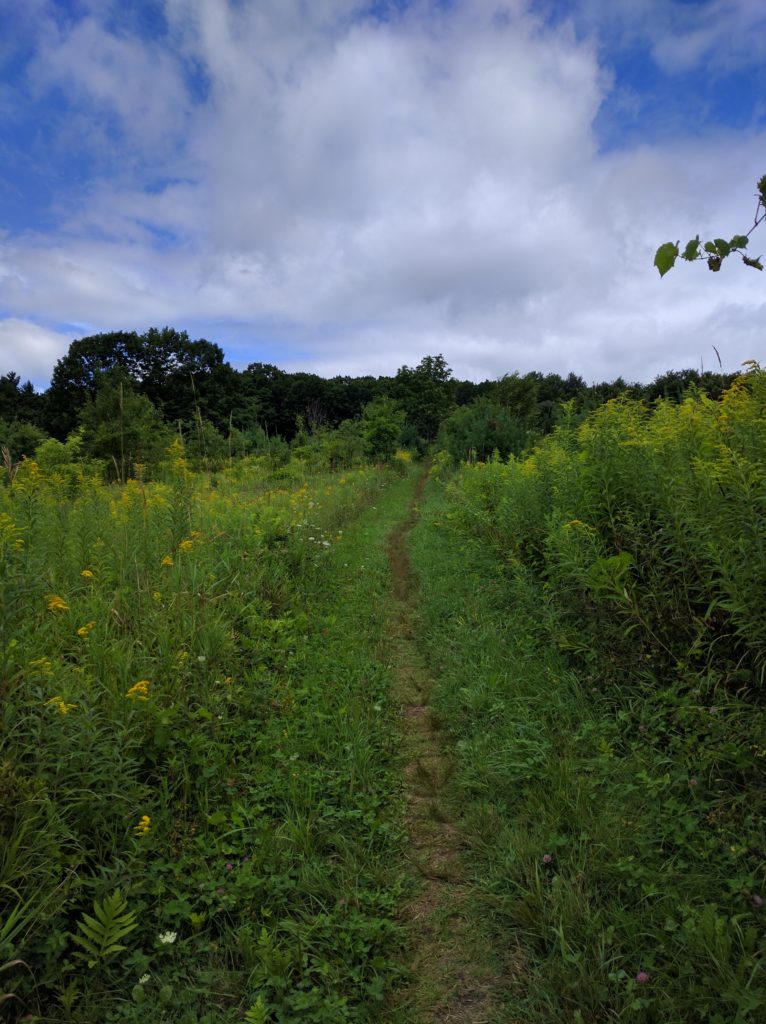 Only two big ascents today over 1,000 feet, and they both came at the end of the day. The climb up Moose Mountain fortunately was moose-free. I'm slightly terrified of moose.
The final descent into Trapper John Shelter included the beautiful Holt's Ledge, which provided 180 degree views of the Dartmouth Skiway and Smarts Mountain.
It's a crowded shelter area tonight. Reindeer and I are set up in a nice spot 20 or 30 feet away from the shelter on a flat rise. We were in bed around 7:30.
As I hiked through the end of the day, I found myself dwelling on the White Mountains. It's the first time all trail where I have no idea what is going to happen, which is a bit scary. That's compounded by the fact I haven't skipped any of the official Appalachian Trail so far this year. Bad storms can rock the exposed Whites even in the summer, including rain, wind, lightning, hail and snow. So it's very possible I will have to go around a summit via a bad weather trail. Will I be disappointed in myself for not hiking the official Appalachian Trail over the summit? I'm not sure yet. All I can do is hope for good weather. I've been lucky this hike with weather so far, and I hope that luck continues. 

Day 138
Start: Trapper John Shelter
Finish: Bushcamp a half mile short of NH 25a
AT Miles Hiked Today: 16.4
Overall AT Miles Hiked: 1,780
Miles To Go Until Katahdin: 409.1
Around 11pm last night a hiker rolled in and made a ton of noise, shining his headlamp all over the place and waking us all up. Then this morning a hiker camped near me and Reindeer decided to blast his music (an eclectic mix of country, rap, and – I shit you not – Frank Sinatra). I asked him if his headphones were broken and he said "Yeah!", refusing to take the hint. This is why Reindeer and I love bushcamps so much, we can avoid the dumb and rude hikers. Alas, the water situation doesn't always let us avoid shelters.
It was semi-tough terrain to start the day, but beautiful hiking. I can tell that we are truly in the middle of nowhere every time I summit a mountain.
Our big ascent for the day was 2,000 feet up Smarts Mountain. I got out ahead of Reindeer and before I knew it I was at the summit. Any lingering laziness from the double zero earlier this week is definitely gone.
As I climbed, I listened to some Led Zeppelin. I never before realized how many Zeppelin lyrics revolve around sex. "I'm gonna give you every inch of my love" – I'm no detective, but I think I can puzzle out what he's referring to. The powerful drums and guitar of Achilles Last Stand helped power me to the summit. The fire tower at the top provided spectacular views in all directions.
The descent was 4 miles, which provided us with some relief for our sore knees. Any time an ascent or descent is more than 1,000 feet in a mile, we know we are in for some miserable hiking. This was more gentle than that, but the whites look steep.
The next ascent was only 1,400 feet up Mt Cube, but the terrain was pretty terrible. It took me much longer than I expected to get up and over.
I grabbed water from a brook at the base of the mountain and started to look for a bushcamp. I came upon a great spot about 10 miles from Glencliff. Reindeer eventually rolled up as well. It should be a relatively easy day tomorrow – there aren't any big ascents or descents. Hopefully the terrain cooperates.
Day 139
Start: Bushcamp a half mile short of NH 25a
Finish: NH 25
AT Miles Hiked Today: 10.2
Overall AT Miles Hiked: 1,790.2
Miles To Go Until Katahdin: 398.9
I slept great last night, I even slept in a bit, past 6:30! Reindeer noted as we packed up that the days were definitely getting shorter. I think it's because we're moving so far east now, as well as North.
The trail really wasn't too bad today. We came across a campground that officially welcomed us to the Whites. Here we go!
Our one climb of the day was over before we knew it had begun. Mt Mist was nothing, an easy gentle up and over.
We got to the right road crossing for our hostel a little past noon. It was a short walk to Hikers Welcome, which is really the only game in town for hikers. Wait, did I call this a town? This is barely a road. The word town should be reserved for places with commerce happening and, you know, people to enable that commerce. The population here is about 9 people.
The hikers were numerous and kept coming as the afternoon wore on. Reindeer and I relaxed indoors and watched Anchorman while sipping sodas. We claimed a few bunks in the bunk house, got a shower in, and waited to see how dinner would play out.
The guy running the Hiker Yearbook offered to shuttle us to the one gas station in town, which was also apparently a pizza place, and a deli. Reindeer and I were ravenous and needed to resupply for the next few days. It was a crowded bus ride into the gas station and I don't think the bus was legally able to have this many passengers, but fortunately for us the town is too small to have a police force, so we were in the clear.
Lots of familiar faces here tonight, including chicken fried, ninja, 60 cent, down under, southpaw, and Ranger. Reindeer and I went off to bed early but there was partying going on late into the night outside. (Late relatively speaking of course, they were up after 9!)
I think we're gonna slackpack over Moosilaukee tomorrow. We get dropped at a road crossing 9 trail miles north of here and hike back to the hostel. It would be nice to get in a few more miles tomorrow after the slack, we will see if a ride back materializes. If not, guess we're staying another night!
Day 140
Start: NH 25
Finish: Kinsman Notch Parking Lot
AT Miles Hiked Today: 9.5
Overall AT Miles Hiked: 1,799.7
Miles To Go Until Katahdin: 389.4
Reindeer and I were up around 6:15, and went down to scope out the breakfast situation. We signed up last night for the $5 pancake, bacon and eggs breakfast. We were not disappointed, as Legion (a former hiker who helps run the hostel) emerged from the kitchen with huge plates of everything. Reindeer and I are ourselves full, grabbed day packs (children's backpacks), loaded them with food and water, then got in the car to be dropped off for our slackpack over Moosilaukee!

The first hiker to be dropped off was Sneaky Pete, who was attempting to do the full 26 mile section to Liberty Springs in one day. Wow, a 26 mile day in the Whites is absurd. Reindeer and I got dropped off at the Kinsman Notch Parking lot and started walking South for the first time in our hikes. We will hike SOBO up and over Moosilaukee and return to the hostel where we started for one more night. We still weren't sure what the end of the day would look like, as we both wanted to do a few more miles, but it would likely be impossible to get back to Kinsman Notch after we finish hiking.
One huge draw for doing a slackpack today is that the north side of Moosilaukee is steep and slick due to a waterfall that runs near the trail. I'd much rather do that going uphill than downhill! 
We couldn't have asked for better weather today. As we set off we were chilly but quickly warmed up as we headed straight uphill over some extremely technical terrain.
So this was my first experience with slackpacking, and holy shit, slackpacking is the greatest! It's like someone dialed back the gravity! As I was hiking I hardly needed to stop for rest, despite the thousands of feet of elevation gain.
We finally broke out above treeline and had a gorgeous summit. There were a ton of day hikers at the summit hanging out, apparently there's a parking lot with a short hike to the summit. I didn't mind – there were plenty of views for everyone.
Reindeer and I hiked down to the south summit, which had almost no one on it, and it was a much quieter spot to take in the wilderness.
It was a pretty treacherous hike down. It took us about 30 or 45 minutes to get a half mile, as every step needed to be made extremely carefully. One misstep on this steep of a descent would mean a fall that would end my hike. As we only had 9 or 10 miles to do all day, I took my time.
On our descent we met lots of hikers we stayed with at the hostel last night, heading North. I'm so happy we slackpacked. It was only $20 and includes dropoff tomorrow.
We got back to the hostel at 3 and had the rest of the afternoon to hang out and drink soda. We watched thru hiking movies, including a terrific one about the CDT and a terrible one about the AT called Southbounders. We straight up mystery science theater 3000'd that crappy movie, and we had a blast doing it!
A lady dropped by around dinner and gave the hikers a ton of food left from a funeral. Everyone dug into the sandwiches, salad, cupcakes and fruit. It's cool of locals to think of us like this.
Reindeer and I called all the motels in the next town, but they were all prohibitively expensive or full. We spoke to the lady who gave us a shuttle this morning and she mentioned a hostel in Lincoln called Chet's Place that is kept quiet, but that we could stay there as the hostel was run by friends. We asked if we could slackpack tomorrow as well and she said yes! We will drop off our heavy gear in the morning then she will drop us off at the Kinsman Notch trailhead. We are a couple of slackers so far in the Whites, aren't we?
Day 141
Start: Kinsman Notch Parking Lot
Finish: Liberty Springs Parking Lot / Lincoln, NH
AT Miles Hiked Today: 16.3
Overall AT Miles Hiked: 1,816.0
Miles To Go Until Katahdin: 373.1
A hiker named Mississippi woke us all up in the bunkhouse when he stumbled in late at night and started drunkenly yelling. Sometimes hostels work out ok, and sometimes they don't! Honestly other than that, this stay has been excellent. Legion, who runs the hostel, is a really friendly dude, and it was fun hanging out in the common areas with the other hikers.
We had another huge breakfast of bacon, eggs and pancakes, then got a shuttle back to the north side of Moosilaukee where we started our slackpack south yesterday.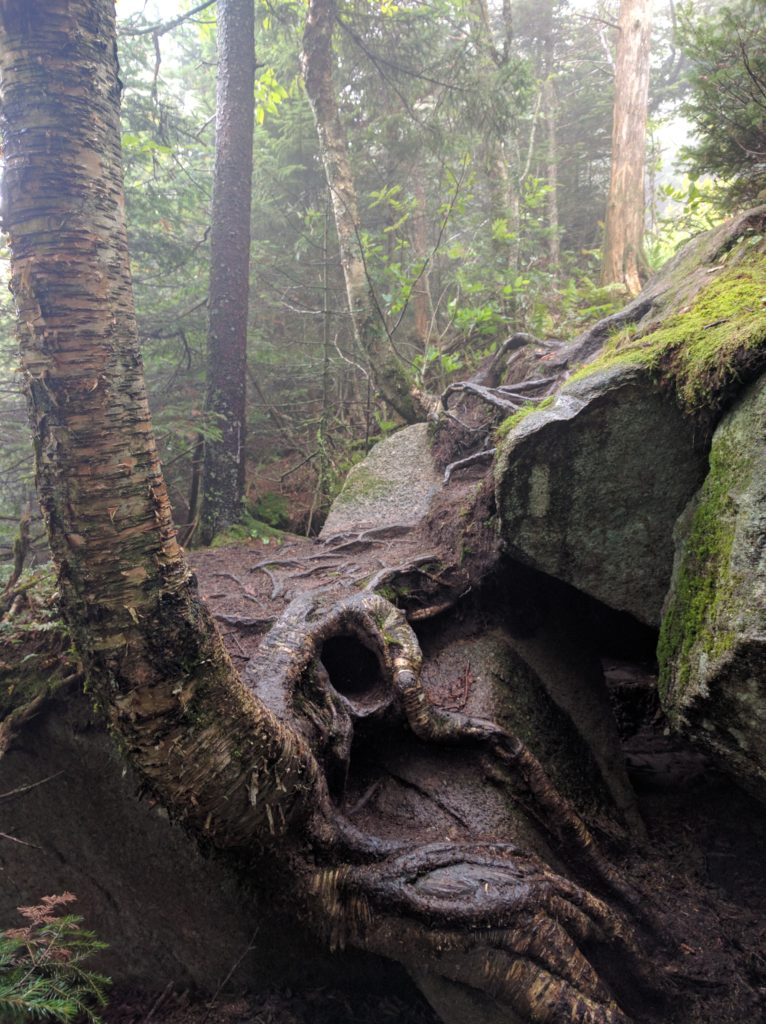 The terrain was super rugged almost immediately. I have a feeling this is how the whites will be, and maybe this is how the rest of the trail will be. Perhaps we turned soft in the mid Atlantic states. If we did, then we have a rude awakening here in NH!
The big climb of the day was up South Kinsman, which included several steep vertical stretches where if you didnt have three points of contact with the ground and rocks surrounding you, you would likely fall and hurt yourself pretty bad. Still, it was a fun (but slow) ascent. I summited in the early afternoon along with Badger and Ranger, who were just ahead of me on the climb.
It was so windy at the top! I had to take off my hat for fear it would blow away. Other than the wind, the weather was perfect.
It was a STEEP descent back down, so steep that I abandoned all pride and scooted down 5 or 6 rock faces on my butt. In some places the maintainers have built stairs into the rocks, but in many my butt was the best and safest way to get down.
We passed our first official AMC hut, where they sometimes allow thru hikers to do work for stays. That's exactly what Ranger was doing tonight. He had to clean up after dinner and breakfast, and in exchange they fed him and let him sleep on the floor. Not a bad deal!
Reindeer and I arrived at the parking lot close to 7:30. It was drizzling and as we stepped to the side of the road, it quickly became clear we had no chance for a hitch. It was quickly getting dark, so Reindeer called a cab company, and we got shuttled down to a subway for some dinner, then walked over to Chet's Hostel, which is nothing more than a garage where hikers crash. We wolfed down our food and went straight to bed. What a day! 16+ miles in the Whites is too many miles, even slackpacking. I think we should run in the 12-14 mile range.
2 days until we get picked up just before Mount Washington, and 5 or so days to Gorham depending on our pace. Hopefully the weather cooperates. So much can go wrong above treeline. I guess that's what makes the whites so exciting (or terrifying?)
Until next time, happy trails!
-Slice
Affiliate Disclosure
This website contains affiliate links, which means The Trek may receive a percentage of any product or service you purchase using the links in the articles or advertisements. The buyer pays the same price as they would otherwise, and your purchase helps to support The Trek's ongoing goal to serve you quality backpacking advice and information. Thanks for your support!
To learn more, please visit the About This Site page.