We're Thru-Hikers now: Damascus VA to Daleville VA.
It's happening!
I've really started to hit my stride over the past couple of weeks and it feels great. Where I left off last time, I was sitting in a wonderfuly air conditioned library in the middle of Damascus, getting out a blog post which required me to go up to the front desk three separate times to ask for more computer time. Now I am almost 300 miles further down the trail, writing from the Howard Johnson lobby computer before I head out for the day. Not a lot of extra stuff for me to write about this time around – I'm leaving to hike and hopefully do 17 or 18 as soon as I finish this blog, so I'll try and get to the point. Blogging is definitely easier on a zero day, that's for sure.
Day 38: April 9th
Damascus, VA: 469.3 Miles
Miles Hiked 0
The first of two seriously needed zeros – emphasis on the needed. Over the past two weeks I had been hiking with an awesome group of people: Banana Boat, Brightside, Rolling Thunder, Roadside, Hot Pants, Romeo, and Mozart (let me know if I forgot anyone?). Hanging out was great, but I was pushing myself a little too hard and a little too early, and I was certainly paying for it. My feet were massively swollen when I woke up, so much that I couldn't even walk across the floor of the Hostel we stayed at (we stayed at The Place, a church run hostel in the center of town). After taking some vitamin I (that's Ibuprofen) I moved all of my stuff over to Dave's Place, another hostel located across the street from the outfitter in town. Hot Pants and I split a room for 10 dollars each – not super cheap considering what we were getting, but the shower was good and the rooms felt less stuffy since there were many more windows than the previous place. After moving I headed over to Mojo's, a breakfast and coffee joint where I met a good dozen hikes for coffee and breakfast. A tip if you're going there – if you get the scrambled eggs they might skimp you a little bit on the size of the eggs (or that's what everyone told me anyway), but I got the overeasy and they were fantastic. Apparently one of the women working there made them that way all the time at home because it was her husbands favorite style of eggs. No complaints coming from me, thats for sure.
Most of the rest of the day was spent working on the last blog post I got out on – I'm pretty sure I spent at least five hours in the library typing at full speed to get that done. I have since refined my method of completting these, but you definitely need a good chunk of time to get a post done. After the library I went to The Damascus Brewery, which was a new (well, relatively new – two years old) small local brewery at the end of down. I figured it was the closest thing to getting together a bunch of people for my birthday back home – instead we got a bunch of Thru-Hikers together at a bar! I hung out with Ozzy, Dizzy, Goose, Houdini, Banana Boat, and Gandalf the Brown, and we got to enjoy some good beers, play cornhole out in the back, and demolish several large pizzas that we ordered from across the street. We were like a pack of wolves descending upon those helpless pies. They never had a chance.
Day 39: April 10th
Damascus VA: 469.3 Miles
Miles Hiked:0
I had planned on taking another zero today anyway to help my foot recover, but the weather certainly reinforced this option. I woke up to Brightside, Banana Boat, and Rolling Thunder outside, drinking OJ and eating grapefriut, a full chicken (Banana Boat always buys those chickens when she's in town, it's kind of funny), several loafs of bread, and other goodies. After an hour of hanging on the porch of Dave's Place we saw black clouds emerge upon the horizon, and it didn't take them long to park themselves over us and release a weeks worth of rain down from the heavens. It felt like one of those Florida storms that come out of nowhere, rain extremely hard for twenty minutes, and ten move on again. All of this weather is different than what I'm used to seeing up in Boston and Connecticut.
After the rain ceased, we said goodbye to some of us that were moving on, and I headed over to the Subway (next to Mojo's, that breakfast place that I ate at yesterday) and basked in the glow of their glorious WiFi for the entire day. AT&T doesn't get service in Damascus, and although they say that they have "town-wide WiFi" it really only functions decently at its best, and you have to be at the exact right point of the main street to get even that much of a signal. Pretty much the whole day was spent in Subway, although eventually I went to Hey Joes, a Mexican Restaurant, with Houdini, Buster, Indy, Casper, and Heat Pack. I wasn't even hungry, but I ate two fish tacos and nachos anyway. There's always more room to eat.
Day 40: April 11th
Damascus VA to Lost Mountain Shelter: 484.9 Miles
Miles Hiked: 16.3
I stayed at The Place last night again, and saw a few familiar faces – Buster, Heat Pack, and Werewolf were all staying there. In the morning I quickly packed and headed over to Mojo's, grabbing one more breakfast and coffee (several cups of coffee actually) before getting back on trail. There wasn't any incentive to rush through the hike today, as the weather was great and the terrain was forgiving. A couple of mild hills mid-morning led to more gentle inclines that wound in and out of forests of pine and spruce – my favorite type of forest to hike in. Leaving town is always a mixed bag when it comes to how the hike is. It's a positive in that I have lots of food options, lots of podcast and new music options, and that I have gotten a good amount of rest (hopefully anyway). Conversly, I also have an extremely heavy pack with a weeks worth of food and a body that's a little creaky from a day or two of sedentary inactivity. I'm an optomistic kind of guy, so I try to really enjoy days that I leave towns. You really start to miss the woods before too long.
The second half of the hike today shared space with the Virginia Creeper Trail, a bike path that runs about 30 miles west of Damascus into Damascus. Seeing lots of people out and about was surreal – usually I'll go most of the day without seeing another individual. If I had more time I would have loved to bike it – it follows a small river that the trail also crosses half a dozen times on the way up to the shelter. Got in to the shelter around 5:30 and cooked dinner, hanging out with Indy, Casper, Gandalf the Brown (who I'll just call Gandalf from here on out), Buster, and Heat Pack until we went to bed. Getting back on the trail felt good – like I was coming home again.
Day 41: April 12th
Lost Mountain Shelter to Wise Shelter: 502.5 Miles
Miles Hiked: 17.6
Two words: Wild. Ponies. The Grayson Highlands have been one of the highlights of the trail that I had been looking forward to for a long time, and they did not dissapoint. My foot was still hurting when I woke up this morning, but after 600mg of Ibuprofen and a liter of water I was feeling a little better – enough to get hiking anyway. The actual Highlands came at the end of the day – we had to snake through a number of different miles to get to it first. This included two different types of forests, a couple of rolling plains, and a big climb of Whitetop Mountain which was a really fun climb. I noticing a serious physiological change in myself when I hike. I've already overcome the initial "getting into shape to hike" process, but this is a kind of second evolution, where I've changed from an adequate hiker to an accomplished one. Big climbs don't seem quite as steep, long days flow by quicker, and I feel better at the end of every day. I was definitely aware of this when I got to the Grayson Highlands after having already hiked 10+ miles that day. Maybe it was the incredible views, but I felt as if there were no pains or aches at all that I had to deal with while I was walking. What a change.
The Highlands were like nothing I had ever seen before. They weren't quite like a bald or a ridgewalk, but more like the cliffs of Rohan that Aragorn, Gimli and Legolas are running down in the beginning of the two towers. You're high up enough to see for miles miles in every direction, but these flat top highlands are pretty much devoid of trees. They were littered with rocks though, ranging in size from one the size of your knee to one bigger than a three story house. This made for some interesting navigating as you had to squeeze through a narrow passage here or there. That kind of technical hiking was fun, but the real highlight was the wild ponies that came up and greeted us as we got through the park. I got some good pictures with them (below), and later on they even came right into our shelter. It was funny, but also a little annoying as they would get in to our faces trying to get our food. Little Sebastion can get greedy sometimes. Buster and Heat Pack pressed on to catch Fresh Grounds, but I stayed at the shelter with Indy, Casper, Gandalf, and a couple of section hikers. Also – my girlfriend Amanda back home had her birthday today, and since I'm a sucky boyfriend who is out here hiking for six months I wanted to be corny and say happy birthday, I love you, and I'll be home before you know it. I might get in trouble for that, but it was worth it.
Day 42: April 13th
Wise Shelter to Trimpi Shelter: 521.7 Miles
Miles Hiked: 19.2
My frustrating fears of thunderstorms reasserted themselves today, needlessly as it turned out. Left the shelter around 8:00am and started booking it, as Fresh Grounds was only 9 miles down the trail and I wanted to get there to hang out with him for lunch and drink lots of coffee. Made it there around 11:30am, and proceeded to eat four hot dogs, there plates of home made french fries, three cups of coffee, and three glasses of kool-aid. I have a great picture below of the aftermath of this – Casper and Indy ate so much that they fell asleep. After leaving Fresh Grounds I hiked along while watching the clouds darken. It was supposed to rain the next day, and while I was not aware of any approaching thunderstorms, I worried nonetheless. When I got to Hurricane Gap shelter I had to make a difficult decision – do I press forward and risk getting caught in a storm, or do I stay at the shelter in safety and do way less miles than I had hoped?
I pressed forward, ignoring the dark skies and hoping I would make it before anything hit. I've reached a solution with this problem, whereas if I hear thunder I'll just find a safe spot to set up my tent and wait out the storm next time I see it. I worry about everything under the sun, if you didn't know this already, and so this is always running through my mind. I made it to Trimpi Shelter around 6:00pm, and met Indy and Gandalf not long after. The shelter was an older style made of stone with a stone fireplace, so we got a fire going in there and it kept us warm all night as the rain hit.
Day 43: April 14th
Trimpi Shelter to Chatfield Shelter: 538.2 Miles
Miles Hiked: 16.5
It was POURING rain beyond the tarp that we had set up to block the wind from coming in, and getting up was a real challenge this morning. Hit the trail around 9:00am after a lot of self-motivating and made it quickly to Partnership Shelter, wihch was a nice shelter that you could even order a pizza from. I hadn't planned on staying there though, so after charging my things and saying goodbye to Indy (he is getting off trail and heading back home to Indiana) I began the last 7.6 miles around 3:30pm. I'm feeling bolder when it comes to longer mileages later in the day, which is helped by the days being longer themselves. I was expecting there to be nobody at the shelter when I get there, but I ran into Heat Pack and Buster when I got there – what a surprise!
Day 44: April 15th
Chatfield Shelter to Knot Maul Shelter: 557.1 Miles
Miles Hiked: 18.9
Another day that was mostly business – the next 6 or 7 days will be like this. We had a lot of rain, not a lot of views, and I saw very few people during this week, so there wasn't nearly as much to write about. The first four miles was an easy coast into Atkins – I even walked and chatted with a local farmer that was out collecting wild mushroom that would sprout up after the rain. I did a gas station re-supply which was awful (eating nothing but Ramen, honeybuns, donuts, trail mix, chips, and powerbars for five days… lovely) and then went over to The Barn, which had a special 16oz burger called the "AT Burger." I wasn't impressed, with either the place or the food. The food was alright, but after I paid up I asked them if I could fill my water in their bathroom sink and they told me that it would cost money. As a paying customer I was pretty irate – I would not recommend this place to anyone and I hope they change the way they interact with hikers down the road. Hopefully it'll be the first and only time I get asked for money to get tap water.
The rest of the day was a 12 mile struggle that I started at nearly 1 in the afternoon – it was raining and thundering in the distance so I just kept my head low and kept moving. Got to the shelter expecting to see nobody, but I met new Thru-Hikers Magoo and his wife (can't remember her name, unfortunetly she had to get off trail a few days later but Magoo is still doing great) so I wouldn't be alone. I was also pleasently surprised to see Brightside, Rolling Thunder, Heat Pack and Buster all arrive late – it was a little reunion! I think I wrote "we're getting the band back together!" or something stupid like that in the log book.
Day 45: April 16th
Knot Maul Shelter to Jenkins Shelter: 577.1 Miles
Miles Hiked: 20.0
More rain, but I lerned today that I'm more confident in handling 20 mile days than I thought. The first half of the day was uneventful, although the climb into the mid-day shelter was nothing but dense fog. If you've ever played The Legend of Zelda Ocarina of Time, it was exactly like when you have to follow the Poe through the desert to get to the spirit temple. Except with fog instead. Feet were still hurting when I got to shelter, but maybe I've learned that they're always going to be hurting in some way.
Day 46: April 17th
Jenkins Shelter to Helveys Mill Shelter: 592.4 Miles
Miles Hiked: 15.3
The only take away from today is that I'm not a fan of being alone at night – i.e. the only one in a campsite or shelter. I slowed down when everyone else did another 10, which meant I was alone again but I was in better health. Sometimes you have to put your health first. Got to the shelter around 2:30 and probably could have kept hiking, but the rest definitely helped my foot. Also, Gandalf showed up real late (9:30 I think?) so it wasn't that big of a deal after all!
In the words of Arnold: "I'll be baaaaaaaack."
I realize that this still leaves me ten days shy of where I am not (Daleville, 727 miles in), but I'm running out of time and I want to get this published before I take off. I'll hope on and finish the daily summaries with more info when I get my next longer break, but in the mean time I was able to put in pictures so that I could show you all where I've been lately. I've had some pretty awesome experiences, including sunrise at McAfee knob, a great zero and Four Pines Hostel, and a beautiful day to climb around the Dragon's Tooth. I promise I'll get all these in here, but for now the pictures will have to substitute. I'm always feeling rushed out here, which I'm guessing is more my personality than anything else, but it always seems like there's not quite enough time to do everything I want to. Oh well – more info will be coming soon, I promise. Until then, keep in touch and I'll be back soon.
-Seeker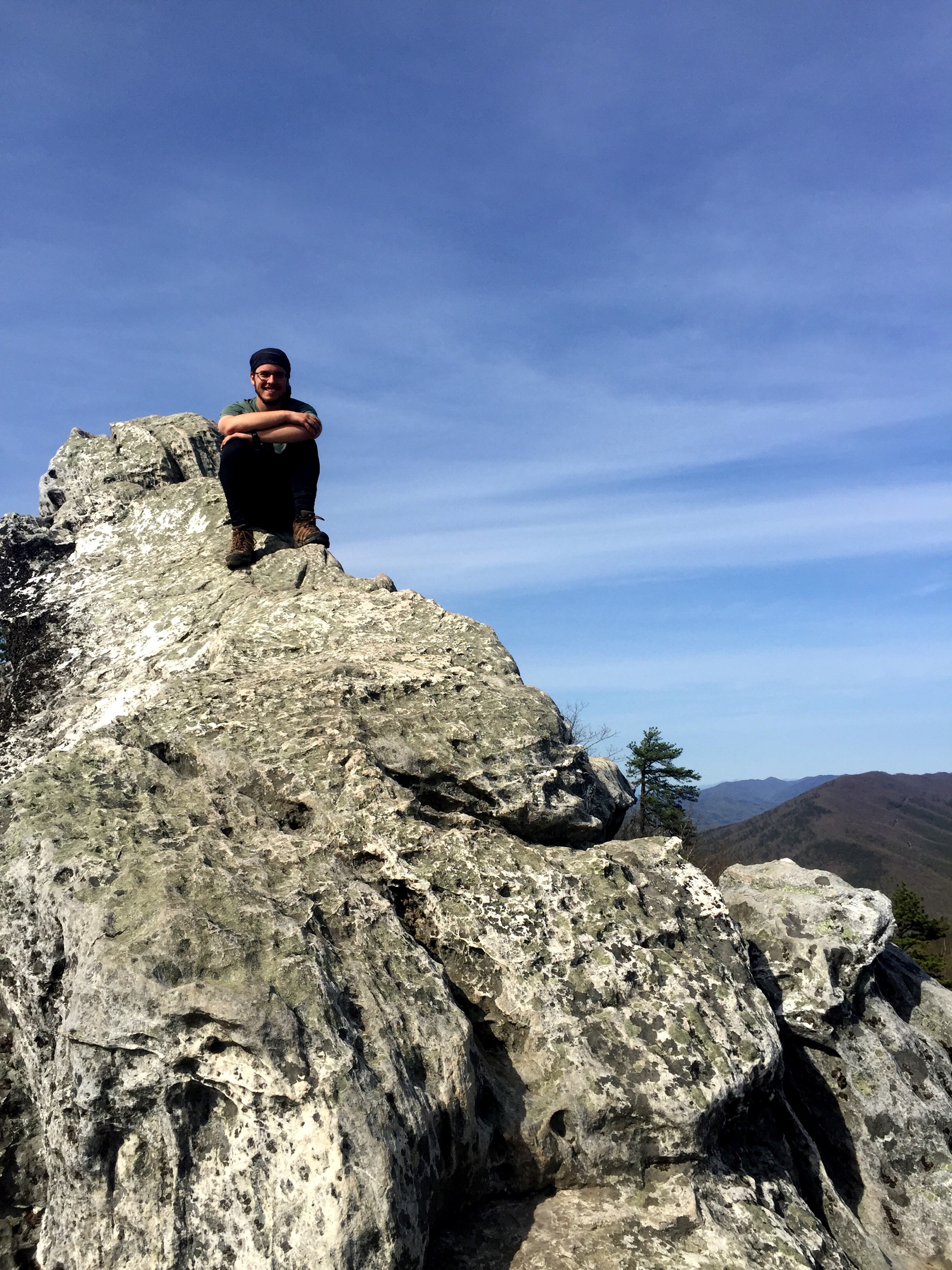 Affiliate Disclosure
This website contains affiliate links, which means The Trek may receive a percentage of any product or service you purchase using the links in the articles or advertisements. The buyer pays the same price as they would otherwise, and your purchase helps to support The Trek's ongoing goal to serve you quality backpacking advice and information. Thanks for your support!
To learn more, please visit the About This Site page.