What It Takes to Make It to Damascus
Support
On the trail and off.  Knowing that others believe in you. Getting the resupply box with all the goodies and notes of encouragement.  The phone call or well-timed text that says YOU are an inspiration – if only they could see you eating a stale donut and banana on the side of the highway from leftover trail magic.  Thinking of coming home after you accomplish this really big thing and making them all proud.

Sharing the struggles with other hikers.  You may spend the whole day hiking by yourself but when you roll into a campsite, shelter, or hostel you have instant community. There is shared suffering but also the awe in the beauty of it all…the streams, flowers, weather, Mother Nature, and our bodies' capacity to carry us over mountains. I  am fortunate to have a great little traimily that has exponentially increased my love of the AT experience.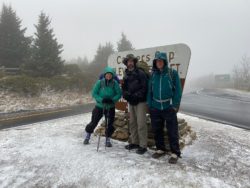 Personal Grit
I had no idea how physically strong I am. Mentally, emotionally yes, I know I am resilient A.F. However, before this hike I was a bit of a weeny when it came to physical pain or hardship.  I have been known to complain miserably when cold, sick or just damn tired of whatever mountain I was hiking, biking or skinning up. On the AT there is no one to complain to. And who would care? Other hikers were in same boat, some were struggling more than me, and I was too proud (or just bull headed) to whine to family. I CHOSE this, no was stopping me from quitting. Except me. I found my body leveling up to my mind and spirit…resilient A.F. Proven when I rolled my ankle and down a ravine 15 feet. Ends up "walking it off" really works.
A Sense of Wonder and Humor
"Don't try too hard – it's no fun" and "Remember – the Universe loves Chaos – Randomness will Bless you with Surprises" These are messages my daughter put in the AT journal she gave me.  I think of these lessons often on the trail, especially as I was approaching Damascus. This was a big milestone in my mind.  Like all milestones one tends to look back to what got you here. My brain shot through a kelidoscope of memories. Mental images of the morning mist in the still sleeping woods; the crisp, clear water in creeks; your tent on a mountain at sunset, and the trees swaying and creaking from the powerful wind gusts.
Then the people! The gloriously wonderful characters hiking the AT. Jokes about food, bodily functions, the trail, weather, gear, and each other, makes a very entertaining evening.  One of my favorite sayings is "those who can laugh at themselves shall forever be amused".  I laugh a lot.  The stumble recovery, or not recovery but end up in the creek; the trekking pole sticks and pulls me backwards uphill; crunching my hard macaroni dinner  because i didn't have the patience to let it soak; my stink…so bad it's somehow funny.
I want to keep things fun in the long Virginia section and proposed a game of hiker Tag! We put the word out on the trail and hope it spreads.  I will leave you with my AT dad joke at the end of the day "How was your hike today?" No matter the reply say "Ya, It had its ups and downs" 😂
Affiliate Disclosure
This website contains affiliate links, which means The Trek may receive a percentage of any product or service you purchase using the links in the articles or advertisements. The buyer pays the same price as they would otherwise, and your purchase helps to support The Trek's ongoing goal to serve you quality backpacking advice and information. Thanks for your support!
To learn more, please visit the About This Site page.