Whatever Happened To: Appalachian Trail Class of 2015 Edition
Blogging can be tough when you live in the woods, which is why some of our bloggers vanished off the face of the planet. We did our best to round up the Class of 2015, and give you the final word on how the heck their hike ended up. Some of these tales you already know, some we had to hunt down, and some folks we couldn't get in touch with. That means this list is not comprehensive, by any means. But no matter how their hike ended- at Katahdin, Harpers Ferry, or before Hot Springs- we send a big congrats to our Appalachian Trials bloggers from 2015. – The editors
Alyssa Engiles: In her words: "After a little over 1,000 miles into the trail I took a fall in the White Mountains and managed to dislocate and fracture my patella (my knee cap). My bad ass boyfriend put my knee back in place and we hiked out to a road the next day. As crushing as it was to have my hike end before I wanted it to, being injured on the trail was one of the times that I most cherished being part of the AT hiking family- the amount of support I received was astronomical and I can't thank them enough. I didn't finish the trail this year, but I plan to finish it next year if possible, and I am not ruling out another thru hike attempt!."
Amanda Rogers: Amanda (Crash) made it 950 miles before Lyme disease and painful feet sent her back to Florida. She regrets nothing ☺
Bekah Barnet (Micro): Bekah started March 22, summiting on September 16." In her words: "It was quite the amazing adventure and we definitely agreed that it wouldn't be our only long distance hike!"
Ben Reynolds: Unfortunately, we never heard from Ben after his second pre-hike update, when he was on his way to Georgia. We tried to get in touch with him, but haven't heard back.
Connor Mullen (Seeker): In his words: "After summitting on July 26th, I went home for a few days and left again a few days later. Made up the CT/MA section I missed, and then immediately jumped up to the Vermont section to pick up where I sprained my ankle and finished that section. So I am officially done! Would have been cool to do it exactly from GA-ME but life always gets in the way. I will say that doing those sections after Katahdin definitely helped me enjoy backpacking again. We were all so burnt out in Maine that we just wanted to get it over with but my makeup sections were all very enjoyable. My main motivation to succeed in law school is to do so well that I can go do the PCT right after."
Dakota Johnson: Dakota dropped off the face of the blogging planet, but she finished the trail on September 4.
Emily Gibson: Emily started March 1st and finished August 5th. In her words: "I got lyme disease, and hiked from Massachusetts to Katahdin with a severe stress fracture in my foot. My boyfriend Dave (taco) hiked the trail with me as well, while researching invasive plants species along the way for school. Since coming home, we've gone back to full-time school, both as environmental science majors, and are looking at moving out west next fall. We are planning to thru-hike the Wales Coast Path in 2017."
Emmi Laakso: Emmi (Frozen Mac) started her hike on March 31st and summited on July 31st. In her words: "My hike was the best lesson imaginable on not overthinking or overplanning, but enjoying the moment and everything that came my way. I met the best people on trail, and really for the first time felt like a part of a community. I hiked a fair bit alone, and a huge chunk with friends met along the way. I saw 14 bears, 3 rattlesnakes, and a MOOSE in Maine (still proud of that one). It was really the biggest physical challenge I've ever faced, but I'd do it again in a heartbeat if I could."
Erin Tate (Clever Girl): In her words: "I made it about 630 miles, then jumped up to Harper's Ferry and completed about 25 more miles. I had to leave due to stress fractures, but I'm hoping to make it back out either next year or in 2017 to finish up!"
Jason Schultz (Scribe): In his words: "I started Easter Sunday, April 5, and summited Katahdin Monday, September 21. I still have some to finish from my leap-frog."
Jeanne Church: Jeanne (Spider) figured that she and Backfire were going to take too long to complete the trail, and ended their hike at Harper's Ferry. More time with the grandkids!
Jena Campbell: Hiked for 342 miles before deciding it wasn't for her.
Jennifer Legan (Green Monkey): Hiked for nine days on the trail before leaving to find a job.
Jennifer Williams: Jennifer (Sarge) Finished the trail in September, and has been bitten by the hiking bug, never to recover.
Jessica Georgia: Jessica had to drop out partway through due to knee problems.
Jill Aubin: Jill made it 310 miles before a turned ankle ended her hike right after Hot Springs.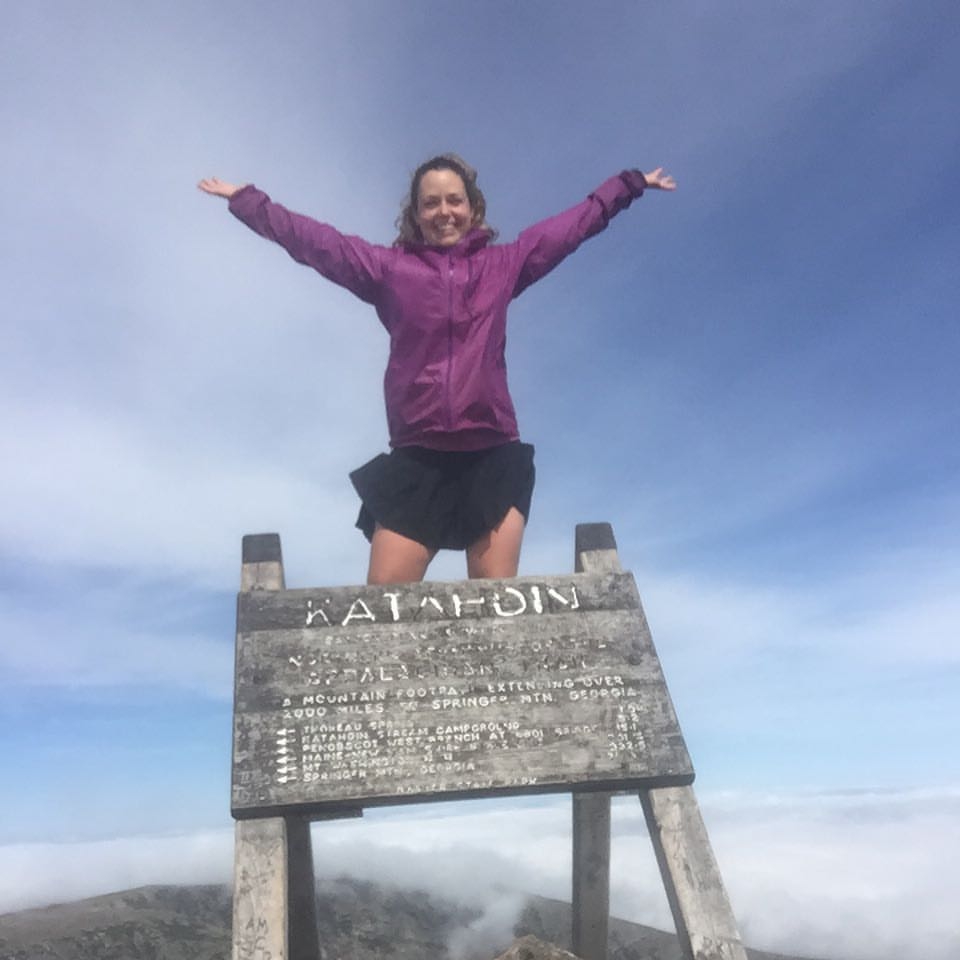 Julianne Hartley: Julianne started April 13th and ended October 1st. In her words: "On my hike I had a lot of knee and Achilles tendonitis problems. I got cryptosporidium in Pennsylvania and that was pretty hard to recover from! Regardless of everything, I still had an amazing time and never once wished to stop my hike. I met some of the coolest people in the whole world, and got to know myself better than I ever imagined!"
Kaili Morgan: Kaili made it to Vermont on her SOBO hike, facing some challenges with her canine companion. She plans to attempt a NOBO hike at some point in the near future.
Kate Spillane Balaneo: Kate suffered from foot pain, and ended her hike a few weeks in.
Lara McLellan: In her words: "I summited on August 14th, and my hike was a bit out of order…I had to skip down and make up a 250 mile section through NY-VT, but I did that immediately after finishing. It was (obviously) THE BEST THING EVER! And here's my summit pic with my hiking partner (turned boyfriend) Hip."
Liz Snyder: Liz (Yellow Bird) finished her hike on August 19th. In her words: "Thru-hiking was nothing short of life-altering. I was challenged mentally, physically, emotionally, and beyond, but I can honestly say that I loved every day on the trail. The happiness and joy I felt out there is indescribable. I'll undoubtedly spend the rest of my life chasing those feelings and trying to share them with others."
Maggie Slepian (Honey Badger): Summited Katahdin on August 10, somehow she and Rocky are still engaged. After swearing to never hike anything longer than 10 miles ever again, they are tentatively planning a 2016 PCT thru-hike.
Markie Rexcoat: Markie finished the trail on September 16. In her words: "It took a little over 6 months to finish, but I took about a month's worth of zeros. I loved everything about my hike, especially the Whites. I intended on hiking solo but ended up walking the majority of the Trail with a married couple I met out there."
Sharon: Sharon was our earliest starter (February) and our first finisher (early July)!  Her husband and hiking partner, Nate, executed the most epic of proposals at McAfee Knob.
Sonia Button: In her words: "I made it about 1600 miles, 600 of those miles I was battling Lyme, and I am still battling it. That is why I had to force myself off the trail so I could continue treatment with a doc. I did jump ahead to summit Katahdin and do the wilderness, so now I have MA-ME to finish up in the next few years."
Stacia Bennett: In her words: "I did not finish. I fractured my foot in Virginia and couldn't afford to stay in a hotel until it healed so I came back to franklin, NC. I got off at McAfee Knob. Now I'm working as a wilderness therapy instructor and making plans to finish the AT in two more long section hikes over the next couple of years."
Affiliate Disclosure
This website contains affiliate links, which means The Trek may receive a percentage of any product or service you purchase using the links in the articles or advertisements. The buyer pays the same price as they would otherwise, and your purchase helps to support The Trek's ongoing goal to serve you quality backpacking advice and information. Thanks for your support!
To learn more, please visit the About This Site page.
Comments
1
The Arkansas Twins, Link and Folklore returned to Arkansas. Link is an Electricians Apprentice, Folklore is working with a landscape company as he decides whether to pursue firefighting as a career, or go in to business with the landscaper.