Where Have All The Hikers Gone? (Days 106 to 110, Port Jervis to Fort Montgomery)
Day 106
Start: High Point State Park / New York City
Finish: Jim Murray Shelter
AT Miles Hiked Today: 7.0
Overall AT Miles Hiked: 1,342.7
Miles To Go Until Katahdin: 846.4
To those who haven't read my previous post: I ducked off trail for a few days to go into NYC! I spent the weekend catching up with friends, crushing pizza, and last night I went to a music festival on Long Island. There, you're all caught up!
I awoke in a pink bed, with pink sheets and pink posters on the wall. Have I been magically transported to a princess fairyland? Unfortunately, no. Last night after the music festival we returned to Teddy's girlfriend's house, and I slept in her little sister's room while the sister was on vacation with Cynthia's parents. She really likes the color pink!
Teddy and I grabbed some breakfast at a local bagel place, and he dropped me back at the train station to catch my train back to Port Jervis. I grabbed some Chipotle for lunch, and in a moment of brilliance, I realized I could pack out a burrito bowl to the state park where I was hopping back on trail! (For those of you keeping track, that makes four Chipotle burritos in the last four days.)
My head hurt as I sat on the train. The late night, loud music, and plentiful drinks had combined to knock me on my ass last night. I'm not used to any of those things on the trail! I sat quietly as the train sped back to New Jersey. I had fun in NYC, but I was ready to get back to hiking.
After a quick cab ride from the train station to High Point State Park, I ate my Chipotle and spoke with another hiker hanging out near the trail. Her name was Norway (because she was from Norway… Sometimes trail names are not very clever), and I helped her plan a way to JFK as she was returning home next week. I got hiking again around 4:45.
It was surprisingly rocky as I got back on trail. I was moving slow and realized that if it remained this rocky, I wouldn't make my planned 7 miles before bed tonight. Fortunately the trail got better after a few miles.
It was almost entirely downhill after the first few miles, and terrain that I could cruise on.
It's a whole new group of hikers at the shelter tonight. Double Zeroing will do that – these hikers were likely 20 or 30 miles behind me, maybe even for an entire month, but I had never met them. That's what happens on the trail, you end up in your own little bubble.
The shelter tonight isn't an official shelter, it's a cabin on private land owner and maintained by a former thru hiker! Really cool of him to allow hikers to stay here.
Before the night was over we were visited by a few friendly donkeys. Adorable. I was in bed by 9:15.
Day 107
Start: Jim Murray Shelter
Finish: Bushcamp Near Parker Lake Outlet
AT Miles Hiked Today: 19.0
Overall AT Miles Hiked: 1,361.7
Miles To Go Until Katahdin: 828.4
I woke around 6:15 and was off by 7:15, the first one out of camp. The morning was mostly downhill, but it was shaping up to be an extremely hot and humid day, and I was sweating everywhere.
Fortunately, the terrain was mostly flat and smooth!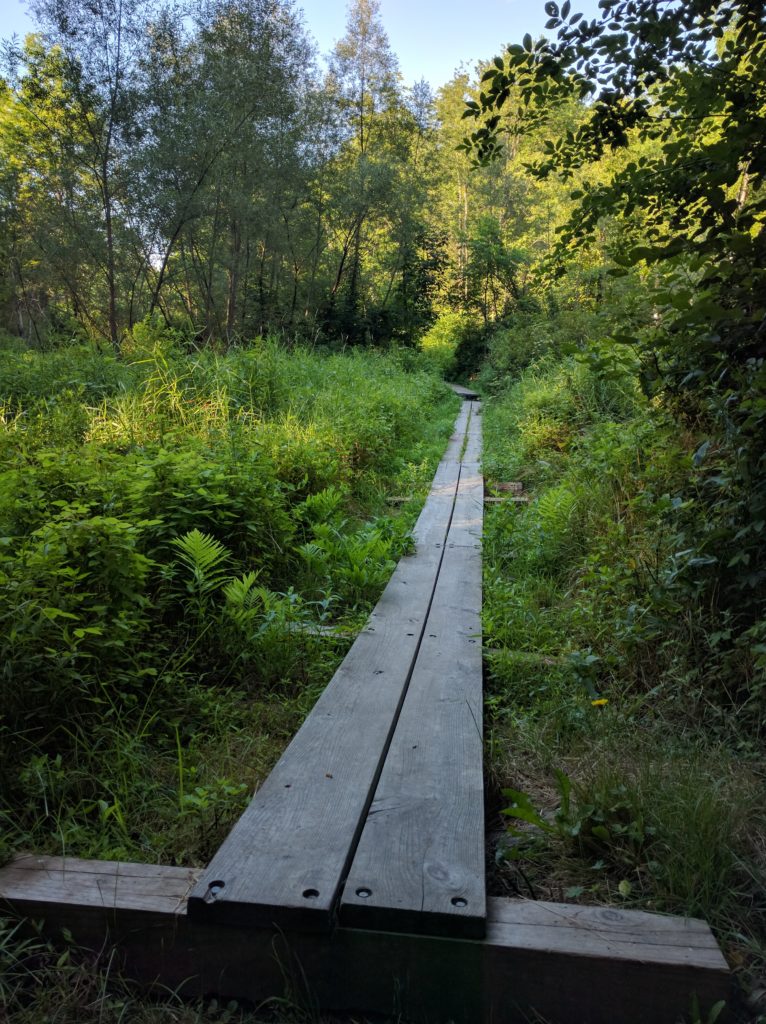 Lots of hiking today was on boards. I can see how these are helpful during rainy years, but this year is super dry! So, the boards rested on dry ground.
About 6 miles into the day I got to my first water source. An abandoned house next to the trail is owned by the forest service and has a spigot that hikers use for water! I chugged water and ate some snacks. I was beginning to feel like junk, like I had hit a mental wall.
The climb out was hot and rocky, and I was really starting to feel terrible. It took me forever to get up and over the mountain.
Then came 3 or so miles of hot, exposed board walking. Normally this would be flat and easy, but I was really struggling.
As I started to climb to Pinwheels Vista and multiple hikers passed me, I realized something was wrong. It was close to 2, so I stopped at a spring on the way up, and tried to recover my wits. Man I was feeling absolutely awful.
A vicious thunderstorm started to roll in, so I took cover undet a fallen tree to wait it out. I managed to sit on a colony of ants, which didn't help my mood. It was an uncomfortable rain storm.
I emerged from my hiding place around 4pm. I only had 4 more miles to the shelter, and I slowly made my way over. As I reached the turnoff I realized that I had zero desire to interact with other people tonight, so I went a little further down the trail and found a solo bushcamp. I went to bed still not feeling like myself, praying that my headache would subside by morning.
Day 108
Start: Bushcamp Near Parker Lake Outlet
Finish: Bushcamp Near Kloibers Pond Outlet
AT Miles Hiked Today: 16.9
Overall AT Miles Hiked: 1,378.6
Miles To Go Until Katahdin: 810.5
I woke up feeling 100x better than I did when I went to bed last night. What a relief. Maybe I got a little sick after going into NYC, because now I realize what a negative headspace I was in.
It was a gorgeous morning, without a cloud in the sky. After some short, steep and rocky climbs, I got to the NJ / NY border!
I went through the entire state of NJ without seeing any bears! This is strange, as NJ has the highest bear sightings of any state on the Appalachian Trail. So, the bear count remains at 12.
Lots of exposed ridgewalking for the next 4 or 5 miles. Fortunately there was a stiff breeze which helped cool me off as I was hiking.
On one of the ridges I found a bold little turtle! Most turtles I've seen will curl up in their shell as you pass but this guy just kept cruising along without a care.
As I descended to NY 17a, I saw in my guidebook that there was a hot dog stand and creamery nearby. I walked down the road a bit to find that the hot dog stand was closed today but the creamery was open and serving ice cream! I got a large bowl of chocolate soft serve and relaxed in the air conditioning for about a half hour.
The terrain remained easy leaving the road. I went down to Wildcat shelter to refill my water only to find the spring was nearly dry. Disappointed, I returned to the trail, hoping to find one more good water source today.
A few miles later I got to Fitzgerald Falls, a large waterfall that is a popular spot for day hikers. At least, it was supposed to be a large waterfall. Instead it was barely a trickle down a rock face. New York must be having an extremely dry year, the water here is just as bad as in Pennsylvania. Still, the trickle of water was clean, and I filtered a few liters and chatted with some locals as I rested.
I was planning on going all the way to Little Dam Lake outlet for the night, but a local trail angel had stocked gallons of water at West Mombasha Road. I filled up a few liters and made camp about a quarter mile later. It was only 4:30, but checking the water sources tomorrow, it looks like I will need to stop at around 17 miles tomorrow.
As if yesterday wasn't bad enough, I accidentally left my blogging app open on my phone last night before I went to bed. When I leave it open overnight, the app will delete everything written in the post. Normally I drop all the text of each day into a Gmail draft as a backup, but I haven't had this happen since NC, and I got lazy. So, I lost the last two days worth of posts. I sighed, knowing that anger was futile, and rewrote the last two days as well as today's post before bed.
Day 109
Start: Bushcamp Near Kloibers Pond Outlet
Finish: Bushcamp Near Beechey Bottom Brook
AT Miles Hiked Today: 16.8
Overall AT Miles Hiked: 1,395.4
Miles To Go Until Katahdin: 793.7
Late in the night, a hiker cruised by blasting music out of his speakers. Night hiking has become much more common since the temperature started pushing 90 during the day. I saw in a logbook later in the day that it may have been a hiker named Stitches. If you see him, tell him to keep it down, dammit! He's waking up every other hiker trying to sleep!
It was a beautiful morning again today, not a cloud in the sky. An elderly couple I met last night had warned me that the hiking over the first few miles was tough, and they were right! I thought I was back in Rocksylvania for a bit!
I wasn't looking forward to filtering pond water, but fortunately a few trail angels were stashing water at the next road crossing! I picked up a few liters, enough to get me the 9 or so miles to a state park that had drinking fountains.
Today I hit the legendary Lemon Squeezer. It wasn't as tight a fit as I thought it would be. I walked through with my pack on. Disappointing.
What wasn't disappointing was the vertical rock climb directly following the Lemon Squeezer! This was the first time all trail I had to take off my pack and toss it up along with my trekking poles in order to climb up. There was an easy route around via a blue blazed trail, but I've walked each foot of the trail via white blazes so far, I wasn't about to cheat now! It took me a few minutes to figure out how to get up without killing myself, but I eventually got up.
From there, the hard part of the day was over. I went up and over a few peaks and eventually got to a state park around 1pm, where I was able to get a few sodas from a vending machine, charge up my phone (which was very low on battery, thanks to me rewriting this entire post last night before bed… Grr) and watch little kids frolic in the lake nearby. Only 6.5 more miles on the day, so I was in no rush!
I cruised through the rest of the day, no problem. It was mostly smallish inclines and declines on top of mountains. The tops of the mountains around here have blueberry bushes lining the trail. Perfect!
To end my day I scrambled across the extremely busy Palisades Interstate Parkway, with two lanes of traffic flying at 70 mph in both directions. It took me the better part of 5 minutes to find breaks in the traffic. 2 lanes going North, brief rest on the median, then 2 lanes going South. I must have looked pretty humorous to these people coming home from work.
I found a nice flat spot near Beechey Bottom Brook. The brook appeared to be a large river in previous years, with a large bridge, but it was almost entirely dry. It's been a brutal year for Pennsylvania and New York, and the water sources are showing it. This is the
Less than 800 miles left! As soon as I crossed the 1,000 miles left point, I started to mark my progress by how many miles left, vs how many miles I have come. It's a strange feeling, knowing I'm approaching the end of this hike. I can tell my body is weary. I think I'll be mentally ready to stop when I get to Maine.
The NOBO crowd is clearly thinning out. I didn't see a single other NOBO hiker today, even during the hour and a half I spent at the state park. I camped completely alone the last two nights, and I'm camping alone tonight as I write this at 8pm. It's like the trail is completely mine right now. Where have the other hikers gone? Who cares? This is the solitude lacking in a traditional northbound hike. I see why people go SOBO.
It should be a quick 7 miles into Fort Montgomery tomorrow, where I'll meet Reindeer and we will get almost a full day lounging around at the Holiday Inn. All that stands in the way is Bear Mountain!
Day 110
Start: Bushcamp Near Kloibers Pond Outlet
Finish: Fort Montgomery
AT Miles Hiked Today: 7.7
Overall AT Miles Hiked: 1,403.1
Miles To Go Until Katahdin: 786.0
Ah, town days. Waking up is always a little different when you know you'll be in town in just a few short hours. You remember when you were 12 and it was your birthday morning? Very similar, except thru hikers get that feeling every week!
Not too tough hiking this morning. Up and over Bear Mountain. Not a cloud in the sky. Flew up the trail and got to the summit before the observation tower even opened. I had outstanding views of the Hudson River and could see the NYC skyline in the distance. 
I've hiked bear mountain twice before, so I got hit with serious déjà vu as I got to the top of the mountain and saw the observation deck.
I got to the bottom of the mountain and arrived at the zoo just as it opened at 10am. (Yup, the trail goes through a zoo.) The lowest point of the entire Appalachian Trail is in the zoo, in front of the bear pen. And oh my god the bear was chilling so hard this morning. I actually blurt laughed and turned to two normal people beside me to confirm how funny this was.
I hitched into Fort Montgomery to the Holiday Inn, where I'm splitting a room with Reindeer. He arrived a few hours later after doing some big days! He covered this section in one fewer day than me. Rough.
I spent the entire afternoon laying in bed watching great movies. Example: Fast and Furious Tokyo Drift.
And that's it for this section! I'll be taking a half day to visit a friend in Pawling in two days. Next big town stop is Kent, CT in 4 days!
Until next time, happy trails!
-Slice
Affiliate Disclosure
This website contains affiliate links, which means The Trek may receive a percentage of any product or service you purchase using the links in the articles or advertisements. The buyer pays the same price as they would otherwise, and your purchase helps to support The Trek's ongoing goal to serve you quality backpacking advice and information. Thanks for your support!
To learn more, please visit the About This Site page.