Why the Hell Am I Still Out Here?
Catchy title, right?  The truth is, that question will pass through the minds of most thru-hiker hopefuls at least once as they venture north or south to their destination.  For me, it's been on my mind a lot lately.
Somewhere around the 450-mile mark I started feeling physically and mentally drained, and was losing my motivation to hike.  I thought for a while about why I was feeling this way and went back to my list of reasons why I'm hiking the Appalachian Trail.
Everyone has different reasons for doing a long-distance hike, and most of mine are probably run of the mill, but my biggest was that I just wasn't happy with the life I was living. Don't  get me wrong, it was a great life. Loving family and friends, decent job, even owned some property that I was planning to build on soon. But something was still missing. Which brings me to a bit of a backstory.
The woods have always been my safe place. Whenever life was getting stressful I could go for a solo afternoon hike, sit on a boulder, and just let all my troubles absorb into nature. So it only makes sense that hiking the AT would pop into my mind. And man, did it. The thought of thru-hiking consumed my daily thoughts.
At first, I kept giving myself all the reasons why I couldn't do it. Work, bills, mortgage, family, the list goes on. Life was somewhat comfortable, yet something was still missing. So I  talked myself into a new way of thinking. I remembered reading a quote somewhere that went something like "you  can only grow when you leave your comfort zone," and it snowballed from there.  I told my friends, family, and employer my plan and set to work. I sold my property and many belongings, paid off all debts, took a sabbatical from my job, and bought a one-way plane ticket.
Flashback to current times.
All that thinking about why I was feeling the way I was and why I was hiking gave light to the real reason why I was hiking. I just needed to break free. Free from the chains and pressures of society. Free from working hard so other people can reap all the benefits. And consumerism. I'm living happily out of a backpack. I don't want a big house, fancy car, or all the latest "stuff." I wanted to be free from all the negativity, corruption, and bullshit in the news and on TV that's turning people all over the world into brainwashed sheep. I just wanted to live a life that is truly my own, where if I were to die at any given time, I would do it without a single regret and a smile on my face knowing that I lived my life entirely how I wanted to.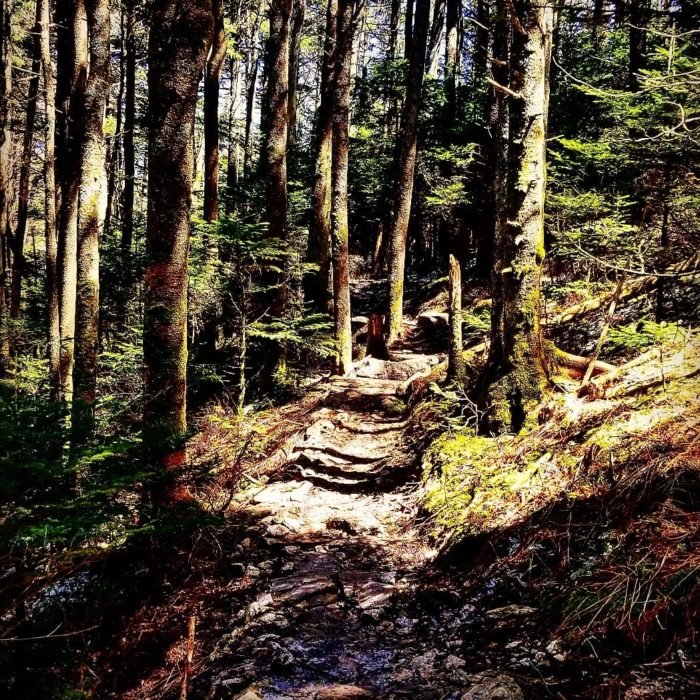 Now, realizing the real reason I was hiking gave me another realization that I had already done what I didn't even know I was trying to do. I had broken free. Now I'm over 600 miles in and I don't have a single regret for what I've done to get here. In fact, it has been by far the best decision I've ever made.
But still, the trail has lost some of its sparkle. I'm feeling lost again. Because the AT hasn't been what I wanted it to be. It's not stress-free. There are folks out here with strict miles to do every day who don't even turn their headphone-filled heads to see a view when they walk by. If that's what they're into, great for them, but I came out here for a lifestyle change and to get away from timelines and structure. I take the blue blazes less traveled. I felt far more connected to nature when I was back home on day hikes than I have out here. On a positive note, I have become a bit more social and have met some truly amazing people and have made lifelong friends.
I used the AT as a doorway to a new life, and when I opened it, a thousand other doors appeared. I've realized that starting the AT was entirely necessary in proving to myself that I had the balls to break my comfort barrier and make a drastic life change, but completing it may not be. I can accomplish what I want in other ways better suited to me. Like converting a van and traveling the country. In all honesty, if I see a van for sale near the trail, there's a fair chance I'd buy it and yellow blaze to Maine, dropping trail magic bombs along the way.
But until I hike past another open door, I'll keep trekking north and enjoying everything the trail has to offer.
Please drop a comment if you like, or if you know of a decent van for sale. 😀
Affiliate Disclosure
This website contains affiliate links, which means The Trek may receive a percentage of any product or service you purchase using the links in the articles or advertisements. The buyer pays the same price as they would otherwise, and your purchase helps to support The Trek's ongoing goal to serve you quality backpacking advice and information. Thanks for your support!
To learn more, please visit the About This Site page.
Comments
14
You are very inspirational! Keep up on your journey. My daughter is out there on the trail too. I am in awe! 😀

Mark, this was an awesome post! You are an amazing young man doing an incredible thing for yourself ! I wish I had the means to find my freedom as I am most comfortable sureounded by nature & gods creatures as well. Good luck out there and keep on trekin, and I will live vicariously through the freedom of your posts. Stay safe out there!!

You know cousin I Couldn't be more Proud of the Man, and Person you are.. I've Always seen you as a guy who is at Peace in Nature, a Survivalist if you will. When I heard you were gonna do a Through Hike on the AT, I said to myself and many friends who I've told about your venture, if anyone Can do it, He Can! Life is Definitely all about what you Make it out to be, Many people will never Understand that. I've learned that myself. 2 years ago when I Stepped out of my Own Comfort zone, and made a Lifestyle change, of Loosing 150 lbs, walking a half Marathon, and many 5k races, I found it was a Challenge to Keep going each time, but i did. Like I told you when I dropped you back off at the Trailhead, You Dont HAVE to Finish it.. But I'd sure as Hell never Discourage you guys.. Always proud Of You both Regardless of whether you Make the Whole Trip or Not.. You had the Balls and Courage to even Start, and that is more than I'll Ever say for many People who are Scared of that Comfort zone Barrier.. God Speed Bud!

HYOH
Try to "be present" in the moment as often as possible.
Enjoy the journey!

If the plan doesn't work, change the plan BUT NEVER THE GOAL! You are countless steps ahead (quite literally!!) of so many of us who feel and have felt the same as you! Whether you complete the trail or alter your journey, you're headed in the right direction, toward happiness! SO proud of you!

Keep On keepin' On brother. I'm still living vicariously through you as my eyes of the trail.

Hey Mark,
Sounds like you have a case of the "Virginia Blues."
Hang in there, when you are hiking the Green Mountains in VT, and the White Mountains in NH, you will be glad you did!
Hope to see you on the trail, I start my SOBO hike July 18.
Happy safe trails!
NANOOK

There's not a damned thing wrong with not finishing. You're allowed to wake up every single day and ask yourself if you feel like taking a bit more of a walk in the woods today.

I regret ending my thru. That doesn't mean you will.

Or, maybe you just have the Virginia Blues. I feel like maybe the northern half of the trail might be more your style. More solitude and longer stretches of wilderness.

Hyoh. If you want to yellow blaze to the Whites and and then to Maine, or if you want to walk every step, or if you want to go home today, it doesn't matter. You're already changed.

Find that van. That's exactly what a friend of mine did a few years back after he finished the AT. I think he's in Alaska with it atm. Oh, the possibilities…

Your cousin is proud of you. Enjoy it out there.

Your so brave and courages. Keep on going.

Thank you all for the kind words and encouragement!

Mark, I've loved reading your updates and seeing your pics😊. Ive hiked many portions of the AT…loved being on it and loved going home. Life happens, people change, things change, and sometimes that prompts us to change our path. Listen to that inner voice. And, by all means, should it bring you to Vermont's Beautiful Green Mountains, I doubt you'll be sorry! Peace be with you, ❤️ Aunt Grace

Amazing story!! I'm also on the trail and I absolutely loved reading what you had to say!
Wish you all the happiest in the world:)

Leslie 🙂

You do you, Mark. You'll always be my favorite woods companion from childhood. No one will ever judge you for doing what you want. It's your journey and your life to live 🙂 enjoy it!