Wild & White Blazing…An Online Course for Lady Thru-Hikers
Going All in with the Learning
When I decide to do something, like hike the AT, I go (mostly) all in with the research.
I'm a Learner, so books and courses and forums and YouTube are like Pumpkin Spice Latte for me–crack in a Starbucks cup.  I can never get enough.
If only my curiosity were as well-rounded as I imagine it to be.
Sadly, my eyes glaze over at the knot-tying and bear-bag videos on You Tube, even when it's the totally binge-worthy Shug Emery doing the videos. (Seriously, get some popcorn and go watch his videos. Hilarious!)
And budgeting for a thru-hike—YAWAWAWAWAWAWNNNNN. 
I can't make myself sit down and think this through in spite of the fact that loads of people have had to quit their hikes because they ran out of money.
It happens. 
Too many town stops.  Too many $15 hamburgers.  Too many no-tell motels. 
I swear I'm going to research the stuff that's boring to me, learn how to hang a bear bag the PCT way and practice before I go so I don't bonk myself in the head with a stuff sack full of rocks.
Let's Have Some Girl Talk, Instead!
Since December, I've been bingeing on recordings from an online course I signed up for last fall.
It's the Wild and White Blazing Virtual Campfires led by one of our own Trek writers, Carla "Zipper" Robertson.
I met Carla briefly at the 2016 Trail Dames Summit. 
Not only did she teach a class about being a bad ass, she played a big part in uncovering my long-buried dream of thru-hiking the AT.
Plus she pointed out a fungus I didn't even know was a thing…the star puffball.  Extra credit for being a fellow fungi-lover!
A Little About the Course
Of course I had to sign up for the Wild and White Blazing course that Zipper created after her thru-hike.
It's a self-paced online course geared toward women who are planning their Appalachian Trail thru-hikes.   It includes intermittent live calls with Carla and her guests, usually other women who have successfully completed the trail and offer both their stories and their expertise.  It also includes a fairly active Facebook group.
My Review of Wild & White Blazing
Here are my impressions, opinions and thoughts about the Wild and White Blazing course.
If you are a woman, bad ass or otherwise, who shares this thru-hiking compulsion and you have any trepidation about setting off solo with nothing but a pack on your back, this is a great, and modest, investment that will put the wind under your wings.
What I loved…
1.  Community!
Joining this course means joining a community of bad-ass, boot clad women who are there to support, teach, share, encourage and even offer showers and beds during your thru-hike.
This is a community of honest-to-God trail angels, easily accessible through the private Wild & White Blazing Facebook group.  (We even get a sticker for our hiking poles so we can recognize each other out on the trail!)
Ask a question and answers appear.
Reach out to a guest speaker, and they send you recipes for tick-repelling essential oil blends and hammock advice.
Carla has done a great job of creating a helpful and inspiring community.
2.  Experience!
Each call or recording features a different thru-hiker who shares her experience.  Usually there is a particular  topic relevant to the thru-hiker experience around which the call is based. 
You will hear from someone with experience in hammock camping and someone who only carries a tarp.
Someone who hiked SOBO and another who turned her hike into a fund raiser.
Someone who got Lyme disease and someone who leads Forgiveness Walks.
There is plenty of talk about gear, food, feminine issues, delis, hostels, shelters and even tips on journaling.
There are tips on resupply, a list of hitchhike-free post offices, how to spend the winter before your thru-hike and how to handle extreme weather.
Speaking of extreme weather, did you know they make down pants!  I learned this through Wild & White Blazing, and the world is a better place now that I know about down pants.
The goodies just go on and on–tips, stories, encouragement, strategies.  All designed to make me realize this is TOTALLY DOABLE!
3.  Resources!
The course shares a wealth of resources in a variety of ways—recordings, live calls, printable documents, videos, the facebook group.
And what self-respecting life coach would offer a course without the occasional guided meditation or journaling exercise?  It's all there.
4.  Mindset Amelioration!
While I was enduring the "Stairway to Nowhere" at the Y during the winter months, the entertainment and encouragement shared on these recordings kept me climbing along.  The recordings have proven to be amazing training partners, both at the gym and on the trail as I get ready to start on April 26.
When I strap on my pack for my (mostly) daily walks, I plug in my earbuds and take the collective Wild & White Blazing wisdom with me.  Through their stories from the trail, I am infused with the sense of possibility and support.
I'm bolstered by the fact that other women like me have blazed the trail and shown what's possible and invited me to join the club.
Again…I get the sense that this is totally doable.  By me!
5.  Value!
OMG, Wild & White Blazing only costs $79!  Such a great investment, especially considering how generous and accessible Carla and all the faculty are.
I've received so much from this course in every area—logistics, mindset, experience, community.
I feel so much more prepared to start, to put one foot in front of the other for 2,000 miles, to ask for and receive whatever help I need along the way, and to finish.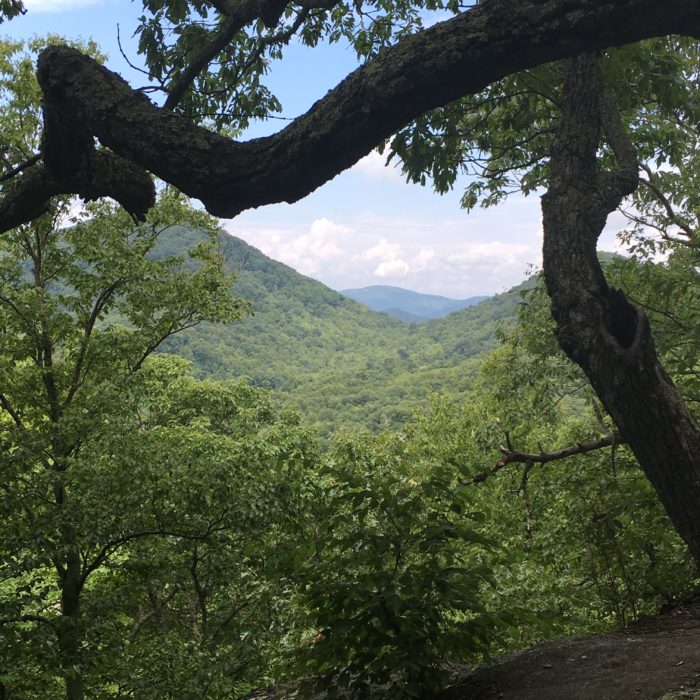 ---
What could improve…
Obviously, I loved this course.  It was so much better than the week-long live one I went to in Virginia where everyone left on the third day.  But I do have a couple of suggestions on how Wild & White Blazing might improve.
1.  Better organization of the material.
I'm trying to think of how I would do this if it were my course, and it would be difficult given the way this course is set up. 
The calls are grouped into three general categories—experience, logistics and mindset.  Each call is supposed to address a topic, but so much more is included in each call, so if I want to go back and review a particular call, it's difficult to know where I heard what.  Because the "modules" are organic conversations with people, and people go off in tangents, it's difficult to have any real meaningful organization to the material.
I like modules and tables of contents and organization.  But I also like bingeing on podcasts.
This is more like bingeing on podcasts than following a syllabus that takes you from point A ("Oh, shit, I'm gonna do this!  Now how do I start preparing?") to point B ("I've made a to do list and I've checked everything off.  I'm ready.")
Maybe just more detailed "show notes" with each recording, so that finding that list of best hostels or that conversation about water treatment options would be more accessible once the bingeing ends.
2.

 

Resource follow up.
Not everything mentioned on the calls can be found in the resource lists, like certain videos. 
I suspect some videos are still on Carla's "to do" list.  She's a busy woman!
And I suspect some resources were just fed into the facebook stream once the calls were complete.  Which means they've disappeared into the facebook undertow never to be seen again by those of us who joined the course later.
3.

 

Live call schedule.
I've taken several online courses where there was no access at all to the creator of the course, so I applaud Carla for showing up regularly in the Facebook group and even scheduling live calls at all.
I would like to see the live calls spaced out a bit more.  Three calls came within two weeks or so of each other and the timing was just off for me during those two weeks.
I'm grateful for the recordings, but I wonder if spreading them out a little more would have given more people a chance to plan to join at least one live call.
---
There it is, the good and the needs improvement.  AKA, my humble opinion about the Wild & White Blazing Virtual Campfires course.
Even though things can always be improved, I really have nothing for praise for what Carla has created and for the community she has brought together in service to each other. 
Here's what other WWB'ers had to say about it…
From Julie:  "Carla and all the other wonderful WWB women have taught me so much and pointed me to so many resources that I am confident I will complete the AT "my way"! Everyone that participates has a differing, and equally meaningful perspective and the collaboration feels empowering and liberating. I highly recommend!"

From Gay:  "My experiences through Wild and White Blazing have been so very worthwhile, from realizing at my advanced age I don't have to wait for a man to consider a through hike, to learning equipment and skills to advancing my prospects, especially support and constant encouragement."

From Debbie:  "I have learned so much just from listening to the presenters on the calls and being able to ask questions. I feel like on WWB we get real answers and real experiences. The support from everyone is great."
I agree…it's real.
Who will benefit from this course?
This course is designed to appeal to the ladies of all ages who have the simple desire to hike the Appalachian Trail and who want to draw on the experience of those who have gone before us.
The investment is modest and worth every penny, 
It's for you if you're considering a 2018 or later thru hike and you're just starting to plan.

It's for you if you're scared to even consider a thru-hike, but know you'll have regrets if you don't even try.
It's for you if you want to do a solo thru-hike, but your family is giving you a hard time or stepping onto the trail alone will be the wildest and most daring thing you've ever done and it scares the pants off you.
It's for you if you're looking to channel your inner Grandma Gatewood, but you're not sure where to start.
It's for you if you're hiking this year and you're looking for some inspiration and community and a little hand holding for this final push before you start.
The bad ass ladies in Wild & White Blazing have definitely got your back!
---
What about you, Sweet Pea?  Have you taken any courses that you would, or would not, recommend? Leave a comment below and share your thoughts.
---
P.S.  I love to connect.  Find me on Instagram or on Facebook or at my own website, Ruby Throat Journal, where you can pick up my how-to e-book full of delicious Freezer Bag Recipes or shoot me an email.
Affiliate Disclosure
This website contains affiliate links, which means The Trek may receive a percentage of any product or service you purchase using the links in the articles or advertisements. The buyer pays the same price as they would otherwise, and your purchase helps to support The Trek's ongoing goal to serve you quality backpacking advice and information. Thanks for your support!
To learn more, please visit the About This Site page.
Comments
4
I have visited Springer mountain and walked a small bit of the trail. I have it on my bucket list and watched several you tube videos on AT hiking. Any help or advice you can give would be most welcome. Chow!

Hi Deanne! Thank you so much for this beautiful review! I have so loved creating this resource for women planning a long hike. I agree with you about all the things to be improved and several are on tap! And there's a book on the way too which will be included with the course and will organize everything so it's not so "podcast-y" and there will be a place to have access to organized content. I'm traveling this month hence this season's calls being all clumped up in one chunk, but we'll have more during the season direct from the trail and that is always super-cool! Lastly, if you do a search in the Facebook group you will find a wealth of info on a particular topic, or you can always ask again and we'll share our most current knowledge. Thank you so much for this unsolicited and honest review. I'm truly honored and I hope to continue to support women who want to access their inner badass and get out there on a long hike. Hugs!

My pleasure, Carla. Here's another reason I love this course and the Wild & White Blazing community–you are so responsive to what makes for a great experience and actively working to help the course evolve into the best possible version of itself. Love! Can't wait to see what's next–book, calls from the trail. And, for the record, I love the podcasty nature of the calls…they are good company and encouragement during my training hikes. Keep up the wonderful work, Zipper, of helping us uncover our inner badasses!