Wind, rain, ice, and maybe snow! (3/10, 3/11)
3/10 (Day 13): Wesser Bald shelter -> Sassafras Gap shelter (12.6 miles)
I got an early start but I felt sluggish. It was really windy and dark like it was going to rain. The descent to the NOC was steep and the strong winds blowing didn't help. Luckily, the sun showed up half way down the descent and it warmed up a bit.
Arriving at the NOC, I met up with some hikers I hadn't seen in a while (Sam, now Sequoia, and Laser Snake) which was nice. I took a quick restroom break (with running water to wash my hands instead of Purell!) and met up with Grievance, JAM, and Molasses. They were all waiting for the burger shop to open so they could grab a burger and beer before hitting the trail, but instead of waiting, I decided to take off.
The long ascent to Sassafras shelter was slow going at first, but I put on some music and picked up speed. There were some pretty views along the way. The last 3-4 miles felt like they were straight uphill, and the last mile along the ridge line became so windy and cold I had to put on my rain gear.
I finally arrived at the shelter and the others slowly trickled in. I made dinner (mashed potatoes with cheese and salami) and while cutting the salami, the knife slipped and I cut my thumb. It bled for a few hours before it slowed down enough to bandage. Not the kind of thing I wanted to deal with prior to the smokies!
The temperature dropped very quickly to where we started seeing our breath misting around 4:30, and will probably drop even more after the sun goes down. We are all huddled in our sleeping bags hoping to stay toasty tonight!
3/11 (Day 14): Sassafras Gap shelter -> Brown Fork Gap shelter (9.1)
I woke up with chilly toes this morning. It was freezing (literally) outside, and getting out of my sleeping bag was a chore. I realized why my toes were chilly: my fleece liner was balled up at the bottom of my sleeping bag. I waited for the sun to come up before fully embarking on the uncomfortable journey of packing up my stuff in the freezing cold. It had snowed/hailed a tiny bit last night but it wasn't noticeable unless you stared intently at the ground. We also saw a few flakes while eating breakfast.
Initially my water bottles looked clear, which was strange because it definitely felt below freezing. I picked one up to examine it, and the whole thing crystallized before my eyes. That was really cool and made me feel less of a wimp about the cold.
I contemplated hiking with my puffy jacket because it was so cold, but I bit the bullet and took it off at the last second before hiking. My core warmed up in a few minutes but my fingers stayed frozen for a few miles. I had a short climb to the top and then the sun came out in full force! It was glorious. My hydration hose had frozen and my bottles were still frozen, so I stayed in the sun a few minutes to let them thaw.
That was the last I saw of direct sun all day. After a few more descents, it started gently snowing. The forest was magical with the soft pitter patter of snowflakes. Thankfully, they brushed off my clothes so I wasn't too wet.
I came to Stecoah Gap which has a parking lot and a busy road to cross. I stopped to throw away my trash in the trash bins and a man in a pickup truck pulled up. He had a long beard that reminded me of a hiker's beard. He called over to me and asked if I was a hiker. I thought it was obvious but maybe he was trying to differentiate me from a homeless person. After confirming my hiker status, he holds out a McDonalds cheeseburger and asks if I'd like it. Never in my previous life would I have considered taking a McDonalds cheeseburger from a complete stranger, but today I hustled over to that cheeseburger so fast you'd have thought my life depended on it. As I took it, he said, "it's still hot", which honestly wouldn't have mattered if it weren't. What happened next is a bit of a blur, and I really hoped I thanked that nice man for his food, but I was so excited to eat that cheeseburger I might have forgotten to say thank you. I hope he realizes that cheeseburger made my day.
After I was done indulging in the magnificence of fast food, I started the long, slow climb to Jacob's Ladder, which someone thought was a cute name for a hellishly steep mountain. It was snowing harder, and the ground was getting wet and a little slippery. I passed a group of 6 going southbound, and marveled at one of them wearing a mere t-shirt.
At the top, I stopped to chat with Rabbit and Happy Pants, 2 southbound thru-hikers that started in August. The advice they gave me was, "smiles over miles" (to enjoy the time spent with others on the trail because the miles will always be there). Not long after seeing them, I made it to the shelter a little after 2:00 after doing 9 miles today. The next shelter is over 6 miles away, and with the snow forecasted, I'd like to stay in a shelter tonight.
There was already a day hiker in the shelter waiting out the storm, and Dirtbag and Grievance didn't take long to show up. It was still early so Grievance made a fire and we collected wood. Warming up in front of the fire was great. In the evening the snow started to pick up and stick to the ground.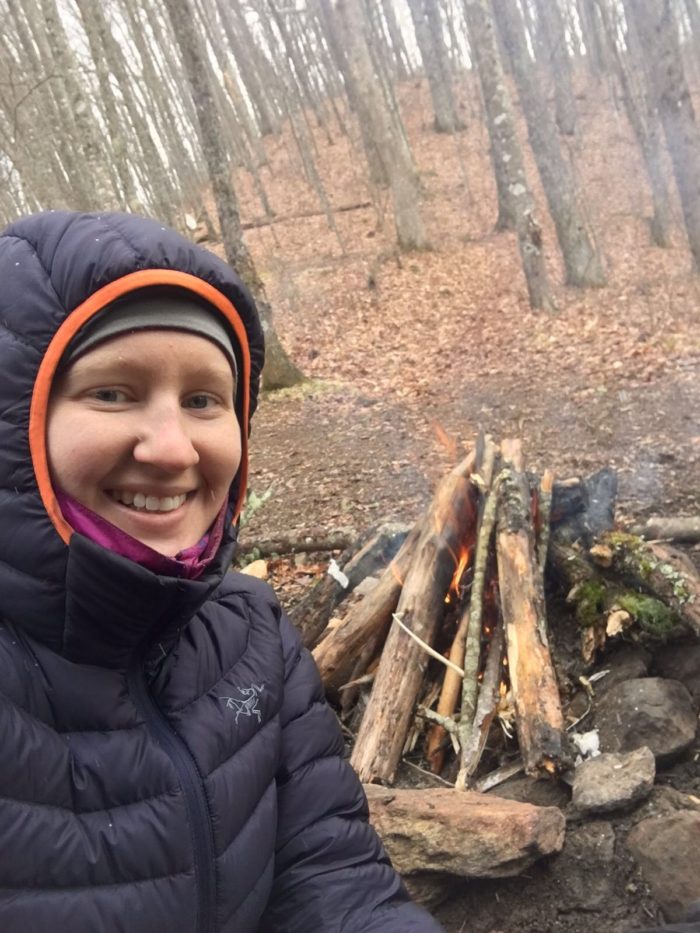 We had a hiker and his dog join us. We all crawled in our sleeping bags and then another hiker showed up covered in snow after doing 20+ miles, so we made room for her as well. Tonight already doesn't feel as cold as last night which is nice! We'll see how much snow we wake up to tomorrow morning. Dirtbag is already singing Christmas songs.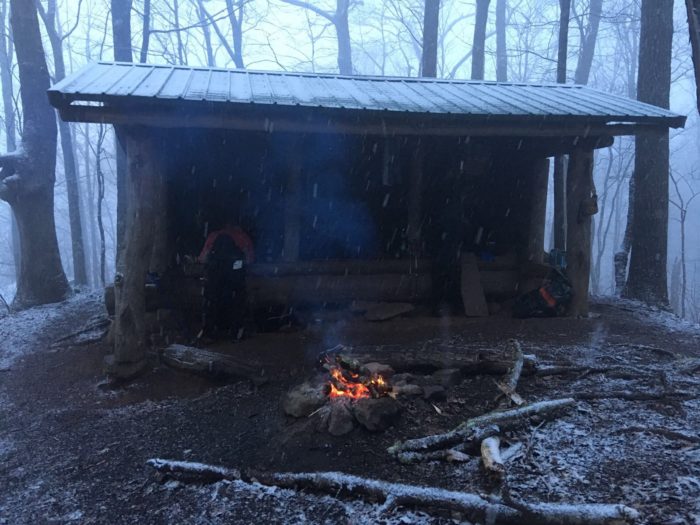 Affiliate Disclosure
This website contains affiliate links, which means The Trek may receive a percentage of any product or service you purchase using the links in the articles or advertisements. The buyer pays the same price as they would otherwise, and your purchase helps to support The Trek's ongoing goal to serve you quality backpacking advice and information. Thanks for your support!
To learn more, please visit the About This Site page.
Comments
1
Proud of you and just said a little prayer for your safety! Darrell (Encourager)