My Worst Day on Trail
The trail, as in life, gives you good days, bad days, and everything in between. More often than not I feel happiness and fortune to be able to have this experience and walk this trail, even in inclement weather, less than ideal camp spots, or rough terrain. But, the bad days come and, as in life, you have to figure out how to deal with them. Easter Sunday, for me, was downright awful.
Friday
It started two days before Easter. Hiking out of Erwin we got over three inches of rain. I didn't even believe the hiker that told me until I looked it up for myself. I was no longer hiking the Appalachian Trial but the Appalachian Creek. Long stretches of hiking in ankle deep water and sometimes halfway up my shin. And the places where the trail crossed an actual river or creek it was almost a little dangerous. I have to admit, however, at first it was fun. I took my joy in sloshing around the water already knowing that it wasn't going to be fun later; wet gear never is. Obviously my shoes and socks were soaked through but, since the water was so high, my hiking leggings were soaked up to the knee as well. I chose to sleep in my wet hiking leggings that night in the hopes that my body heat would naturally dry them. At this point, my spirits were fine. Rain isn't fun but dealing with it is an inevitability of the trail.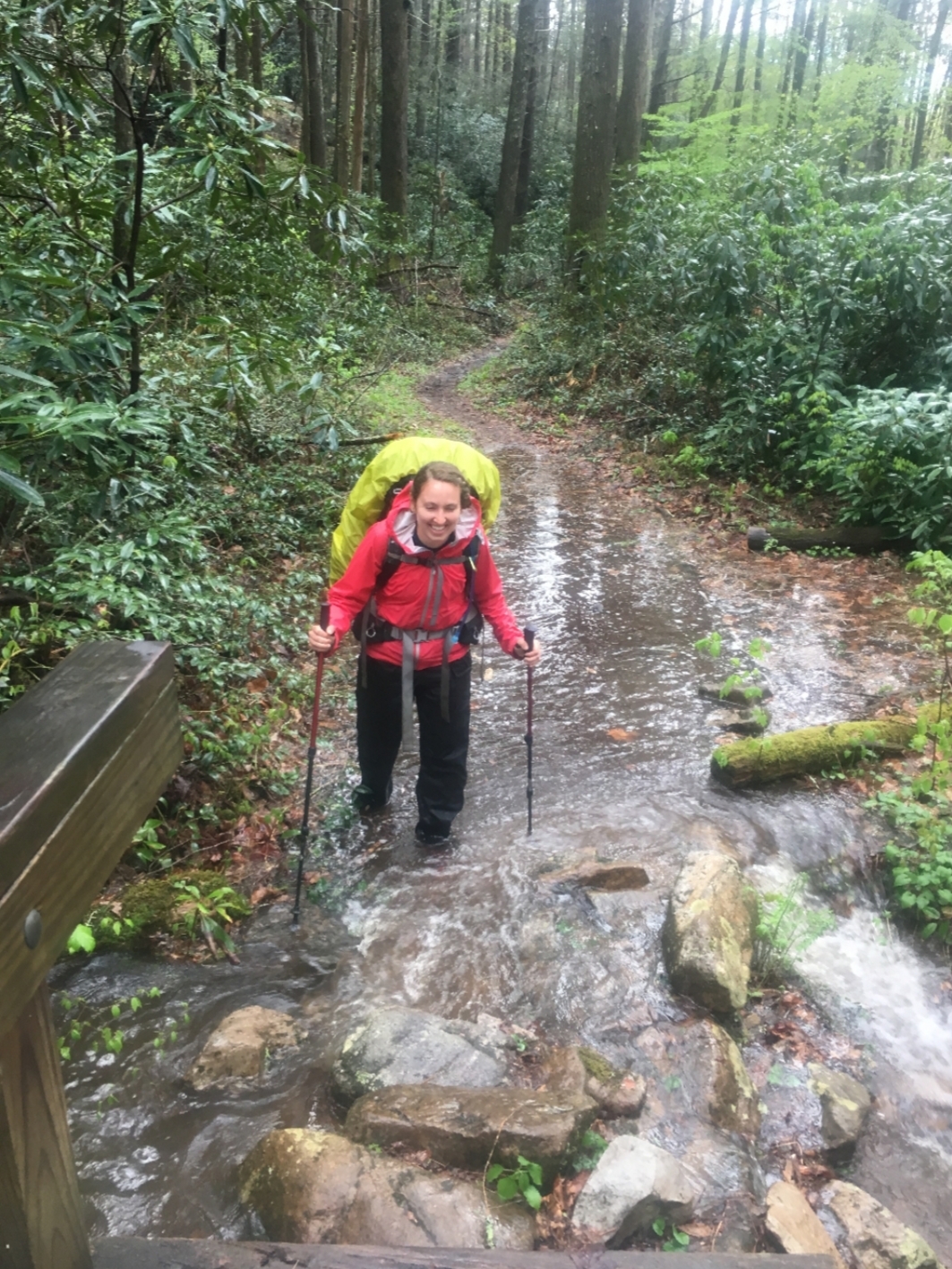 Saturday
The day began okay, but as I hiked upward the temperature began to drop. It then began to hail. I was surprised but also got hail on my very first day on trail so it didn't throw me off too much. I just kept chugging along. As I continued up Unaka Mountain it turned to snow. I knew that snow was a possibility on the trail but was starting to think that I wouldn't see any. But here it was. I didn't mind the snow on this day; I've never been a snow hater. It does make for more challenging hiking but it was also beautiful, especially on top of Unaka Mountain.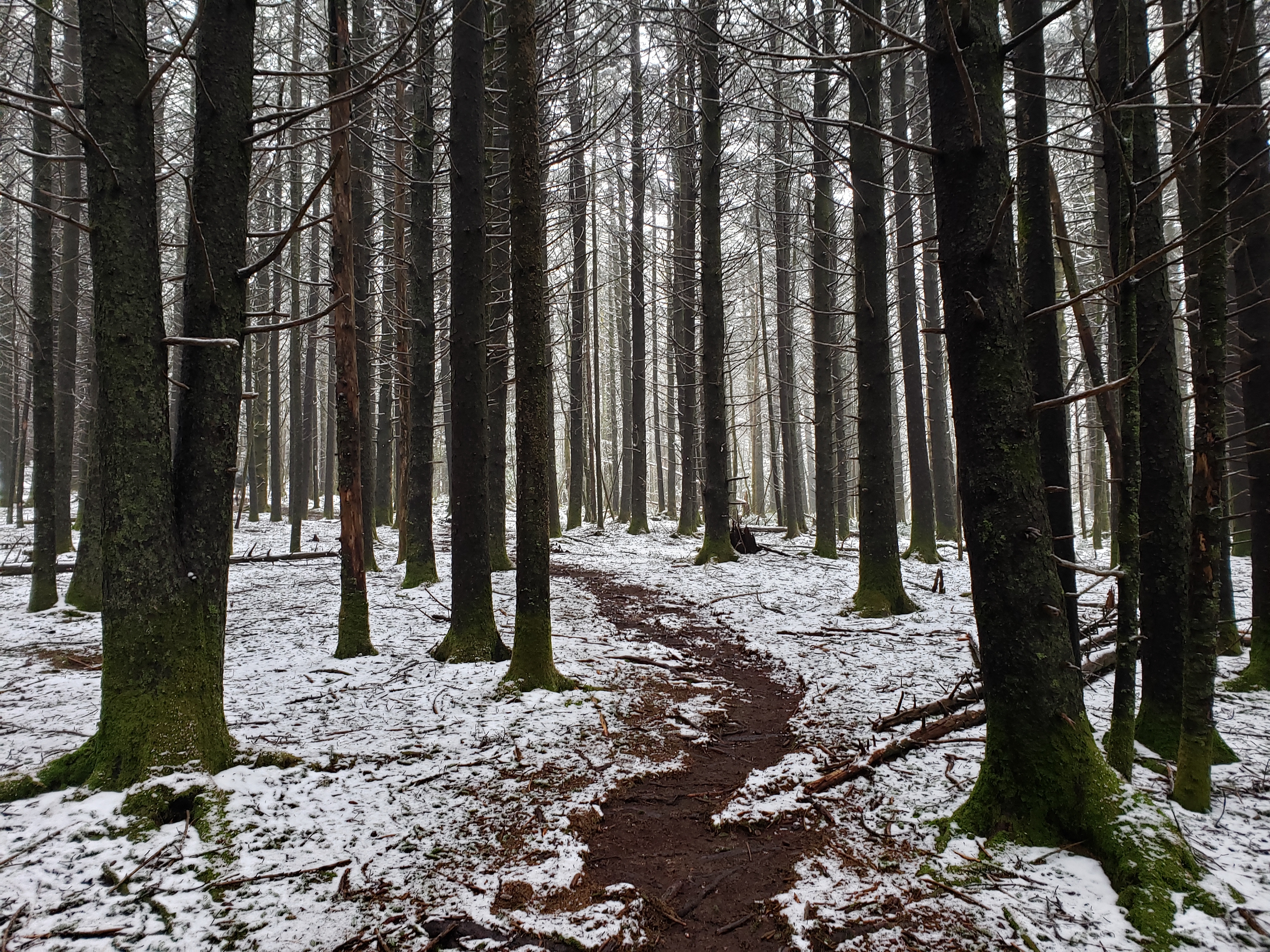 The weather did begin to eat away at me. Having hiked to a lower elevation the snow turned into sleet which, in my opinion, is far worse. I set my tent up and the heavy sleet weighed on the rain fly and onto the actual tent and water seeped in. I'm a glass half full person for sure, so I could take the positive from the experiences of ankle deep water and hail and snow, but it does wear you down after a bit, especially with the extremes I was getting. You can only sleep in a wet tent and a wet sleeping bag and put on wet socks in the morning so many times before it drives you crazy. But the worst was yet to come.
Easter Sunday
I didn't know where most of the tramily was but I camped with Spider on Saturday night, later learning that the rest of the tramily had gotten a day behind. We had talked through our tent walls Saturday night: "We just have to get through tomorrow. In two days the weather is going to turn and the tramily will catch up. We just have to get through tomorrow." Well that was my first mistake. I mentally set myself up to "getting through" Sunday. I woke up and absolutely did not want to get out of my tent. But, though it was raining, I heard it lighten up and took the chance to try and get the bear bags down. The line was soaked and tight and therefore nearly impossible to untie and I cut my finger open trying. The rain stopped completely as I broke down my tent but it didn't even matter. Everything was soaked already. I packed up my wet sleeping bag and my soaked through tent. I put on my disgusting, wet socks and my muddy, wet shoes. I packed all my wet gear into my pack which, now water-logged, was extremely heavy. And I began to walk.
The plan that day was just over 20 miles to the Overmountain Shelter which included the climb over Roan Mountain. Despite my extensive trail research, I was oblivious to Roan Mountain's reputation.
My head was already not in the game. A couple of miles in and I already wanted it over. As I began the long climb up Roan Mountain every step felt laborious and difficult. The higher I climbed the more snow and ice there was. The hike was slow going as I fought my way through the slick trail. The trees were weighed down with snow and ice and large patches of both would fall off the branches constantly like ice bombs. It was cool for about five minutes. After an hour it became annoying. After five hours I was fed up. After eight hours of having ice clumps randomly pellet you every few minutes I wanted to scream. I slipped more times than I remember. I accidentally lost the trail for the first time and had to backtrack to try and find it again. Until near the end, I only saw one other hiker that day. I often hike alone, and enjoy it, but it's also nice to cross paths with people, especially on the days where my head isn't on quite right and a little human interaction can snap me out of it. But no such luck this day. Spider had long out-hiked me and the only other hiker I saw quickly passed me.
My spirits were low and I was struggling. I made it to the top of Roan Mountain and checked my phone for service. I had some and my phone clicked with a dozen, "Happy Easter" texts. In my family group chat my sister was telling my parents that they could go over to her house whenever they were ready because she was almost done preparing her yearly Easter brunch. Homesickness has been my #1 challenge out on the trail so getting these texts pretty much did me in. I felt crushed. I was all alone, away from everyone I loved, wearing three layers of clothing and still freezing, getting pelleted with ice bombs and, at that moment, I wanted to be at my sisters eating Robin Eggs and sneaking my nieces extra jelly beans.
I could feel myself welling up with tears but I pushed onward setting my sights on being in my sleeping bag later. I made it to Carver Gap where there were a handful of other thru-hikers enjoying trail magic. The Trail angels were wrapping up their trail magic so I didn't really get to participate but Spider was there and I was happy to find a friend. I told him I was struggling that day and I was hoping to hike the last five miles with him so keep my head level.
But it was no use. My nearly defeated mind was too downtrodden to push my tired body to keep up. I tried so hard to keep up with Spider but he out hiked me again almost immediately and within a half mile he was long out of my view. I was alone again. I made it another half mile or so to Jane Bald and hit my actual breaking point of the day. I threw my pack down and let the tears come this time. I sat and let myself cry it out. Then I picked up my pack. Four miles. Only four more miles.
I made it there. I'm not sure how. By the time I got there and set up my tent I was so beat down that I didn't even want to talk to anyone; even that felt like too much work. Overmountain Shelter is one of the most known shelters on the trail because it's a converted barn that sleeps a ton of people and has an amazing view. I didn't care. I filtered my water, ate dinner in my tent (highly unadvised), and curled up into my sleeping bag and went to bed to the sounds of a dozen laughing hikers enjoying themselves around the fire.
The Brightside
Luckily, for me, bad days are few and far between. My awful Easter was a culmination of a few days of bad weather wearing me down, homesickness, a tired body, pushing myself to do more miles that day than I probably should have, and, above all else, a bad mindset.
And the good days are worth the few bad ones. And this very bad day was followed by a very good day. I put on my last pair of clean, dry socks. The sun was out. The temperature warmed up. I only had to wear one layer. I crossed out of North Carolina for the last time. I passed the 400 mile mark. Did I mention I was wearing dry socks? Amazing.
Mind vs. Body
I had read prior to starting the trail that it's mostly a mental game. It's 100% true. More recently I had a different kind of bad day where my body failed me instead of my mind. After thinking I had avoided the dreaded Norovirus, I ended up getting sick after all. I spent five hours in the middle of the night vomiting and had sharp stomach pains throughout the entire next day. I hiked that day anyway, only being able to manage about two-thirds of what I originally planned, partially because my stomach was hurting, partially because I was exhausted because I spent my night vomiting instead of sleeping, and partially because I was dehydrated. Should have been a dreadful day, right? Don't get me wrong, it wasn't awesome, but it also wasn't that bad. My body may have been weak but, on that day, my mind was strong. My spirits were high and I was determined. I think back on Easter and just remember awfulness. I think back on the day I was sick and remember that my tramily (after giving me a 45 minute head start) kept on pace with me and that Sir Laughs-a-lot built a fire that night. It really is a mental game. And I'm pretty sure I'm winning.
Affiliate Disclosure
This website contains affiliate links, which means The Trek may receive a percentage of any product or service you purchase using the links in the articles or advertisements. The buyer pays the same price as they would otherwise, and your purchase helps to support The Trek's ongoing goal to serve you quality backpacking advice and information. Thanks for your support!
To learn more, please visit the About This Site page.