You Win Until You Lose
Day 11: Zero Day in Franklin
Our first zero day! A zero day is when you don't hike anywhere and sleep at the same place two nights in a row. We were in a run-of-the-mill hotel for the day with three chores: laundry, groceries, and lunch. In the morning I went to the front desk area a few times to refill my morning coffee cup. On one trip I overheard another hiker (Fog Hat) asking the front desk guy about laundry. I inserted myself into their conversation and asked for some details of what our options were.
The front desk guy (Dallas) was offering to take this other guy (and now me) to the laundromat when he got off his overnight shift in 5 minutes and then come pick us up when we were done. I ran back to the room and told the others to quickly pack up their dirty clothes. Within minutes I found myself in a random guy's truck driving down the highway!
Laundry was uneventful and I made conversation with the other backpacker. True to his word, Dallas returned when we were done to take us back to the hotel. Both of us hikers handed him a $5 for his generosity.
We walked down the street to the Ingles to resupply, and then had one last thing to check off of our list: lunch. Right next door to our hotel was a Shoney's. What could be better for a thru hiker for lunch on an off day than an all you can eat buffet?! While we were eating, I realized that at a buffet you win until you lose. The goal is to eat as much as you can to get your money's worth, but if you eat too much your body will let you know. It's a fine balance to keep. I'm hoping after our visit there isn't a Shoney's BOLO with our faces telling everyone to lock the door if they see us!
Day 12: 3,460 ft ascent, 11.8 mi
Although it was back to the trail for us, Jake the dog headed home this morning. My personal trainer turned house sitter also picked up the title of dog sitter for the next few weeks while we go through the Great Smoky Mountains National Park. Dogs are not allowed in the park, even if they are thru-hiking. I'm fortunate to live close enough to the trail in this area that he can go home and rest in his own dog bed…. well he's probably in my bed, but you get the idea.
My Achilles on my left side had really started to hurt over the past few days. I have yet to take any medicine for pain, and I am hoping to keep it that way. On a whim I decided to buy some KT tape at the store and google how to place it for Achilles support. I had never used it before, but that stuff works miracles! I ended up putting it on my other ankle too and my pain has all but disappeared!
Today was a long slog up out of Franklin. Because of the rain, we had gotten off the trail about 5 miles earlier than most people do to go into town. We ended up behind what seemed to be the crowd coming out of town that day and didn't pass too many hikers.
Day 13: 2,830 ft ascent, 13.1 miles
Today was tower day! Erik and I ate breakfast at the Wayah Bald stone tower that had a beautiful view. We regretted the decision to eat there after we sat down for a few minutes because it was so cold and not isolated from the wind at all, but we stuck it out. We could look out and see Clingman's Dome in the distance. 90+ miles of hiking were between us and that spot.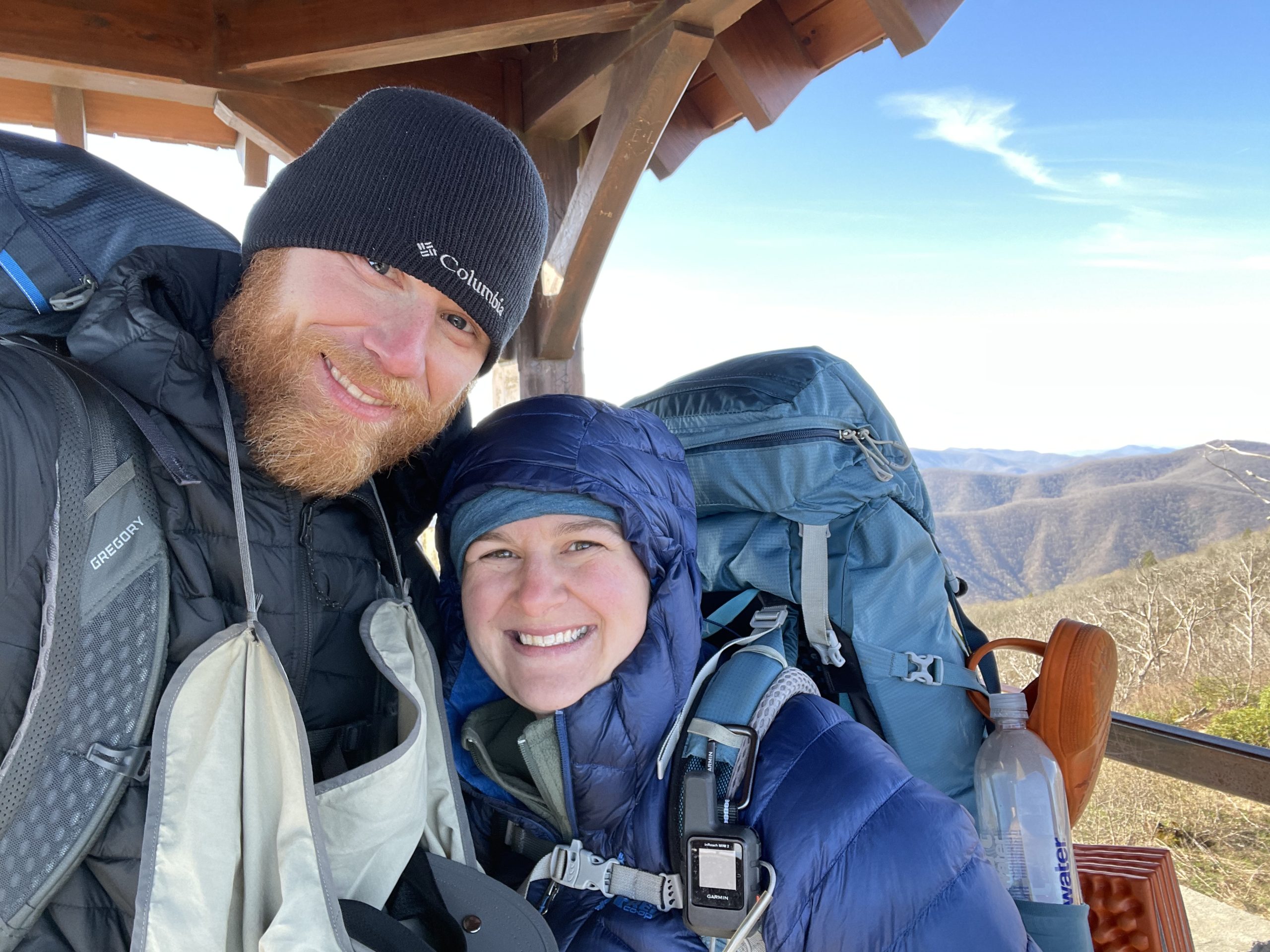 Up next, Wesser Bald Observation Tower. I had visited this tower last fall on a practice shakedown hike. It was amazing how the landscape had changed from the beginning fall colors I saw before to the beginning spring green right now.
Day 14: 4,020 ft ascent, 13.2 miles
The NOC (Nantahala Outdoor Center). We had been eyeing this spot for a few days. A tough climb down to the Nantahala River followed by a huge climb right back out.
The morning was nice, mostly downhill with beautiful weather. We made it to the NOC where we ate our lunches from our bags as we soaked our feet in the river. Many people spend the night and/or resupply here, but we had other plans and only restocked fuel for our stoves. After our lunch break, we packed up and headed uphill for a couple of hours.
We tend to give other people nicknames until we find out there real names (or trail names). One such guy we started calling Big Stick because he carried one large wooden stick with him in lieu of any hiking poles. We had been hiking around him for a few days by this point. As we were hiking out of the NOC we kept leapfrogging Big Stick.
At one point on the trail there was a large 2-foot diameter tree over the trail. Our group struggled to jump the tree. As we made it past up comes Big Stick behind us. Without missing a beat he used his stick like a pole vault and billy-goated himself up and over the tree and moved on. We had all the respect for him as he passed us again on the trail.
Affiliate Disclosure
This website contains affiliate links, which means The Trek may receive a percentage of any product or service you purchase using the links in the articles or advertisements. The buyer pays the same price as they would otherwise, and your purchase helps to support The Trek's ongoing goal to serve you quality backpacking advice and information. Thanks for your support!
To learn more, please visit the About This Site page.